The president and his wife boarded Air Force One on Tuesday morning to visit southeastern Texas and survey the devastation Harvey has wrought. It was a chance for Donald and Melania Trump to set their egos aside and humble themselves before the victims of a tragedy whose scope we are only beginning to understand.
It was also a chance for them to sell their merchandise and play blue-collar dress-up. The president showed up in a white "USA" baseball cap, embroidered with his own last name, that he sells on his website for $40. Melania opted for a satiny olive bomber, tailored black trousers, aviator glasses, and a pair of teetering snakeskin stilettos. Her shoes attracted the most criticism from internet observers, prompting a White House spokeswoman to assure the Washington Examiner that Melania was planning on changing her shoes on the plane. Vogue, a known champion of garments that serve the gods of fashion over the false idols of function, said the heels were "better suited to a shopping afternoon on Madison Avenue or a girls' luncheon at La Grenouille" than a trip to the site of an ongoing natural disaster.
True, Melania would risk an ankle sprain by merely stepping out of a climate-controlled limousine in those shoes, never mind walking through mud and debris to comfort evacuees recouping in shelters. But the rest of her outfit was just as obnoxious. It was as if an assistant told her they'd be roughing it on a mission to an inhospitable place of unimaginable devastation, and Melania thought "war zone." Her aviators and bomber jacket are playing at the courage and ready-for-anything spirit that defines most mainstream depictions of the military, as if she were risking anything or helping anyone at all on this trip to Texas. (She's not.) Melania was trying to use military signifiers to simulate utility and a willingness to get her hands dirty when she'll likely return with her manicure intact, making a mockery of those whose olive drab and aviators come standard-issue.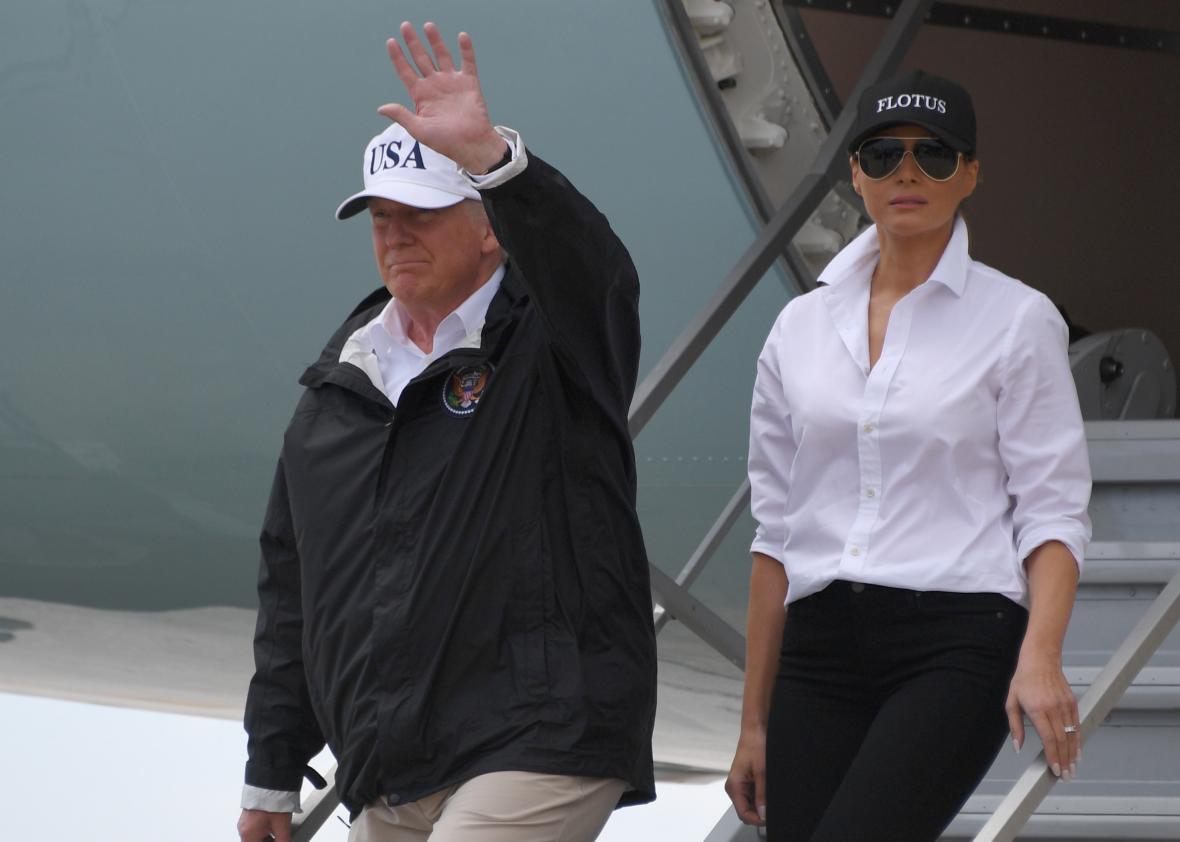 By the time Melania disembarked in Corpus Christi, she had changed into white sneakers, a crisp white button-down with a popped collar, and a baseball hat that read "FLOTUS." On a trip ostensibly made to support people who've lost everything and the agencies trying to help them recover, Melania found a way to make her visit about herself. One wonders when that hat will be up for sale on the president's merch page.
No one expects the first lady to traipse through flood waters to save stranded Texans—that's not her job, and her help would be far more trouble for rescue agencies than it would be worth. She didn't need to show up in thigh-high waders and a poncho; anything that didn't turn her trip to a flood zone into a platform for showing off the contents of her designer closet would have been fine. But for this former model, there can be no sublimating of the wardrobe to keep the attention on those in need. Fashion doesn't take a break, and white is a perfectly good color for a blouse in a rainstorm.