On Wednesday, President Donald Trump announced on Twitter that transgender people would be barred from serving in the United States military "in any capacity." To justify his impulsive decision—which he made without consulting the Pentagon—Trump cited "the tremendous medical costs and disruption that transgender in the military would entail."
To gauge the accuracy of this justification, I spoke with Jesse Ehrenfeld, one of the country's foremost experts on both transgender health care and military service. Ehrenfeld, a practicing physician, serves as the director of the Vanderbilt University Medical Center Program for LGBTI Health and as the secretary of the American Medical Association Board of Trustees. He has worked with hundreds of trans patients and helps to train medical students and physicians across the country in LGBTQ health care needs. Ehrenfeld is also a commander in the Navy Reserve and serves as a medical reserve officer. In 2015, he helped to set in motion the repeal of the ban on open transgender service that Trump is attempting to reverse.
I spoke with Ehrenfeld on Thursday about his work with trans troops, the looming threat of a new ban, and many misconceptions about open transgender service. Our interview has been edited for clarity.
Mark Joseph Stern: How were you involved in the effort to lift the ban on transgender troops?
Jesse Ehrenfeld: I had the incredible pleasure of serving in Afghanistan from 2014 to 2015. When I was there, I helped provide care to a transgender airman named Logan. We became friendly and I learned a lot about his experiences. In February of 2015, I found myself sitting with Logan at a troop town hall for our new Secretary of Defense Ash Carter in Kandahar, Afghanistan. I turned to Logan and said, "if you could ask the secretary any question, what would it be?" He told me he'd ask him about open transgender service. So I stood up and asked the defense secretary for his thoughts on transgender service. He gave a very favorable response.
After I got home from my deployments, I was asked to provide input on the health care needs for trans service members to a group that the secretary set up to study the issue. Given my role as a uniformed person as well as a physician with expertise in LGBT health, I think I was able to provide helpful info that was credible and useful to the process.
What are some common misconceptions about transgender health care?
Every person's transition is unique. There are some transgender patients that I've worked with for whom a successful transition is simply changing their name, switching the gender on their driver's license, and dressing differently. They don't really need much medical support. Other patients need to undergo hormone therapy or surgical procedures in order to have a successful transition. Those transitions are unique to the individual.
There are some poorly done studies involving mental health that have been cited to suggest that trans individuals are at heightened risk of suicide or other mental health challenges solely because they are trans. That's misinformation. There's good emerging data demonstrating that when we provide a supportive environment and good high quality care to trans individuals, those issues seem to go away and people do well.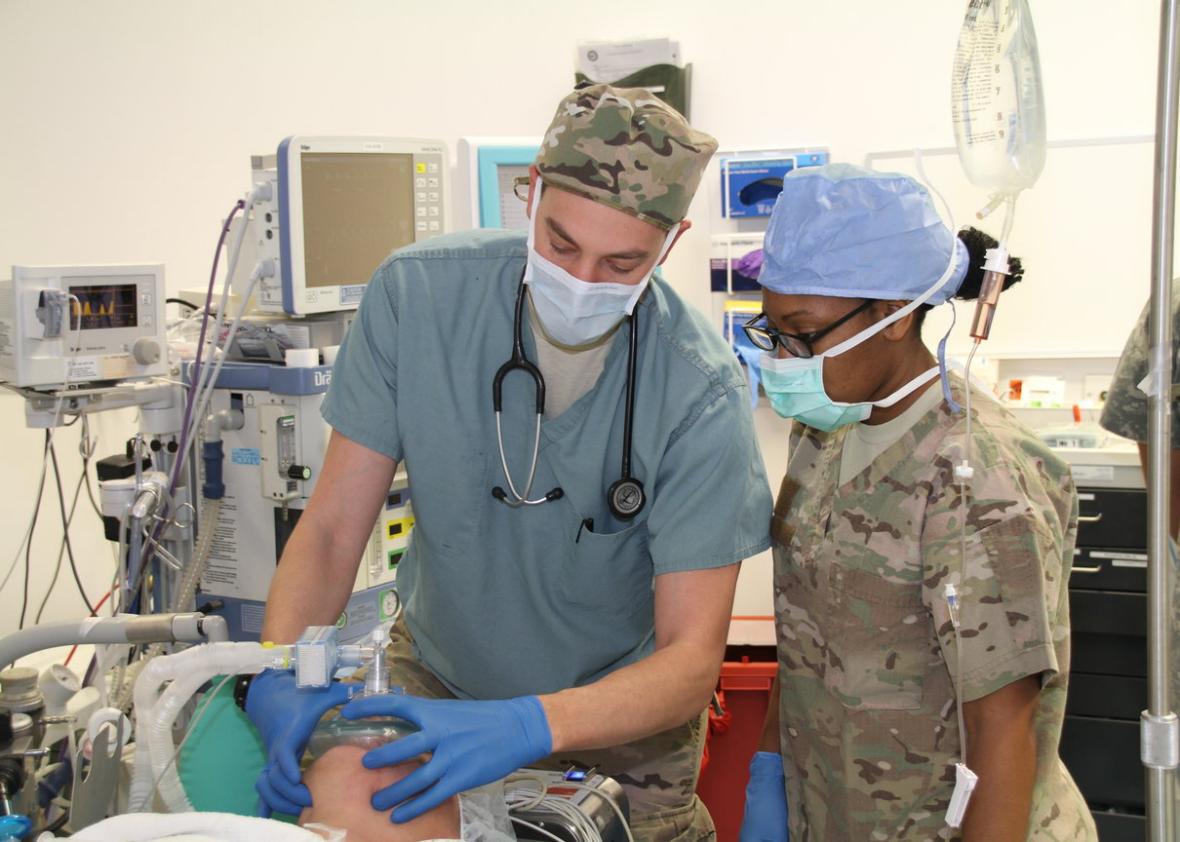 Opponents of transgender military service often cite the allegedly exorbitant health care costs of trans troops. Can you speak to that fear?
A RAND study commissioned by the Department of Defense found that these costs would actually be quite small. Aaron Belkin also published a study in the New England Journal of Medicine estimating that if the military allowed open service, about 188 individuals across the entire force would be utilize transition-related care in a given year. His cost estimates worked out to 22 cents per month per member of the military. From my perspective, 22 cents is budget dust.
There's also a concern that transgender people may be mentally unstable and thus unsuited for combat.
Having worked with transgender soldiers on deployment, I have not seen that at all. At the end of the day, these people are there to do a mission. More than anything else, they want to put on their uniform and do their job. I have not seen any particular burden that's placed either on an individual or on unit when a trans service member has been a part of the team.
Trans troops have now been allowed to serve openly for a year. Have you seen any drawbacks to the new policy?
No, but a number of very positive things have happened. The Department of Defense training on the new policy was very thoughtful, though there still is a bit of an education gap. It takes time for people to understand some of these concepts. But the training materials explaining how we create an inclusive environment that supports all service members were put together very well. I had a number of positive experiences participating in conversations about these issues in which people that shared their personal experiences about having a trans family member or knowing a trans person. These kind of interactions are incredibly important as our country moves forward to try to understand what does it means to be inclusive as a nation and support each other as citizens.
What did you make of the president's surprise announcement?
I was surprised because we had just finished going through training for all service members and medical personnel about how to be inclusive and supportive of our trans service members. There is clearly a continued desire on the part of my transgender colleagues who are actively serving to continue to be able to do their job. I see tremendous anxiety and concern about the uncertainty that the president's communication creates. Through my work, I've learned that these individuals are some of the most dedicated and qualified service members that we have. And I think it would be a real loss if we did not allow them to continue to serve our nation.