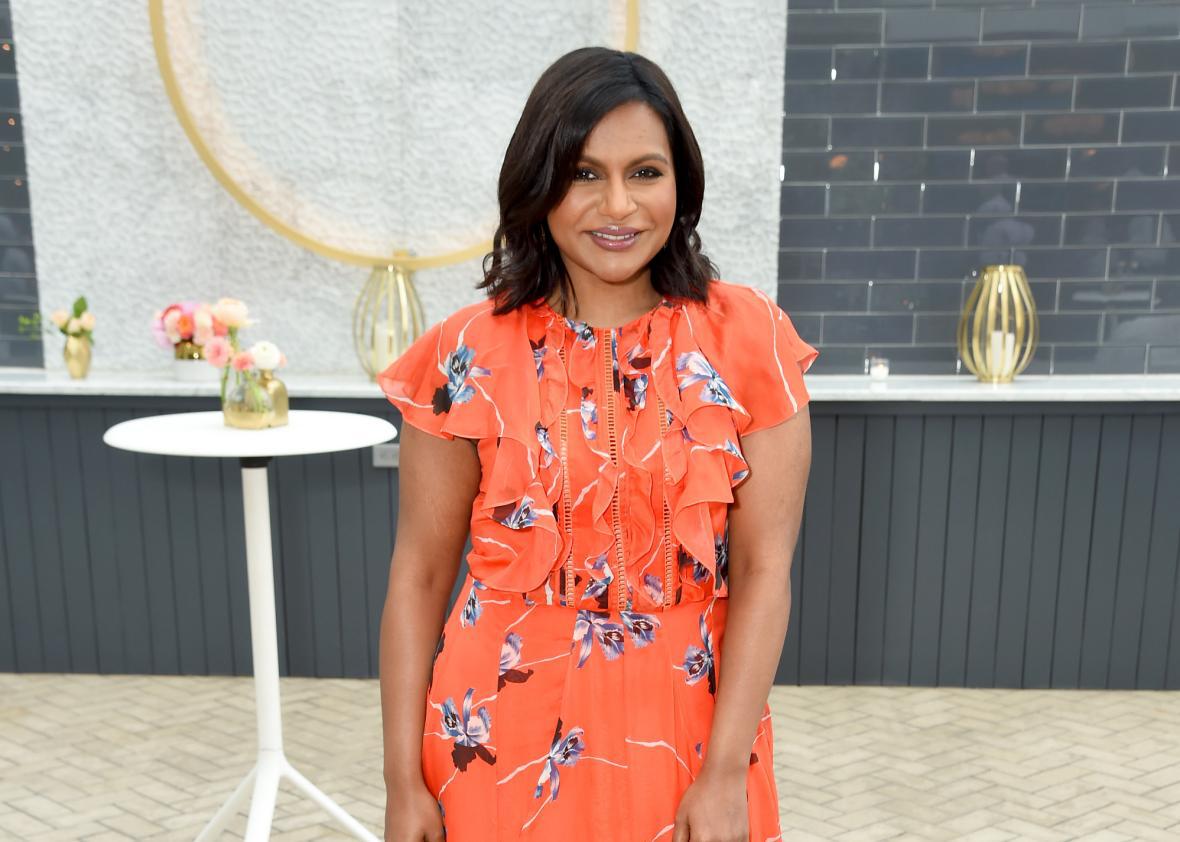 Mindy Kaling is pregnant! The respectful response to this morsel of information is: "Congratulations, actress and author who has already given me much joy and owes me nothing." The less respectful but more realistic response is, "Ooh, who's the father?" And herein lies a quandary for self-respecting gossip consumers and producers: Kaling isn't telling.
In theory, this seems like a potentially satisfying way to thwart the media's sick obsession with the contents of famous uteri. A source told People that Kaling isn't even sharing with her close friends who the father is, and also that she is not currently dating anyone. When E! News broke the story of her pregnancy earlier this week, it quoted an "insider" who simply called it "an unexpected surprise." There's the ambiguous fact that Kaling has said in the past, "I think I've decided that unlike everything else in my life, I'm going to be fast and loose about kids." We just don't know, in other words, and it's perfectly possible that we will never will. How, then, will the media handle this dangling mystery? Is there a chance celebrity news outlets might treat Kaling's decision to withhold paternity info as the privacy-protecting measure she surely intends it to be, rather than a thrilling whodunit to be collectively solved? Of course not. As it happens, we have a prime recent example of the way this dynamic plays out in the press: the pregnancy of January Jones.
Jones, best known for playing Betty Draper in Mad Men, gave birth to a son named Xander in 2011. Almost immediately after the pregnancy became public, the gossip press began speculating openly about the identity of the child's father, which Jones had notably not offered. Suspects included Jason Sudeikis, Jeremy Piven, director Matthew Vaughn, and chef Bobby Flay, with whom she was rumored to have had an affair while he was married to actress Stephanie March. "The mystery of who fathered January Jones' unborn child seems like a case tough enough for Maury Povich," the New York Daily News trumpeted. Quoting from an interview in which Jones joked that she wished she had "something weird to tell" about her healthy, happy pregnancy, the paper concluded: "How about we start with the name of the father first?"
The Daily News was far from alone in treating the identity of Xander's father as an exhilarating communal cliffhanger. ABC News produced a slideshow titled "Top 5 Prime Suspects for January Jones' Baby Daddy." The Los Angeles Times' gossip blog called her "classy" under a headline touting "7 baby-daddy conspiracy theories" regarding her "virgin birth." Fox News: "Ashton Kutcher, January Jones Mum on Rumors He Is Father of Her Infant Child." TMZ published a scan of the child's birth certificate, with the space for his father a blank, or as the website put it, "a big, fat BLANK SPOT."
Jones has resolutely maintained her silence on the question as the years have passed, which only makes the press's half-decade of tireless prying even more dispiriting. In 2013, she gave a circumspect interview to a fashion publication. "It's just not something the public needs to know," she said. "I don't divulge my sexual preferences. There are parts of your life—no matter what your job—that should remain private." US Weekly turned that into the headline "January Jones Talks About Xander's Father, Her Sexual Preference."
None of this is surprising, of course, but it still feels like a bleak harbinger for Kaling's next nine months. The news of her pregnancy is more than just a ray of sunshine in a dark time; it is also a chance for a media do-over. The actress is, presumably, only a few months pregnant. Gossip purveyors and enjoyers have almost a year of pregnancy news to come, followed by a birth announcement, and then years of childhood. Sure, Google already auto-completes "Mindy Kaling" with "husband," "father," "baby father," and "baby daddy." But we could choose not to speculate wildly about affairs and flings! We could acknowledge that real life doesn't often resemble the rom-com sitcoms that Kaling herself is so adept at producing. At least until the first slideshows of baby pictures mashed-up with photos of B.J. Novak.
---