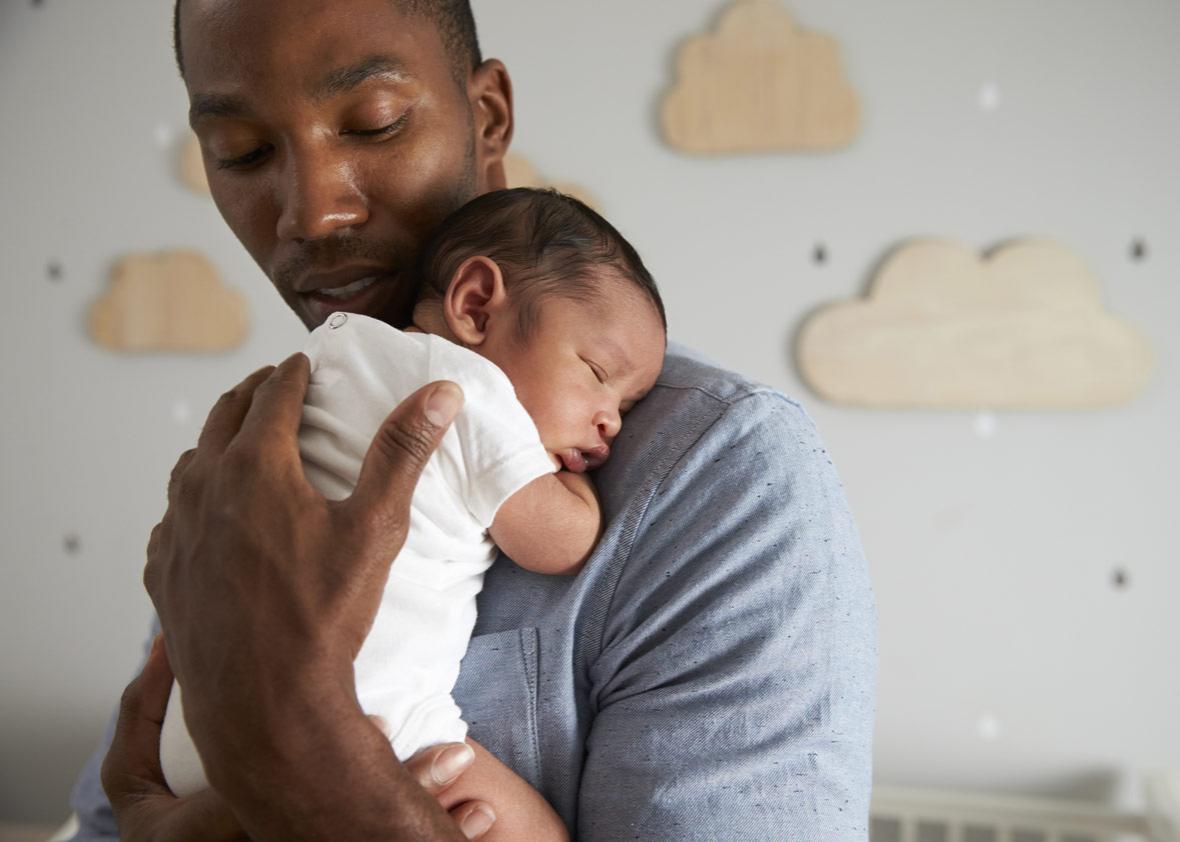 Paid family leave is a luxury in the U.S. About 114 million U.S. workers don't get any at all, and among those that do, a recent survey showed, just 10 percent get paid leave at their full salaries. In some ways, the paid leave landscape is getting worse: In the past decade, the number of weeks of leave the average company offers has decreased, and employers have gotten less likely to offer leave at full pay.
In part because many companies that offer leave tie it to disability insurance for women who give birth, fathers and adoptive parents are often surprised to find that their employers don't give them similar benefits to their birth-mother peers. A new survey of 44 top U.S. employers reports that 17 completely exclude some or all fathers and adoptive parents from their paid family leave policies. CVS, Gap, Kroger, Publix, Walgreens, and Staples are among the eight that give no fathers or adoptive parents any leave. Amazon, Marriott, McDonalds, Nike, Starbucks, and Walmart are among the nine that give paid leave to higher-paid corporate employees but exclude fathers and adoptive parents who are hourly, part-time, or field workers.
The report comes from Paid Leave for the United States, a nonprofit that styles itself PL+US and regularly exposes big corporations that shaft low-wage workers when it comes to paid family leave. Its latest survey also points to several companies—Amazon, Apple, GE, JPMorgan, Proctor and Gamble, and Disney—that give more than eight weeks' extra leave to mothers than to fathers and adoptive parents. (Update, June 16, 2017: Wells Fargo noted after the publication of this article that it gives 16 weeks to a primary caregiver and four weeks to a secondary caregiver, whether those parents are male or female, adoptive or biological.) Just 10 of the 44 companies surveyed offer equal paid leave to all new parents: Bank of America, CitiGroup, Deloitte, Ernst & Young, Hilton, Ikea, Levi's, Nordstrom, Target, and Verizon.
Unequal paid leave policies are an important pillar in a foundation of parenthood that casts caregiving as women's work. Studies have shown that men who take two or more weeks of leave after having a child are more involved in the day-to-day care of their babies nine months later than men who didn't take any leave. Years later, those men are still more capable fathers. Paid leave for men also benefits female partners, who are able to devote more time to paid work or personal pursuits if they want to.
Giving birth mothers more leave than fathers or adoptive parents may also be illegal. LGBTQ parents are about four times more likely to adopt children than straight ones and far more likely to be two-dad households, putting queer employees at a disproportionate deficit under unequal paid family leave plans. PL+US contends that policies that offer different benefits to parents based on their sex—or that privilege women while excluding gay men—violate Title VII of the federal Civil Rights Act, which prohibits sex discrimination, and a smattering of state laws against sexual orientation discrimination.
The American Civil Liberties Union is making that exact argument in a discrimination complaint filed with the Equal Employment Opportunity Commission against J.P. Morgan Chase on Thursday. Derek Rotondo, a fraud investigator who's been employed by the company for seven years, filed the claim after learning that J.P. Morgan wouldn't let him designate himself a "primary caregiver" to get the 16 weeks of paid leave birth mothers get. Rotondo has a 2-year-old child and a 9-day-old infant; before the latter was born, he asked human resources for permission to take leave as a primary caregiver. Since the company considers men default non-primary caregivers, HR told Rotondo that he was only eligible for two weeks of paid leave unless he could prove that his wife had returned to work or was "medically incapable" of taking care of the newborn. Rotondo's wife was on summer break from her teaching job and perfectly healthy, so he was denied the leave that a new mother would have gotten even if her partner was the primary caregiver.
"It was like something out of the 1950s," Rotondo said in a statement from the ACLU. "Just because I'm a father, not a mother, it shouldn't prevent me from being the primary caregiver for my baby."
The class-action charge holds that J.P. Morgan is violating the Civil Rights Act and the Ohio Fair Employment Practices Act, which protect employees from discrimination based on sex or gender stereotypes. Rotondo is asking J.P Morgan to apply its paid leave policies equally to men and women and to pay retribution to him and other male employees who didn't get the same paid leave their female peers were granted. If he succeeds, companies around the country may have to revisit policies that seem generous from the outside but ignore the realities of contemporary parenthood.