RESTON, Virginia—Three days after the murder of Nabra Hassanen, a 17-year-old black Muslim girl from Virginia, hundreds gathered at the tip of a manmade lake in her hometown of Reston on Wednesday to share their memories and air their grief. Residents of surrounding towns who'd never met her but had heard of her death came to place flowers at the feet of her family. Friends spoke of her as a big-sister figure, generous and kind, who loved without judgment and would give her last cent to buy a meal for a classmate who didn't have enough to eat.
"She knew how to make you smile," said Abidah Ali, the youth coordinator at the Sterling, Virginia, All Dulles Area Muslim Society Center, where Nabra attended religious services. "It is said that Mohammed, peace and blessings be upon him, said smiling is an act of charity. I'm sure Nabra is somewhere smiling right now, because the entire world around her is reaping the benefits of her charity. We are a closer community now because of her sacrifice."
Nabra and a large group of friends were walking back to the ADAMS Center from a nearby IHOP early Sunday morning when they were accosted by a driver with a baseball bat. (During the current month of Ramadan, when Muslims fast from sunrise to sunset, late-night prayers and meals are the norm.) All of the teens made it back to the ADAMS Center but Nabra. Law enforcement officials found her body in a muddy pond behind the parking lot of an office park on Sunday afternoon and arrested 22-year-old Darwin Martinez Torres in connection with her murder. They are now looking for evidence that Torres may have sexually assaulted Nabra before killing her.
Rafiah, a 20-year-old Muslim woman at Nabra's vigil, lives in the neighboring town of Ashburn. "We've all made that walk," she said of the trip from night prayers at the mosque to Suhoor, the predawn meal. "We made it because we felt safe." Previously, her parents would be OK with her staying overnight at her mosque. Now, she says, they're going to be much stricter. Mariam, a 25-year-old from Maryland, didn't know Nabra but feels a deep personal connection to the tragedy. "It could have been any one of us," she said. "This is a holy month for us Muslims, and we're doing our best to come together, give back, do good. And then something like this comes into our community. We're left speechless."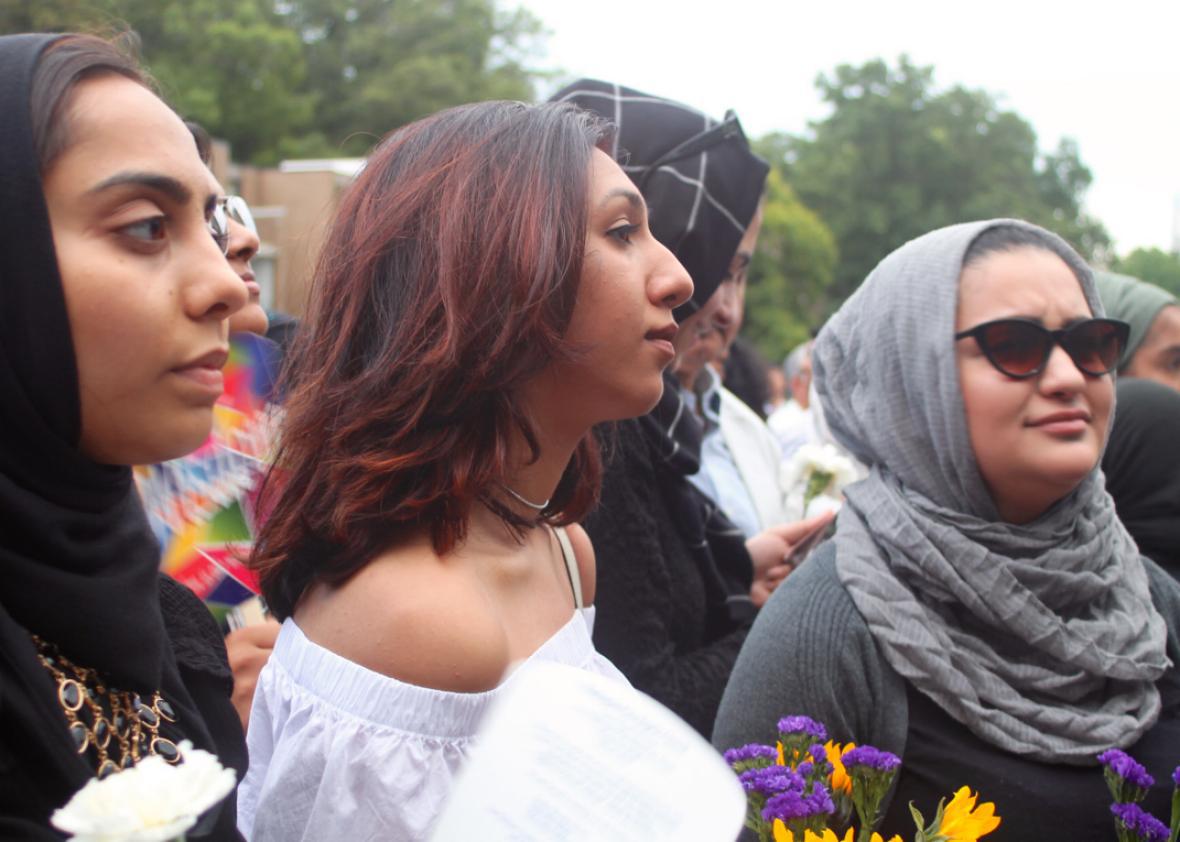 Though many Muslims in the area are grappling with elevated fear in what seemed like a safe community, police say they are not investigating Nabra's murder as a hate crime. A spokeswoman for the Fairfax County Police Department in Virginia told CNN that many assume it's hate-related because the group was on its way to a mosque and Nabra was wearing an abaya, a long religious garment. Nabra's parents have said that their daughter was killed because she was visibly Muslim. But it can be hard to prove that an act of violence is a hate crime if the perpetrator doesn't utter derogatory slurs or display any connection to organized hate groups. Local law enforcement officials are calling Torres' alleged motive "road rage."
That explanation rang false to attendees at Wednesday's vigil. "It hurts us as a community to put this under road rage. He ran after her. He beat her. There's a limit to what road rage can do," said Reem, a young Muslim woman who lives near the ADAMS Center. "If you put it under road rage, it makes it seems like an accident," agreed Reem's teenage friend Husna. "You don't do something like that in the moment. You don't beat someone to death and dump her in a lake in the moment." The chalking up of a vicious murder to everyday traffic concerns reminded some vigilgoers of the 2015 killing of three Muslim students near the University of North Carolina at Chapel Hill. Police described the murders as the culmination of a "parking dispute."
Farris Barakat lost his brother, sister-in-law, and sister-in-law's sister in that crime, which Barakat and others still believe was a hate crime. He spoke at Nabra's memorial on Wednesday after spending a few days this week with her family and friends. "The fear is real. The fear of Muslim women in their day-to-day lives is palpable," Barakat said. "Muslim lives matter. Nabra's life mattered. Your lives matter." He thanked members of the "Spanish community" who came to show support.
Other attendees spoke of Reston and surrounding towns as some of the most diverse communities in the U.S., where residents of faith live side by side in kinship. The ADAMS Center has two satellite prayer locations at area synagogues and hosts an interfaith Seder every year; one pan-Christian parish opened its parking lot for vigilgoers, and a Methodist one sent a representative with remarks from the pastor. Rabbi Michael Holzman from the Northern Virginia Hebrew Congregation said at the vigil that he "knew something was different" when he moved to Reston. "How did his get to be a place where people show up in such numbers for a girl they didn't know?" he asked. "This place came to be because of people like Nabra. She was a leader. Most of the world is not like this." His synagogue offered dates, a traditional post-fast snack, and water to vigil attendees breaking their Ramadan fast after the proceedings ended.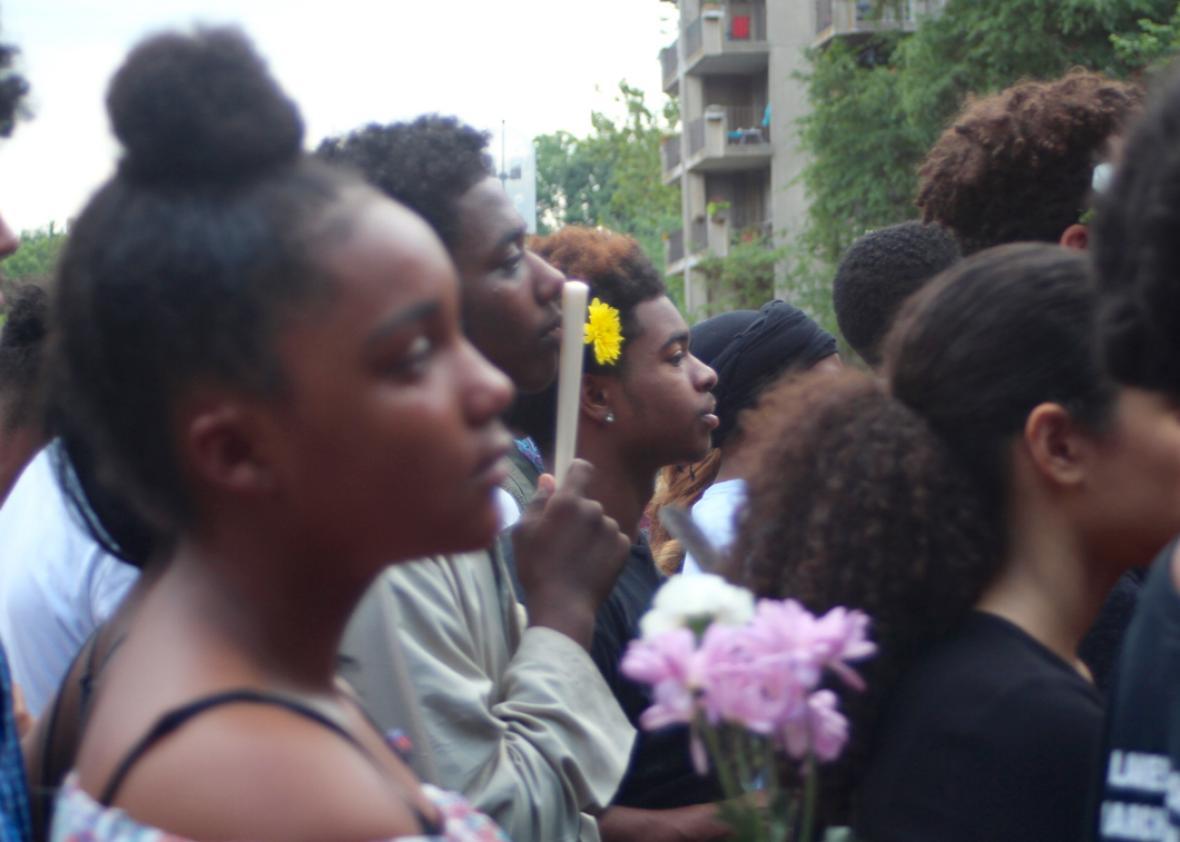 Now, for some Muslims in the region, that feeling of safety and peace in diversity is a bit more tenuous. Hasnia, who lives just over the D.C. border in Alexandria, Virginia, says she's never felt any different from any other American woman, other than the fact that she covers her hair with a scarf. "I've never really had an incident like this happen in all the years I've been here. This is a reminder to us to be more aware that hate is here in America, that hate exists," she said. "We will carry on, but we will carry on more mindfully now." Mariam understands that fear is a logical response to the killing of one of their own, but watching the community gather with non-Muslims to celebrate Nabra's life has given her hope. "I think this is a way for me to be more empowered, the fact that all these people are coming here together—to be more proud of the headscarf that I wear on a day-to-day basis," she said. "If we stay strong and show this support and unity going forward, I think we can overcome anything."
At the vigil, a group of boys from Nabra's school walked up to the mic, one by one, each with a different descriptor of the classmate they lost. "Nabra was inspiring," said one. "Nabra was humorous," said another. "Nabra was open-minded." "Nabra was compassionate." "Nabra was fashionable." Even as they mourned their friend, they were acting like high school boys—jostling for spots, smiling nervous smiles, clapping one another on their backs. A few girls in hijabs watched from the audience, whispering about which ones were the cutest. According to friends, the girl they were there to mourn was full of life and teenage spirit: She loved to flip her hijab with sarcastic exasperation, do silly dances, and pull up rap lyrics on her phone to try to sing along with her favorite songs. Her friends are proud that her story was retweeted by Zendaya and trending in Egypt; they are young, strong, and resilient, children forced to confront profound tragedy and the worst of humanity days before their high school graduation.
Sarah, a 17-year-old from a nearby Virginia town, didn't know Nabra but came to the vigil with friends to honor a girl whose fate could have easily been her own. She says she refuses to let Nabra's murder destroy the place where she feels "safest and most secure"—her mosque. "Obviously, it's not going to stop us," Sarah said. "We're still going to go to our night prayers. We're still going to eat Suhoor. We've just got to buddy up. We just have to look out for each other."