Party time!!!!!! The House of Representatives voted on Thursday to strip health care from millions of Americans so that some other Americans could have a little more money. If you think that calls for several cases of Bud Light and a celebratory fiesta in the Rose Garden, you're thinking like a Republican!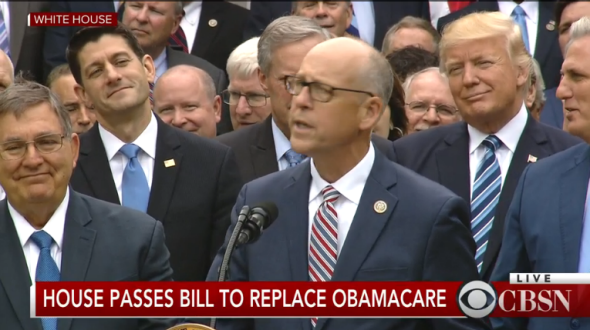 It was all smiles at the White House as Donald Trump applauded himself for achieving the passage of a partial Obamacare repeal through one chamber of Congress. The president once threatened to keep the Affordable Care Act in place if Republicans couldn't repeal it in March, but who follows through on a threat amongst friends? That minor wrinkle in the destroy-health-care Cinderella story was nothing a few back pats, bro hugs, and gleeful guffaws couldn't fix.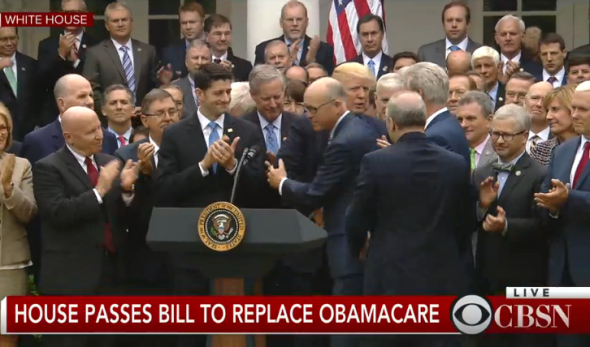 There were just so many great men, tremendous men, involved in this move to make womanhood an expensive pre-existing condition again. There was the white wrinkly man in the gray suit. The white gray-haired man in the wrinkly suit. The white flaxen-haired man in the poorly-tied tie. The white poorly-conceived man with the red tie. The white balding man with the blue tie. The white balding man with the blue shirt. The white white-haired white supremacist with the striped tie. A diverse coalition of America's finest minds, employed in the service of ensuring that poor people die while rich people get to be a little richer.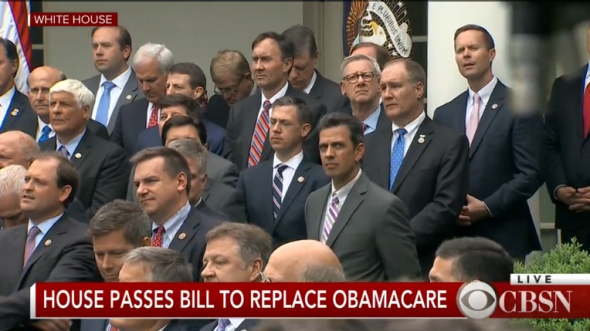 How beautiful is it to see so many happy faces on a day of such joyous accomplishment?! Republicans overcame unprecedented hardship to see this bill pass. Majority Whip Steve Scalise boasted on Thursday that one of the Republicans' health-care meetings lasted until 3 a.m., way past his bedtime—a sign of their dedication to the task of passing a bill they didn't even have time to read. Rep. Jason Chaffetz—who is recovering just fine from his foot surgery, thanks for asking—even returned to D.C., the perpetual object of his well-meaning concern, to scoot in for the vote on a medical device that couldn't have been cheap for his insurance company but was probably free for him! Smile for the camera, Chaffetz, and show us how much you love hospital bills!
In between grins and giggles, Scalise was able to elucidate one of the most important purposes of the bill: "making sure that patients and doctors are the ones that make their own health care decisions." Except when those patients are women seeking abortion care or those doctors work at Planned Parenthood—the legislation these gentlemen passed blocks affiliated clinics from accepting Medicaid reimbursements, essentially "defunding" it. The Congressional Budget Office, which the GOP didn't even bother to consult before passing this version of the bill, estimates that this will interrupt contraception access for the most vulnerable women, causing them thousands of pregnancies they would have wanted to prevent. The Planned Parenthood bit hits twice for queer and transgender Americans, many of whom depend on Medicaid and rely on Planned Parenthood for sensitive care or transition services.
My goodness, what an embarrassment of riches! Let's all toast to this joyous day—unless you now happen to be too poor or sick or dead to do so, in which case, more champs for us!!!