Notoriously private first lady Melania Trump doesn't give us a lot to go on. In the absence of numerous words and actions to interpret, the media is left to obsess over tiny public moments, like the time on Monday when Melania seemed to slap her husband Donald Trump's hand away from hers on a tarmac in Israel. What do these sorts of subtle cues between the couple reveal about Melania's emotional state? What does her strangely repetitive Instagram say about how she sees the world? Tantalizing though they are, these are questions that may never be answered fully.
Here's one thing we do know about Melania, though: She loves to belt it. From the gold belt that achieved meme status over the weekend to the white belt she matched to an all-white skirt suit in the outfit she was wearing when she swatted her husband's hand away, as far as she's concerned, the best waist is a cinched waist. She belts jackets; she belts dresses; she even belts jumpsuits.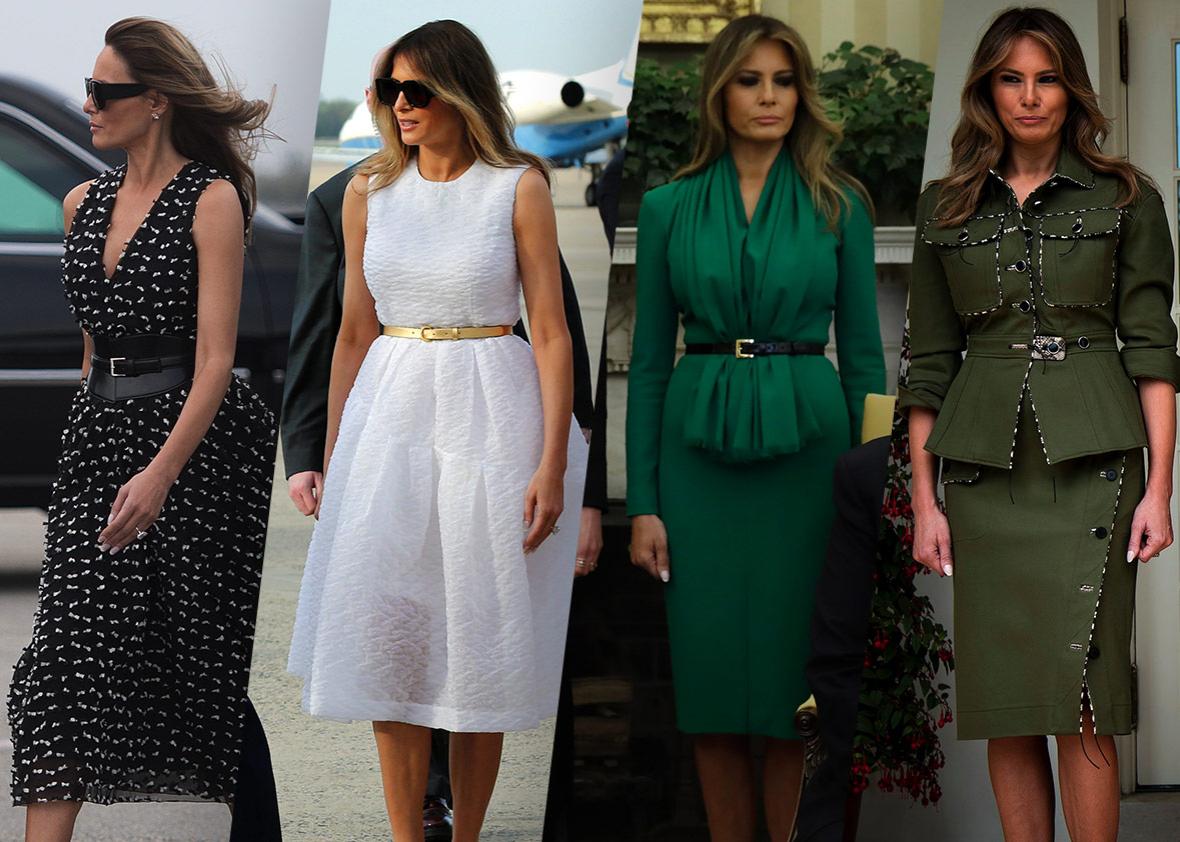 But what are we supposed to take away from Melania's proclivity for belts? As with Madeleine Albright and her pins, is Melania trying to send a message with her belts? Where her voice whispers quietly in her Slovenian accent, do her belts … belt out something more? I have a few theories:
The staunch commitment to belts could be a way of communicating her disapproval of Trump son-in-law and famous belt-hater Jared Kushner. He's now reportedly a person of interest in the ongoing Russia investgation—tsk, tsk. What she can't say in words (he's family!), she says in buckles.
Or maybe the belt-aphilia is just an extension of Melania's traditional, feminine style: She married a man who has criticized women working outside the home and has herself said of her marriage, "We know our roles … I didn't want [Donald] to change the diapers or put Barron to bed." It wouldn't be too much of a jump for such a person to also be an adherent of the 1950s-era philosophy that a woman looks best when her waist looks smallest.
What if the belts are a reflection of Melania's increasing lack of contact with the real world, surrounded as she is with handlers and Secret Service agents? Giant belts were all the rage in the aughts; has no one in Melania's inner circle informed her that they went out with trucker hats? Perhaps Melania chooses to inhabit an imaginary world where belts are still the height of chic. Maybe in that world, Trump isn't president. The appeal is undeniable.
Upon seeing Melania' jumpsuit-and-gold-belt getup from this weekend, some Twitter users surmised that she had worn the seatbelt off the plane—because that's one function of belts, to provide safety. Maybe wearing a belt is one way Melania provides herself with a feeling of security in increasingly uncertain circumstances. The man she married may have thrust her into the role of political wife without giving her a say in the matter and the world may be going to hell, but as long as her belt stays buckled, everything will be OK.