Something is up with Sean Spicer this week. The Washington Post reported early Wednesday morning that he hid himself in White House shrubbery to avoid the press gaggle that formed after Donald Trump fired FBI director James Comey on Tuesday night. He refused to speak until reporters turned their lights off, then addressed them in "near darkness."
Politico says Spicer is doing his Navy Reserve duty this week, but then, why the hiding in the bushes? Whatever malformation or full-moon transformation he's trying to hide, we wish him a speedy recovery, and we must express our gratitude for giving us the opportunity to spend some more time with his deputy! Sarah Huckabee Sanders has been filling in for Spicer on one of the White House communications corps' more demanding days, giving the members of the press a chance to test the resolve of their substitute teacher.
Huckabee Sanders is, in some ways, the anti-Spicer. If Spicey is a honeybee that will sting any perceived adversary as a matter of reflex even though it will tear out his abdomen and he'll die, Huckabee Sanders is a dog that will bark at the door, and when you go to get the door, she'll steal the beef jerky you left on the coffee table. (There was never anyone at the door, poor darling.) Spicer is prone to conflict and stepping in his own mess. Huckabee Sanders is slow and deliberate, running out the clock on her interlocutor, blithely circumventing the piles of excrement Trump leaves behind everywhere he goes.
If, like me, you try to avoid watching videos of Trump and his administration officials to preserve your mental hygiene, you'll find Huckabee Sanders a lot more pleasant than Spicer at first. She sounds sensible, not arrogant, and besides a minor jab at Politico on Friday, she keeps things professional. She has a disarming familiarity about her that goes on smoother than the forced folksiness of, say, Sarah Palin.
In fact, Huckabee Sanders will probably remind you of a few people you already know. With her husky monotone, muted gestures, and long, dark hair, she's reminiscient of that girl in high school who'd skip class to roll joints and goof off with her dude friends in the school parking lot, sort of a brooding Busy Philipps type. She's probably new to town because she's still got a kind of twang going on, but she's cool and down for whatev. Then, somehow, abortion or Abu Ghraib comes up in conversation, and in her totes chill way, she explains that fetuses deserve a shot at life just like everyone else, except prisoners, who deserve a humiliating death. Pass the J!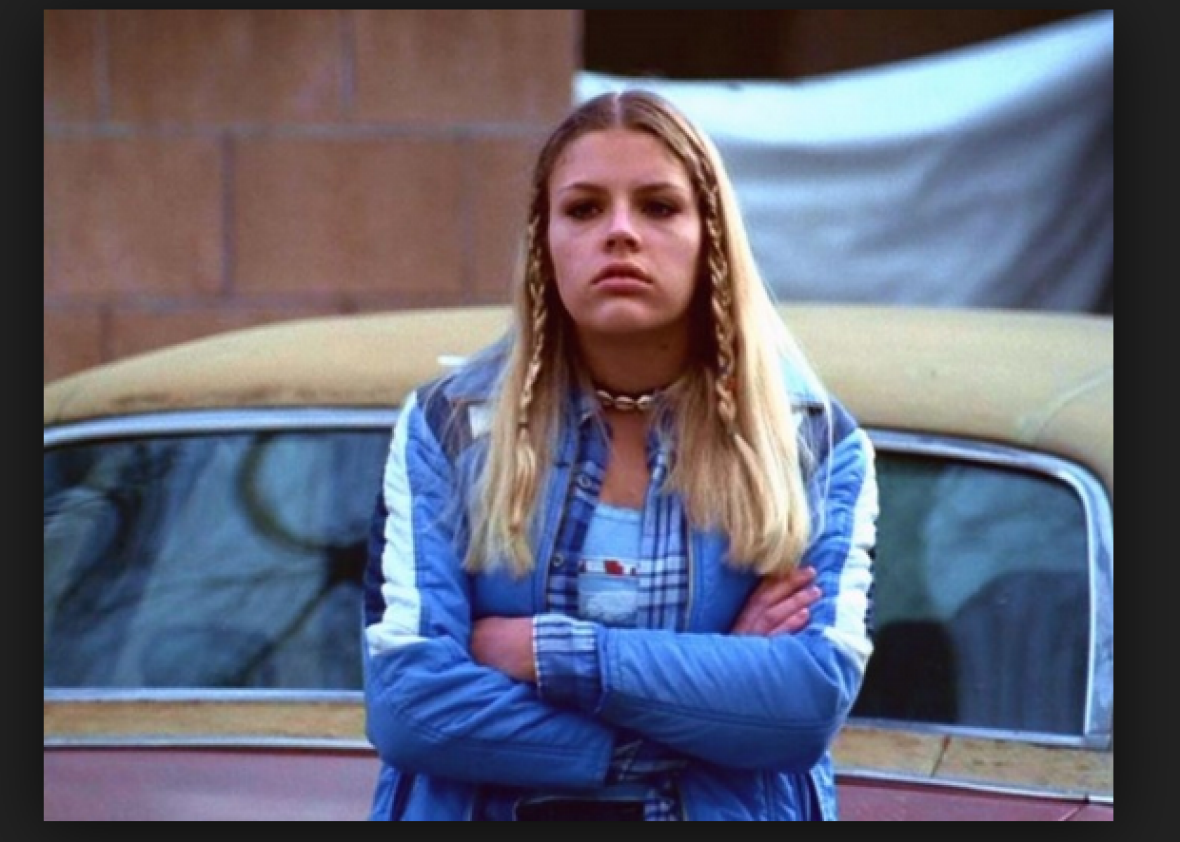 The principal deputy press secretary also serves patient parent or field hockey coach vibes, an effective PR strategy Spicer could stand to study. Her mouth performs a kind of rueful, half-smiling twist when she speaks, like a kindly adult taking the time to explain something simple and reasonable to a dimwitted or willful child. Huckabee Sanders loves to use the words "frankly" and "look," which makes it sound like she's dropping all pretenses and doing you a favor by giving it to you straight. She prefaces sentences with "look" even when it doesn't really make sense: "Look, I think I just answered that," she told the Morning Joe hosts Wednesday morning when pressed on Trump's sudden firing of Comey. To Tucker Carlson, she wondered of the Democrats and Russia, "My gosh, Tucker, when are they gonna let that go? … Frankly, it's kind of getting absurd."
She also fails to use the "I statements" recommended by nonviolent communication specialists, which engenders intimacy and implicates her listeners in whatever she's saying. "Once you take over leading the Department of Justice," she began a statement in her first White House briefing, essentially asking the White House press corps to put themselves in the shoes on the president. "That's very different than being a candidate in a campaign," she went on. "As you guys know"—you statement!—"there's a very clear distinction between those two things." And don't shoot Trump's messenger: Huckabee Sanders is prone to shrug and start definitive statements with "I think," as if she's just an unbiased observer. "Look, you guys know there's no way I can let you eat Sour Patch Kids for dinner," you can imagine her saying with a smile, "and frankly, I think you'll like these string beans much better."
Without a blip in her temper, Huckabee Sanders has spent the past 24 hours patiently explaining away an alarming instance of Trump's abuse of power. From Spicer, Huckabee Sanders' low-key style might come off condescending, but she makes every rebuttal into an honest misunderstanding between friends. Her lack of bluster makes her a rarity in Trumpland and far more frightening than her colleagues. It's an impressive showing for a newcomer. Then again, there's no high bar to clear when your boss is known for making concentration camps sound like YMCAs and your father is this guy.