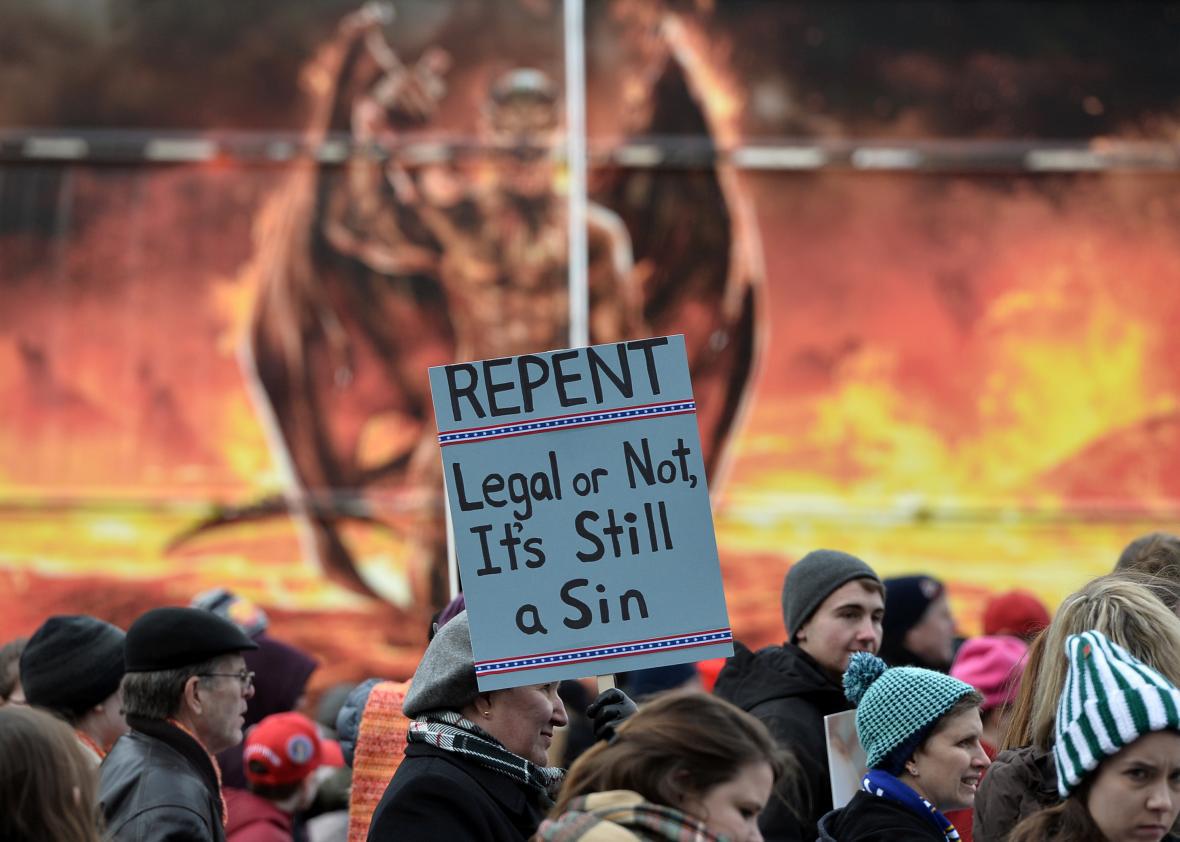 Republicans in Congress were très busy this week trying to make a health care bill comprised of as little actual health care as possible. A Quinnipiac poll found that 13 percent of women support the bill, no doubt persuaded by the room full of entirely white, male legislators working on it. While they were occupied making a deal with the White House to axe maternity care from the list of essential health benefits all insurers must cover, state legislators had their hands full with other bills restricting women's health care.
Texas took the cake this week when it came to making new rules about women's bodies, with three bills making moves in the state legislature. Two anti-abortion bills passed the state Senate on Monday. One prevents patients from suing doctors for withholding information about a fetus's birth defect, essentially protecting medical providers who would lie to a patient about her fetus's health to keep her from potentially getting an abortion. The bill's sponsor, Sen. Brandon Creighton, said when first proposed the legislation that without it, "doctors can be penalized for embracing the sanctity of life," which would prevent "the best physicians in America"—those who would withhold critical health information from their patients—from wanting to work in Texas. The Senate also passed a bill that would ban dilation and evacuation, by far the most common second-trimester abortion procedure, that causes "the death of an unborn child"—in other words, performed for reasons other than a miscarriage. The procedure was recently made illegal in Arkansas, too, effectively banning second-trimester abortions in the state.
Never one to rest on the fetal front, the Texas Senate returned Wednesday to give the initial O.K. to a bill that would bar health insurance companies in the state from covering abortion, requiring women to buy a separate rider if they wanted the coverage. (Republicans in Congress are currently trying to make this happen on a national scale.) Insurance policies could still cover medically necessary abortions, but not ones sought simply for reasons of rape or incest. "The majority of Texans are pro-life and neither want nor need insurance coverage for elective abortion," an anti-abortion leader said in a press release about the bill. As long as they're discussing public opinion on whether or not medical care is necessary, perhaps they could poll the majority of Texans on whether they want and need old men to get subsidized erection meds?
Oklahoma and Arkansas both pushed ahead on bills prohibiting abortions sought for specific reasons this week, attempting to narrow the circumstances under which a woman can seek medical care. Arkansas lawmakers passed a bill banning abortions sought on the basis of fetal sex on Wednesday, sending the legislation to the governor for a final signature. If and when the notoriously anti-abortion Gov. Asa Hutchinson signs the bill, doctors in the state will be required to ask abortion-seeking patients whether they know the sex of their fetuses. If they say they do, the doctors will have to delay the procedures until they spend "reasonable time and effort" obtaining the patients' medical records. On Tuesday, members of the Oklahoma House voted to advance the Prenatal Nondiscrimination Act of 2017, which bans abortions sought because of fetal genetic abnormalities, including Down syndrome. If the bill becomes law, doctors who perform abortions under these circumstances could face $100,000 fines and the loss of their medical licenses. The state already bans sex-selective abortions.
These kinds of laws are completely unenforceable—how can anyone prove the exact reason why a woman wants to end a pregnancy? They're popular because they shame women for wanting to end a pregnancy, give women more reasons to fear going to the doctor for abortion care, and give doctors reasons to cast suspicion on women, particularly Asian women living in states with sex-selective abortion bans. The Oklahoma law makes no exceptions for fetuses with abnormalities that would cause them to die hours after birth or fetuses conceived through rape or incest, a decision one legislator defends as preserving God's will. On whether rape and incest can be part of God's plan, Rep. George Faught said, "If you read the Bible, there's actually a couple circumstances where that happened and the Lord uses all circumstances. I mean, you can go down that path, but it's a reality, unfortunately." An unwanted fetus conceived in rape or incest could be a case of God bringing "beauty from ashes," he said.
In other bad news this week, the Iowa House advanced a 20-week abortion ban that has already passed the state Senate, and a Montana legislator introduced a bill that calls for a voter referendum on whether to keep trans people out of the bathrooms and locker rooms that match their gender identities. But here's a totally unexpected piece of great news! A Louisiana law preventing some immigrants and refugees from getting married was struck down on Wednesday by a federal judge who said it violated equal protection rights and the right to marry. The plaintiffs were Viet Anh Vo, a U.S. citizen born in a refugee camp in Indonesia, and his fiancée Heather Pham, who was born in the U.S. The law, which was passed by legislators who claimed to want to prevent immigrants from entering bogus marriages just to get citizenship, barred the couple from getting a marriage license because Vo didn't have an original or certified birth certificate. Finding someone whose chewing sounds don't make you want to die will now be the major obstacle to marriage in the state.
---