Playboy's attempt to quit nude photo spreads didn't last long. The magazine published the first non-nude issue in its 63-year history in March 2016, and just one year later, it's reversing course. Cooper Hefner, founder Hugh Hefner's son and the company's new chief creative officer, tweeted on Monday that nudity will return to Playboy in its March/April 2017 issue.
"I'll be the first to admit the way in which the magazine portrayed nudity was dated, but removing it entirely was a mistake," Hefner's tweet said alongside a photo of his smirking face. "Nudity was never the problem, because nudity isn't a problem. Today, we're taking our identity back and rediscovering who we are."
Hefner took his spot at the top of the magazine's creative team in October, after half a year of issues that still showed women's naked bodies, but with their genitals and areolae covered with strategically placed benign body parts and objects. The new back-to-nude Playboy will bring back nipples but keep vulvas out of the picture, a departure from the publication's pre-2016 policy.
When Playboy announced its intent to go never-nude in October 2015, then-CEO Scott Flanders blamed the shift on the internet. "You're now one click away from every sex act imaginable for free," he told the New York Times. "And so it's just passé at this juncture." Removing exposed genitals from the magazine allowed the product to be placed more prominently on newsstands and find readers in countries and military bases that don't permit pornography sales. The decision could also be taken as the natural progression of an outlet that began back when a woman's exposed breasts could be a nose-thumbing act of sexual liberation. Now, in an era of consent-based sex positivity and a rising population of queer-identified young people, the uncomplicated sexual objectification of women has a limited target audience.
The new version of naked Playboy is trying to market itself as a pseudo-enlightened, classy enterprise that views nudity as a beautiful, natural part of human existence instead of just a masturbatory aid. This month's cover model, Elizabeth Elam, is photographed with natural-looking makeup, bedhead, and a subdued pose that doesn't immediately call to mind a sex act. A video interview with Elam asks whether she's turned on by a slew of random things, including Jonah Hill, tube socks, and pepperoni pizza. Planned Parenthood and "self-proclaimed male feminists" get the thumbs up.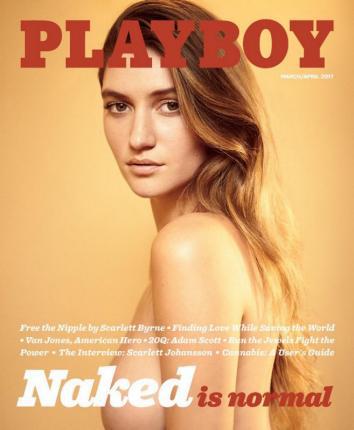 This appears to be a slight deviation from the Playboy of yore, whose covers were reliably inhabited by big, shiny hair, fake breasts, fishnet fingerless gloves, and pantsless women grinding on one another's hips. Models bit things that weren't meant to be bitten and straddled anything their legs could encircle. The August 2010 issue promised a tribute to Mad Men in the form of "an eight-page homage to cold martinis and naked secretaries," which is sort of like celebrating Requiem for a Dream with a spread of women sniffing blow and having anal sex. Nude Playboy 2.0 seems a bit better attuned to subtlety and irony, its aesthetic of sexiness shifted slightly from a middle-America working-class ideal to the less-altered "natural" beauty favored by, shall we say, coastal elites. Nowhere is this clearer than in the inside shot of Elam in a folded-up T-shirt. The lighting and weathered fence say Instagram filter, but the underboobs say Playboy Mansion.
As part of its makeover, Playboy stripped its "entertainment for men" tagline to welcome a wider variety of readers, and it's trying to align itself with nude-positive ideologies like the "free the nipple" campaign, proclaiming on the March/April cover that "Naked is normal." Problem is, #nakedisnormal has already been claimed by nudists. Movements for the social acceptance of nudity have mostly put body positivity at their centers, affirming that all bodies have an equal right to be exposed and that nudity should not be automatically sexualized. That ethos is directly opposed to the mission of Playboy, which is to showcase a narrow spectrum of bodies for the purpose of sexual excitement. Naked bodies are normal and not necessarily sexual; a rail-thin model clutching her breasts by a fireplace is not.