This story was produced through a partnership between Slate and the Global Migration Program at Columbia University's Graduate School of Journalism.
ATHENS, Greece—Hunched over the balcony railing, Aisha Mahmoud* watches as the street lamps below flicker to life one by one in the swiftly descending darkness. It is nearly dinnertime for the residents at the City Plaza hotel—an abandoned hotel in central Athens that is now home to 400 refugees from Syria, Iraq, and Afghanistan—and the din of the cooks is louder than usual.
Unlike the other squats in the area, at the City Plaza hotel each family has its own private room with a bathroom, refrigerator, and linens they are responsible for washing—usually by hand in their sinks or bathtubs. The single men sleep three or four to a room, though there aren't many single men at the City Plaza. There is Wi-Fi in the bar and common area, and breakfast, lunch, and dinner—cooked by the refugees on a rotating schedule—are served every day. The hotel is managed by volunteers but run by the refugees themselves, and it is sustained through private donations.
Sitting back, Aisha turns and reveals her heavily pregnant belly. She is in her eighth month, she thinks. "Do you have children?" she asks me. I don't. "You are lucky then," she says with a heavy sigh. Alone in Greece, pregnant, and without a penny to her name, Aisha is among the most vulnerable population of refugees currently stuck in Greece
At 16, Aisha was forced to marry a 17-year-old boy from her neighborhood back in Syria. "I didn't want to get married, but my father said I must, so I married," she explains. By the time she turned 17, Aisha was pregnant. With anger and frustration building in her voice, she continues: "I wanted to finish school. I am not happy."
Though Aisha doesn't feel lucky, her situation could be worse. Most unaccompanied minors—individuals under the age of 18 who are traveling without a blood relative—are living in detention centers, in squalid camps on the outskirts of Athens, in inadequate shelters for children, or, worse, on the street. At the City Plaza hotel, all of Aisha's basic needs are taken care of, including meals, snacks, and personal hygiene necessities.
When Aisha gives birth—at a public hospital in Athens, where maternal care is basic—she will even be provided with diapers and formula from private donations made to the hotel where she is living. Every month, the hotel receives thousands of dollars' worth of food, clothing, and personal hygiene essentials.
Since 2015, more than 1 million refugees have entered Europe, the majority of them through Greece and Italy. Most refugees who landed on Greek shores in 2015 and early 2016 moved onward toward central Europe within days or weeks of their arrival. For most of the refugees arriving there, Greece was never intended as a final destination but, rather, a transit country. The economic situation, the lack of job opportunities, and the poor camp conditions left few refugees wanting to make Greece their new home.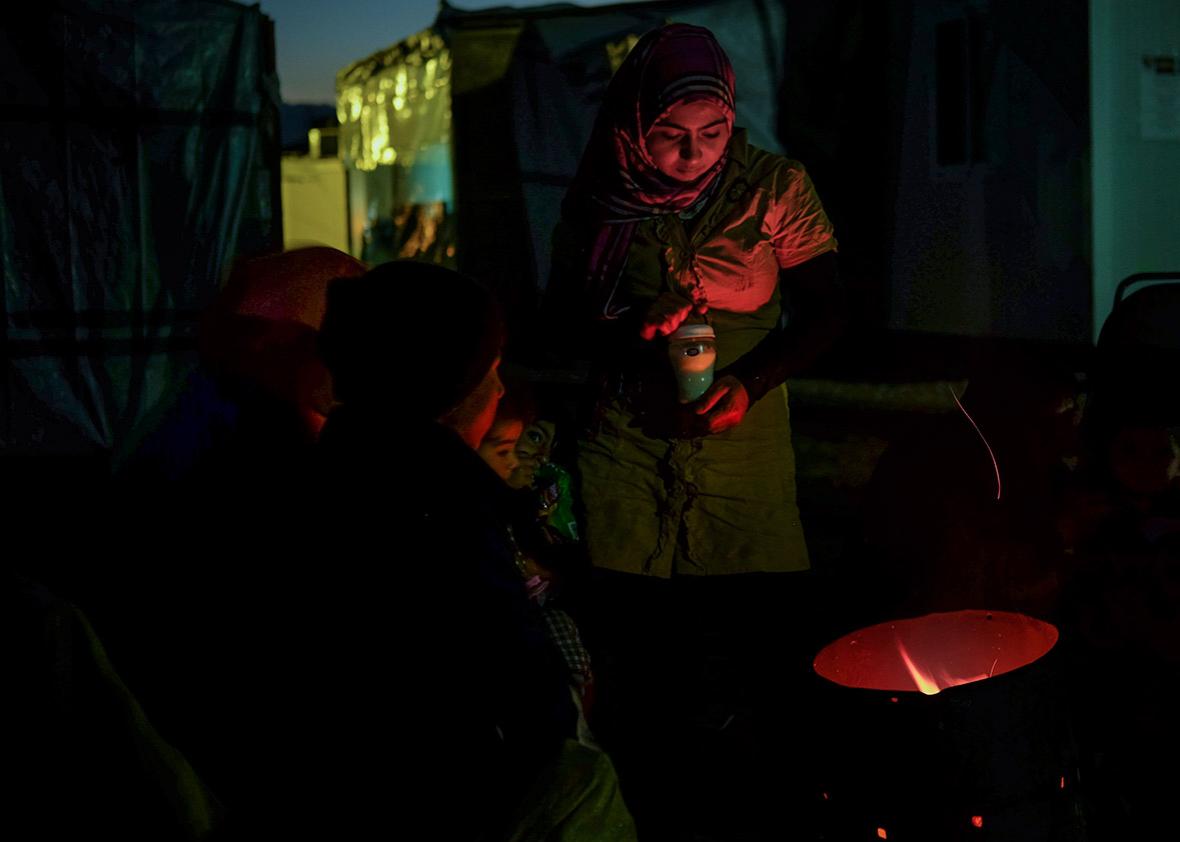 This all changed in March, with the closure of the Macedonian border in the north of Greece and the ratification of a treaty between the European Union and Turkey only days later. Nearly a year later, officially some 62,000 refugees are still stranded in Greece waiting for their asylum claims to be adjudicated. Nearly 40 percent of them are children, 2,300 of whom are unaccompanied minors.
For the unaccompanied minors now living in Greece, government programs like shelters and detention centers are not enough to keep them off the street and out of trouble. Detention centers are so dangerous and in such poor condition that many minors prefer to sleep rough—exposing themselves to smugglers and people traffickers, drug dealers and pimps—rather than be stuck in a prisonlike environment.
Originally, the detention centers were established to protect unaccompanied minors who found themselves in Greece. However, as conditions inside quickly deteriorated, and rumors of police abuse began to surface, many minors started to avoid registering as refugees to avoid being taken to one of these centers.
"There is a lot of trauma, a lot of PTSD. All of them have been victims of violence, so it's very hard to gain their trust," explains Sofia Kouvelaki, executive director of the HOME Project, a privately funded program that is currently constructing five shelters for unaccompanied minors in Athens. But, according to Kouvelaki, still more needs to be done. "The more you leave these kids alone, the more they are exposed to all sorts of dangers like child prostitution, child abuse, sex trafficking, and organ trafficking," she says.
But what this assistance looks like on an individual level varies. "The ones who are on the streets are left without basic care, and no information about their rights. Very often they don't speak the language, so after a while they sell themselves for 5 euros, and once that happens, it's very hard to heal," says Kouvelaki. "They need warmth, they need attention, they need love, and they need individualized care."
They need what only parents and a family environment can provide for children. As Roland Schönbauer, a senior communication and public information officer at UNHCR, the U.N. Refugee Agency, which currently funds 54 percent of the age-appropriate accommodations and "safe zones" in camps across Greece, explains in a telephone interview, "The thing they need most is a protective environment—the one that they lost either because the smugglers have separated them from their families or because they traveled alone from the start." Lacking that, the UNHCR and programs like the HOME Project seek to provide a safe and wholesome age-appropriate living environment, where children have access to things such as school, athletic activities, and home-cooked meals.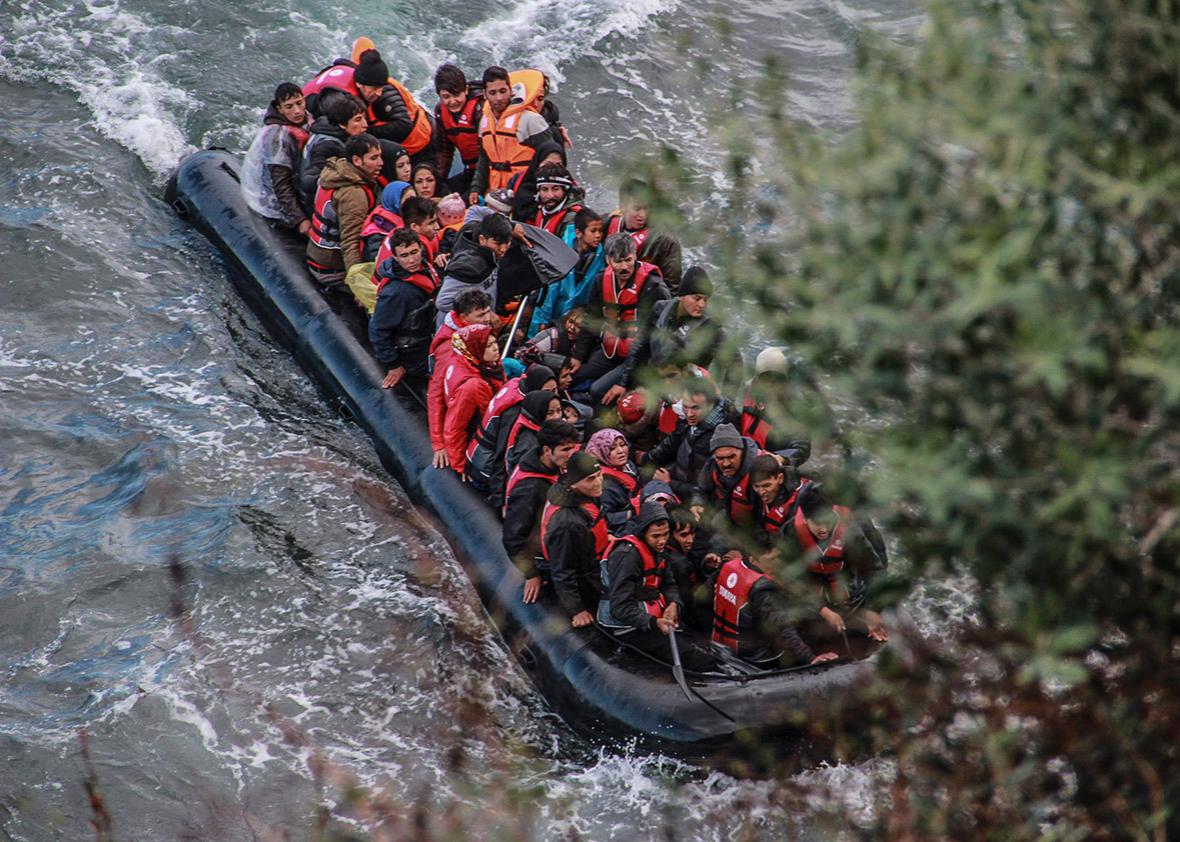 Aisha did not begin her journey to Europe alone. She left Syria with her husband and several members of her extended family, including her father's second wife and five children. But once the family reached Turkey, their paths began to diverge. Aisha and her husband traveled together on one boat while her mother, stepmother, and siblings stayed behind waiting for spaces on another.
Aisha's boat made it to Greece on its first attempt. But from there, the couple became separated. Once in Greece, Aisha's husband pressed on alone, something Aisha is not sorry about, though it has increased her vulnerability.
"I don't know where he is. Maybe Germany, maybe Austria, I don't know," she says of her husband over falafel one night near Victoria Square—a neighborhood where most refugees and migrants live while they wait for news on their asylum requests or make plans to leave Greece illegally. "He's gone. It's finished. I don't want a husband," she continues.
Aisha's only goal is to leave Greece, and ultimately to reach her father, who made it to Germany ahead of the rest of the family's departure from Syria. But once there, she doesn't have a plan. She isn't even sure if she'll be able to live with her father for very long. Not for legal reasons, but because his second wife, the one he chose for the family reunification process, along with her five children, does not like her. (In Syria, it is not uncommon or illegal for a man to have more than one wife, especially outside of the cities. In Europe, this is not the case. Refugees who are participating in the family reunification process in EU countries and have more than one wife back home in Syria must make a tough decision and choose only one.)
Despite this complication, Aisha is still desperate to be reunited with her father.
Aisha's desire to leave Greece eventually pushed her into the hands of smugglers. Less than a month after our first conversation, in her last month of pregnancy, Aisha disappeared from the hotel where she was staying. Rumor has it that she made her way to Thessaloniki, a destination for many refugees who want to cross the Greek-Macedonian border illegally with smugglers. But since she has no telephone or social media presence, I lost contact with her.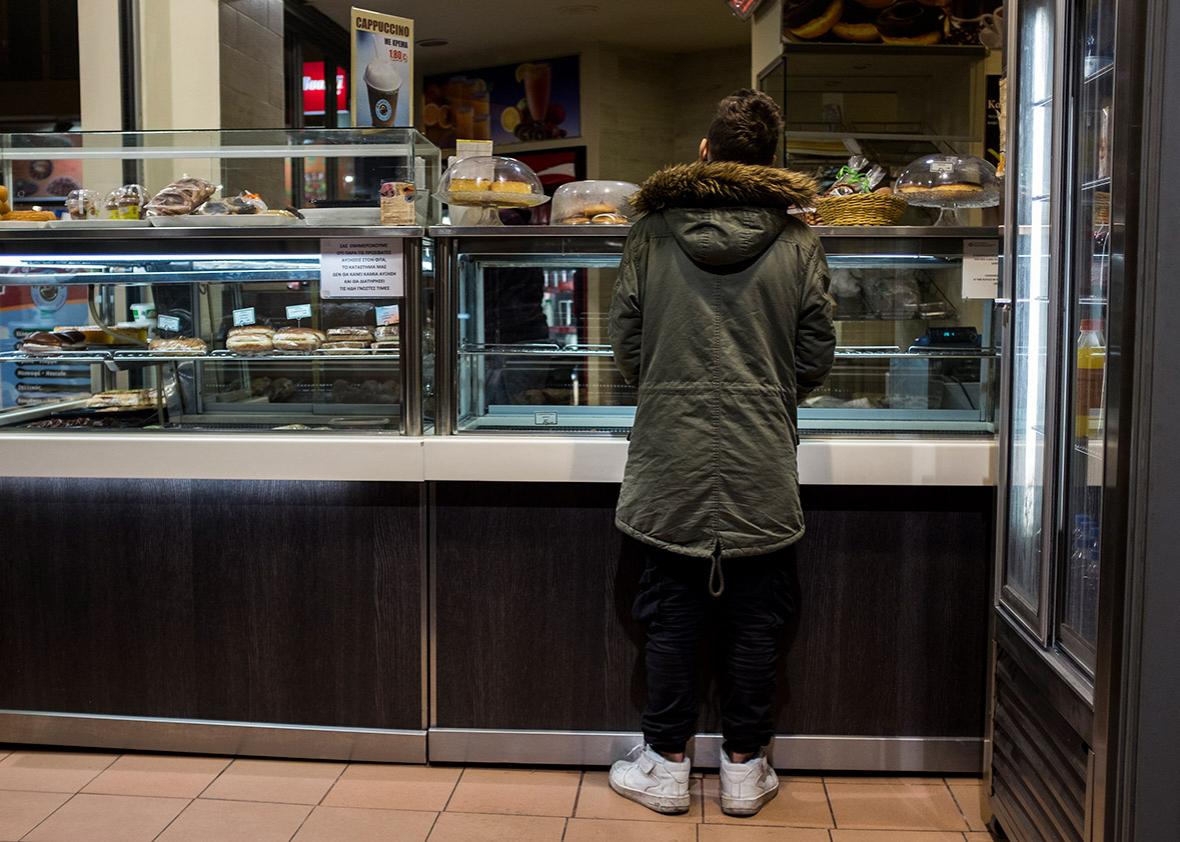 Like Aisha, Ali Muhammed,* a 15-year-old boy from Damascus, Syria, is in an extremely vulnerable situation. Since arriving on the small Greek island of Chios in early April, Ali has been alone in Greece for almost a year, during which time he has bounced from camp to shelter, to squat, and finally to a rundown hotel in Omonia, a neighborhood in Athens known for its high crime rate. A shared room costs 12 euros a night, a small sum for an international volunteer who has been trying to keep an eye on Ali and keep him out of trouble.
Ali is familiar with the ways trouble can find him, and he actively tries to protect himself. "I'm scared a lot. A lot," he repeats. During the day, he roams the streets of Athens, trying to steer clear of the neighborhoods where he could easily fall victim.
At night, he returns to the abandoned building in Omonia where he and dozens of other refugees—many of whom are also unaccompanied minors—are living. He used to share a room with 30 others, thin blankets and scarves strung up between walls for privacy. Now he shares a room with just four other people, teenagers like himself. Still, he sleeps with a butterfly knife in his pocket. "When I first came, someone stole my phone, and a Syrian smuggler told me, 'If you sleep with me, you will go to Germany.' "
Ali doesn't talk about his family much, nor does he attempt to call them back home in Syria. "I don't talk with them, because I don't want to be sad and miss them. I have to forget them so I can focus on getting to Germany or Holland and bring them there." Ali started his journey with his older brother, but the two became separated in Turkey. His brother never made it to Greece.
With no parental figures to watch over children like Ali, the likelihood of their getting into trouble, or falling prey to predators, is extremely high. "If you marginalize these people the moment they arrive, they will most likely become the criminals of tomorrow, especially the 10- to 17-year-olds. When they are 35, who is going to deal with their anger and despair?" asks Kouvelaki.
Ali does not want to stay in Greece, but with the Greek-Macedonian border in the north sealed firmly shut, and with the asylum relocation process stalled, his options are few. Like most refugees who are still trying to leave the country, Ali will put his life in the hands of a smuggler, his only hope of getting out of the country. There is no future for him and his family in a country where even Greeks have a hard time finding work and supporting themselves, he says.
Ali has tried to leave Greece twice using a fake passport. Both times he was apprehended at the gate—ticket in hand having passed through security—made to wait until the flight took off and then released back into Athens. At the squat once again, he is now arranging for a third attempt. Ali has paid a smuggler 2,500 euros, which buys him a fake ID and an airplane ticket. Each time he is unsuccessful, he returns to the same smuggler to get another ticket and another ID. Many refugees attempt this crossing as many as 10 times. Usually, smugglers receive the full deposit from the refugees only after they manage to cross the border.
"I will use a smuggler because there is no other way," says Ali. "If I stay here, I cannot work. There is no life here," he continues after a moment.
According to an October Oxfam report: "Faced with the situation in Greece, it is inevitable that people see few options but to make their own arrangements to reach other parts of Europe, often to reunite with family."
Lengthy asylum-processing times and closed borders have left thousands of refugees languishing in deteriorating camp conditions where the cold winter weather has claimed the lives of four people across the country. As the months drag by, and the situation in Greece worsens, the refugees' desperation to leave the country increases.
Back in October, Oxfam estimated an average of 100 to 300 people were crossing the border daily, "either by themselves or with smugglers." The report continued, "With borders closed, the vast majority of people have had to resort to using smugglers to continue their journey, which increases their risk of being exposed to abuse, violence and exploitation."
In December, the European Union decided to allow member states to begin returning refugees to Greece—the first country of entry for the majority of those now in Europe. The decision is set to take effect in mid-March. This could push Greece's already overloaded asylum-processing system into total collapse.
"If the new policy is implemented, there will be chaos," says Kouvelaki. "I'm hoping and praying that something will change. It's unsustainable already."
*These names have been changed for safety reasons. (Return.)