Atlas Obscura on Slate is a blog about the world's hidden wonders. Like us on Facebook or follow us on Twitter.
This blocky monolith occupying an entire city square on Washington, D.C.'s Capitol Hill is the Rayburn building, built in the 1960s as new office space for the House of Representatives. It's design frequently evokes soliloquies on "monstrous," "soul-deadening," and "fascist" architecture.
The layout of the Rayburn building resembles a corrupted letter H, with tentacle stubs jutting outward off the center and inward on the ends.
The H shape has two unintended impacts on the building. First: Its windowless hallways are impossible to navigate. To get from one corner to the opposite you need to make a right, a left, another right and another left. Second, it occupies the maximum amount of real estate with the minimum amount of usable space. Less than 20 percent of the Rayburn's floorspace is offices. The rest is taken up by corridors, garages, cafeterias, elevators, and so on.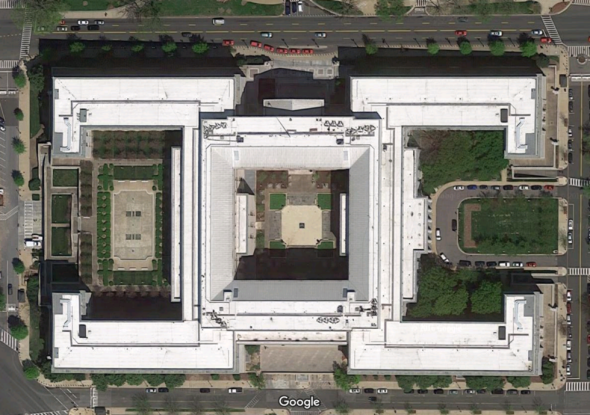 Rayburn has a five-acre footprint, and looming four stories over the Hill, it is larger than the nearby Capitol building. The height is even more pronounced at the southwestern corner of the building, where a drop in elevation exposes the subbasement level and gives the appearance of a six-story building.
The entire facade is clad in 7 million pounds of blank white marble. It can be difficult to appreciate the overbearing scale in photographs, but standing at its base it is impossible to ignore how Rayburn dwarfs its human inhabitants and much more restrained neighboring offices.
The sparse decorations come across as random, bizarre, and a little amusing. One one side of the building you can find an unidentified topless Art Deco statue with an enormous sword; another is adorned by horses with drinking horns rising out of their hindquarters. Don't be embarrassed if you miss the symbolic meaning of these statues; there is none.
Architectural quirks abound on the inside of the Rayburn building. When it opened, the Washington Post called out the numerous "stairways that lead nowhere" and baffling designs that result in "hot and cold air blowing into offices at the same time." The building also used to have an underground swimming pool and Capitol Police shooting range (recently abandoned because of bounce-back bullets.)
The building was designed by a congressional commission headed by powerful Speaker of the House Sam Rayburn, and it was built under the guidance of George Stewart. Stewart was a former congressman, and college dropout, lacking any formal training in architecture.
Written by Atlas Obscura contributor Elliot Carter
If you liked this, you'll probably enjoy Atlas Obscura's New York Times best-selling book, which collects more than 700 of the world's strangest and most amazing places: Atlas Obscura: An Explorer's Guide to the World's Hidden Wonders.