On Saturday in Washington, Rhonda Barnes, a 54-year-old wellness coach from Virginia, stood with her 32-year-old daughter, Michelle Mugg, in the endless throng on the mall at the Women's March on Washington. It was the first political demonstration either had ever attended. Barnes said she'd been a little scared to make the trip into the city—the day before, she'd been alarmed by scenes of smoke-filled clashes between anarchists and police on television—"but I said I'm not going to let that stop me. I'm coming."
Barnes described how she felt the day after Donald Trump won the election. "Sadness," she said. "Confusion. Almost no hope." Shortly afterward, Mugg's 10-year-old daughter asked her grandmother, "The kids at school said once Trump gets elected he's going to send all the black kids back to Africa. Am I going to have to go back to Africa? We've never been to Africa!" Barnes assured her granddaughter she would be staying in her country.
"This election brought awareness to the fact that people's mindsets aren't as progressive as we think they are," Mugg said. "But I think the positive thing that we can take away from this election is that a lot of people who probably sat by, myself included, and didn't vote at a local level, or pay attention to the policies that are in effect, are now showing up. Like here today." Barnes, who is from Prince William County, Virginia, was wearing a T-shirt from her local National Organization for Women chapter. She'd gone to her first meeting the week before, after searching online for women's organizations. "I like what I hear, I like the energy," she said of NOW. "It gives me energy and it gives me hope."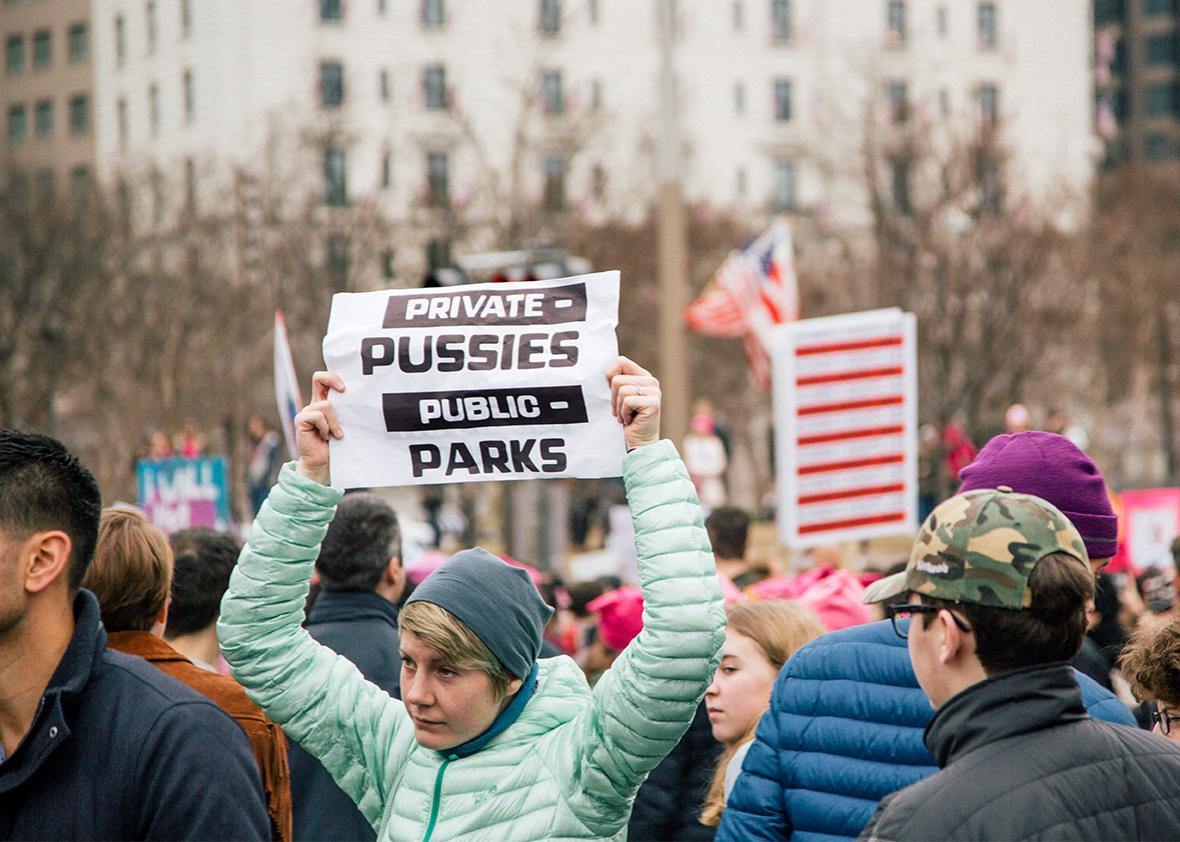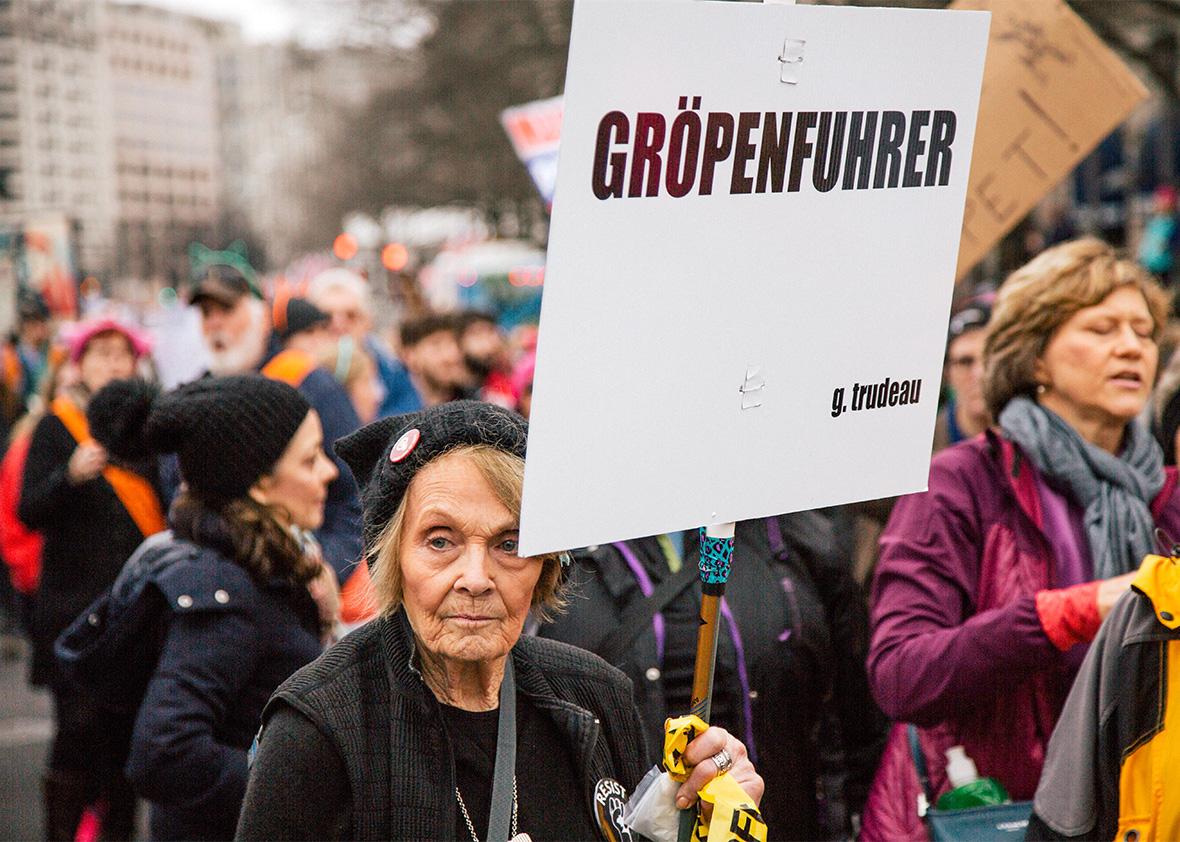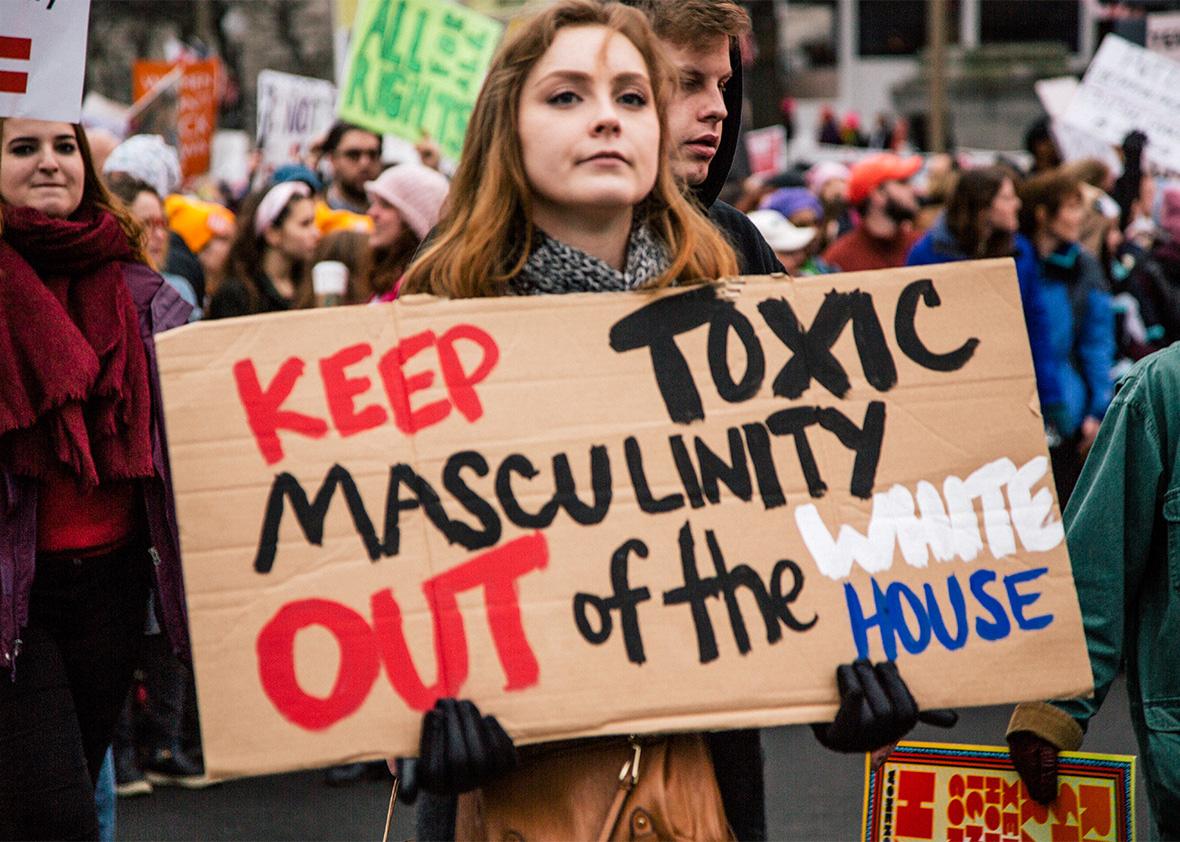 If Saturday's unprecedented, astonishing national protest, possibly the largest in American history, had happened in another country with an unpopular, autocratic, Vladimir Putin–aligned leader, we'd be calling it the Pink Revolution. The demonstrations showed how deeply and completely much of the country rejects its scowling, delusional new president. Trump might—might—have legal legitimacy, but he doesn't have democratic legitimacy. The question now is whether a popular movement to stand up to him can be sustained beyond a single cathartic outpouring. Speaking to people who marched Saturday—many of whom had never done anything like that before, but who swore their first time wouldn't be their last—offered reason for optimism.
In December, the research firm PerryUndem conducted a large research survey looking at gender, sexism, and the election. It found that sexism likely had a role in Hillary Clinton's defeat. Thirty-two percent of men who voted for Trump, and 25 percent of women who voted for him, said that men make better political leaders than women. But it also found that outrage over Trump's sexism has done more than anything else to spur people to political action post-election. Looking at respondents' attitudes toward Trump and women, PerryUndem's report says, "[N]o other demographic factors are significantly correlated with taking action, including Party ID."
The Women's March on Washington captured this explosion of energy. I met women there who'd driven 10 hours through the night to arrive in Washington that morning. I met an undocumented woman from Mexico marching with her American-born 13-year-old daughter who told me, in Spanish, that she'd been afraid she'd be arrested because of her skin color, but felt she had to be there regardless. Before the march happened, there was a minor debate in liberal circles about whether it was a mistake to make the first major anti-Trump manifestation focused on women specifically; the pundit Jonathan Chait tweeted, "I think many men assume the 'Women's March' is supposed to be women-only, which is why it was a bad name for the main anti-Trump march." It now seems clear, however, that the simplicity of the idea behind the march attracted those who don't usually see themselves as protesting types.
On Saturday afternoon, I saw a trio of women near the Trump International Hotel, marveling as the march poured out of its assigned route to fill all of downtown D.C. "This is history," I overheard one say to her friends. Her name was Jan Keadle, she was from Baltimore, and Saturday was her first political demonstration. I asked what had brought her out, and she pointed to her friend Martha McCracken, who told me that Keadle had been reluctant: "She said she wasn't political."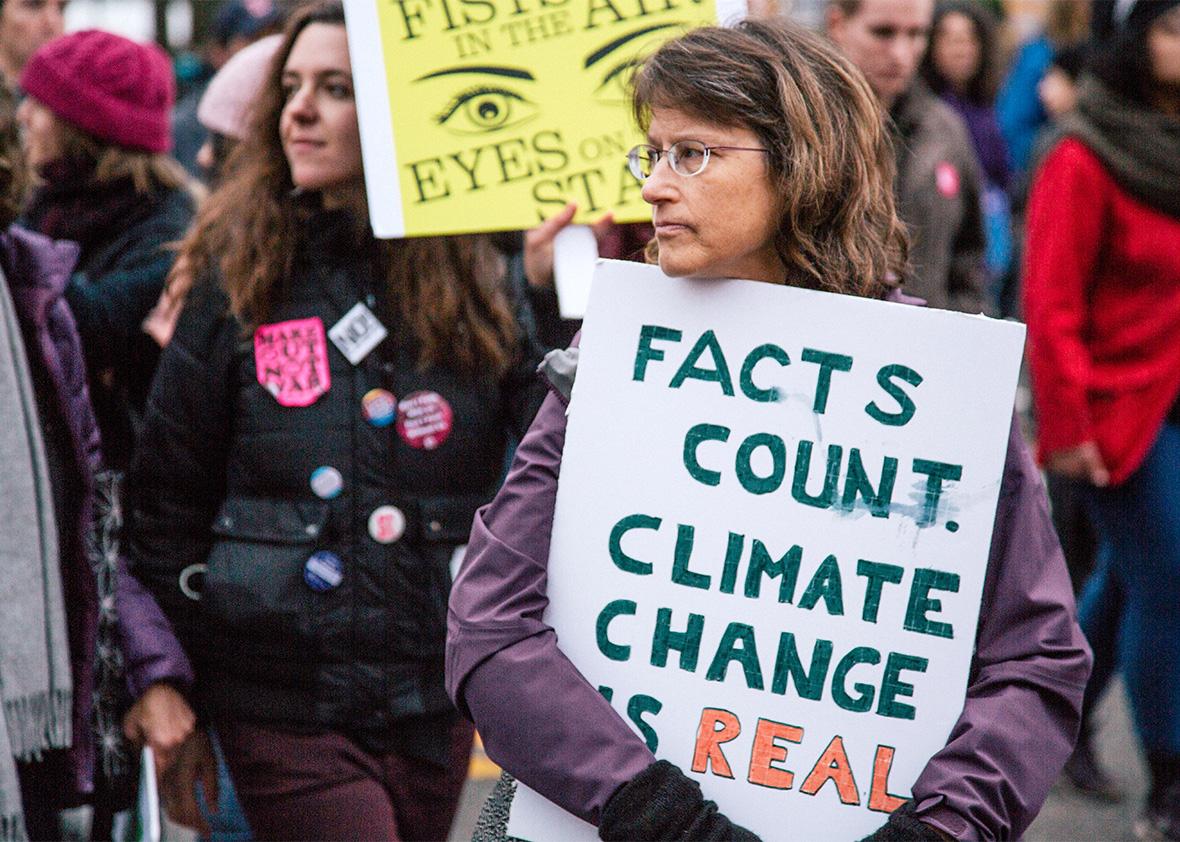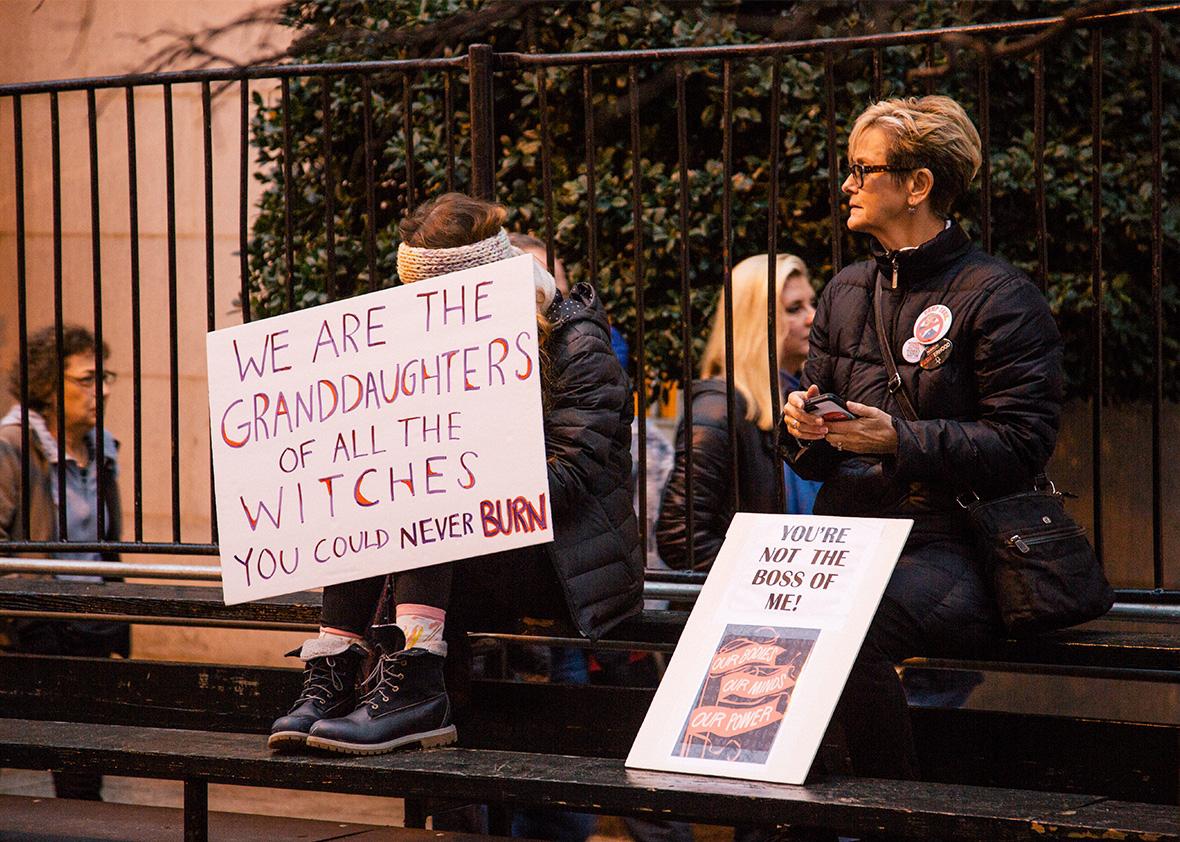 What does that mean? "I'm coming here for women, not necessarily for politics," Keadle said. "And for our daughters, and for our granddaughters," added McCracken. "I don't want to see any of the rights we fought so hard for taken away." McCracken, too, said she'd never been involved in politics in the past but was determined that she would be going forward: "I'm just thinking, from here, where do I go?" Suddenly Keadle pointed excitedly at a hand-lettered sign: "And This Is Just Day One." The man carrying it gave to her so she could pose for a picture, and she stood in the crowd, grinning ecstatically, hoisting it over her head.
Trump supporters like to deride his opponents as "snowflakes," jeering at their sadness and fear. But feelings are politically powerful when they're harnessed the right way. A movement that can transform a sense of humiliation into one of belonging, a sense of despair into joyous agency, has the potential to snowball. To understand what happened Saturday, you have to understand just how devastated, shocked, and even traumatized many women are by the election of the grab-'em-by-the-pussy president.
"I feel it's a permanent break in me," said Jana Jett Loeb, a 31-year-old lawyer who lives in Brooklyn, New York. "I felt so taken down to size." Watching a woman who was the best-qualified person ever to run for president lose to a leering sexist who was the least seemed a shattering lesson in the limits of female possibility. "All the time that I was told I was too intense, I was too straightforward, or I was too much, I always told myself: No, I know that's not true, I have to keep on keeping on," said Loeb. "Ultimately that wasn't the truth. And all of the sudden it was the truth. That actually I wasn't really allowed to be in space and have a voice. I think it has forever changed me. I have felt like my view of the world has become much darker."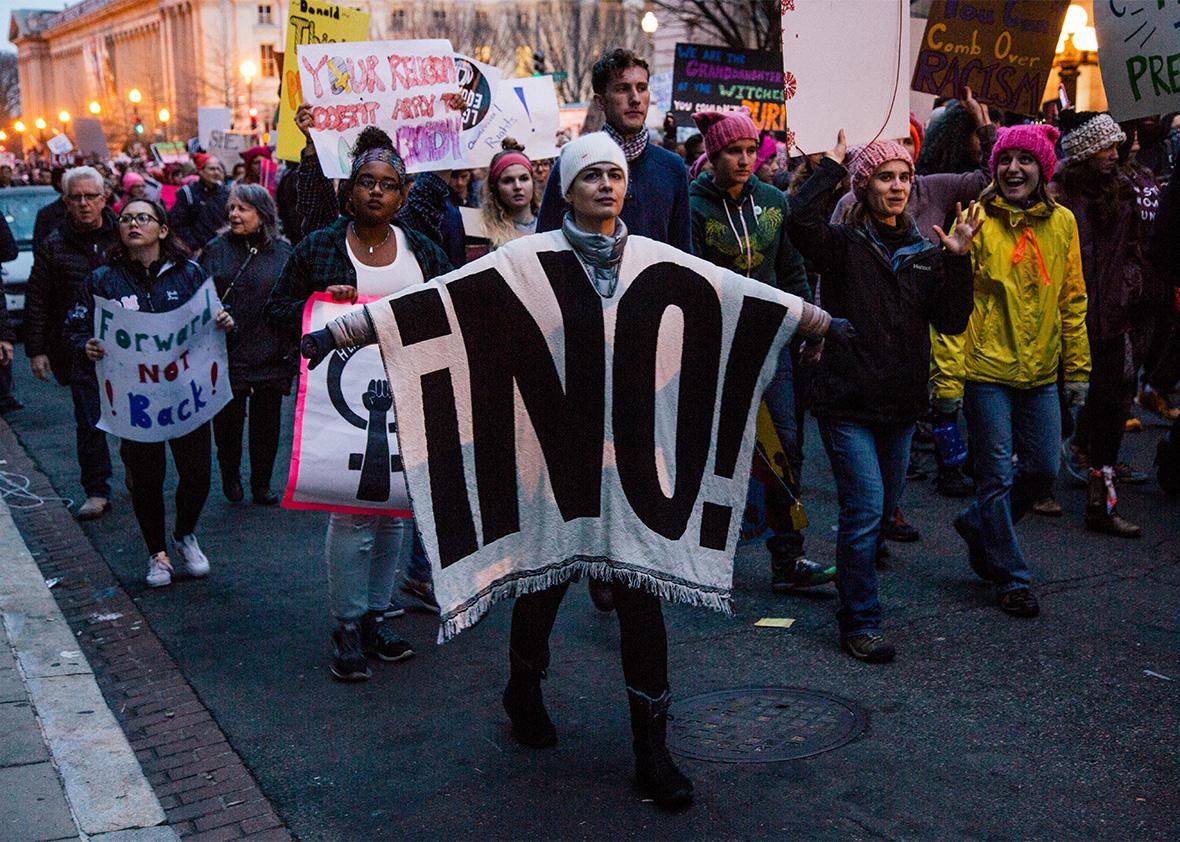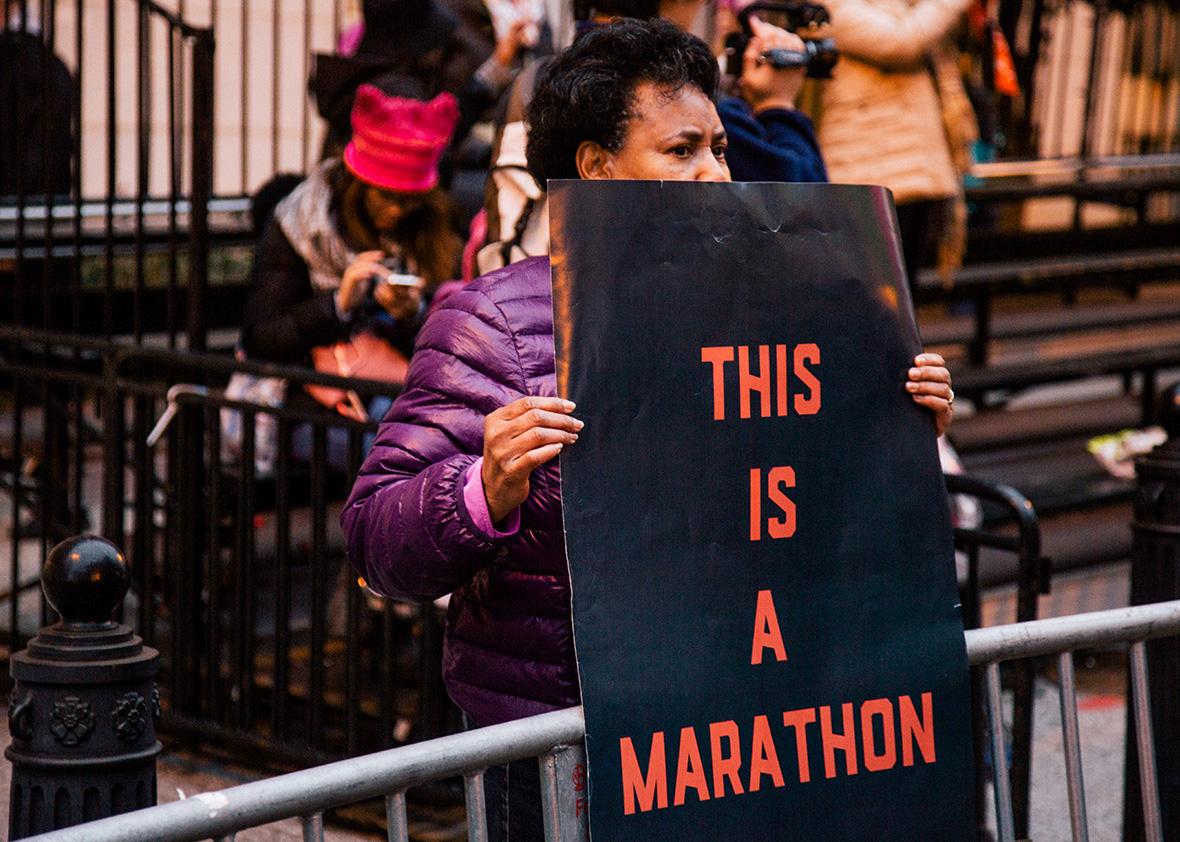 Initially, Loeb hadn't planned on attending the march. She dislikes crowds and chanting, and more than that, she thought being in Washington would just be too painful, "I almost felt that being here would be just a little too emotional for me," she said. But on Thursday afternoon she was seized with a need to come, and she found a spot on a train that night. Once at the march, she said, "It feels like I can breathe a little bit deeper. This is an amazing day, and it's an amazing feeling. I've been in such a tough place that I worry that when this wears off, dark feelings are going to be waiting for me." She's almost certainly right. But that's just what could make her, and all the women like her, keep coming back.