Last week, I shared five of my ten favorite digital history sites from 2016. Here, without further ado, is the second half of that list.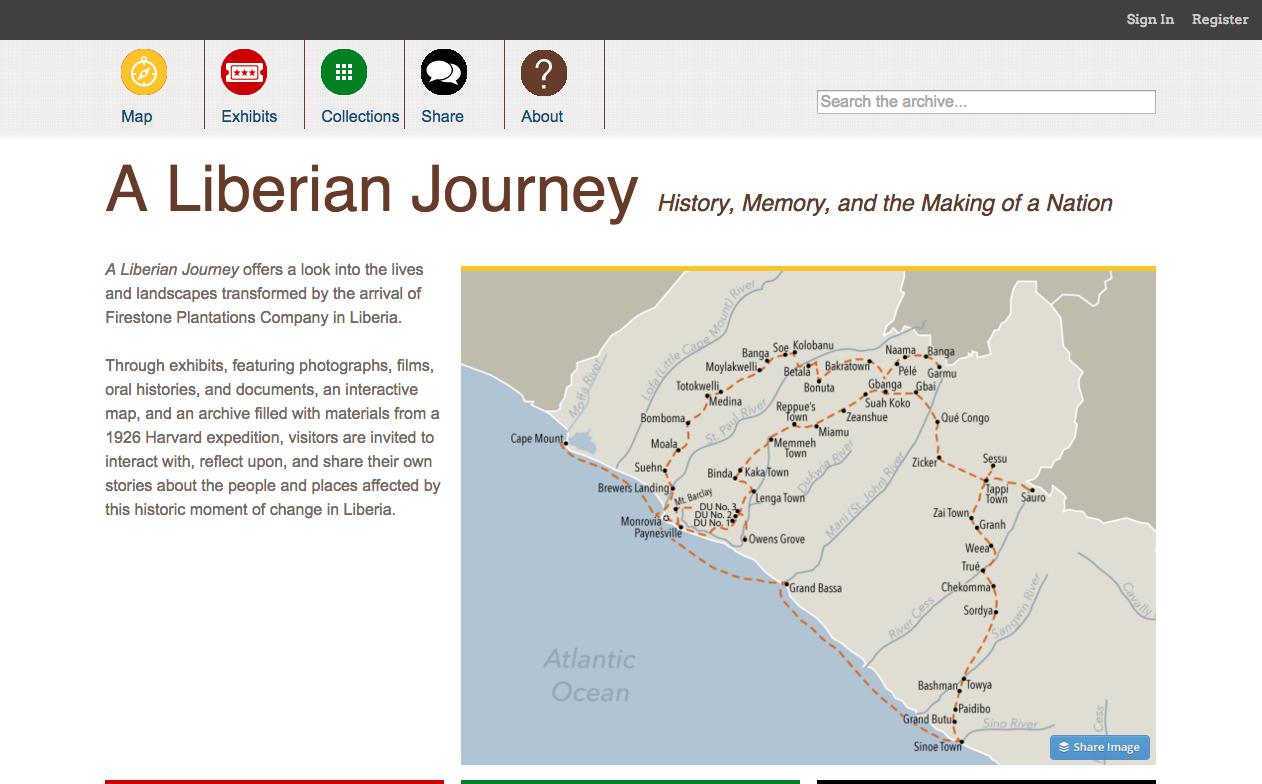 The archive A Liberian Journey collects moving images and still photos of rural Liberian life, made by Harvard University scientists and doctors at the behest of Firestone Tire & Rubber Co. in 1926. Because the early-20th-century images were, as the site puts it, "shaped by the white privilege and racial attitudes of American scientists," the consortium of groups that put together this site intended it as sort of a reclamation project—a place for present-day Liberians to share their own stories and photos of the people, places, and things chronicled by the Harvard visitors.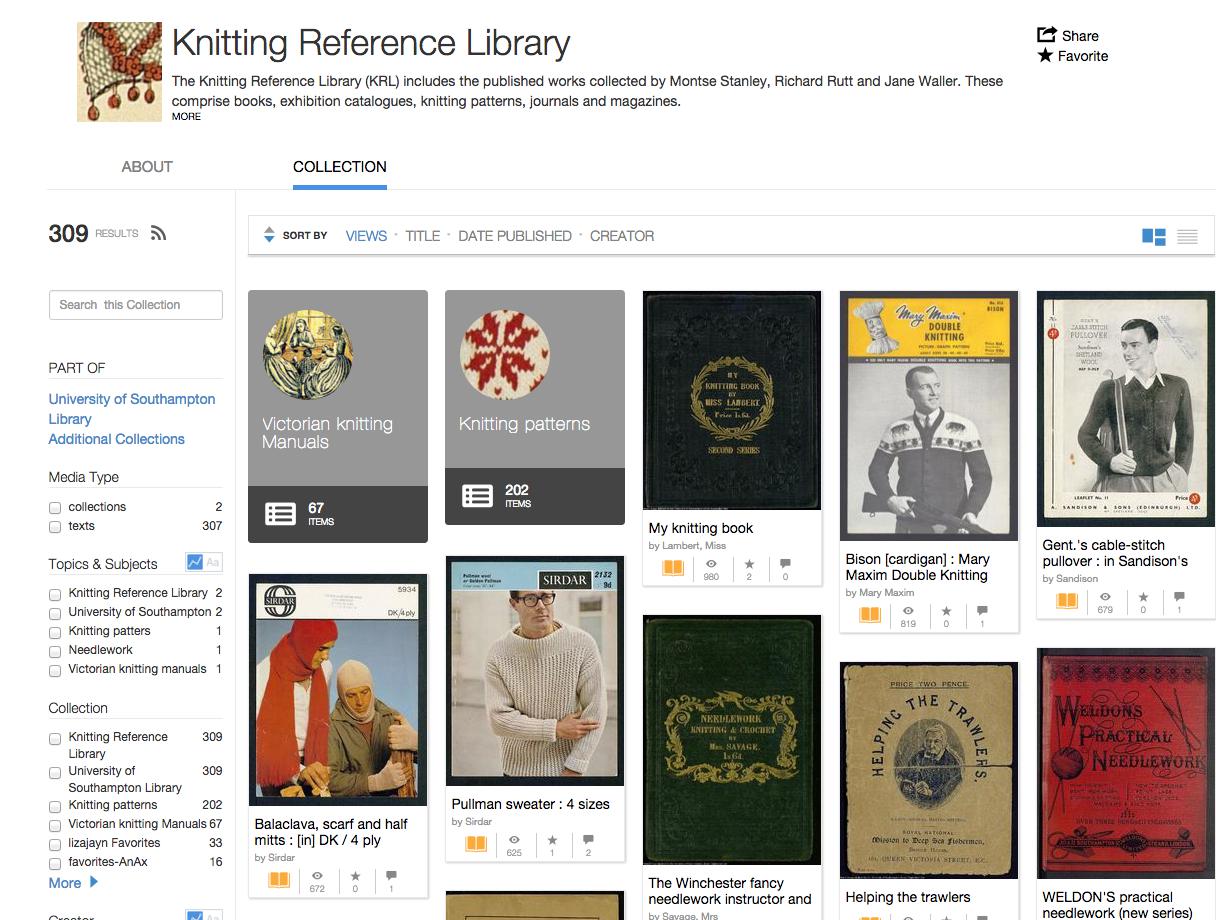 This Knitting Reference Library lives within the Internet Archive and was digitized by the University of Southampton in England. The materials in the archive were published between 1840 and 2012. You don't have be a knitter to enjoy the look of Victorian knitting manuals or to ponder the social significance of books published for women who planned to knit for sailors or as a small home business. But the collection also contains a series of patterns that the more hands-on reader could use to knit up some very '60s-looking raglan sweaters, waistcoasts, and vests.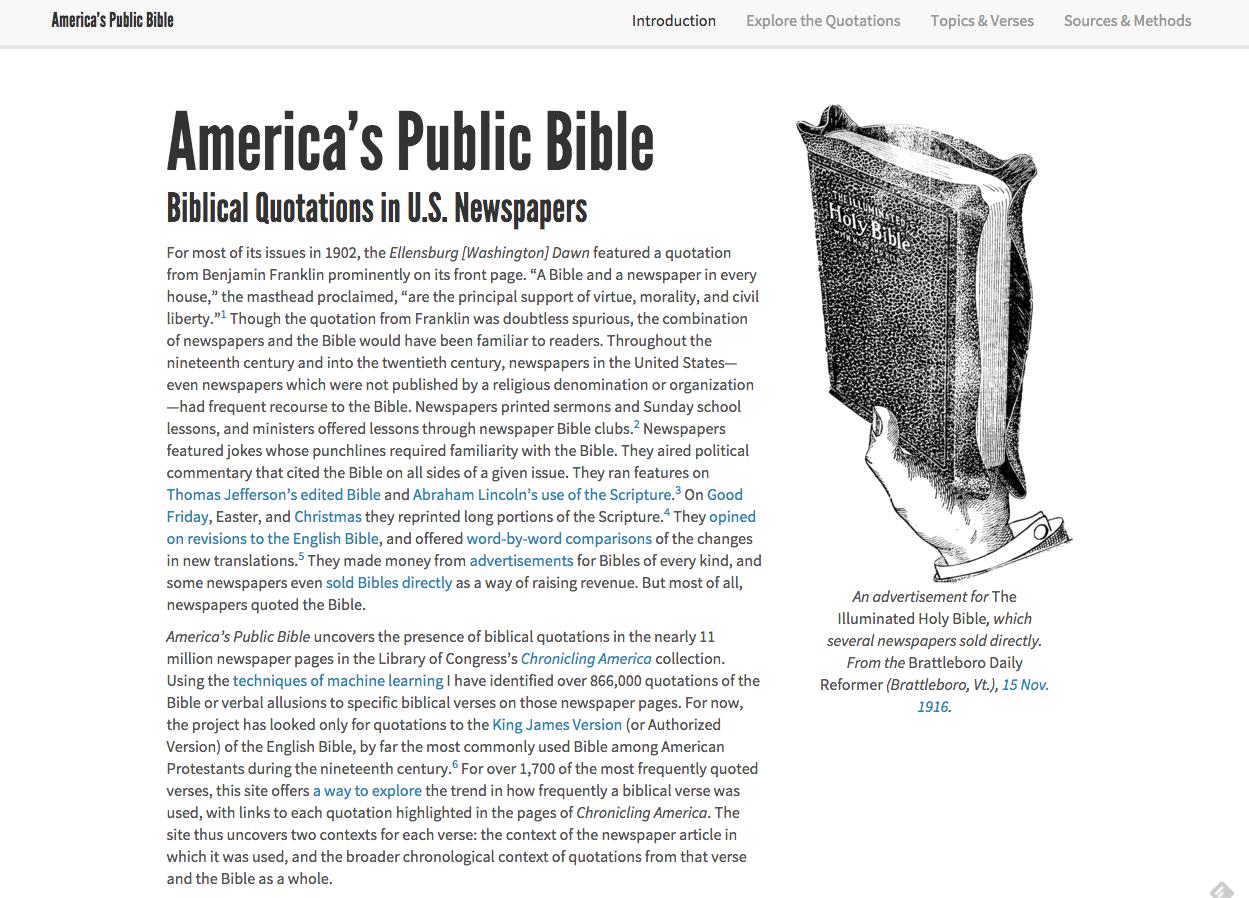 In America's Public Bible, historian Lincoln Mullen uses techniques of machine learning to plumb the Library of Congress' Chronicling America collection of 19th-century newspapers for Bible references. Using Mullen's interactive graphic, visitors can search for specific verses or sort by topics ("Golden rule"; "temperance"; "top ten most quoted"). Because you can then jump back to the page in Chronicling America where the reference appeared, the project makes it easy to see how the newspapers used verses in context.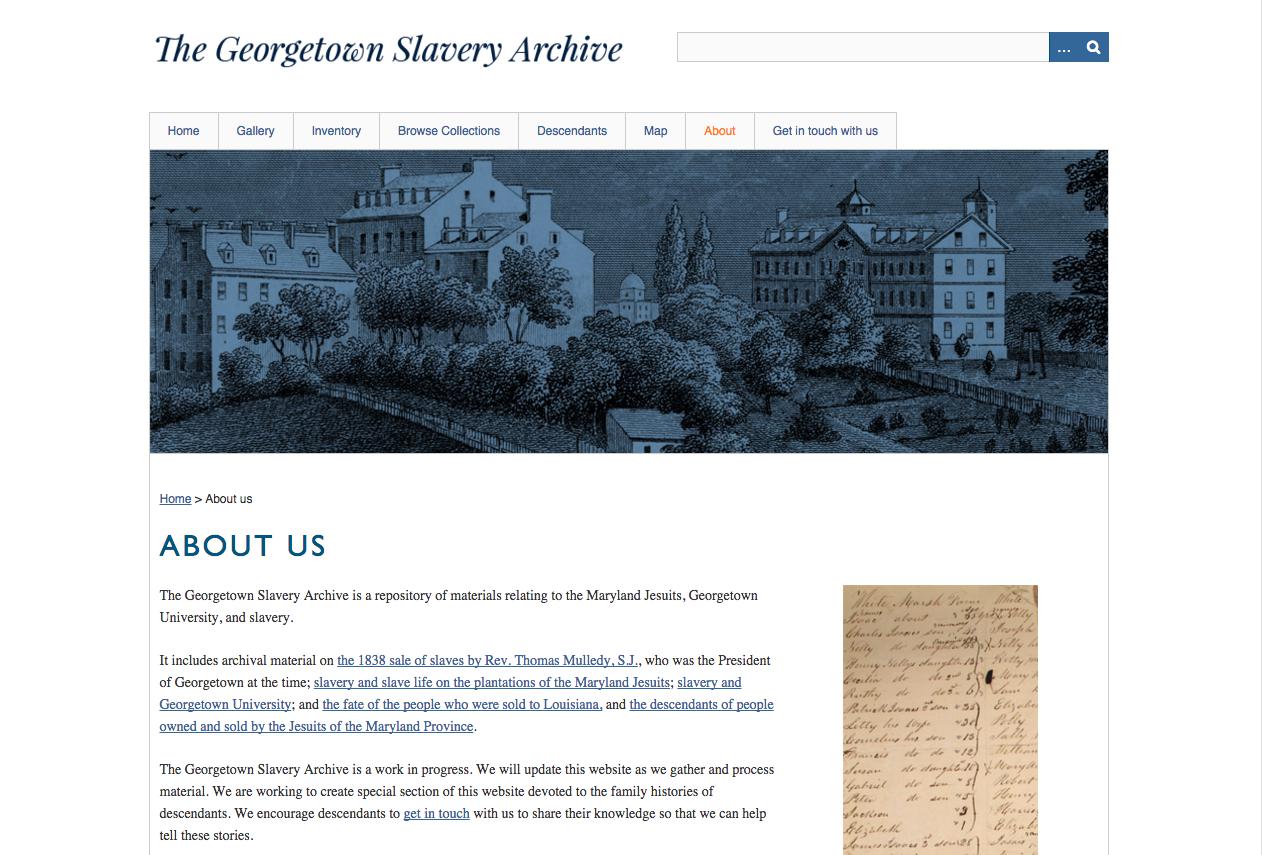 In September 2016, Georgetown University announced that it would be giving descendants of enslaved people owned by the university preferential treatment in its admissions process. Because of the difficulty of establishing connections between such ancestors and their great-great-great-grandchildren, the university is also exploring ways to help people who might be able to claim those benefits do the necessary genealogical research.
This Georgetown Slavery Archive is a work in progress, established by the Georgetown University Working Group on Slavery, Memory, and Reconciliation. Holding documents that track sales of enslaved people by the university, as well as others that trace the daily lives of those owned by Georgetown over the years, it's a practical tool—but it's also an evolving archival snapshot of one university's history of slavery.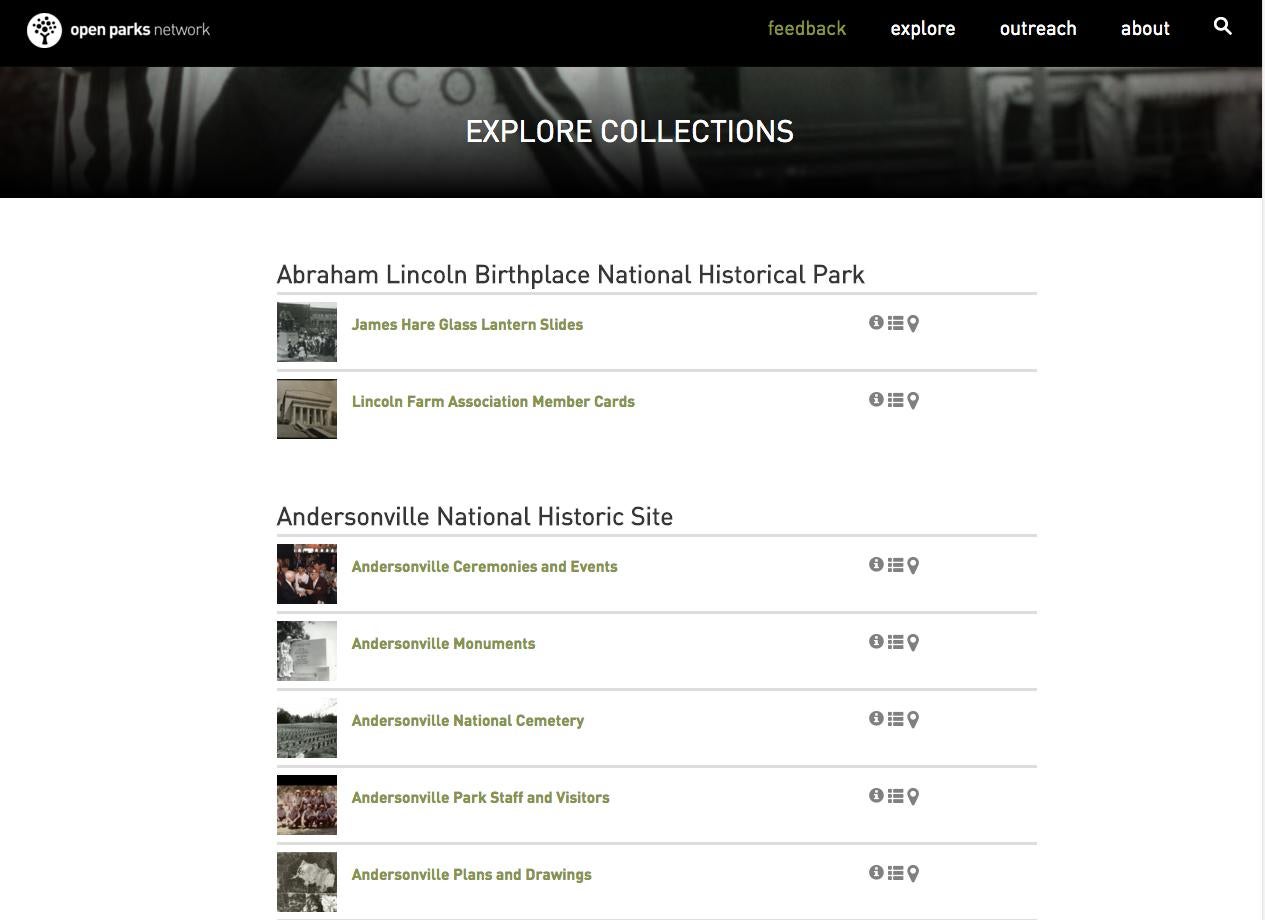 In the centennial year of the National Parks Service, Open Parks Network, a collaboration between Clemson University and the NPS, released a series of collections of images of the parks. The digital archives here contain not only photographs of landscapes changing over time but also a rich depth of images of the social history that's taken place in the parks.
One collection chronicles the Civil War–era damage done to Fort Sumter through photos taken in 1865; another documents the work of the Civilian Conservation Corps in Mammoth Cave National Park during the 1930s; a third offers up lantern slides made in the early 20th century by an amateur photographer in the Great Smoky Mountains, who developed his film "in a crude dark room over a mountain stream."