If you're watching a movie in the xXx franchise in 2017, you know what to expect. In xXx: Return of Xander Cage, which opened in the U.S. on Jan. 20, Vin Diesel returns to the long-dormant series as the titular Cage, an operative working for a branch of the CIA that recruits extreme sports athletes for special missions. Although presumed dead, Cage has been hanging out in Latin America for the last decade or so stealing cable so apple-cheeked boys can watch soccer games. The rogue agent isn't just off the grid; he's a cord-cutter.
Cage comes out of retirement when his mentor (played by Samuel L. Jackson) dies in a terrorist attack. A group of former xXx agents, led by Rogue One's Donnie Yen, have stolen a technology called Pandora's Box which allows them to turn satellites into weapons. CIA agent Marke (Toni Collette) taps Cage for a deadly mission that will involve fast cars, snappy one-liners, and women slowly ascending from a swimming pool as the camera lasciviously examines their soaking wet bodies. When Cage visits Ainsley (Hermione Corfield), an intelligence expert who is under house arrest, the bikini-clad babe informs him that their attraction will never be consummated. She generously allows him to have sex with her six best friends instead.
The film's gender politics are straight out of a Maxim photo shoot circa 2002, which makes sense, since that's when the original film debuted. It's assumed that every woman who meets Cage wants to sleep with him—even Becky (Nina Dobrev), the manic pixie tech expert in Rivers Cuomo glasses, who spills her safeword just moments after meeting him. (Spoiler alert: It's kumquat.)
Still, there's one aspect of xXx: Return of Xander Cage that's subtly forward-thinking. Aussie actress Ruby Rose steals the show as Adele, an environmental rights activist who tranquilizes lion poachers in her spare time. Assigned to Cage's special ops team, she's also a gifted sniper who is more than a bit trigger happy. After the group infiltrates a nightclub in the Philippines and tracks down the rogue agents, Adele begs to shoot first and ask questions later.
The character is both badass and the embodiment of retro cool, with a seapunk green bowl-cut that suggests late '90s Leonardo DiCaprio by way of Angelina Jolie in Hackers. But most important, she's also an out queer woman.
For its many flaws, xXx: Return of Xander Cage is overt about its action heroine's sexuality in a way that's extremely rare in a mainstream blockbuster. The first time Adele meets Marke, she coyly comes onto her—but because it's a xXx movie, the dialogue leaves something to be desired. Adele tells Marke, a grade-A ice queen who dresses like Emma Frost, that she would look "so sexy with a Frisbee in her mouth." Just scenes later, Becky appraises Adele's weaponry skills by remarking that she really knows what she's doing "down there." With a wink, the agent retorts, "That's what she said."
Return of Xander Cage isn't subtle about Adele's sexual identity, but given how rarely LGBTQ characters are allowed to be out on-screen, it's a good problem to have. While there are more queer people represented on television than ever, the number of LGBTQ characters in mainstream cinema has flat-lined in recent years. According to GLAAD, just 17.5 percent of the 126 movies released by studios in 2015 were LGBT-inclusive. What's more, many of these characters exist only as comic punching bags for the straight characters—as in low-brow comedies like Get Hard and Dirty Grandpa.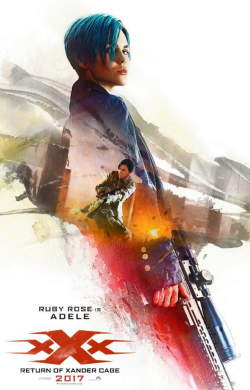 Even when there is LGBTQ representation on the big screen, filmmakers are often forced to use subtextual clues to tip off queer audiences without offending the sensibilities of conservative viewers. In 2016's Ghostbusters reboot, Emmy winner Kate McKinnon played Jillian Holtzmann, a female scientist sporting Rip Taylor hair and oversize yellow goggles. Aside from being allowed to throw a suggestive wink at a female colleague, Holtzmann's identity was signaled in a blink-and-you'll-miss-it moment: "Lez go!" she barks to the would-be paranormal-crime fighters
Even though McKinnon is an out lesbian in real life, Sony Pictures forced Ghostbusters director Paul Feig to stay quiet about the character's sexuality—neither confirming nor denying the speculation. When the Daily Beast's Jen Yamato asked Feig about Holtzmann's orientation, he tiptoed around the question. "I hate to be coy about it, but when you're dealing with the studios and that kind of thing …" Feig said.
The reason Sony forced Holtzmann into the closet was simple: The studio was concerned about the bottom line. Big-budget tent poles make increasing portions of their box office totals from foreign markets. In 2016, just two of the top 20 highest-grossing movies of the year made more money in the U.S. than they did internationally (Rogue One and Sing); in 2015, every single one of the top 20 films did better business with international audiences. Spectre, Daniel Craig's final appearance as James Bond, made almost 80 percent of its total gross outside the U.S.
So even if many studio executives are personally supportive of LGBTQ rights, they often cater to countries where homosexuality is still illegal. "It's one thing for a studio executive to support gay marriage," Brent Lang wrote in Variety. "It's another to risk $200 million on a movie with a gay protagonist that needs to play in China and Russia, countries where LGBT citizens face discrimination, legal challenges, and violence."
The success of xXx: Return of Xander Cage suggests that studio panic about foreign audiences might be overblown. The D.J. Caruso–directed film is shaping up to be a disappointment in the U.S., taking in just $20 million during its first weekend in theaters. (That's 54 percent less than the original's $44 million opening 15 years ago.) But the film debuted strongly in the global marketplace. In addition to earning a solid $50 million overseas, xXx opened at No. 1 in many markets. That gross is largely thanks to a stacked international cast that includes Thai martial arts superstar Tony Jaa and Bollywood crossover Deepika Padukone, one of the top-earning actors in the world.
xXx, which is a Chinese co-production, borrowed its model from the Fast & Furious series, which has become a billion-dollar franchise in large part due to its embrace of racial diversity. It's notable, though, that while bisexual actress Michelle Rodriguez has starred in all but three of those films, her character, Letty, has never been allowed to have a female love interest. She's paired with Toretto (Diesel), with whom she shares an on-again, off-again relationship.
Ruby Rose, who is herself an out queer woman, represents a small step forward for an industry that is slowly opening the door to more opportunities for LGBTQ representation. Rose first came to American viewers' attention on Netflix's Orange Is the New Black, playing a Litchfield inmate who has a brief affair with Piper Chapman (Taylor Schilling). This year, Rose will appear in two more action movies: Resident Evil: The Last Chapter, the final installment of the long-running zombie series, and John Wick: Chapter 2, the sequel to the 2015 sleeper hit, starring Keanu Reeves as a ruthless assassin, in which Rose appears as a deaf criminal.
Rose is the queer action hero LGBTQ audiences been waiting for—someone who is as unapologetic about her sexuality as she is about kicking butt. If global audiences are embracing the Aussie up-and-comer, maybe it's a sign that they've been holding out for her, too.