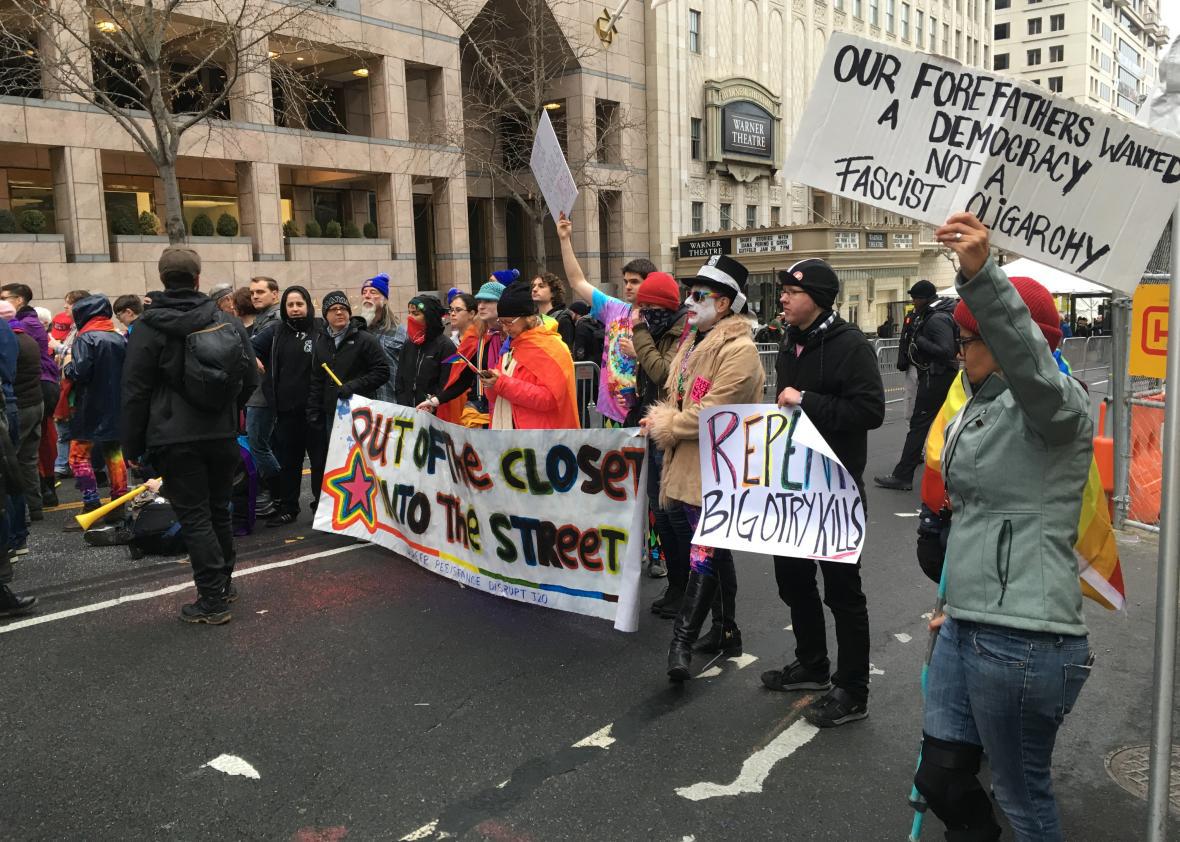 For the first few days of the Trump administration, biodegradable glitter will be embedded in the pavement outside the inauguration security checkpoint at 13th and E Streets in Washington, D.C.
At that intersection, nearly an hour before sunrise, a few dozen protestors started blasting Madonna and Sister Sledge for a queer dance party that attempted to block Trump supporters from entering the security line.
The protesters were part of the #DisruptJ20 coalition, which has been running some of the largest demonstrations and acts of civil disobedience at the inauguration. The party was also organized by Werk for Peace, the group that brought a few hundred queers and allies to Vice President (and noted homophobe) Mike Pence's house for a dance party on Wednesday night.
Dancing, twirling hula hoops, and waving signs, the protesters blocked a few inauguration-goers, who turned around, presumably to find another entrance checkpoint. For a while, security officers let attendees bypass the metal barriers to avoid having to push through the crowd of undulating dancers. They eventually stopped.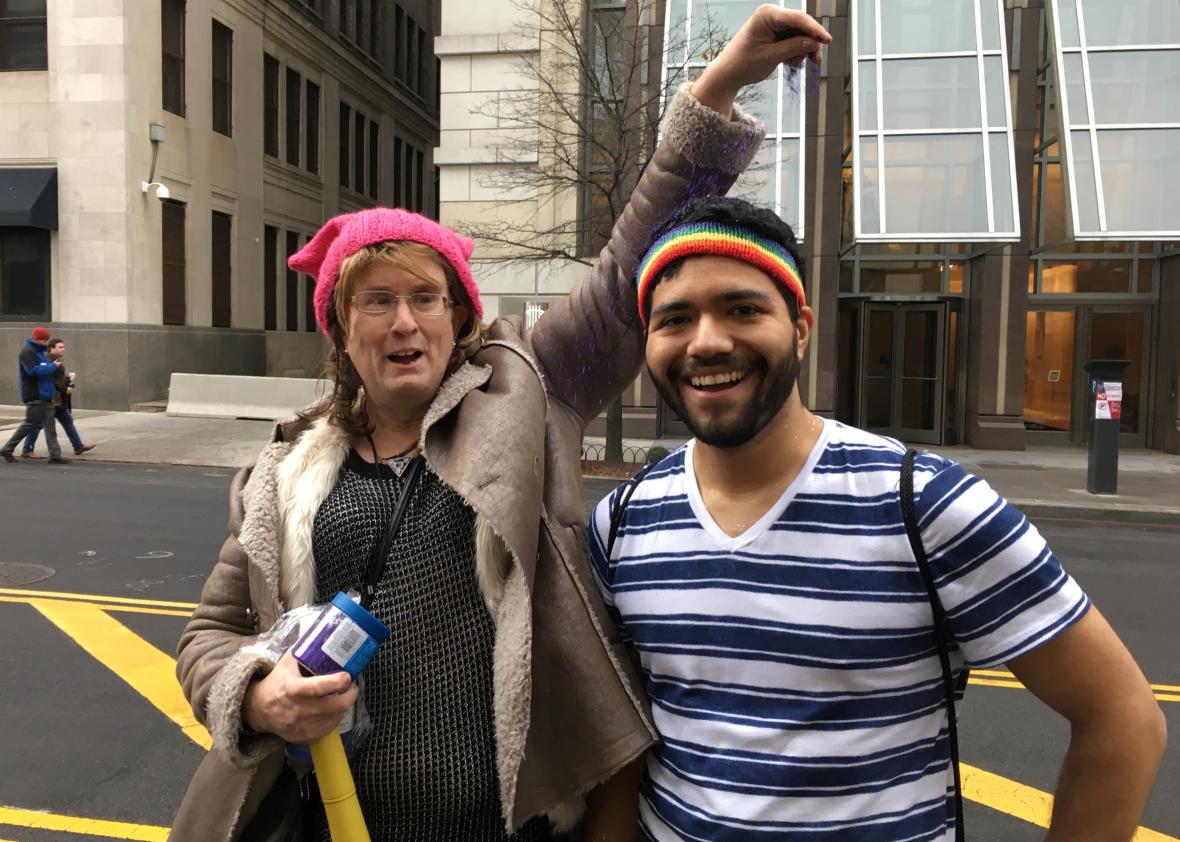 A group of MAGA-hatted white boys from New Jersey and Philadelphia (all teens; at least one said he wasn't old enough to vote) were blocked by the dancers, so they decided to wait outside the checkpoint for more of their friends. They had planned to stay with one boy's family member, the president of Georgetown Preparatory School, but apparently he had "a bunch of Jesuit priests" staying with him, so they got a hotel room. "We just think it's funny," one said of the queer protest, helping his friend pour a can of Natural Light into a soda cup. They have "no problem" with gay marriage and don't think Donald Trump does, either. At least two claimed to have gay uncles, an allegation Slate could not verify at this time.
Emory, a 24-year-old protester who works for a D.C. nonprofit and uses they/them pronouns, said the group was making an "expression of resistance through dance." "It shows that we are here, and we want to make ourselves known, and we are not going to let the current … administration bring down our pride," they said. "We are going to stay prideful and stay joyful."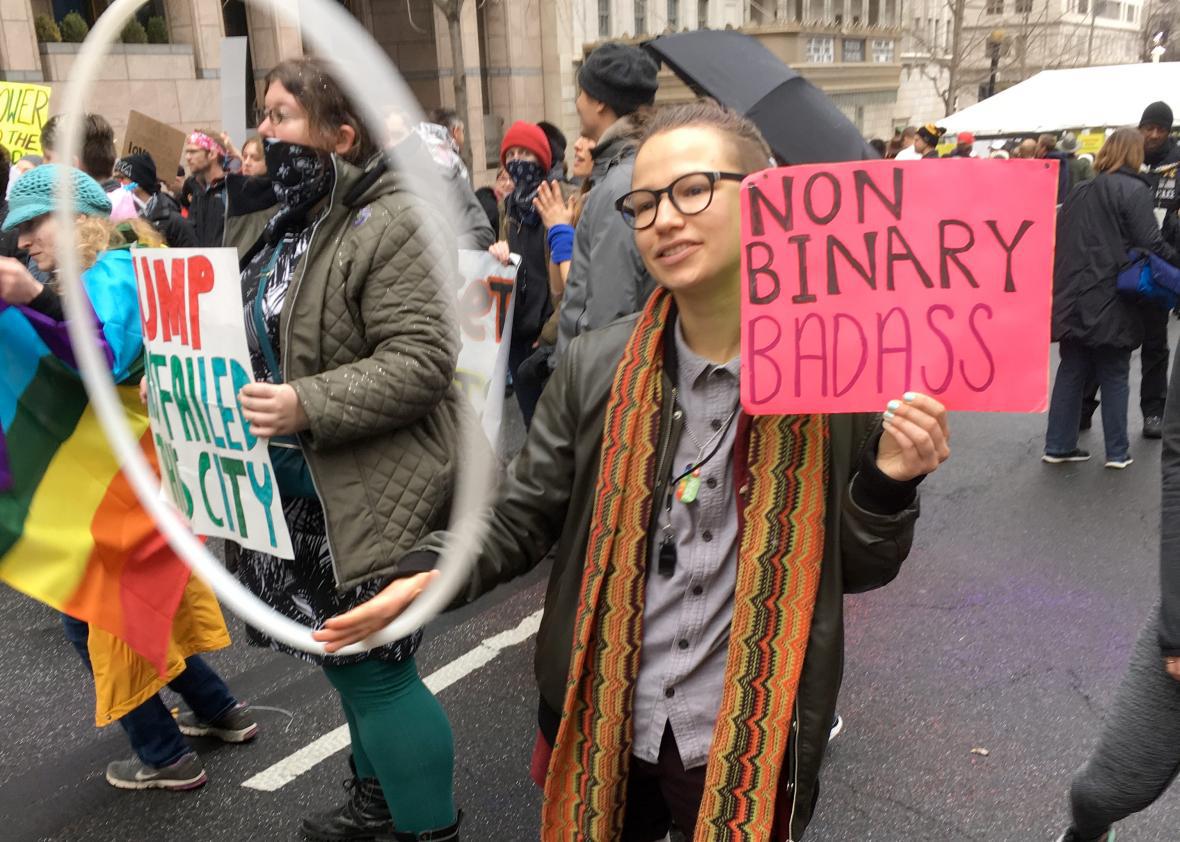 One elderly Trump supporter in line said he thought the dance party was "fine" and that Trump has too many other things to worry about to focus on rolling back LGBTQ rights and protections. Namely, the man said, Trump needs to focus on "making sure we don't go bankrupt." "Do you have kids?" he asked me. I said no. "Well, if you do someday—and hopefully you will—they'll each owe the government $70,000." His wife made sure I knew that, though she voted for Trump because she really didn't like Hillary Clinton, she was not "a Trump supporter."
After the dancers had been sprinkling glitter for a few hours, a Jesus-loving, gay-hating man with a megaphone showed up to tell the protesters they should repent. The demonstrators tried, mostly successfully, to drown him out with whistles and chants of "Make America gay again" and "God is queer." One protester got up in the man's face with a patch that said "pro-choice antichrist."
Regina Dick-Endrizzi, 58, had made hotel reservations and bought plane tickets from San Francisco to D.C. months ago, expecting a Clinton victory. She decided to keep her plans and join the #DisruptJ20 protests instead. "As a lesbian, this [protest] resonated with me, in terms of dancing, and being happy, and also having a very visible presence," she said. Trump and Pence's victory is an "unwritten mandate to people who are homophobic and racist and any Republicans who want to backtrack and not move forward on human rights for all of us."

At 10 a.m., the dance party turned into a march north through the mostly empty blockaded streets. Protesters turned on "Deceptacon" and cheered when they passed other people holding anti-Trump signs. "Dance halls and dance clubs have been a place of safety and bravery for queer people for decades," said demonstrator James Tandaric, a 23-year-old fourth-grade teacher at a D.C. school. "I came here to dance, and to be here for my queer ancestors and make sure the fight is still going."