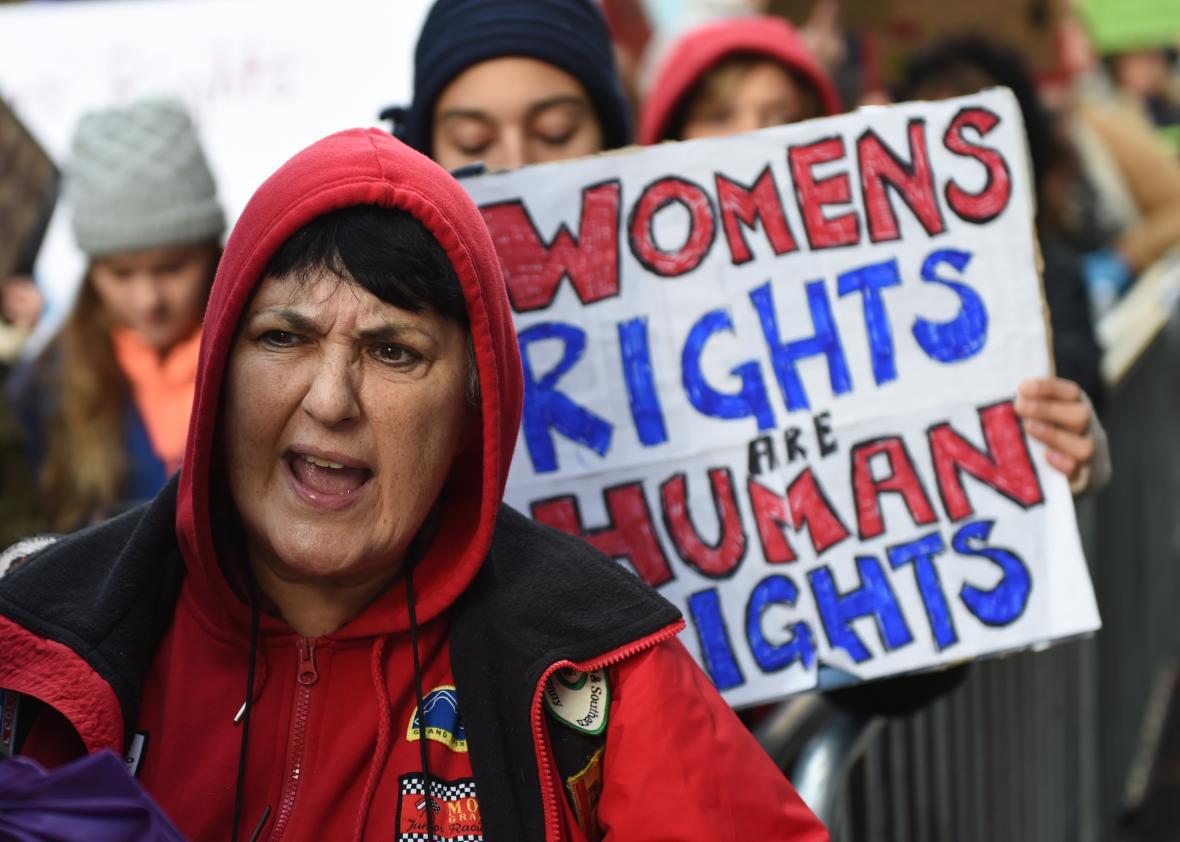 Since Donald Trump's election, there has been a renewed fervor behind conversations of journalistic objectivity in newsrooms. The president-elect has declared war on the free press and used political reporters as piñatas; it's hard to imagine how a journalist might approach such issues with a bland neutrality.
Trump has also made himself out to be a threat to the very lives and liberties of journalists (and laypeople) who are Muslims, undocumented people, women, and people of color. Almost every news organization has an ethics policy in place that limits employees' political advocacy to varying degrees. But in the current political climate, in which we find ourselves counting down to a very not-normal regime, some journalists are wondering whether the normal rules apply.
With Trump's inauguration and the Women's March on Washington on the horizon, leaders and editors at media outlets have been fielding questions from employees about whether and how they can participate in the bevy of political goings-on in D.C. this weekend. The Women's March was pretty much apolitical for a long time, before finally announcing its very progressive platform last week. Still, it's a very broad mission statement in support of human rights; organizers have always insisted that it's not an anti-Trump march.
Jeffrey Goldberg, editor-in-chief of the Atlantic, recently told the magazine's editorial employees that they can't do anything that might be perceived as political—except vote. That means no marching for Atlantic employees. On Tuesday morning, Atlantic Media's general counsel sent an updated, hyperdetailed conflict of interest policy to staff members, offering "more clarity … given the upcoming inauguration and surrounding events."
Here's part of the memo Goldberg sent to his staff:
A number of people have asked me, and other editors, about rules governing the participation of Atlantic editorial employees in political demonstrations. This issue has come up mainly in reference to the planned march in Washington on January 21st, but also in reference to other events. The rule is simple—Atlantic editorial employees should not participate in any political activity, apart from voting. This rule includes, of course, a prohibition on making donations to political candidates. Our strengths are journalistic fairness and dispassion; to the extent that we express our political views, we do so within a strictly journalistic framework. Of course, editorial employees will sometimes be assigned to cover protests and marches, as they are assigned to cover other political activities.
At National Geographic, employees have gotten mixed messages about the march. According to an employee who requested anonymity to preserve her working relationships, Editor-in-Chief Susan Goldberg called the event an "anti-Trump march," not a women's march, at an all-hands meeting in late 2016. Goldberg allegedly asked employees—even those unaffiliated with news operations—not to attend the march, because it might compromise public perception of National Geographic's objectivity. About a week later, an email to staff clarified that some employees are allowed to attend the march, as long as they don't purport to represent the company in any way. (Update, Jan. 18, 2017: National Geographic has since responded to a request for comment with further clarification. "Our journalists won't be attending, but our other staff members are free to," Chief Communications Officer Laura Nichols told Slate in an email.)
NPR has one of the most thorough ethics handbooks in the business. Its employees will be allowed to attend the march to see what's going on, but they can't join the crowds. "We can observe, but we don't participate in rallies," Standards & Practices Editor Mark Memmott reminded staffers in a Dec. 15 blog post. "Watching from the sidelines at rallies in support or opposition to the new president is fine. Marching or cheering is not." If you see a conspicuously silent, stone-faced observer watching the march from the curb on Saturday, mouth set in a perfectly straight line, you might be looking at an NPR producer.
The Washington Post's deputy managing editor, Tracy Grant, sent an email to newsroom staff on Dec. 9 with even stricter instructions, advising employees to stay home from all demonstrations with any political implications. "We avoid active involvement in any partisan causes—politics, community affairs, social action, demonstrations—that could compromise or seem to compromise our ability to report and edit fairly," she wrote. "'Active involvement' is different from observation; but it is important to be mindful that the line between the two can be easily misinterpreted during an event. For that reason, it is strongly recommended that journalists avoid the potential issue by not attending events of this nature unless they are covering them."
Do you work for a news outlet that's issued memos or instructions about inauguration protests or the Women's March on Washington? Send an email to tips@slate.com.
---