If Republicans succeed in their plan to repeal the Affordable Care Act, our current era of affordable birth control will likely end. The ACA requires insurers to fully cover the cost of contraception and preventive health care such as cancer screenings, making them free to all insured patients.
Senate Republicans have indicated that they hold no part of the ACA sacred, even the popular provisions that guarantee maternity care coverage and no-cost contraception. Last week, they shot down an amendment that would have protected both. That means a lot of people who currently get birth control for free may soon have to pay out of pocket for some or all of the costs. Preventive services such as routine mammograms also stand to get a lot more expensive.
The exact amount charged to the patient will vary based on her insurance plan, but doctor-database site Amino has mapped out the median network rate estimates (that is, the rate an insurance company negotiates with providers on behalf of patients) for intrauterine devices and mammograms in all 50 states and D.C. The report notes that since 51 percent of workers with private insurance have an annual deductible of at least $1,000, patients could conceivably be on the hook for most or all or most of the cost of these services if the ACA goes away.
Nationwide, the median cost of a screening mammogram is $267, and the median cost of a Mirena IUD—including insertion by a medical practitioner—is $1,111. Amino used the Mirena as its IUD example because more women choose it than the other two types of IUD (the copper Paragard and the smaller, hormonal Skyla) combined. Alaska showed up as the most expensive state to get both a screening mammogram and an IUD. There, the median insurance rate for a mammogram is $496, and a Mirena IUD costs $1,586. Utah has the lowest median mammogram cost ($157), and Washington, D.C. has the lowest median IUD cost ($936).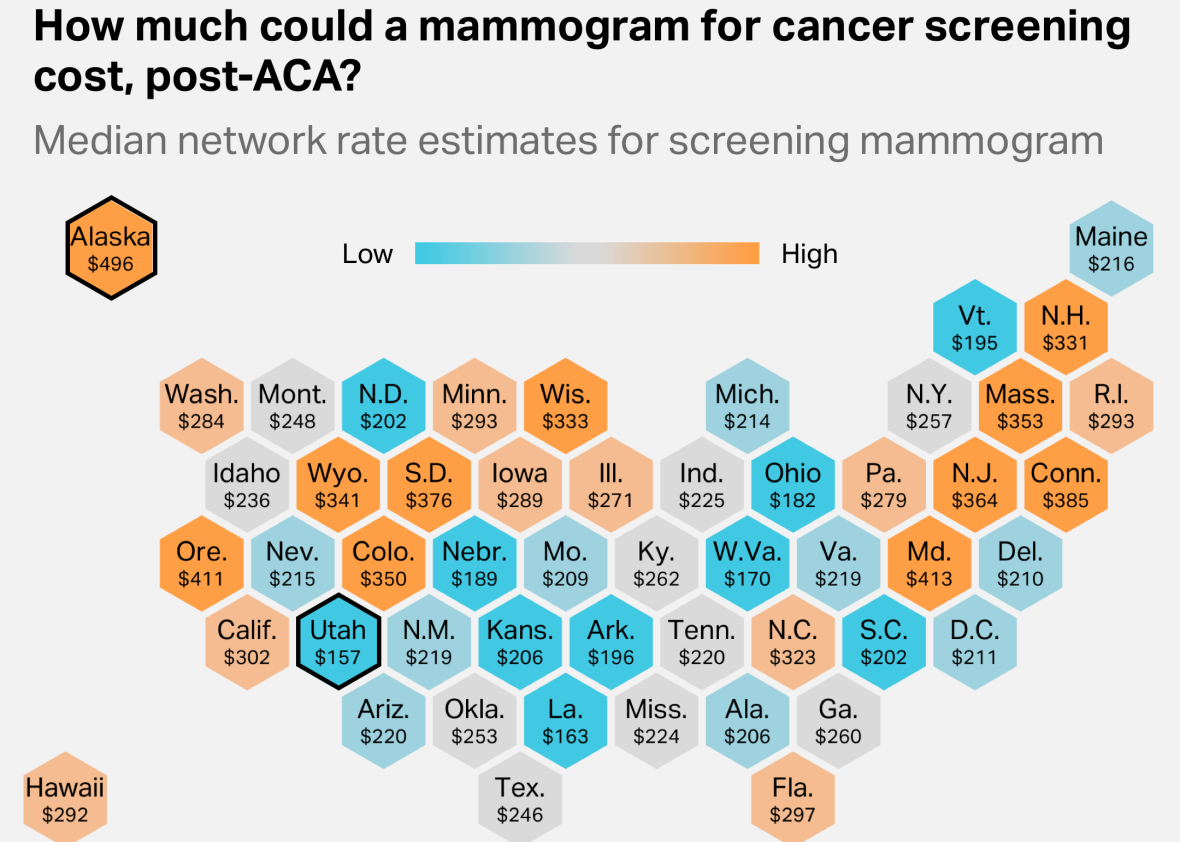 The ACA also currently mandates that insurers cover tubal ligation as permanent birth control for women. The national median cost for that procedure is $4,002, with Arkansas ($3,059) and Wyoming ($6,900) coming in at the ends of the cost spectrum. Some states have already passed laws codifying the contraception mandate for insurance companies, pre-emptively protecting their residents from the rising costs that will come with the ACA's possible repeal. Without that protection and the ACA's current requirements for preventive care coverage, women will pay for costly services they've gotten used to getting for free.