Thousands of demonstrators gathered around the Washington Monument on Friday morning to protest, as they do every year, the anniversary of the Supreme Court's Roe v. Wade decision. But this year, the March for Life was more frenetic than usual: Vice President Mike Pence announced on Thursday that he'd be coming to speak at the rally, meaning crowds would all have to file through airport-style security lines with bag checks, metal detectors, and pat-downs or wands for anyone who set them off. The result was a part-empty pen around the rally's stage, surrounded by at least as many people barricaded off, waiting for hours to get through security.
Still, the vibe was triumphant and hopeful at the march, with many attendees in Donald Trump gear ready to cheer for Pence and fellow Trump operative Kellyanne Conway, who also spoke at the event. The added security and hassle might have been a small price to pay for the more star-studded lineup. March organizers say no vice president has ever spoken in person at the rally before, which has happened annually since 1974, the year after Roe v. Wade was handed down. As president, Ronald Reagan sent a video message in 1988, and George W. Bush phoned in to give good wishes in his last year in office. Trump—who has joked about wanting to abort his child and refuses to say whether he's paid for any of his sex partners' abortions—was initially supposed to call in to deliver a message, but he tweeted instead.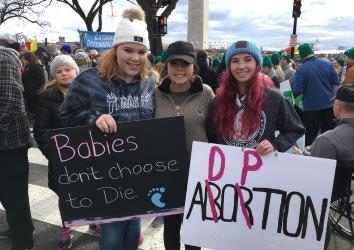 "I'm a big Trump fan, not gonna lie," Alexa, 16, told me. She'd come from Pittsburgh with a church group, along with Hannahlee, 17, and Sophia, 15. "I came to the march two years ago, but being here with a president who's hand in hand with the pro-life movement is extra cool," she said. "I like that [Trump] is really upfront. Obama, in his first term, there were some issues with his birth certificate. Trump, other than his tax returns, he's cool."
Sophia said she got her anti-abortion stance from her parents. She scoffs at pro-life activists who say they want to "educate" (scare quotes hers) reproductive rights advocates. "An opinion is an opinion—you have to accept that sometimes you can't change people's minds," she said. Still, she hopes some pro-choice minds can be changed, including those of "social justice warriors, feminists, and Hillary Clinton supporters, even though she lost." Alexa agreed. "I always say this: Third-wave feminism has become a fight for entitlements, not equality. I feel like they're trying to lessen men. I think that's really unfair."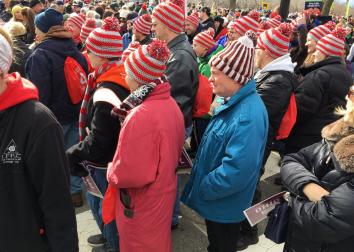 "We love babies, yes we do. We love babies, how 'bout you?" was a favored cheer of the day, and signs ranged from the straightforward ("My mom was conceived in rape") to the cheeky ("I'm with her" written on a drawing of a fetus). Groups from several Catholic high schools, churches, and colleges wore matching hats, calling to mind the pink homemade "pussy hats" worn by thousands of Women's March on Washington attendees last Saturday. Emily Carey, 24, went down to the Women's March last weekend just to see the spectacle and told me she was "offended" by the name of the "pussy hats" and the language on some of the signs. "I saw people flicking off Trump Tower, where I feel like here people are upbeat and happy. It's not an angry march." Carey, who lives in D.C. but came to the March for Life with a Catholic youth group from Pennsylvania, doesn't see abortion through the lens of her gender. "Abortion isn't a woman's issue—it's a people issue. It's not about women's rights, because men have rights too. Like fathers, and babies if they're male." Though she was turned off by the reproductive rights focus of the Women's March, Carey said she felt inspired by the way it brought out so many people who care deeply about a variety of issues.
For Carey, abortion is a more important issue than any other—so important that she supports Trump, even though she "can't support everything he does." "I think it was about getting somebody in who takes a more conservative line, more than just about him," she said. Right-to-die legislation is another concern of hers, but as far as abortion goes, "Hopefully, this will be the last march we have to have."
David Skrzypczynski, who came to the march from Chicago with his son, carried a banner that said "Real men commit to one woman for life and nurture the children." He told me that the "dilution of the family" is the gravest threat America faces today. "Abortion is a vehicle that is used to divide the relationship between the man and the woman," he said. "We have different roles as men and women. Guys are supposed to defend the woman, not use and abuse."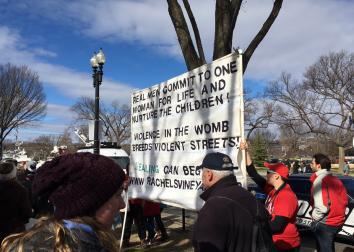 I asked Skrzypczynski if Trump, the candidate he supported in the election, represented those values and the declaration on his sign. He paused. "The alternative was totally against my values," he said. "As secretary of state, [Clinton] went around the world promoting Planned Parenthood in hopes of controlling populations."
Before Pence spoke, the entire crowd stopped to sing the national anthem along with an onstage vocalist. The vice president took the stage to cheers and chants of "USA! USA!" and I heard a group of college-aged boys call him a "silver fox." Pence painted a picture of a country that would criminalize abortion but not punish women who have them. During his campaign, Trump advocated for punishing women who access abortion care before backtracking once he realized that idea ran counter to mainstream pro-life arguments. According to one poll of people who voted for Trump, 39 percent think women should be punished for having abortions if the procedure is outlawed. Rebecca Brooks, who came to the March for Life with her husband, Gerald, hopes doctors who provide abortion care will be prosecuted if abortion is outlawed, but not their patients.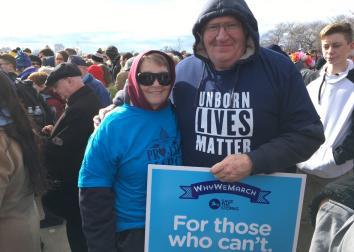 "I think a woman that gets an abortion punishes herself, because at some point in your life, it hits you," she said. "I understand that women feel like they're in a position where they feel like they don't have a choice, that there's no other option they have. And that's on society."
"Not to mention the hormonal imbalance," Gerald added, laughing.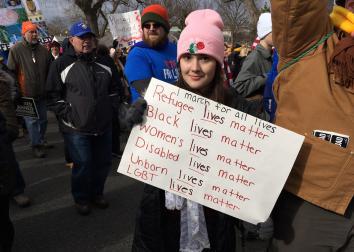 Unlike last weekend's Women's March, which promoted a broad, intersectional agenda, the March for Life was intentionally one-note. Samantha Williams, a 23-year-old who came to Friday's event with a group of Catholic students from Kent State University, thinks it doesn't have to be that way. Her sign was the only one I saw that championed the rights and lives of refugees, disabled people, black people, and others who face disproportionate victimization. "This is my first March for Life, and for me, pro-life encompasses all life, not just the unborn," she told me. "I hope that more people start to see this side and encourage Trump to see that perspective. I really hope he has a change of heart on capital punishment, on letting in refugees, on the environment." Williams was disappointed to see that her politics weren't widely represented at the march, but despite the president's actions on banning Muslims and turning away refugees this week, she hasn't turned on him yet. "He hasn't been in office very long," Williams said. "I'd like to give him time."