The holidays are a difficult time for some, and this year in particular, it may be hard to find reason to be merry. I can't offer much in the way of guidance for raising your spirits, concocting the perfect eggnog, reconnecting with loved ones, or making your parties less awkward; but I can share seasonal secret that's served me well over the years: If you want to instantly feel more festive, get yourself some velvet.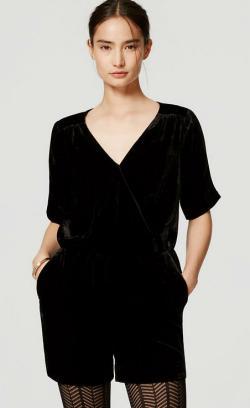 Like any good American, I track the passing of seasons by the consumerist urges they inspire within me. Just as I feel a tug to buy school supplies every September and beach reads every summer, the impulse arrives like clockwork each fall: It's velvet season. While this time of year gives some people an itch to listen to Christmas music or watch Love Actually, my holiday-time activity is to go to my favorite stores' websites, type the word velvet into their search bars, and experience pure sartorial joy in the form of the rich velvet dresses, velvet tops, and velvet accessories that dance across my screen. I'm rarely disappointed. Anthropologie currently has five pages of search results; Asos has six. Know that I've scrolled through them all.
I've lately wondered why velvet doesn't have a fan club of its own, the way the Corduroy Appreciation Club used to meet on Nov. 11 (11/11 being the date that most resembles cords) to rejoice in its favorite fabric. Never mind that corduroy aficionados actually seem to have a strange vendetta against velvet. What is velvet but a purer form of corduroy? The word corduroy is the English translation of the French term meaning "ribbed velvet"—they're practically twins. And like corduroy, velvet is the kind of fabric that's going to inspire enthusiasts who thrill to its sumptuous feel and smooth look, not to mention its utter comfort. Seinfeld's George Costanza was one: He once said he would drape himself in it if it were socially acceptable.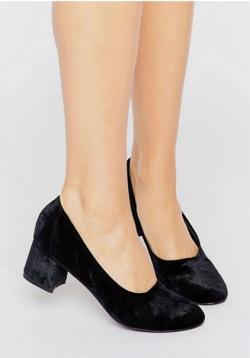 Forget "socially acceptable"—velvet is particularly trendy this year, one of fashion's most sanctioned looks of fall 2016. Angela Merkel has embraced the leadership potential of velvet, even as her status as the last bastion of liberal democracy has come into question. Rihanna's velvet creeper drops this week. I only hope that all future years will be so kind to this this most royal of fabrics. But the beauty of velvet is that even in bearish times, the Christmas season renders it automatically acceptable. A velvet item of clothing announces that you are ready to make merry, to decorate gingerbread houses, to sing carols, the whole shebang; but also, crucially, it shows you understand that merrymaking is mostly performative. Anyone wearing velvet looks like she is going to a holiday party, and looking the part is half the battle. At said parties, people will want you in their snapshots, because as a velvet wearer, you'll act as human tinsel, adorning your surroundings and subtly reminding people of a Santa suit.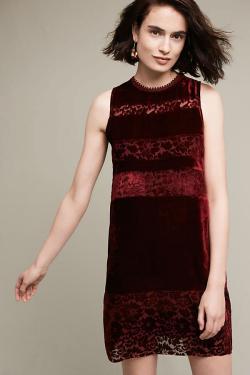 But the genius of velvet doesn't stop there: In its embrace, you can look party-ready while also being comfortable and cozy. Velvet screams special occasion, the stylish version of an ugly Christmas sweater. Unlike another party-in-a-garment item, sequins, you won't feel ridiculous wearing velvet to an office or in the cold light of day. Wearing velvet to a holiday party is such a natural choice that it will also bring you the instant endorphins that come with knowing you picked the right outfit, free of worry that your dress isn't seasonally appropriate or fancy enough, because winter and velvet go together like Christmas radio and Mariah Carey. (And like Mariah, who is very much the velvet type, the fabric is something of a creature of the '90s. But you shouldn't let that dissuade you.)
Velvet is also surprisingly versatile. Its tendency to come in sultry dark colors or jewel tones is nice, but I love velvet in a pattern, and I love it crushed, too. This dress captures one of the most fun things about velvet, the way light can catch it make one fabric look like multiple colors. These jogger pants are patently absurd and will make you feel like one of Santa's elves. You can find shoes and boots and camisoles and jumpsuits that meet your velvet needs. You can wear velvet from head to toe if you're feeling bold, but if you only want a light dusting of it, velvet chokers are everywhere now, or perhaps velvet-trimmed pants or a kimono or some socks would be to your liking.
George Constanza notwithstanding, velvet is admittedly trickier proposition for those of the male persuasion. It's not an impossible needle to thread: Witness Tom Ford's velvet blazer in GQ, or some of the suits in Hamilton. If those are too dandy for you, consider some velvet ribbon to wrap your presents. Or maybe what you need isn't clothing at all but a velvet sectional couch. As a last resort, you can always scrap velvet the fabric in favor of its equally popular edible counterpart: cake, in red or blue or whatever-color velvet. If you won't line your whole body in velvet, the least you can do is line you and your loved ones' stomachs.