In March 2016, a program called Project ECHO: LGBT Health launched with its sights set on a vexing problem: LGBTQ people have specific health care needs, but far too often, providers are not equipped to meet them. Uniting physicians, nurses, and other medical practitioners from across the country for a yearlong collaboration, ECHO: LGBT has encouraged 10 major community health care centers and their related clinics to address an urgent question: How can the medical community transform to better serve LGBTQ people?
Conceived by the Wietzman Institute, an organization dedicated to research and innovation in primary care, ECHO: LGBT's main focus is creating a forum for medical practitioners to learn about road blocks to health in the queer community and how to address them. Nine months into its run, the project has offered twice-monthly videoconferences where primary-care providers from Arizona, Pennsylvania, Colorado, Connecticut, Louisiana, and beyond share recommendations on challenging cases with expert, multidisciplinary faculty and colleagues.*
Of course, these conferences touch on familiar health topics of importance to the LGBTQ community, such as HIV prevention and care. But they also encourage conversation about bigger questions concerning outreach, sensitivity, communication, and how to make every doctor's office a truly welcoming place for queer visitors. In short, ECHO: LGBT is working—as quickly as possible—to inject the health care community with a healthy dose of social justice.
Or at least that's how it feels to Dr. Andrew Cronyn, who is spearheading his community health center's partnership with ECHO: LGBT in Tuscon, Arizona. Cronyn is passionate about queer health care issues. His work as a gay activist, which includes the launch of a transgender youth program at his health care center, was inspired in part by an alarming experience: "A year before I got involved with ECHO, I got call from a mother of a transgender child who had been dismissed from another doctor's practice," Cronyn told me. "I told her that I didn't know very much. But I could promise her that I would not ever throw a child out of a practice."  
That phone call, and other encounters like it, awakened Cronyn to the challenges that LGBTQ—especially trans—people can face during a simple visit to the family doctor. Those that are not rejected outright struggle with a broad spectrum of discriminatory policies that prevent some LGBTQ people from receiving quality care, or even being recognized by their preferred name. "For example, here, the Arizona Health Cost Containment System [Arizona's Medicaid program] will not change the name you have on file unless your birth certificate has been changed," Cronyn told me. "And in Arizona, trans people cannot change their birth certificate unless they've had surgery."
But Cronyn hopes that ECHO: LGBT will change attitudes and policies in the medical community—that a focused dialogue about LGBTQ issues will not only strengthen queer activists like himself, but also create new practitioner-activists who can spark progress. He told me that health care staff who entered the program with trepidation—some due to religious concerns—are now among ECHO: LGBT's most engaged participants. And participants with no particular investment in queer rights have become vocal advocates. "My medical assistants, when we first started the transgender youth program, they had no idea about queer and trans rights," Cronyn said. "This year, a group of them made pride shirts and went to the pride parade so that they could cheer on our kids. When you know something, and really see someone, it makes a difference."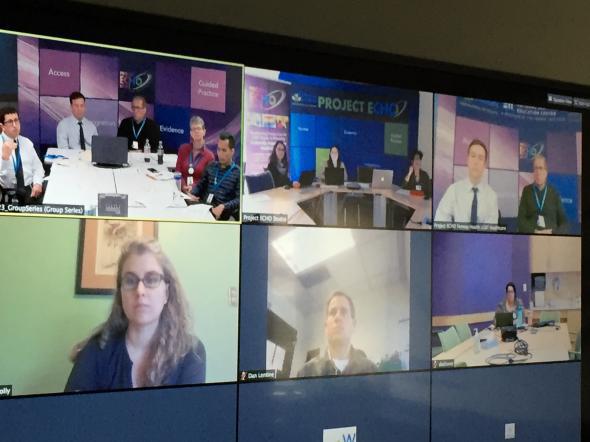 Weitzman Institute Associate Director Wanda Montalvo—who oversees the research institution's Transforming Primary Care for LGBT People initiative (of which Project ECHO: LGBT is a component)—is similarly heartened by the project's impact over a few short months. "I'll say that I've done a lot of work like this around a lot of disparity topics—asthma, diabetes," Montalvo told me. "And one of the things I love about ECHO: LGBT is the level of enthusiasm and dedication from the health centers participating in the initiative. This project has touched a lot of people much more quickly than my previous topics."
But Montalvo's ambitious vision goes beyond winning short-term investment from direct ECHO: LGBT participants. She envisions a medical community that does more than correct its treatment of queer people—a community that allows a newfound embrace of LGBTQ life to shape its attitude toward all patients. "We hope to improve overall knowledge about LGBT care, but we really want to see that this knowledge is being applied in primary care as a routine, not as a special project or in special cases," Montalvo told me. "I want to see physicians learn that when you ask someone about their sexual histories you're not just asking because they have responded that they are LGBT. That's absurd. LGBT people are not the only ones having sex. It would be a very boring world."
Montalvo knows, however, that ECHO: LGBT is only a small step. Though it will directly affect ten major health care centers, and indirectly impact their many satellite locations, there are over 1,500 health care centers to reach nationwide, and ECHO: LGBT will only run for one year. Meanwhile, some of the project's key activities have hit roadblocks. For instance, data collection around LGBTQ care has been stymied by the limitations of the project's participants—some health centers simply do not have the administrative, financial, or technological capacity to gather the information that ECHO: LGBT wants to use in its meetings, reports, and recommendations.
Sitting in on an ECHO quality improvement session with healthcare team members in October, I felt overwhelmed by the amount of material that participants were trying to engage with—conversations about race, gender, sexuality, health, and well-being—right in the middle of an intensely busy shift. It's wonderful to think that these twice-monthly meetings have planted a seed of change. But is that enough? And is the change sustainable?
For Cronyn, just making people aware of the unique challenges LGBTQ people face is an excellent start. After all, his passionate advocacy work was fueled by a small encounter that opened to his eyes to an endemic problem. "When that first mom called me, she had three requests," Cronyn told me. "Call my son by his name, call him by his gender, and don't look at his genitals unless it's related to the reason of the visit. I was like, She must be insane to think doctors would do that. But as I've learned, she's not insane." And that awakening alone has been part of the fuel for new projects, programs, and real change in the hearts of caregivers around him.
*Correction, Dec. 5, 2016: This post originally misstated the number of times per month Project ECHO: LGBT meets. Additionally, the type of session the writer attended and the professional role of Weitzman Institute Associate Director Wanda Montalvo have been clarified.