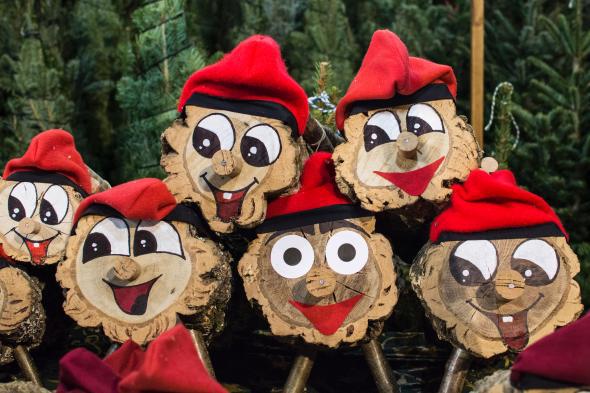 The holiday season—that American mish-mash of religious and secular festivity running roughly from Thanksgiving through New Year's Day—has at its glittering, gingerbread-encrusted core, a paradox. The bulk of its supposed charm relies on the repetition of familiar elements—the lights and the feasts, the songs and the gifts—and yet repetition is boring. Moreover, because nostalgia tends to breed amnesia, we forget, annually, that many of the standard set-pieces aren't actually all that great. Christmas trees are a needle-shedding mess; turkey is a finicky and generally unappetizing protein; gift-buying is a gauntlet of anxiety; and "partying" on NYE is almost always an expensive and exhausting undertaking. In other words, the way many of us do the holidays is uninspired at best, and, at worst, a tedious rehearsal of tropes we don't even enjoy.
Grinch! you may be hissing over your eggnog. In fact, I love the holidays—but I have been able to sustain that love in large part by seeking out and adopting traditions that are not my own. As it turns out, when you look beyond your box of old family ornaments or your bubbe's bland latke recipe, the world is full of unique and delightful ways of celebrating—approaches that, once you adapt them to you and your loved one's needs, can quickly rekindle the wonder of the season.
Take, for example, caga tió or Tió de Nadal, the "poop log" that Catalans feed over the month of December so that it might defecate sweet treats on Christmas Day. Can you imagine a more appealing seasonal game?
Kate McKinnon's got the right idea. In the spirit of "open source" sharing and collaboration, Slate's holiday coverage this month will be an enthusiastic invitation to good-willed appropriation. In the weeks remaining until the new year, we'll present a series of recommendations for the best traditions we know of, with an eye toward the specific, the peculiar, and the surprising—at least to non-adepts. We hope you'll take one (or all!) of them, and incorporate it into your own celebrations. Consider it our gift to you. Happy holidays!
* * *
A Daily Christmas Calendar Can Heighten Anticipation and Manage Stress
Rebecca Onion
Velvet Is the Holiday Fabric You Need
Heather Schwedel
Win the Holiday Appetizer Game with Nana's Cheese Puffs
Nora Caplan-Bricker
An Elk Dropped In Should Be a New (American) Christmas Classic
L.V. Anderson
The Heartwarming Simplicity of the Danish Kalenderlys
J. Bryan Lowder
Embrace the Holiday Magic of Sending Booze to a Function From Afar
Heather Schwedel
For a Beautiful Religious Take on the Holiday Party, Consider Las Posadas
Suzanne Monyak
Festive and Just Fussy Enough, Ice-Box Pudding Is an Ideal Christmas Dessert
Rachael Larimore
Not Feeling Very Merry? Here Are Some Honest Holiday Greeting Cards for 2016
Lisa Larson-Walker
"Blue Christmas" Services Honor the Dark Side of the Season
Ruth Graham
Need a Hit of Holiday Nostalgia? Mmm-Bop Over to Hanson's Snowed In.
Christina Cauterucci

This Holiday, Let's Be Honest About Gifts
Jeffrey Bloomer
Enjoy Free Speech This Holiday Season by Gazing Upon a Satanic Diorama
Mark Joseph Stern
Dear Jewish Family: This Holiday Season, Let Christmas Win
Elissa Strauss
In 2016, Holiday Cynicism Is the Only Way to Go
Katy Waldman
For New Year's Luck, It's Best to Cover All Your Bases
Dawnthea Price
Start the New Year Off Right With Scotland's "First Footing"
June Thomas
Say "Nyet!" to Partying on New Year's Eve. Try a Classic Russian Dinner Instead.
Leon Neyfakh
Celebrate the New Year Correctly—With Gumbo!
Seth Maxon
The "Japan Countdown" Is the Best Way to Do New Year's in Times Square
Aymann Ismail