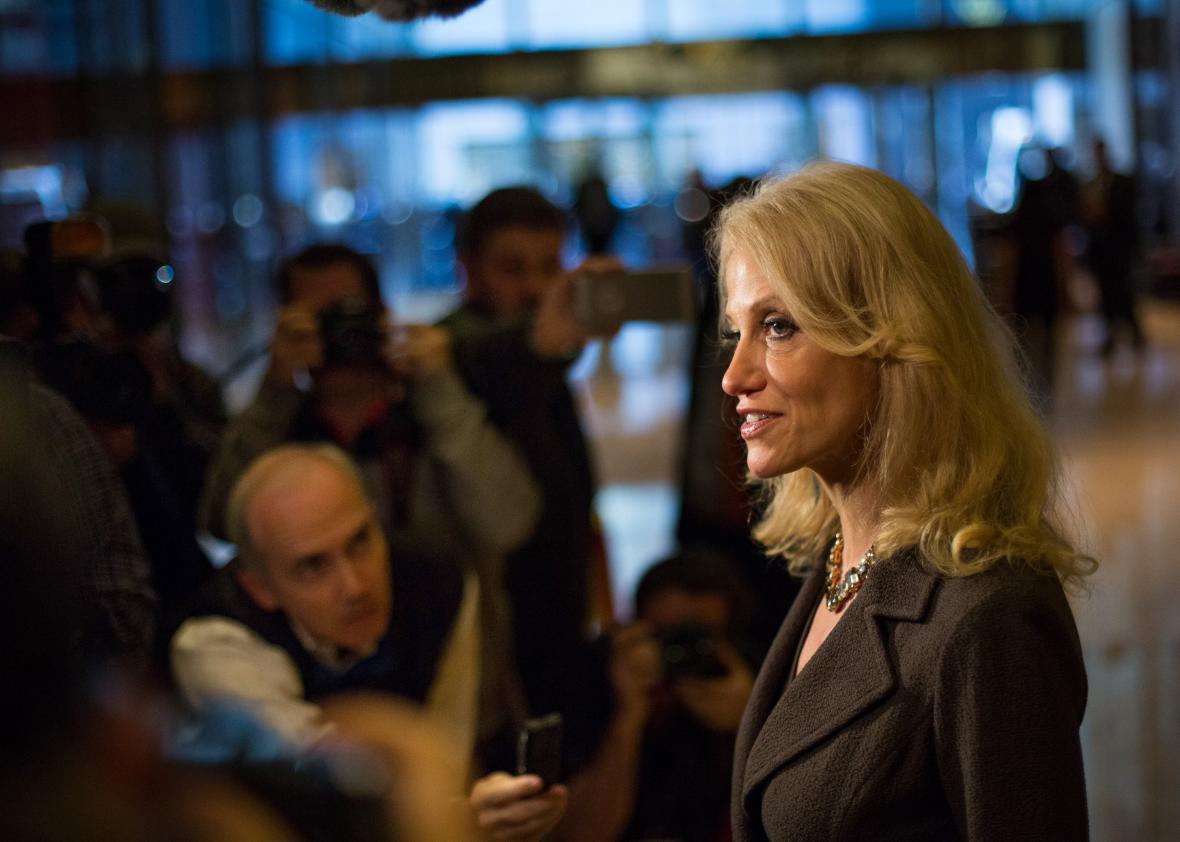 Update, Dec. 8, 6:20 p.m.: At the time we originally published this post, we made an interpretation of Politico's report that may be too harsh in the light of new information. (The post's original headline was "Kellyanne Conway Suggests That Women With Kids Shouldn't Take Jobs in the White House.") An ABC News report provided more context, including that Conway said mothers are "welcome in the Trump White House," and that she said she intends to continue to work with Donald Trump as the head of an independent organization. As reluctant as she may be to work in a formal White House role, Conway does not seem to think that no mother should. ABC also framed her remarks below, about asking men if they want their wives to take White House jobs, as "ask[ing] the male candidates to see their role through the eyes of their spouse," which is an interpretation we hadn't considered.
Original Post, Dec. 7, 5:13 p.m.: Donald Trump's former campaign manager Kellyanne Conway said that mothers should not accept high-powered career opportunities—a standard that does not apply to fathers, in Conway's opinion.
Conway told the audience at Politico's "Women Rule" event on Wednesday that it would be impossible for her to serve both in the Trump White House and as a mother to her four children, all of whom are under 12. Conway's husband is a partner at a Big Law firm. From Politico:
"I do politely mention to them the question isn't would you take the job, the male sitting across from me who's going to take a big job in the White House. The question is would you want your wife to," Conway said, describing conversations she's had with male colleagues. "Would you want the mother of your children to? You really see their entire visage change. It's like, oh, no, they wouldn't want their wife to take that job."
Every parent—mother or father—is entitled to turn down a time-intensive job opportunity to spend more time with family, if he or she is in an economic position to do so. A full-time position in the White House undeniably infringes on a person's family time, and anyone considering taking on such a role should take that into consideration when making his or her choice. The problem with Conway's comments is not that she values her family or spending time with her young children. It's that she seems to believe that it is the onus of the woman in a family to sacrifice her career opportunities so that her husband may have his. Even more troubling, Conway implies that no good mother should take on such a job—an attitude that feels ripped out of Mad Men.
It goes without saying that many women have not allowed such outdated attitudes about gender roles stop them from working in the White House. Later in the Politico event, current senior adviser Valerie Jarrett said that she talked to Conway backstage and encouraged her to try working in the White House. "I think tone starts at the top, and if you have a relationship with your boss such that you can say, 'Look, this is a top priority. There's nothing more important for me than being a good mom, but I think I can be a good mom and have the flexibility enough to do this job well,' " Jarrett said before adding, "Plus, you can always leave if it doesn't work out." (Wise words for anyone hesitating to accept a job.)
As long as women are expected to sacrifice their careers for their families and men are not, the glass ceiling in the workplace isn't going anywhere. Appearing on the Daily Show with Trevor Noah on Nov. 30, conservative pundit Tomi Lahren asked why liberals have not lauded Conway as a feminist icon for being the first successful female campaign manager. Conway's double standard for mothers and fathers who work is a good example of why.