For four years now, I've rounded up 10 interesting digital history projects, born in the 12 months previous, for your browsing fun. (Here are my 2015 picks: Part 1. Part 2. Here are the 2014 lists: Part 1. Part 2. And 2013: Part 1. Part 2.)
Tradition must be heeded. So, in no particular order, here are five great sites I first encountered in 2016. I'll have five more on Tuesday.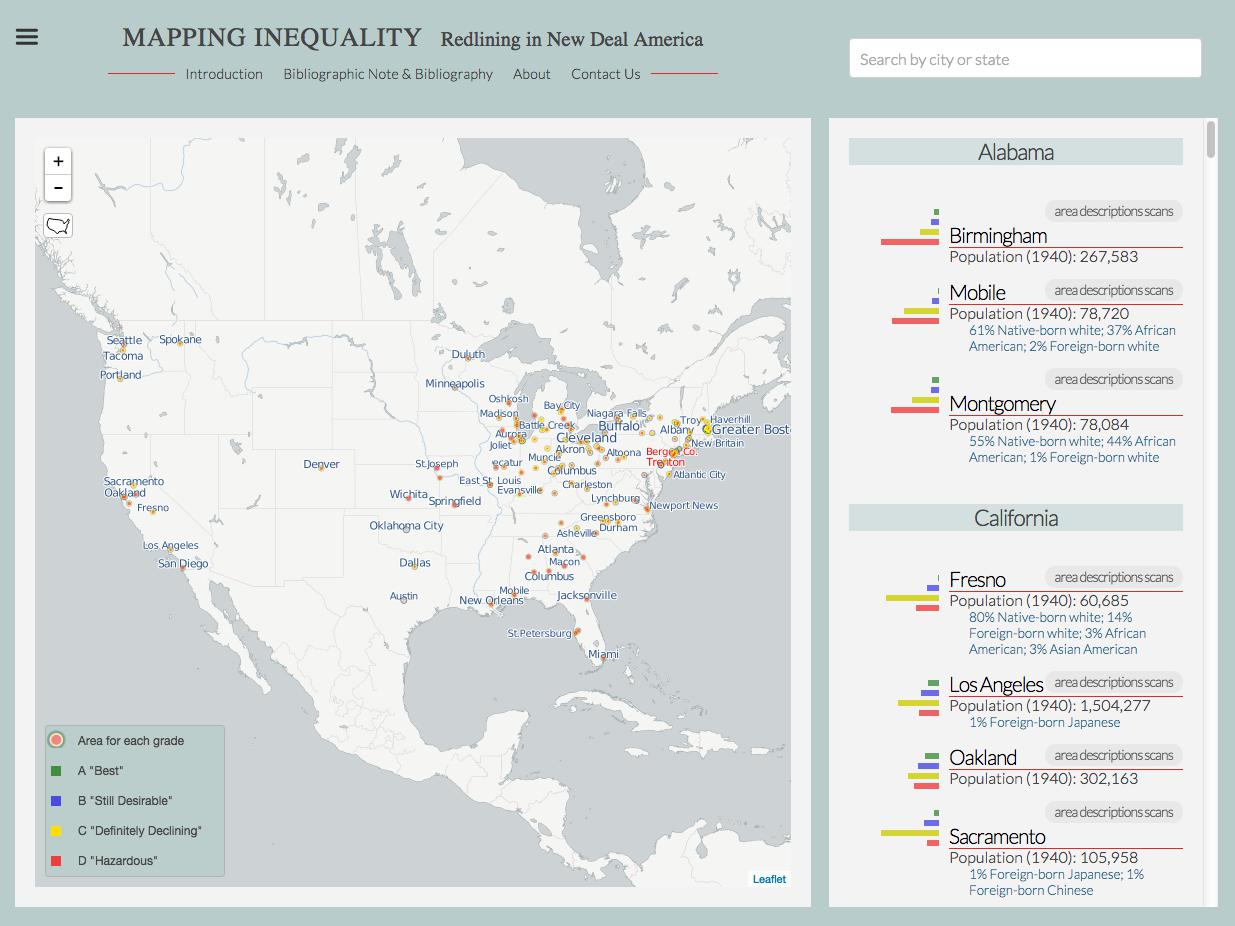 When I wrote a Vault post about Home Owners' Loan Corporation maps after the publication of Ta-Nehisi Coates' "The Case for Reparations" in May 2014, there wasn't a central clearinghouse where you could find "redlining" maps online. This year, a team from four universities, led by the University of Richmond's Digital Scholarship Lab, provided that clearinghouse and then some. Their project is called Mapping Inequality.
Assessors from the New Deal agency Home Owners' Loan Corporation coded neighborhoods from "Best" to "Hazardous," and as Mapping Inequality's introduction points out, the resulting set of judgments affected the way "developers, realtors, tax assessors, and surveyors" perceived a given city's potential. The project's master map, which is part of the digital atlas American Panorama, lets you search 150 HOLC maps and 5,000 neighborhood descriptions, using a smooth interface.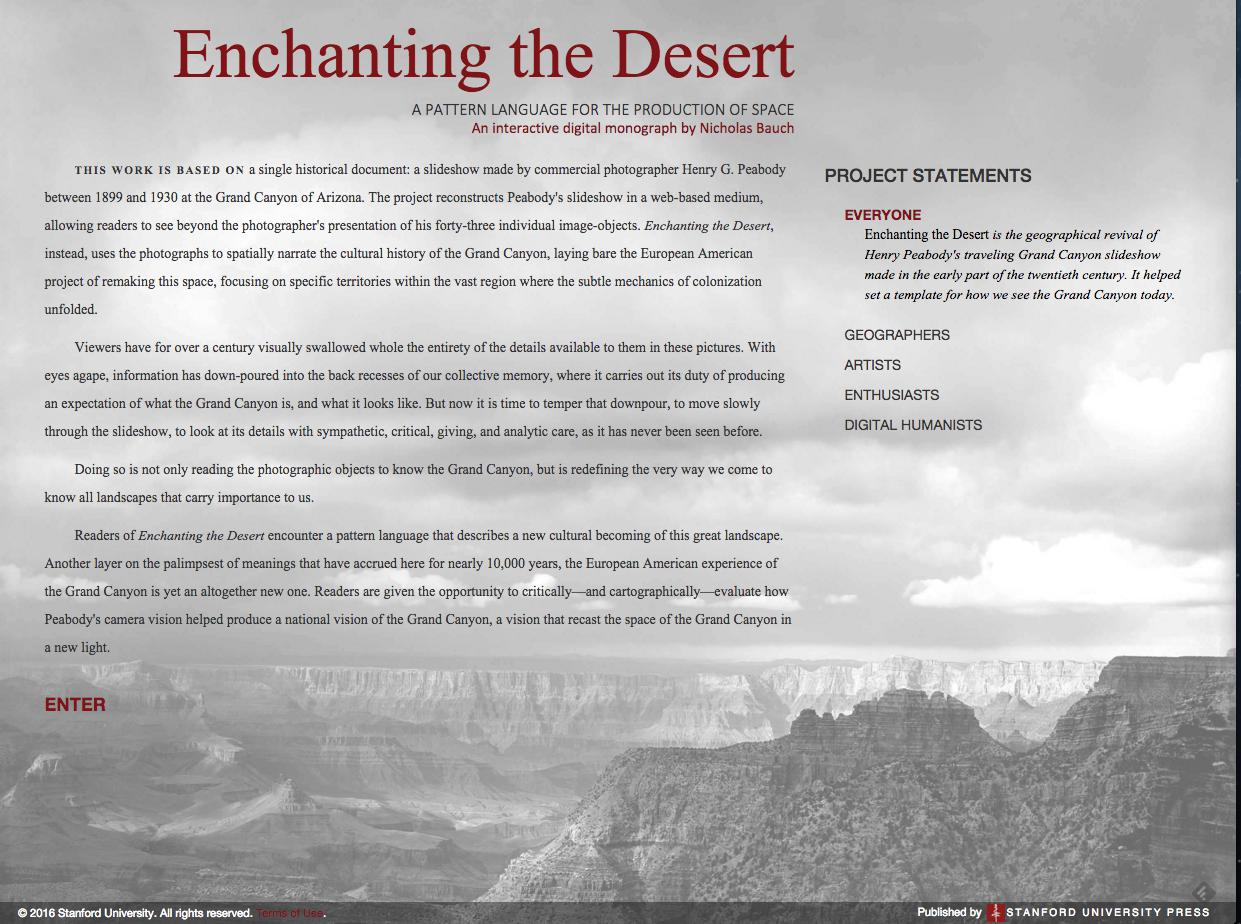 In the early 20th century, one way photographers could make money was by giving people virtual "tours" of faraway places through slideshows. Their photos can now look rather banal to us—we have much better images of Yosemite or Mount Fuji. But the contrast between the flatness of the pictures and the excitement people once felt upon seeing these images has always fascinated me.
Enchanting the Desert, a project led by geographer Nicholas Bauch, takes one such slideshow—a much-edited "tour" of the Grand Canyon, assembled by photographer Henry G. Peabody between about 1900 and 1930—and pads it with context. Bauch and his team locate Peabody's images in space and time, giving us a generous serving of the geography and history of each location.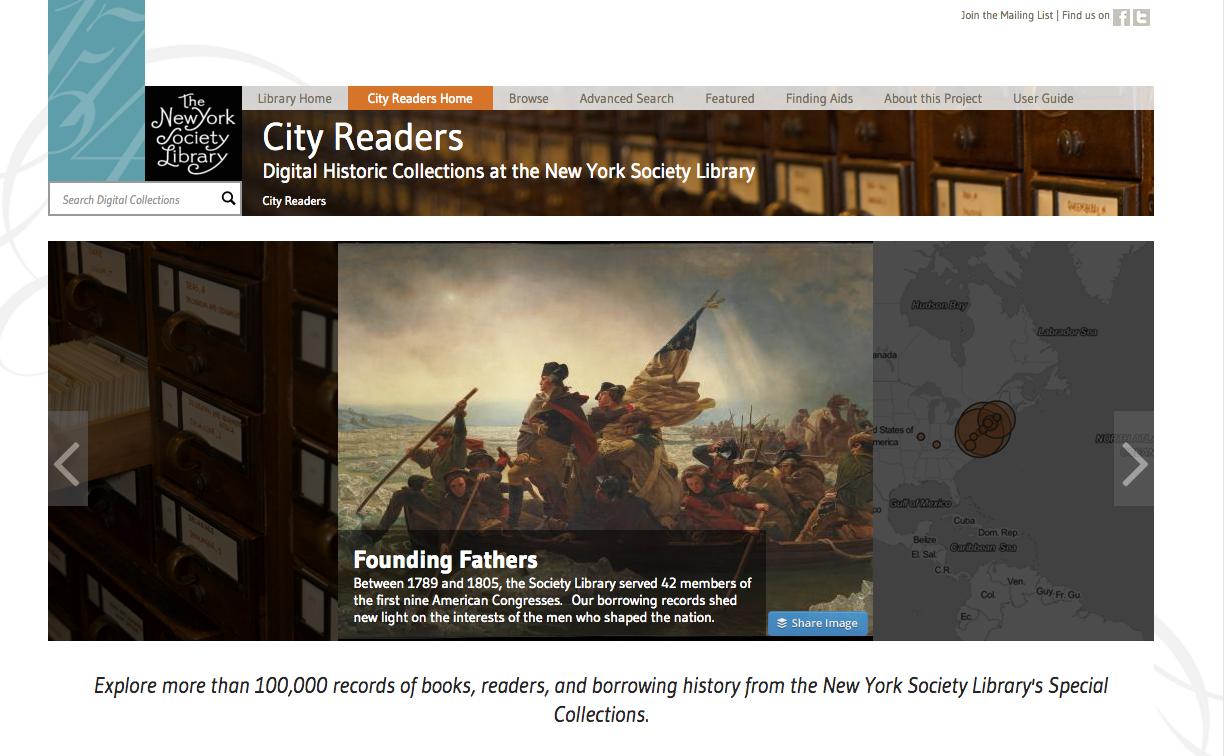 The New York Society Library, which opened in 1754 as a subscription service for the city's public, has had some eminent patrons over the years. Its database project City Readers allows you to see what patrons borrowing between 1789 and 1805 read, how long they kept their books, and which subject areas they favored.
Their Founding Fathers page is a very fun browse, as is thencollection of the records of 57 female readers, which shows the dominance of the gothic novel among the city's reading public in the late 18th century.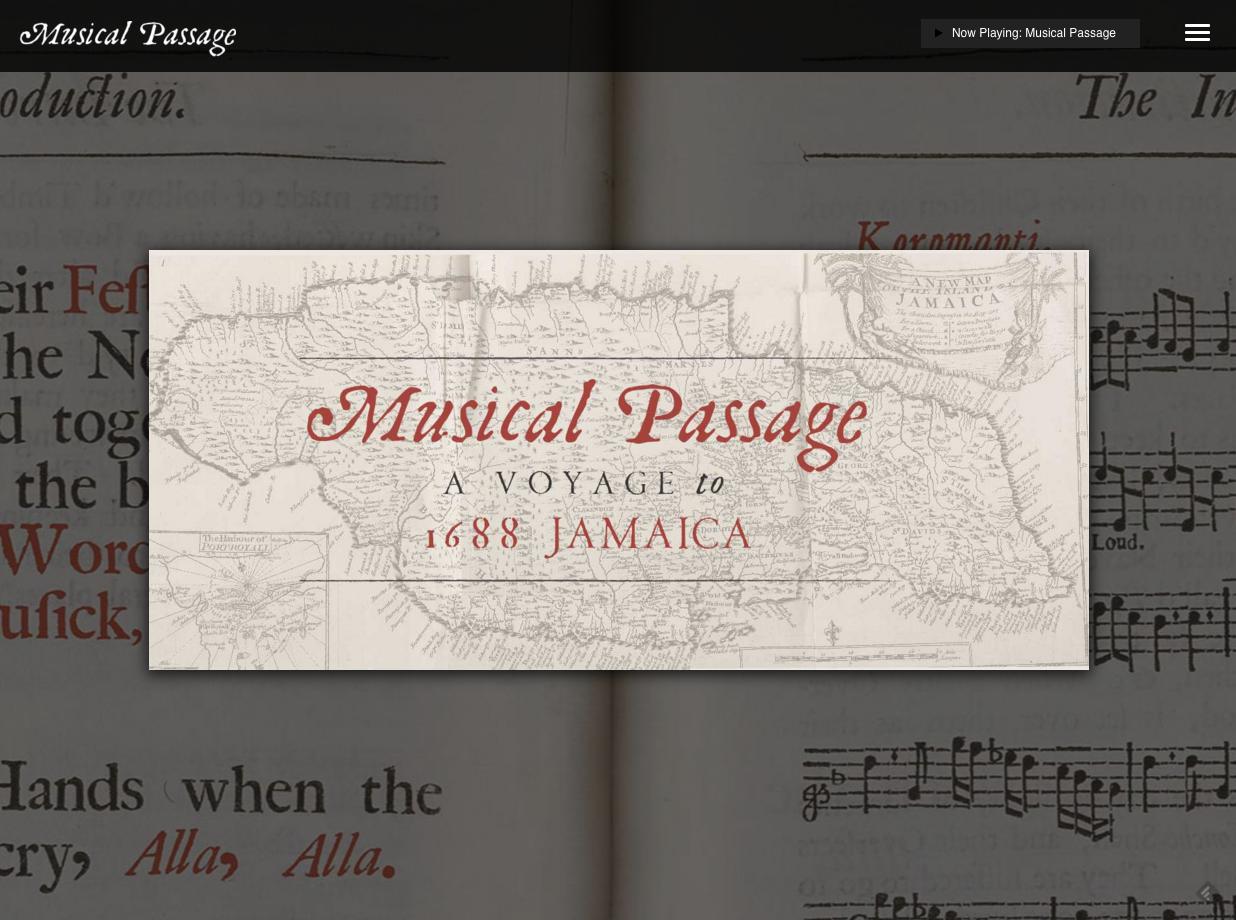 The most melodious of the projects I saw this year was Musical Passage, put together by scholars Laurent Dubois, David Garner, and Mary Caton Lingold. Musical Passage explores a few pieces of music recorded by British traveler Hans Sloane in Jamaica in 1688. Sloane attended performances by African musicians, and his records of the words and notes he heard there are, as the project team points out, "the earliest transcription of African music in the Caribbean, and probably in the Americas." The musicians Sloane watched had probably survived the Middle Passage and were now adapting their homelands' music in concert with each other.
David Garner, a composer, recorded interpretations of some of the music Sloane wrote down, which you can play from the project's website while reading textual interpretations of the lyrics and music. The team hastens to point out that these are not "authentic reconstructions" but "reflections" of what this music might have sounded like. They invite other musicians to add their own interpretations via a Soundcloud page.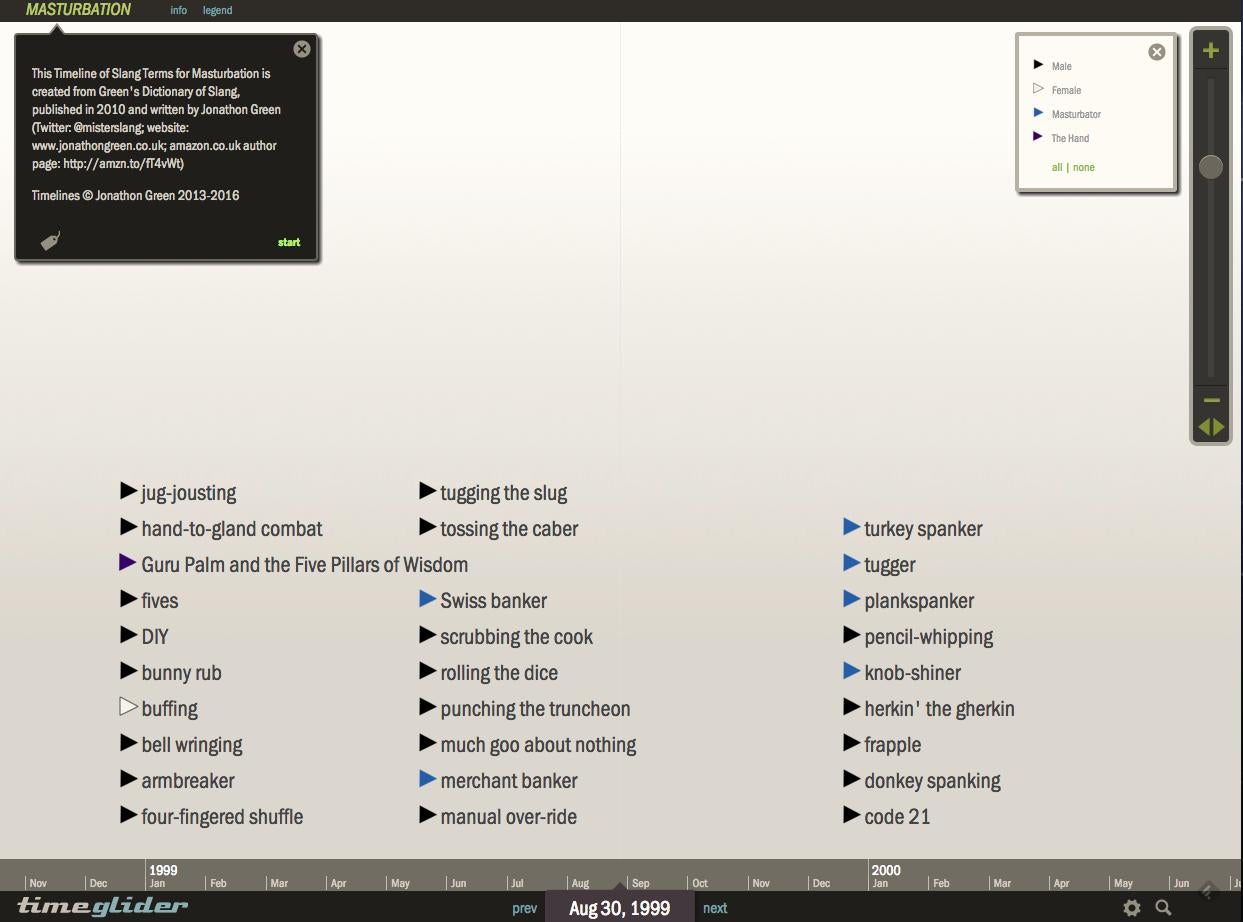 This is just fun. Lexicographer Jonathon Green, who put his Green's Dictionary of Slang online this year, had provided us with a set of timelines, drawing from his database, showing the evolution of super-common slang themes over time. Don't miss: "masturbation," "weapons and wounds," "law enforcement."