About five years ago, a band named Felt Letters, led by the longtime punk rocker Ian Svenonius, played a show in the back room of Comet Ping Pong, a pizza parlor in a leafy, affluent neighborhood in Northwest Washington, D.C. In segues between songs, the band called hooded figures up to the stage. They held flashlights to their faces and moaned otherworldly advice from dead rock stars, like the Rolling Stones' Brian Jones. It was a fake occult ceremony, the kind of thing that was obviously art (and obviously funny) if you understood the context. It was a pretty typical night at Comet. It was also the kind of thing that, looking back now, some 4Chan moron might interpret as actual satanism or witchcraft.
Comet is a pizzeria with pingpong and punk shows. But to the alt-right believers of the now-notorious #pizzagate conspiracy theory, Comet is actually the locus of a satanic pedophilia ring connected to the most powerful figures in Democratic politics. This theory—espoused on 4Chan and Twitter, in a now-banned Reddit forum, and by the son of the president-elect's choice for national security adviser—has inspired its adherents to harass the 40-person staff of Comet with threatening phone calls and social-media missives, forcing the restaurant to bring on extra security. But that wasn't enough to keep out Edgar Maddison Welch, a 28-year-old man from Salisbury, North Carolina, who was arrested on Sunday afternoon after firing a shot inside Comet with what police called an assault rifle.* According to the Washington Post, Welch told police that he went to Comet to "self-investigate." Thankfully, no one was hurt.
So why Comet? It's possible that alt-righters susceptible to conspiracy theories might have latched onto any D.C. pizza place (they think the word pizza is a pedophilic code word). And it's true that Comet's owner, James Alefantis, has some connections to Democratic Party bigwigs. But there's something special about Comet Ping Pong, and it's that distinctive character, sadly, that may have allowed the campaign against it to fester. Comet is, after all, D.C.'s weirdo pizza place.
For the better part of a decade, Comet has been both a neighborhood hang for young families as well as a reliable home for eccentrics, queers, outsiders, and their art. Alefantis, who owns another restaurant on the same street and is a formidable player in the D.C. art world, fills his restaurant with a rotating collection of installations from local visual artists. The pingpong tables in the back room regularly get cleared out for concerts featuring up-and-coming local acts alongside touring bands that could easily book the bigger venues in town. While families eat pizza in the front, D.C. punks cheer on their friends and idols in the back. Even when the headliner is a band called Sex Stains, the vibe is generally pretty wholesome.
Comet has built a reputation as one of the safest, most welcoming arts spaces in the city. The club's booker, Sasha Lord, is known for cooking up diverse, inspired bills that frequently showcase little-known acts (Downtown Boys, Tunde Olaniran) who'll hit it big a year or two later. In keeping with the D.C. punk ethos, Comet has opened its doors to a slew of benefit concerts and community events, like a showcase for all-female bands who'd come together, learned their instruments, and written a song in a single weekend. Showgoers are as likely to find themselves nodding their heads next to NPR's Bob Boilen as they are a high-school outcast from a Maryland suburb who's convinced her parents to drop her off at her first garage rock show. Comet is a platform for art from the margins.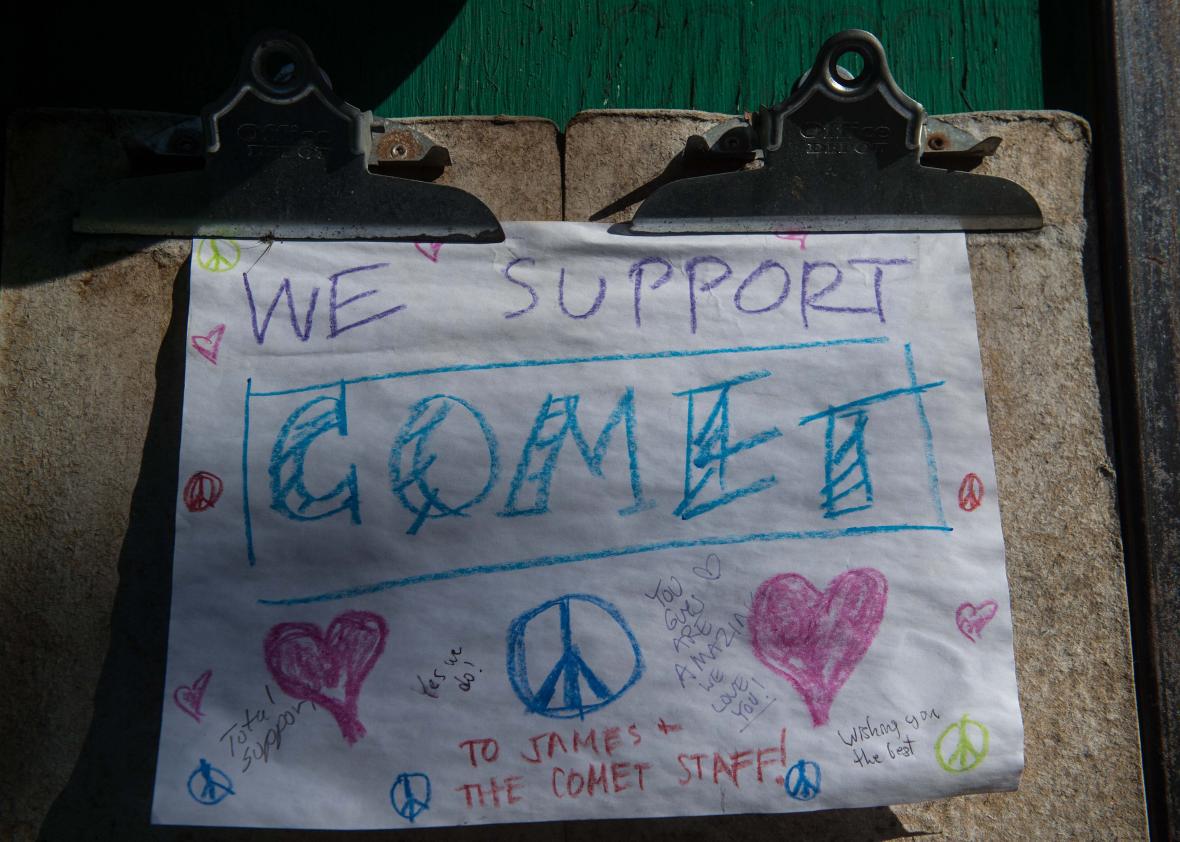 But what makes Comet such a distinct place—a beloved haven for outside-the-mainstream people and art—is what has whet the appetites of alt-right fanatics looking for an outlet for their hate. In a large-scale gestural mural of people and faces by an artist who's played the Comet stage, conspiracy theorists see a depiction of a child being strangled. In run-of-the-mill bathroom graffiti, they see secret sexual messages. In the lack of labeling for the gender-neutral bathrooms, haters with a political agenda see "secret rooms." In Heavy Breathing, a band composed of decade-plus veterans of the D.C. music scene that traffics in stylized, abrasive, tongue-in-cheek electro-punk—only the truly humorless would not receive it as such—they see child-abusing satanists. In the venue's all-ages policy, a time-honored practice of radical inclusion in the D.C. punk scene, they see a cover for pedophilia.
And in Josh Vogelsong—who has been bartending and helping book shows at Comet since 2011 and also performs in drag as Donna Slash—and his fellow drag queens who've performed at the venue, the alt-right sees degenerate weirdos who represent an America they'd like to destroy. For weeks, Vogelsong has been harassed and received death threats on Instagram from #pizzagate believers. User @rb.sad called him a "dumb bitch, or whatever the fuck you are" and a "fucking tranny," he told Slate. User @debbieoconnell_ called him a "PAEDOPHILE CHILD MOLESTING ASS PIECE OF GARBAGE." Other internet trolls have threatened "Hillary will be dead soon and so will you" and "we're gonna slit your throat and bathe in your blood."
"There's just so much on Instagram—me in drag, photos of drag queens covered in blood, and bands doing weird shit—that it's easy for people to see it and be like, 'Oh my God!' " Vogelsong said. D.C. drag queen Summer Camp, who once appeared covered in red fluid in an Instagram photo for a Halloween event at Comet, has also been threatened by members of the alt-right in recent weeks. So has Cis Jenner, another local queen who performed at Comet years ago and now gets Facebook messages calling her a "Satanist homo." "Hope I get to watch u bleed out n get a hard on from it," one said.
Many of the #pizzagate blog posts claiming to find circumstantial evidence of a pedophilia ring at Comet have specifically referenced the sexuality and gender identities of the owner, who is gay, and staff. Conspiracy theorists who have gone through Vogelsong's Instagram, where he advertised his shifts to friends with a photo of two buff men scarfing down a single slice, now claim his posts are code for gay men doing obscene things to children.
The only upside to this sad, spiteful hate campaign is that queers and punks are part of tight-knit communities committed to protecting their own. With #pizzagate in full swing, some locals organized a spur-of-the-moment party at Comet before Thanksgiving to show their support. Vogelsong says he's seen a surge in patronage over the past month as both regulars and occasional diners have come to eat a slice in solidarity. And more than 6,000 Facebook users have said they're "going" to or "interested" in an event in support of Comet this Friday. Right-wingers might love conspiracy theories about child sex-trafficking rings, but not as much as punks love benefits.
*Correction, Dec. 6, 2016: This post originally misspelled Edgar Maddison Welch's middle name.