When I was little, my parents kept a box of Christmas books in the attic and brought it down alongside the ornaments and lights in early December. The fact that these books lay out of reach for most of the year made them feel like luxuries when I finally got to read them in the weeks leading up to the holiday. The Polar Express, How the Grinch Stole Christmas, Madeline's Christmas, Bialosky's Christmas, Merry Christmas, Strega Nona—I must have flipped through these books dozens of times each year, reacquainting myself with their illustrations and their dialogue, relishing the short amount of time I got with each of them before they got packed away again.
It might surprise you, given my nostalgia for that annual experience of rediscovering those titles, that my favorite children's Christmas book isn't one of them. My favorite children's Christmas book is one I first encountered nine years ago, when I was in my early 20s. My older sister, who then worked at an independent bookstore, brought a children's book called An Elk Dropped In to our family Christmas gathering. The book, written by Andreas Steinhöfel, is recommended for readers aged 6 to 10; my sister thought it seemed funny and clever enough to appeal to me and our middle-aged parents. After we'd had a few glasses of wine on Christmas day, my parents and sister and I took turns reading aloud from it. By the time we got to the end, we were all misty-eyed. An Elk Dropped In is sweet, funny, complex, poignant, and—even though it's about a moose who can talk and fly—totally relatable.
Billy Wagner, the book's young narrator, is enjoying a cozy evening at home in Germany with his mother and know-it-all-sister when an elk named Mr. Moose falls through their roof and flattens a table named Sören. (The table is from Ikea.) Mr. Moose, speaking with a gruff American accent, explains that he works for Santa Claus and was doing a test run when he got blown off course. Billy no longer believes in Father Christmas, but as Mr. Moose recuperates from the fall in the Wagners' garage, Billy reconsiders his cynicism about Christmas and confides in Mr. Moose about his heartbreak over his parents' divorce. Billy's deadpan narration is full of oddball observations like the name of the IKEA table, and simple, clever illustrations by Kerstin Meyer perfectly capture the wit of Steinhöfel's prose.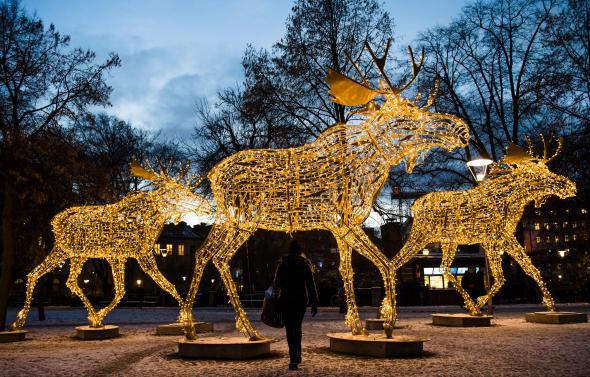 If you're like me, you're probably wondering: Well, is Mr. Moose an elk or is he a moose? It's complicated. An Elk Dropped In is the English translation of Es ist ein Elch entsprungen, which was first published in Germany in 1995. The animal known as a moose in North America, Alces alces, is known as an elk in Europe. However the animal known as an elk in Europe is not the same as the animal known as an elk in North America (Cervus canadensis). Consequently, the notion that the book's titular character is an elk from America named Mr. Moose makes perfect sense to a European reader but is very confusing to an American reader. However, if you can get past this semantic conundrum, you are in for a treat.
The good-natured appeal of An Elk Dropped In is best evidenced by the fact that it's considered something of a modern classic in its native Germany. There was even a 2005 film adaptation of Es ist ein Elch entsprungen, whose English language title on Amazon is A Christmoose Carol. (Thank goodness the editors of the English version of the book, translated by Alisa Jaffa, opted for a more literal title, even if it's one that muddies the moose/elk distinction.) But An Elk Dropped In remains tragically unheard of in America. A good portion of the Goodreads reviews for the book are in German. At the time of this writing, there are only three Amazon reviews for the English translation of An Elk Dropped In, one of which was written by my father. (He gives it five stars.) Worst of all, it's currently out of print, though you can still find new and used copies online at reasonable prices. Worst of all, it's currently out of print, though you can still find new and used copies online at reasonable prices. (Update, Dec. 14, 2016: Most of the reasonably priced copies of An Elk Dropped In seem to have been snatched up—sorry. If you'd like, you can contact Boyds Mills Press to encourage them to print more copies of the book.)
If only more people would read it, I'm sure An Elk Dropped In could attain classic status in America, too. It's become a classic in my family, anyway—every year, after Christmas dinner, we gather around the tree and tipsily read the book out loud to one another. I still sometimes go back and read The Polar Express and the other books that I loved reading when I was a kid—but these days, the only Christmas book I really look forward to revisiting is about a hobbled elk named Mr. Moose.