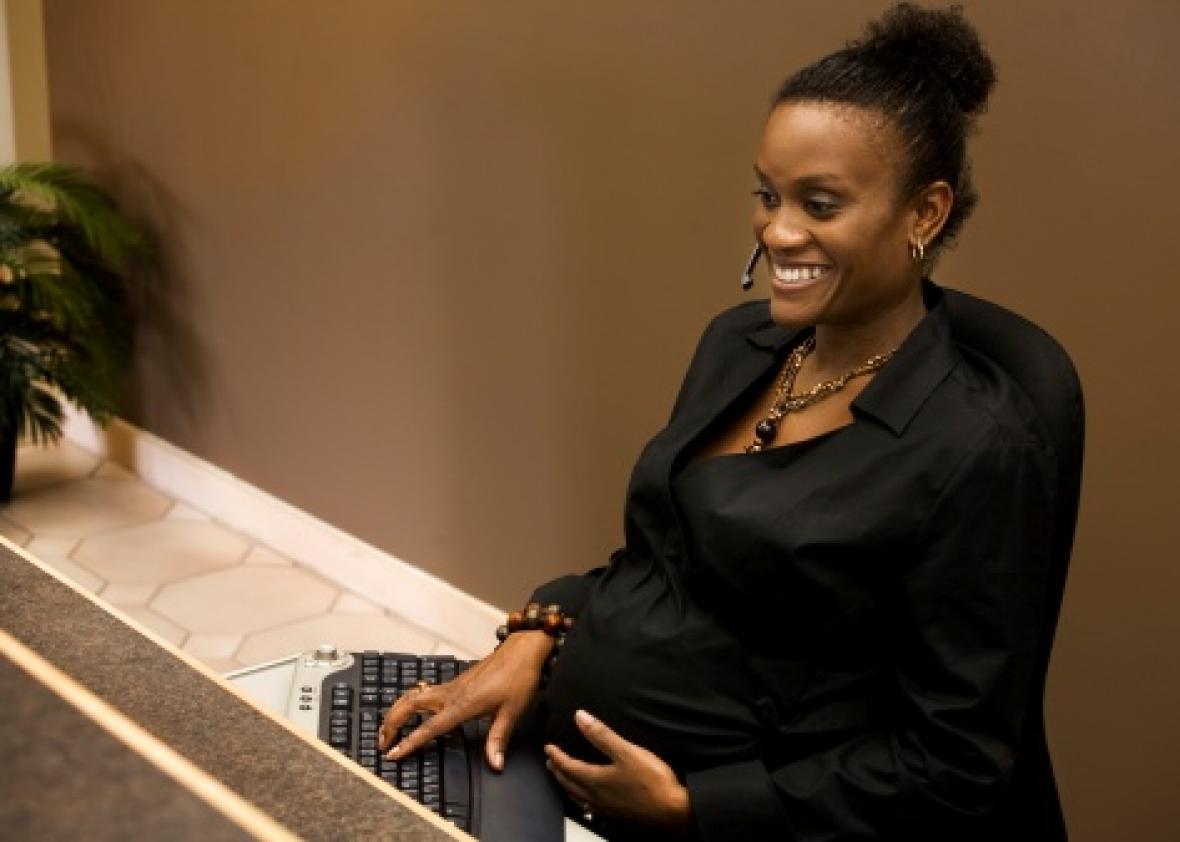 Lyndi Trischler was the first officer to become pregnant in the history of the Florence, Kentucky, police department. During her first pregnancy, which began in late 2012, she managed to get put on light duty. But when she got pregnant for a second time in 2014, this was no longer an option. When inquiring into accommodations, which would be necessary for nearly all pregnant women working such a physical job, she was told that the city had issued a directive limiting the availability of light duty only to those who had experienced on-the-job injuries. The only solution offered to her by management was to use up all her paid leave, and then take unpaid leave for the rest of her pregnancy—and lose her health insurance.
"It was really scary, because I had already had a baby, I know how expensive it is to have a kid. Just the medical bills alone," she told ThinkProgress' Bryce Covert. "The financial director of the city told me if I had planned properly that I wouldn't have put myself in this position. … I don't think it was right for her to say that to me."
Indeed, it was not the financial director's right to tell Trischler that she should have anticipated losing her job because she made the wild and crazy decision to have a baby. But unfortunately, it also wasn't necessarily Trischler's right to demand that the city find a way to allow her to keep her job. Pregnancy discrimination is a legally muddy issue that activists are working hard to clarify, both through the implementation of clearer laws and by going to court to demand that workplaces adhere to current laws. This time, they won.
In 2014, Trischler and fellow Florence police officer Samantha Riley, who was also pregnant that year and was also denied light duty, filed a complaint with the Equal Employment Opportunity Commission with the assistance of A Better Balance, a family rights advocacy group. They claimed that the police department's treatment of these women violated the Pregnancy Discrimination Act and the Americans With Disabilities Act, which was updated in 2008 to provide more protections to pregnant women.
The EEOC ruled in their favor and referred the case to the U.S. Department of Justice, which recently did the same. The DOJ agreed that these pregnant women were subject to illegal discrimination and demanded that the city adopt a new policy, allowing modified duty for pregnant employees, and pay a total of $135,000 in damages and lawyers' fees. This is the first pregnancy case the Justice Department has gotten involved with since the Supreme Court ruling on the subject in 2015's Young v. United Parcel Service. In that case, the court concluded that there may be some situations in which employers can exclude pregnant women from accommodations given to other employees and created a legal standard for defending this discrimination that will be very hard to meet. As a result, the ruling made it "significantly more likely that pregnant women denied workplace accommodations will succeed in their legal claims against the employers who denied them," write Liz Morris, Cynthia Thomas Calvert, and Joan C. Williams in the Harvard Business Review.
"In [the Florence, Kentucky] case, the DOJ has taken a clear stand on what [Young v. United Parcel Service] means. This is significant and a big deal, because very few pregnancy discrimination cases are taken up by them," said Dina Bakst, co-founder and co-president of A Better Balance. "It's clear that they wanted to make an example of it."
Such messages are important because, despite the existing legal protections, pregnancy discrimination is still quite common. According to a new report from the National Partnership for Women & Families, almost 31,000 charges of pregnancy discrimination were filed with the EEOC and state-level fair employment practice agencies between October 2010 and September 2015.
Bakst says that a big reason this discrimination persists is that the laws protecting pregnant women—a category of workers that is on the rise—are "fuzzy and confusing." A better solution than filing cases would be to pass the federal Pregnant Workers Fairness Act, which would more clearly define what kinds of accommodations are legally required for pregnant women. A number of states and cities already have these laws in place, and they make it much easier for employees to question their treatment during pregnancy and determine if it is legal.
Some good news: The Pregnant Workers Fairness Act, and measures against pregnancy discrimination at work in general, has bipartisan support, making it the rare women's rights issue that has a chance of surviving, and maybe even growing, in the years to come.