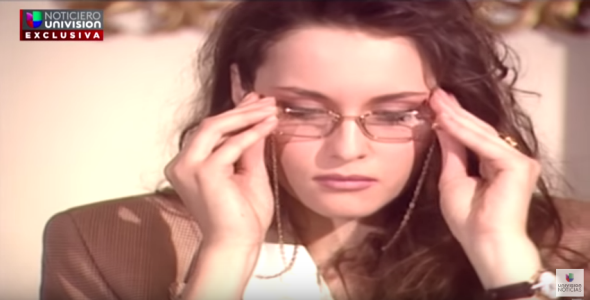 For decades, no one has known who the first female U.S. president would be, but at least three fashion campaigns have predicted someone along the lines of Melania Trump. Donna Karan cast a shoulder-padded brunette in her 1992 "In Women We Trust" campaign; earlier this year, Elie Tahari put a dark-haired model with high-cheekbones brunette in a red sheath and stuck her in the Oval Office.
And 23 years ago, in a Slovenian clothing commercial, the first woman to be inaugurated as our commander in chief was played by a 23-year-old model who may just move into the White House this January, after all.
The lo-fi 1993 commercial, unearthed by Univision, depicts the woman then named Melania Knauss as the first female president on her inauguration day. She waltzes out of an airplane in a baggy trench coat (it matches those of her Secret Service agents, a yuge presidential faux pas), powders her face in a motorcade, and takes her oath of office in a brown suit jacket with matching lipliner, all to the dance beats of an Elvis Costello and the Attractions tune.
It's a rich text that rewards multiple viewings, so please, watch it yourself:
There's so much in the clip that would infuriate Donald Trump: the European Union flag inexplicably used in place of a U.S. one; the archival footage reportedly filmed at a parade for John F. Kennedy; the librarian glasses-on-a-chain Melania wears (very hard for glasses-on-a-chain to be a 10); the fact that, according to Univision, the paper Melania signs at the end of the clip is an immigration document allowing people "to cross the border between two countries." If Donald Trump wins the election on Tuesday, at least we'll still have this video to play over and over again in an act of quiet rebellion.
---