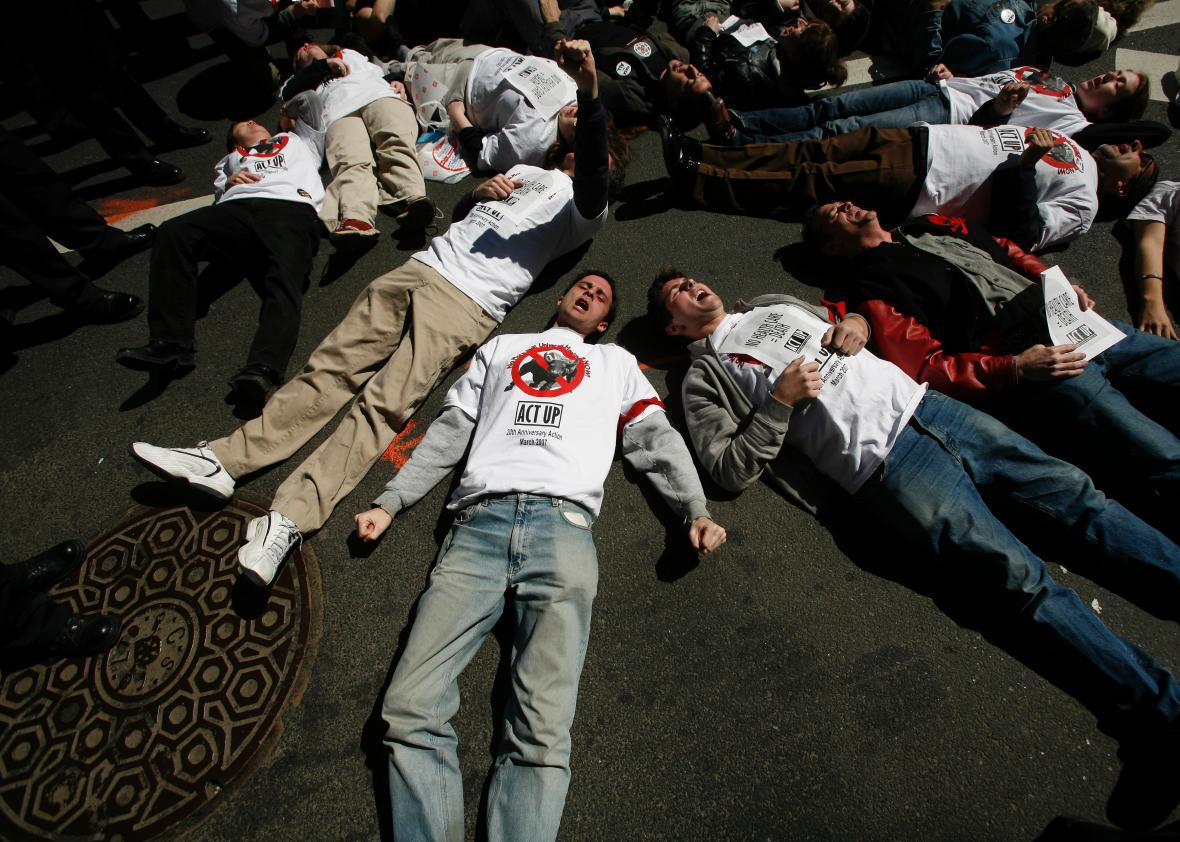 OK. We've had some time to process the election. Hopefully now you are feeling less like Faye Dunaway screaming at a terrifying sex monster at the end of Chinatown and more like Faye Dunaway addressing the board in Mommy Dearest—this ain't our first time at the rodeo.
We queers have been through hard times before. Some of us even survived. What do we do now?
The next four years will be rough. In a few weeks, the country will hand power to a party that defends gay conversion torture, that longs to overturn marriage equality, that fought to keep queers closeted in the military, that regards economic segregation as a virtue, and that obsesses over the policing of genitals at bathroom doors.
But it's not the first time we've had cause for concern. No matter what challenges queer people are about to face, we've been treated at least as badly by more fearsome figures. Over the last half-century, we've learned how to respond by organizing, marching, disrupting, protecting, frightening, reasoning, and winning.
The LGBTQ community enters the Trump administration in a position of greater strength than we have enjoyed at any point in American history—certainly far better than where we were in 1968, when the DSM-II listed homosexuality as an illness. Activists protested American Psychiatric Association meetings in 1970 and 1971, chasing attendees through hallways with unprecedented verve. According to Gary Allender, one of the protesters, "We were not polite. We were not quiet. We were not asking for favors. We were just trying to delegitimize their authority and we felt they were oppressing us and here was finally a chance to talk back to them."
In 1972, psychiatrist John Fryer, wearing a mask to protect his identity, addressed the APA and explained the harm of treating homosexuality as a disease. The next year, homosexuality was de-listed.
A decade later, a Republican administration shrugged in bemusement as thousands of gay men died of a mysterious disease. During a press conference, Reagan Press Secretary Larry Speakes had a grand time with a reporter:
Reporter: Larry, does the president have any reaction to the announcement–the Centers for Disease Control in Atlanta, that AIDS is now an epidemic and have over 600 cases?
Speakes: What's AIDS?
Reporter: Over a third of them have died. It's known as "gay plague." (Laughter.) No, it is. I mean it's a pretty serious thing that one in every three people that get this have died. And I wondered if the president is aware of it?
Speakes: I don't have it. Do you? [Laughter.]
When it was clear that queers couldn't count on their leaders, they acted up. People dedicated their lives to fighting AIDS. On Oct. 11, 1988—National Coming Out Day—activists marched on the FDA in a meticulously orchestrated protest, coordinated with national media for maximum exposure. They demanded faster drug approvals and more effective trials. Within a year, the Food and Drug Administration had revamped their procedures and launched Parallel Track, a process that led to a drug called ddI that remains a key component of the cocktails now keeping hundreds of thousands of people alive.
In 1975, two men asked Boulder County Clerk Clela Rorex to issue a marriage license in Colorado. She did, and the country erupted with a mixture of horror and hysterics: What she had done was unthinkable, and she was soon forced out of her job while multiple states passed laws banning marriage equality. Marriage remained a difficult struggle over the intervening decades. We marched. We came out. We suffered. We died. We held services. We marched again. We won in California, and we lost in California.
By the time the Supreme Court ruled that the freedom to marry is protected by the Constitution, public opinion had transformed from the days of Clela's act of defiance: A majority of Americans now support marriage equality, and gay couples are so mainstream that they just served as a plot point in an Independence Day movie.
Queer liberation is littered with heroes. Perhaps you've heard of Harvey Milk, who formed a coalition that defeated the Briggs Initiative. Maybe you're familiar with Bayard Rustin, a key ally of Dr. Martin Luther King Jr. who declared, "the question of social change should be framed with the most vulnerable group in mind: gay people." Or you might know of Silvia Rivera, the co-founder of Street Transvestite Action Revolutionaries who provided housing for homeless youth; or Del Martin and Phyllis Lyon, who created the first national lesbian publication in the country. These people led a movement to triumphs during times of overwhelming adversity. I can't wait to see what leaders emerge over the next four years.
By all means, be worried about the assaults to come. Look ahead, plan for the future, and envision the victories for which we are fighting. But don't forget to look back at the advances we've made. Through countless lifetimes of oppression, queer people have honed our ability fight, to survive, and to win. Our community has organizing and resistance baked permanently into its DNA. It is a mutation that we have developed more rapidly than anyone could have imagined, a mutation that has led us through seemingly impossible challenges, and a mutation that we now once again prepare to activate.
Matt Baume is the author of Defining Marriage, which chronicles the personal stories of people who fought for marriage equality over the last 40 years. The ebook version is free to download through Nov. 18, 2016.