How manhood is defined and depicted onscreen has traditionally set the tone for how the broader culture makes sense of it—what models a generation of men aspire to emulate, versus what is considered shameful or "pussy" behavior. A century of moviemaking has churned out infinite iterations of the curlbro jock (à la Rocky), the unruly, gun-toting hero (Schwarzenegger), the boardroom brat (in the vein of Wall Street), the boisterous goofball (Will Ferrell) and the strong, laconic loner (see: Clint Eastwood). Hollywood films have had a tendency to merely reaffirm our culture's restrictive archetypes of manhood.
But in the wake of the Pulse massacre in Orlando, and as a growing media chorus raises the alarm about the culture of toxic masculinity and homophobia that empowers men such as Omar Mateen, Brock Turner, and Dylann Roof to commit senseless acts of violence, it feels apt, even urgent, to consider two terrific American films with astute takes on modern manhood. There's Goat, a boozy psycho-drama from director Andrew Neel exploring fraternity hazing and the dangerous culture of hypermasculinity on university campuses, and Barry Jenkins' remarkable coming-of-age study Moonlight.
In Goat, college-aged Brad (Ben Schnetzer) pledges his older brother Brett's (Nick Jonas) Ohio fraternity after experiencing a startlingly violent carjacking—a transparent attempt to reclaim his masculinity and not be branded a "victim" by other guys. The film examines the harrowing herd mentality of chest-bumping bros, taking us through their nightmarish and strangely homoerotic hazing rituals (aptly dubbed "Hell Week"). Meanwhile, in Moonlight, prestige distributor A24's first in-house production, the focus is on Chiron, a meek black boy from Miami's Liberty City projects, played by three different actors as we check in with him over the course of his pained childhood, perilous adolescence, and repressed adulthood. Left to contend with his crack-addled mother's (Naomie Harris) wayward behavior while dodging a crippling amount of hate and bullying from his community, Moonlight is a haunting meditation on young black gay men living in disguise and the mounting toll that takes on their self-worth and stonewalled identity.
At once immersive and claustrophobic, Goat and Moonlight immediately resonate by venturing into terrain seldom explored on screen. As Janelle Monáe, who makes her feature acting debut in Moonlight, told me at the Toronto International Film Festival: "We know these people, but their stories have not been told or highlighted in this smart a way before." Award-winning author Ta-Nehisi Coates described the film on Twitter as the "best take on black masculinity … ever."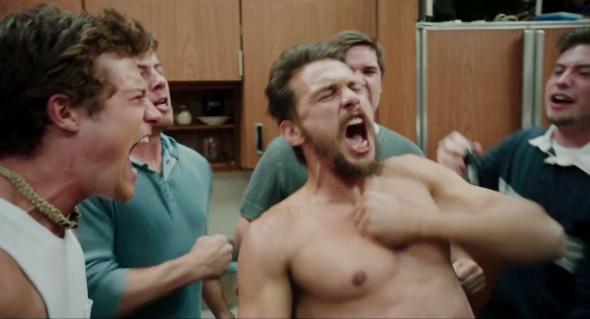 Both films are directed by men, based on the writings of other men (Brad Land's fraternity memoir Goat and Miami-raised queer playwright Tarell Alvin McCraney's In Moonlight Black Boys Look Blue), and feature sensitive male protagonists who don't fit their respective community's prescribed mold. That alone is noteworthy. What's more, the films are unflinching in their condemnation of alpha-male culture: Once Chiron and Brad recognize their vulnerability as targets of egregious violence, they suppress their identities and subject themselves to debilitating antics as last-ditch attempts to fit in.
In Moonlight's dreamlike first chapter, little Chiron's only friend and confidant breaks down the law of the land for him: "You gotta show [the other boys] you're not soft. It don't mean anything unless they know it." It's the first time the hypervigilant Chiron learns about performing a certain idea of masculinity, and it's a role he'll later embody all too convincingly, going to bombastic lengths—massive grills, muscular frame, tough persona and all—as a last line of defense against his menacing environment.
While a number of parallels can be drawn between these two features, there's no denying the communities they portray are worlds apart. They shed light on markedly different testosterone-soaked realities—affluent/poor, white/black, straight/gay, and so on. Goat's protagonists move through life with a cushiony, Caucasian, upper-middle-class kind of privilege and sense of entitlement, thinking themselves invincible to their university's anti-hazing policies. Moonlight's all-black cast, by contrast, live in Miami's poverty-stricken projects, where they're exposed to drugs and criminality and must come to terms with what it means to be a black man in 1980s America. As Jenkins eloquently summed up in a recent interview with the Associated Press, expounding on how the tongue-tied Chiron is locked deep within himself: "There's something in the way black men grow up in this country," he said. "There's a lot of information on these men's faces when they're not speaking, partly because we're robbed of our voices so much by society and the things society projects on us."
Little Chiron's nonconformity is made apparent in the film's fever dream-like opener, as the jerky camera struggles to keep up with the young boy as he's chased down the block by school bullies, finding refuge in an empty crack house. There, he befriends Juan, the unexpectedly sensitive neighborhood drug lord (Mahershala Ali), who quickly recognizes Chiron's difference and takes on the role of surrogate parent: swimming practice, meals at the diner, and lessons in self-acceptance included.
The "faggot" slur pops up repeatedly in Goat and Moonlight. Although Chiron's the only one grappling with his sexuality, the intention is always to emasculate the men on the receiving end of the taunt. In Goat, the word is at its most tormenting when fraternity pledges forced to strip down to their underwear do push-ups while looking up at a camera and repeating the mantra "I'm a faggot and nobody likes me." "Say it like you mean it—say it with feeling," commands an unconvinced, smartphone-toting bully.
Never one to shy away from a film full of waxed torsos and repressed homoeroticism, James Franco nails his bit part in Goat as a former Phi Sigma Mu meathead returning to the frat to offer choice words of wisdom. "Get the fuck down here, you fucking faggot, and suck my cock right now! Show me some fucking respect!" he shouts to a fratmate upon arrival. His presence drives home the film's overarching critique of men as an inherently tough tribe never allowed to show sensitivity, exposing how cycles of violent male bonding and abuse are perpetuated way past graduation and well into adult life.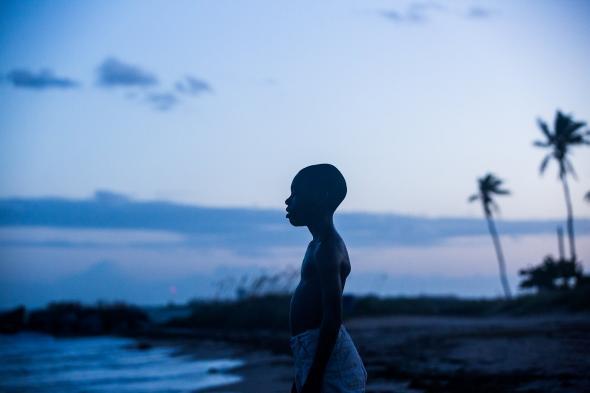 That women are nowhere to be found in Goat—save for an early party scene in which two college girls are fed coke and egged on by a gaggle of gawking bros to make out with one another—speaks volumes about the deeply misogynistic, 'bros-before-hos' milieu that's ushering these spoiled, entitled dudes into adulthood. Goat's fraternity teaches guys to believe that their status within the "brotherhood"—which should refrain from all outward displays of vulnerability, weakness, or faggotry—trumps all other concerns.
The same would apply to the internalized and externalized violence on display throughout Moonlight. In the film's second chapter, which features a show-stopping turn from actor Ashton Sanders, a moment of same-sex intimacy and sexual awakening does not go unpunished in an environment rooted in reductive notions of manhood. The ferocity of the resulting violence leaves emotional wounds time alone is not equipped to heal.
In both films, some characters achieve minor epiphanies that sidestep the clichéd happy end, but nevertheless give viewers reason to be mildly optimistic—from brothers in Goat recognizing that "none of this matters" to grown men in Moonlight reflecting on how "I was just always doing what folks thought I should be doing." They decide that acting out a sham identity just isn't worth the price. What's most powerful about Goat and Moonlight is precisely the empathy male characters show one another—whether it's Brett looking out for his brother Brad as he endures Hell Week, or caretaker Juan's unconditional love and tenderness for little Chiron. These are complex, generous, deeply resonant portrayals of American men the likes of which seldom make it to the multiplexes. And in a year that has seen the most heartbreaking consequences of toxic masculinity played out time and again, these films transcend the movie theater to reverberate in the broader culture. Moonlight in particular gives a voice to those always left out of conversations around black masculinity and queerness. In so doing, it empowers all the little Chirons across America to decide for themselves who they want to be.
Correction, Oct. 28, 2016: Because of incorrect information from the photo provider, two photos from Moonight were originally misscaptioned.