Much of our country is struggling to come to terms with the realization that Michelle Obama's tenure as first lady cannot last for all time. She didn't exactly ease our grieving process by showing up for Tuesday's White House state dinner in a magnificent column of delicate chainmail, which shone and sparkled around her curves like a river of liquid gold.
The Atelier Versace gown nodded to the home country of the Obamas' visitors, Italian Prime Minister Matteo Renzi and his wife, Agnese Landini. The story behind the custom design, Vanessa Friedman reports at the New York Times, lent the dress some feminist import:
It was designed by Donatella Versace, a woman who was famously thrust into one of the most difficult situations of all: having to take over and preserve the company founded by her brother after his murder in Miami. And who, despite a fair number of doubts, has ultimately triumphed—in part by transforming the aesthetic of her company from one built on the power of sex to one built on the power of self. After all, Ms. Versace did describe her most recent women's wear collection, shown in Milan last month, as, "all about a woman's freedom: freedom of movement, freedom of activity, freedom to fight for their ideas, freedom to be whomever you want to be."
What did we do to deserve a first lady who attends her final state dinner in a suit of actual armor rendered in a feminine shade of rose, capping off weeks of a misogynist political nightmare with a vision of flamboyant strength? The coolest, best-dressed president's spouse in American history gave herself a proper state-dinner sendoff in a gown fit for a goddess.
At past state dinners, Obama has gone excruciatingly sexy in black Vera Wang, classic in periwinkle Carolina Herrera, and dramatic in a red-printed Alexander McQueen number with an off-one-shoulder design, a favored Obama style that she repeated in Tuesday's Versace gown. Fashion bloggers and the hoi polloi alike have followed Obama's choices with drooling anticipation—she gave us red-carpet glamour with everywoman humility and humor, allowing us a window into high fashion that filtered out the discomforting realities of an industry built on capitalist exploitation and starving models.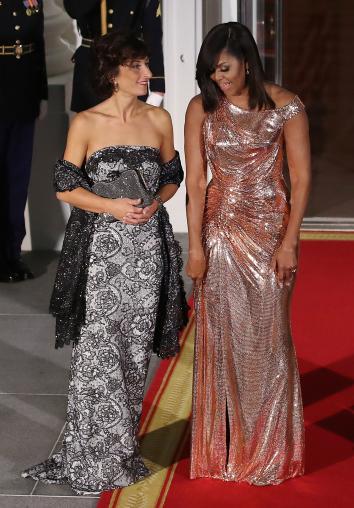 Tuesday's gown of glory was a perfect metaphor for Obama's role as a beacon of warmth and light in this dispiriting campaign season. Her recent speech about Trump's misogyny and alleged sexual assaults was a searing, personal indictment of a candidate who's left so many American women feeling alienated from their own country. As Hillary Clinton's best surrogate by far, Obama addressed the Democratic National Convention with a message of hope for our nation's children and a reminder that however low some people go, the people of honor go high. This Sunday's New York Times Magazine featured thank-you notes from Chimamanda Ngozi Adichie, Gloria Steinem, Rashida Jones, and Jon Meacham, all recounting how Obama navigated the treacherous terrain that awaited the first black first lady with purpose, confidence, and subtle subversion. In golden chainmail this week, Obama reminded us of the strength that underpins such effortless grace.
Now, we're left wondering what the two candidates campaigning to replace Obama—Bill Clinton and Melania Trump—might bring to the admittedly outdated office of America's first spouse. We cringe imagining them trying to rap about applying to college or remember the words to Missy Elliott's "Get Ur Freak On." We hope they never call their spouse, the president, "my boo." We would rather give up television for the rest of our lives than watch Bill or Melania try to dance with Jimmy Fallon or Ellen DeGeneres. The hard truth is this: We may never have another first spouse as resilient, lovable, and convincingly one-of-us as Michelle Obama. To paraphrase Mae West, for those of us lucky enough to live during Obama's reign, once is enough.