In 1993, Republican presidential candidate Donald Trump sent a letter to the president of ABC News pitching a special called Donald Trump Presents the Most Beautiful Women in the World. Good to know that some things never change: Before Donald Trump was dashing off hastily considered tweets, he was dashing off ill-advised typewritten letters.
In this one, Trump promises "huge ratings" for what sounds like a People magazine's "Most Beautiful People"/"Sexiest Man Alive" thing crossed with a Barbara Walters special crossed with the Westminster Dog Show. Believe it or not, though Trump went on to own the Miss Universe pageant and maintain a presumably fascinating and ever-changing personal ranking of most beautiful women, the special never materialized.
The letter is part of the Roone Arledge papers at Columbia University's library: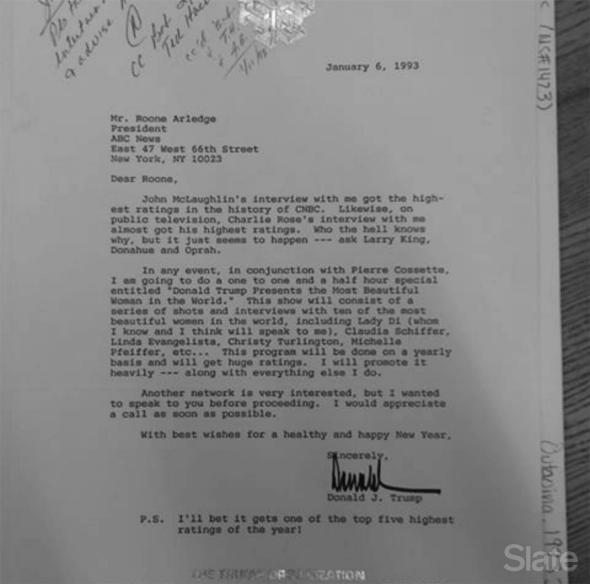 January 6, 1993
Mr. Roone Arledge
President
ABC News
East 47 West 66th Street
New York, NY 10023
Dear Roone,
John McLaughlin's interview with me got the highest ratings in the history of CNBC. Likewise, on public television, Charlie Rose's interview with me almost got the highest ratings. Who the hell knows why, but it just seems to happen—ask Larry King, Donahue and Oprah.
In any event, in conjunction with Pierre Cossette, I am going to do a one to one and a half hour special entitled "Donald Trump Presents the Most Beautiful Women in the World." This show will consist of a series of shorts and interviews with ten of the most beautiful women in the world, including Lady Di (who I know and I think will speak to me), Claudia Schiffer, Linda Evangelista, Christy Turlington, Michelle Pfeiffer, etc… This program will be done on a yearly basis and will get huge ratings. I will promote it heavily—along with everything else I do.
Another network is very interested, but I wanted to speak to you before proceeding. I would appreciate a call as soon as possible.
With best wishes for a healthy and happy New Year,
Sincerely,
Donald J. Trump
P.S. I'll bet it gets one of the top five highest ratings of the year!
Travis Vogan, a professor at the University of Iowa, shared a snapshot of the letter with Slate. He came across it last year while researching a book on ABC Sports.
The letter is classic Trump, who was then in his tabloid heyday as the comb-over playboy of Manhattan. In the note you can glimpse his longtime commitment to ratings and rankings. You can also detect his signature bluster and his sledgehammer negotiating technique: Better jump at this, Roone, because another network is already interested. Trump likely had a receptive audience in Arledge, the man who is sometimes credited for bringing the "honey shot" to sports broadcasting.
For reasons lost to history, however, Arledge did not take Trump up on his idea. What a pity. On this count, at least, the real estate mogul was something of a visionary. His pitch for a TV show of a list of women brilliantly predicts the modern web's love of listicles and making videos out of things that don't really need to be videos. Hillary founded Isis; Donald Trump invented BuzzFeed.