Peachtree Ridge High School is a low-slung concrete building in Suwanee, Georgia, an affluent suburb north of Atlanta. School had just gotten out on Feb. 4, 2015, and a 16-year-old sophomore was waiting just inside the main entrance for her mother to pick her up, she says, when a male classmate approached and said he wanted to show her some video equipment. She says that she followed him into the school's newsroom, just down the hall, where he allegedly coerced her into performing oral sex.
The next morning, the female student did something unusual for a sexual assault victim: She went straight to her first-period teacher and, in tears, reported the incident. (Since both parties are minors whose names have never appeared in the press, Slate is protecting their privacy and will refer to the alleged victim by her initials, T.M.) What followed was at least as disturbing as the event she detailed, according to a legal complaint that T.M.'s family submitted to the U.S. Department of Education's Office for Civil Rights.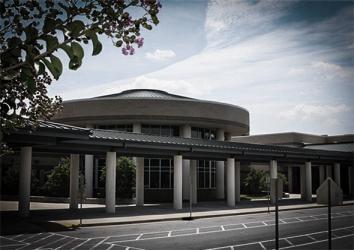 The Peachtree Ridge resource officer who first questioned T.M. set the tenor of the school's investigation when he asked her to describe what she was wearing at the time of the assault, according to the complaint, which the family's lawyers provided to Slate. The complaint says the officer also requested that she explain why she didn't fight off her assailant: "Why didn't you bite his penis and squeeze his balls?" he allegedly asked. (The resource officer did not respond to a request for comment, nor did other school administrators named in the complaint, or the two teachers to whom T.M. originally reported the incident.)
The complaint states that within days, T.M. and her parents were informed that she would be suspended, as would the boy, until the school could conduct a joint disciplinary hearing. There, she and the alleged perpetrator, or their legal representatives, would cross-examine each other. If T.M. couldn't prove that what she'd experienced was assault, she would be disciplined along with the boy for engaging in sexual activity on school grounds, a violation of Peachtree's rules.
"We begged and pleaded with the superintendent to hold the hearing for each one separately, so that it would be less traumatizing," T.M.'s father told me. "We even considered not having her attend at all." But not showing up would have resulted in an automatic finding of guilt. They weighed "the moral thing of what's right—is it right to let that boy get away with it? Is it right to not try to hold the school accountable?" T.M.'s father says. "In the end, we decided, and [T.M.] decided, that she wanted to try to stand up for herself. Of course, that did no good whatsoever."
"I really wish my school would have helped me instead of looking out for itself," T.M. wrote to me in a statement. "The school took advantage of me, and that wasn't fair. … The school should have pulled my attacker out of school and put him somewhere else, far away from me."
Last September, in response to T.M.'s complaint, the federal Office for Civil Rights opened an investigation into the district that includes Peachtree Ridge, Gwinnett County Public Schools, which covers more than 437 square miles and enrolls more than 176,000 students. At issue is the charge that the school violated Title IX, the law that prohibits sex discrimination in educational institutions that accept federal funding. Since the 1990s, the Supreme Court has interpreted Title IX, a federal law passed in 1972, as covering sexual harassment in schools. T.M.'s lawyers have also asked the government to consider whether racial discrimination played a role in her case: T.M. is biracial, while her alleged assailant is white. (The OCR has collected extensive data showing that students of color are suspended at higher rates than their white peers.)
"The very basic thing, in my view, is that students should be supported when reporting sexual violence, not punished," says Adele Kimmel of Public Justice, a public interest law firm that is representing T.M.'s family. She considers the episode at Peachtree Ridge "a classic case of retaliation," in which T.M. was punished for making a complaint.
A spokeswoman for Gwinnett County Public Schools told me in an email: "The school system and named employees strongly dispute the allegations contained in the OCR Complaint." She also said that the quotes from school administrators in the complaint "appear to be taken out of context of a very comprehensive and thorough investigation." The school system declined to comment further because, she wrote, "this matter is under investigation by a federal agency … and student privacy is federally protected." She also noted that "litigation has been threatened" against the school by T.M.'s family.
When Slate reached out to the male student and his family about the allegations, his older sister wrote in an email that the accusations against her brother have "been proven to be false time and time again" and "have had incredibly negative effects on his well being." The family declined to comment further.
It's not rare, however, for K-12 schools to botch their responses to sexual assault, trampling on students' rights in the process. Though the Obama administration, along with a swelling activist presence on college campuses, has brought increased attention to sexual violence in higher education, younger teens are just edging onto the national radar. According to the Department of Education, the OCR has Title IX sexual violence investigations pending in 97 K-12 school districts; by comparison, at the time of this writing, the office has opened 324 college-level cases in the Obama era, 52 of which have been resolved, according to the Chronicle of Higher Education.
That's not because high schoolers are less likely to be sexually assaulted: A Department of Justice survey suggested in 2009 that 18.7 percent of 14- to 17-year-old girls have experienced an attempted or completed sexual assault—an estimate in the same ballpark as the oft-cited statistic that "1 in 5" female college students will be assaulted on campus. (The study that produced the 1-in-5 number employed a broad definition of assault, which included any unwanted sexual touching. Roughly 14 percent of respondents said they had been raped.) A 2013 study by the Centers for Disease Control and Prevention found that 4 percent of high school boys and 10 percent of high school girls say they have been forced to have sex.
The difference is that while the Obama administration has sent colleges scrambling to avoid civil rights complaints, many K-12 schools have given little thought to Title IX—even though younger teens are more likely than their older counterparts to face confusion about sexual boundaries and what constitutes consent. (The White House did hold a meeting on the problem of primary and secondary school sexual violence in March and released new guidance for educators on Monday.) "The most common thing is that a school will say to the victim, 'We can't do anything about it,' " says Colby Bruno of the Victim Rights Law Center. "They either don't know their responsibility, or they know and won't do anything about it."
And although colleges are required to report sexual assaults—and their policies for handling them—to the government under a law called the Clery Act, the mandate doesn't apply to K-12 schools, whose workings remain almost entirely opaque. Public schools such as Peachtree Ridge have every incentive to avoid confronting sexual assault, according to Bruno: A K-12 education is a right, and public schools that expel rapists often not only assume the burden of arranging a transfer but sometimes continue to pay for the offending student even after the transfer is complete. The pressure to take sexual assault seriously "just hasn't hit high schools—they haven't had their watershed moment yet," Bruno says.
* * *
"I don't know that I'm trained to qualify what is sexual assault," one of Peachtree Ridge High School's assistant principals admitted during T.M.'s disciplinary hearing, according to the complaint. Nor, the complaint alleges, were she and her colleagues trained to react to an allegation at their school. On the morning T.M. reported her assault—after the resource officer is accused of asking why she hadn't bitten her assailant's penis—this assistant principal brought T.M. into the newsroom and told her to physically re-enact the previous afternoon's events in front of a cluster of school officials, according to the complaint. T.M. had called her mother to tell her about the assault shortly before reporting it to a teacher, and while the interviews took place, her mother was on the road to Peachtree Ridge. No one from the school contacted her, T.M.'s mother says, and when she arrived, she was told to wait for the resource officer, who only came to meet her once the questioning was done. The assistant principal did not reply to a request for comment.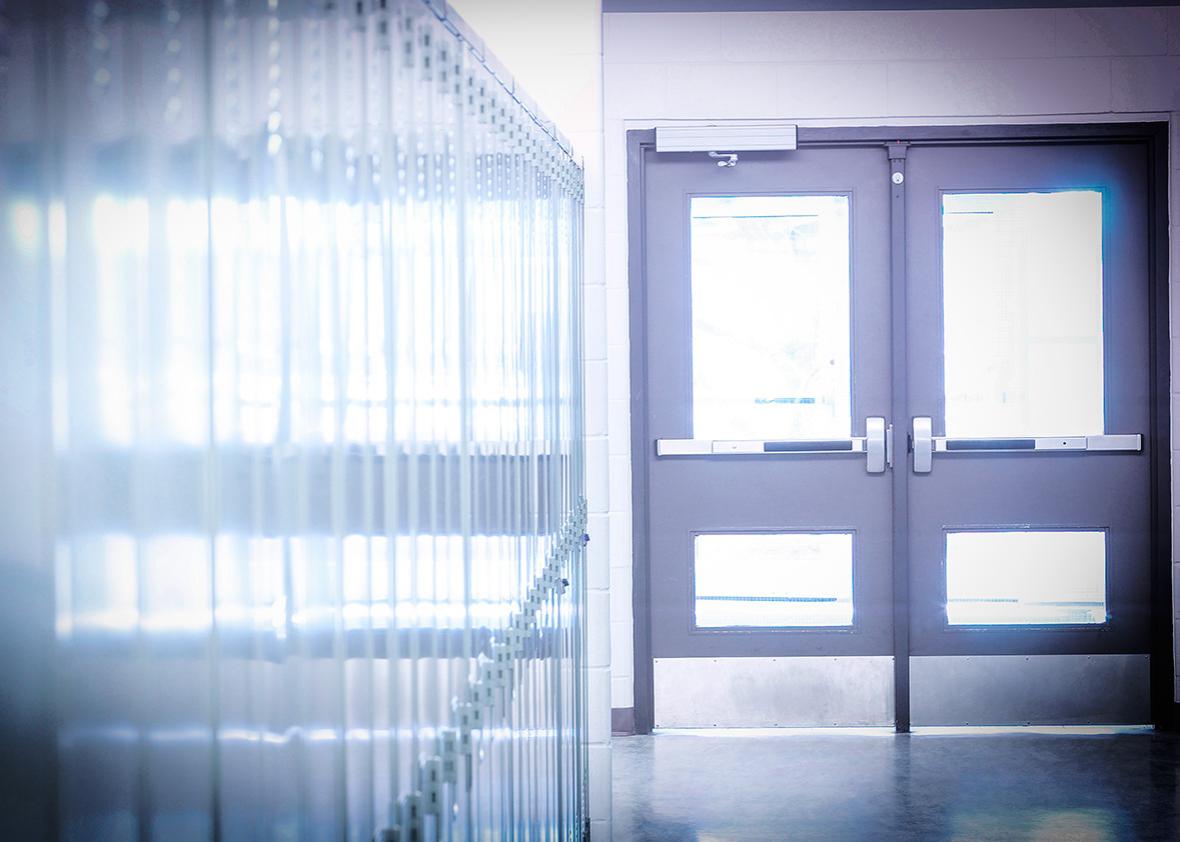 At all times, high schools, like colleges, are required to have a designated Title IX coordinator—a person whose responsibilities include ensuring that "students, their parents or guardians, employees, and applicants for admission and employment" are "aware of the legal rights Title IX affords and that your institution and its officials comply with their legal obligations under Title IX," according to the DOE. According to the complaint, nobody at Peachtree Ridge fulfilled the school's obligation to tell T.M.'s parents that their daughter was entitled to the "prompt and equitable resolution" of her complaint, or that they could appeal to the federal government if this failed to occur, they say. In fact, according to T.M.'s parents, nobody mentioned Title IX to their family at all. They learned that the law existed when, panicked about the impending hearing, they decided to retain a lawyer. "That's when I realized that we did have rights, that [T.M.] had rights," her mother told me, recalling that first conversation with an attorney. "We thought before that we were just powerless, that we couldn't do anything."
After that talk, T.M.'s mother says she combed Peachtree Ridge's manual and website for the name of its Title IX coordinator, but all she could find was the phone number of a Gwinnett County Public Schools human resources office. According to T.M.'s mother, the person who picked up didn't know the name or function of the Title IX coordinator; neither did any of the Peachtree teachers the family contacted, nor did the school's mental health counselor. Gwinnett County Public Schools declined to answer questions about how it trains coordinators and other administrators to handle sexual assaults or why the coordinator might have failed to contact T.M.'s family, among other specific queries from Slate.
But the level of oversight described by T.M.'s mother isn't atypical, according to Esther Warkov of Stop Sexual Assault in Schools, the only national nonprofit specifically devoted to K-12 sexual assault. (Peachtree Ridge now lists a Title IX coordinator on its website.)
Like T.M.'s parents, Warkov says she never heard from her Seattle public school's Title IX coordinator after her daughter was allegedly raped on a field trip. When another administrator directed her to the coordinator, five months after the incident, she says, the coordinator "abdicated responsibility to the general counsel" representing the school—something the federal government forbids as a conflict of interest. Warkov has seen similar cases all over the country. She recently contacted the superintendent of an Indiana public school system about a case there. "He said, 'We don't have any money to train our Title IX coordinator,' " she said. "That's absurd. It doesn't cost money to train the coordinator. It's just an excuse."
If Peachtree Ridge had trained a Title IX coordinator, that person should have been aware of the government's stance on suspending or otherwise disciplining a student who reports a sexual assault: "If … an individual brings concerns about possible civil rights problems to a school's attention, it is unlawful for the school to retaliate against that individual for doing so," the DOE has written. As the advocacy group Know Your IX has pointed out, "This is true regardless of the merits of the underlying claim—meaning even if the initial concern or report does not result in a finding that a civil right was violated, you still cannot be retaliated against."
School officials, however, went ahead with their plan to hold a disciplinary hearing for T.M. and to roll it together with the hearing for her alleged assailant, according to the complaint, producing a messy three-way proceeding. "This was an outrageous thing they did here," says Cari Simon, a former director of the Congressional Victims' Rights Caucus and a lawyer at the Fierberg National Law Group who is also representing T.M. "I've helped survivors at schools all over the country, but I've never seen a school put a victim through something like this." T.M.'s parents told me that the male student's mother came up to them in tears at the end of the hearing and tried to convey how awful she felt the experience had been for all involved.
For seven hours, according to T.M.'s parents, lawyers for both of the families and for the school district itself debated the facts—and, especially, how to interpret them. As Kimmel points out, the two students' accounts aligned in some essential respects: "She says she told him to stop, and he does not agree with that, but both she and he agree that he never asked her whether [the oral sex] was OK." When the male student was asked how he knew that the act was consensual, he said, according to the complaint, that from "the look that [T.M.] had on her face, I could just tell she wanted to." It was, he said, "just a blank face that didn't really have an expression." He also seemed to believe, according to the complaint, that "an alleged Kik message from [T.M.] from 6 weeks prior referring to oral sex amounted to consent to perform oral sex."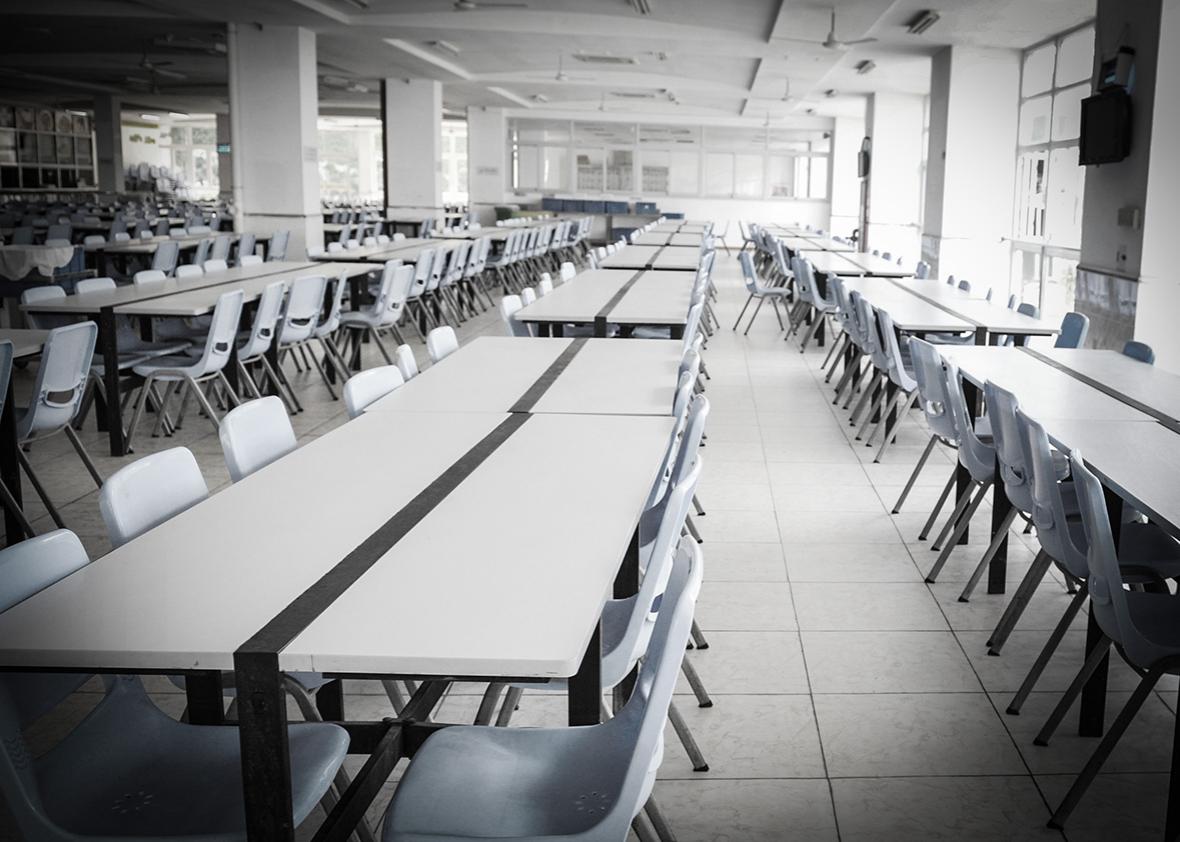 That message wasn't the first of its kind between the students: T.M.'s father told me that the boy had sent his daughter a lewd text after she broke up with a previous boyfriend a year before the alleged assault. Slate also found multiple comments she'd made on his Instagram posts, such as one from December 2013 that read, "Tbh I love you enough said." Of course, a rapport does not constitute consent.
Near the end of the hearing, the school district's lawyer—whose role was effectively to cross-examine both students—asked the presiding officials to find the accused "more credible" than T.M., according to the complaint. His reasoning: She "chose not to scream louder and louder as this was going on" and "has no physical injuries." The school district's lawyer, as the complaint puts it, "did not remain neutral during the hearing," but rather spent it, along with the alleged assailant's lawyer, building a case against T.M.
In the end, T.M. was found in violation of Peachtree's Student Conduct Behavior Code, according to the complaint; both students were disciplined, in the form of additional suspensions, for engaging in consensual sexual activity on campus.
The OCR's investigation of T.M.'s complaint is still pending, and again, both the school and the accused's family have refused to comment on the case or the complaint's account of the proceedings. But no matter what happened on the contested afternoon, the school's decision to suspend T.M. goes a step further than finding her claim unsubstantiated. T.M. made a report of sexual assault and ended up punished for it.
* * *
Before the assault, T.M. was "very outwardly focused on people and relationships," her mother says. She loved school; she lived for her friends. "I think what was done to her took a lot of that away from her," her mother told me in May. On Feb. 22, 2015, T.M. and her alleged assailant finished their suspensions and returned to Peachtree Ridge. The rumors had preceded them. "She didn't make it through a whole day that first day she went back," her mother says. "She was being called a whore, a liar." T.M. told me in her written statement that even her closest friends joined the bullying. "When I was able to go back to school, people stared and pointed as I walked down the halls and said horrible things," she wrote. Some told her that the boy couldn't possibly be back in school if her story were true.
High school is a "fishbowl environment," in Kimmel's words, and sexual assault victims often find it impossible to escape not only their assailants, but also the shunning of their peers. On college campuses, it has become fairly typical for schools to impose "stay away" orders to keep accused and accuser from bumping into each other in, say, the dining hall, even if no disciplinary action occurs. In a high school, where an entire grade might have more or less the same schedule, this is much harder to enact without severely isolating at least one of the students involved. "Schools have to decide who are they going to accommodate," Warkov says. "What typically happens is the victim has to leave the school … or they have to have online training. Their whole education is derailed."
Every time T.M.'s parents called to report a new bully, Peachtree Ridge promised to "juggle" the students' schedules to keep them apart, they say. But the harassment was constant. In early March, T.M. dropped out. A therapist had diagnosed her with PTSD. At home, she had diarrhea, and she was grinding her teeth so hard at night that her dentist had to replace two fillings. She told her parents that she was thinking about suicide. Her father remembers an afternoon when he was working from home and had to join a conference call, but he was terrified to leave her alone. "I had her come into the room with me," he says. "She laid down on the floor, fetal, and was trembling."
Ultimately, T.M. managed to finish the semester online and in summer courses; last fall, she started 11th grade on time at another high school in Gwinnett County. The move came at a price: She had to retake some credits and abandon others; the new high school didn't offer Chinese, as Peachtree Ridge did, or the course in early childhood development that had been her favorite class. Worse, changing schools didn't fully shield her from the aftershocks of her assault. When she and her mother went to the grocery store, they ran into Peachtree Ridge administrators. When T.M. took the SATs, one of the girls who had tormented her was seated directly behind her. When we spoke, her parents had determined to relocate to a new county in time for her senior year; they have since done so, and T.M. has started at yet another new school. In many ways, they told me, they feel that their daughter has become a different person—more introverted, less happy. The only thing that seemed to cheer her up this summer was imagining the impending move.
T.M.'s parents are afraid that they still don't know all the ways the assault—and the school's reaction—has recast her view of the world. As T.M. wrote to me: "What has hurt the most is that I have suffered for something I didn't do. My school punished me and made it seem like the attack was somehow my fault. For a long time, I thought maybe it was."
Read more in Slate on sexual assault: