British designer Thomas Heatherwick has unveiled plans for Vessel, a climbable piece of public art to be built as a centerpiece for the Public Square and Gardens at Hudson Yards on the west side of Manhattan, designed by Nelson Byrd Woltz Landscape Architects, in collaboration with Heatherwick Studio. Part of a massive privately funded mixed-use development, the space will feature more than 5 acres of public plazas, gardens, and groves that connect to the High Line.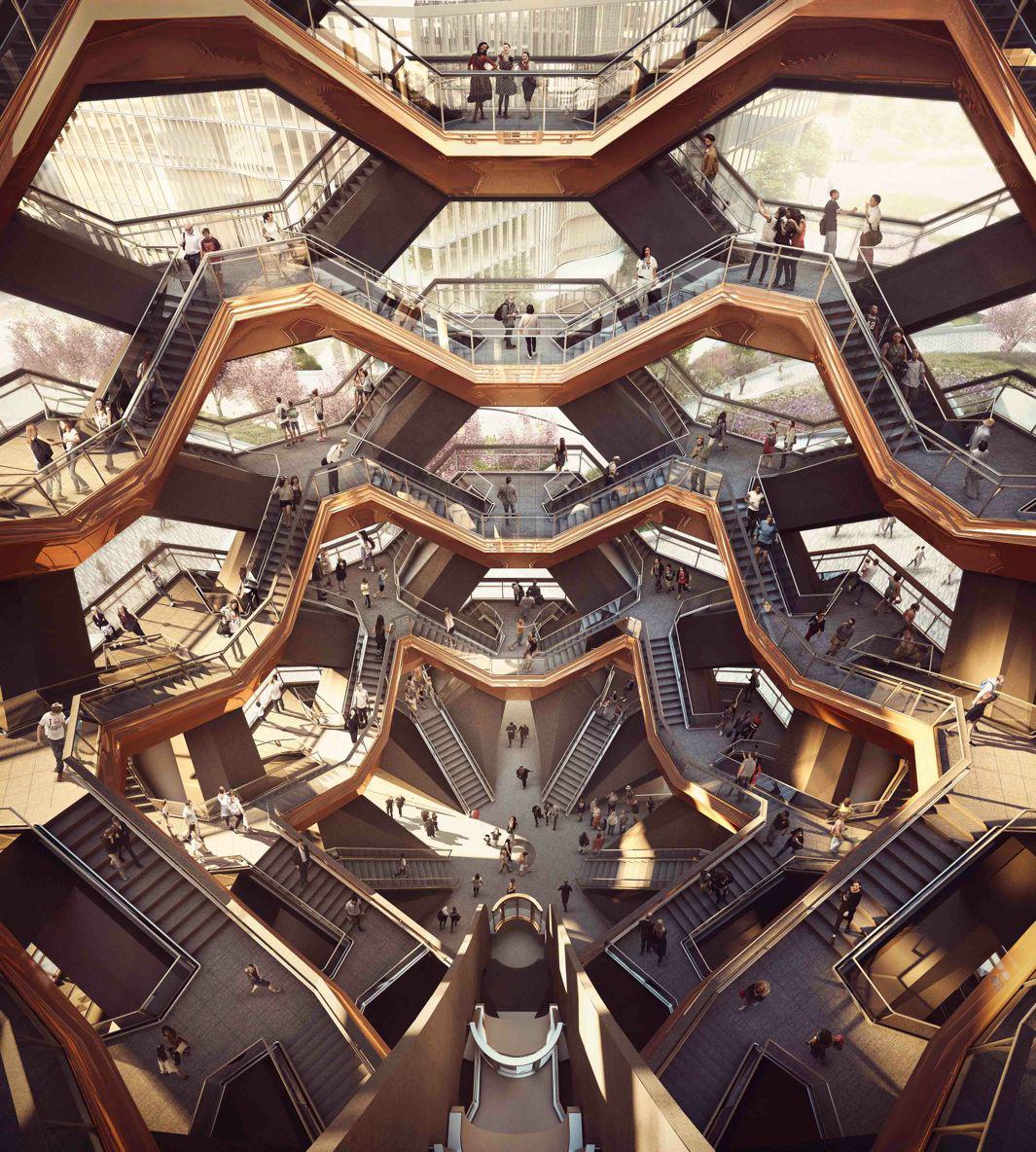 The steel-based structure will be made of a lattice of 154 flights of stairs—the New York Times called it a $150 million "stairway to nowhere"—with a total of nearly 2,500 steps and 80 viewing platforms. Some 50 feet in diameter at its base, it widens to 150 feet at the top. The futuristic honeycomb-like structure is the latest in an ambitious body of work from London-based Heatherwick Studio, which has designed a 2012 London Olympics' hammered copper cauldron, a futuristic version of London's double-decker bus, a controversial Garden Bridge across the Thames, the new Googleplex in Silicon Valley, and a floating park above the Hudson River.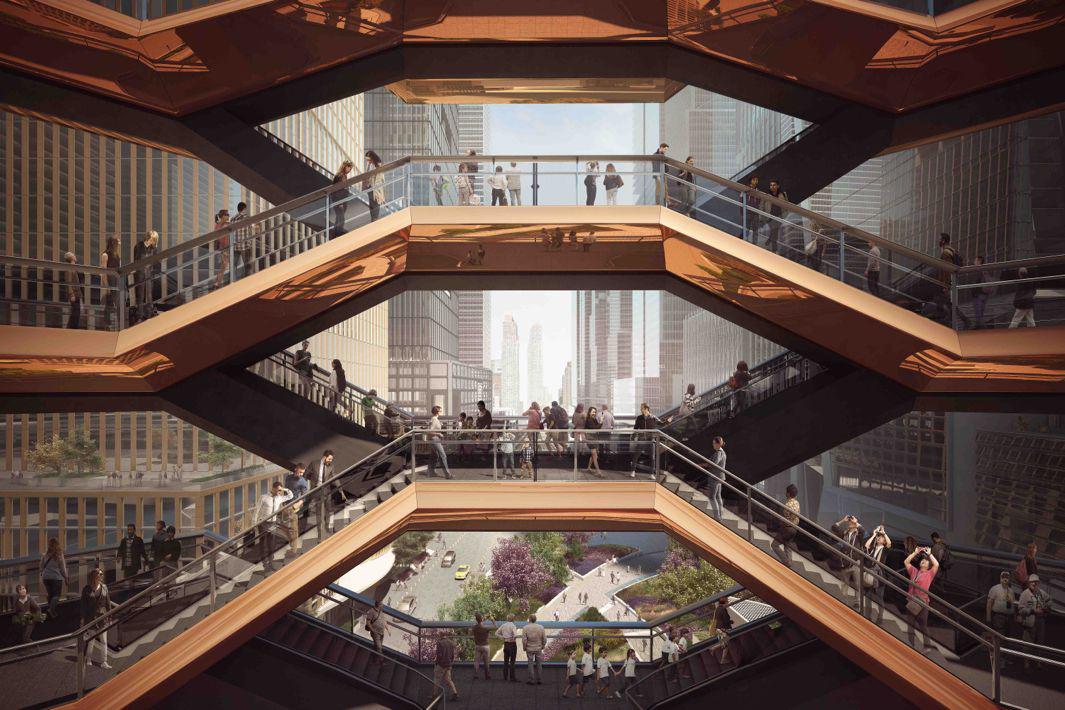 "In a city full of eye-catching structures, our first thought was that it shouldn't just be something to look at," Heatherwick said in a statement explaining the thought process behind building what is essentially a larger-than-life jungle gym for selfies and people-watching. "Instead we wanted to make something that everybody could use, touch, relate to."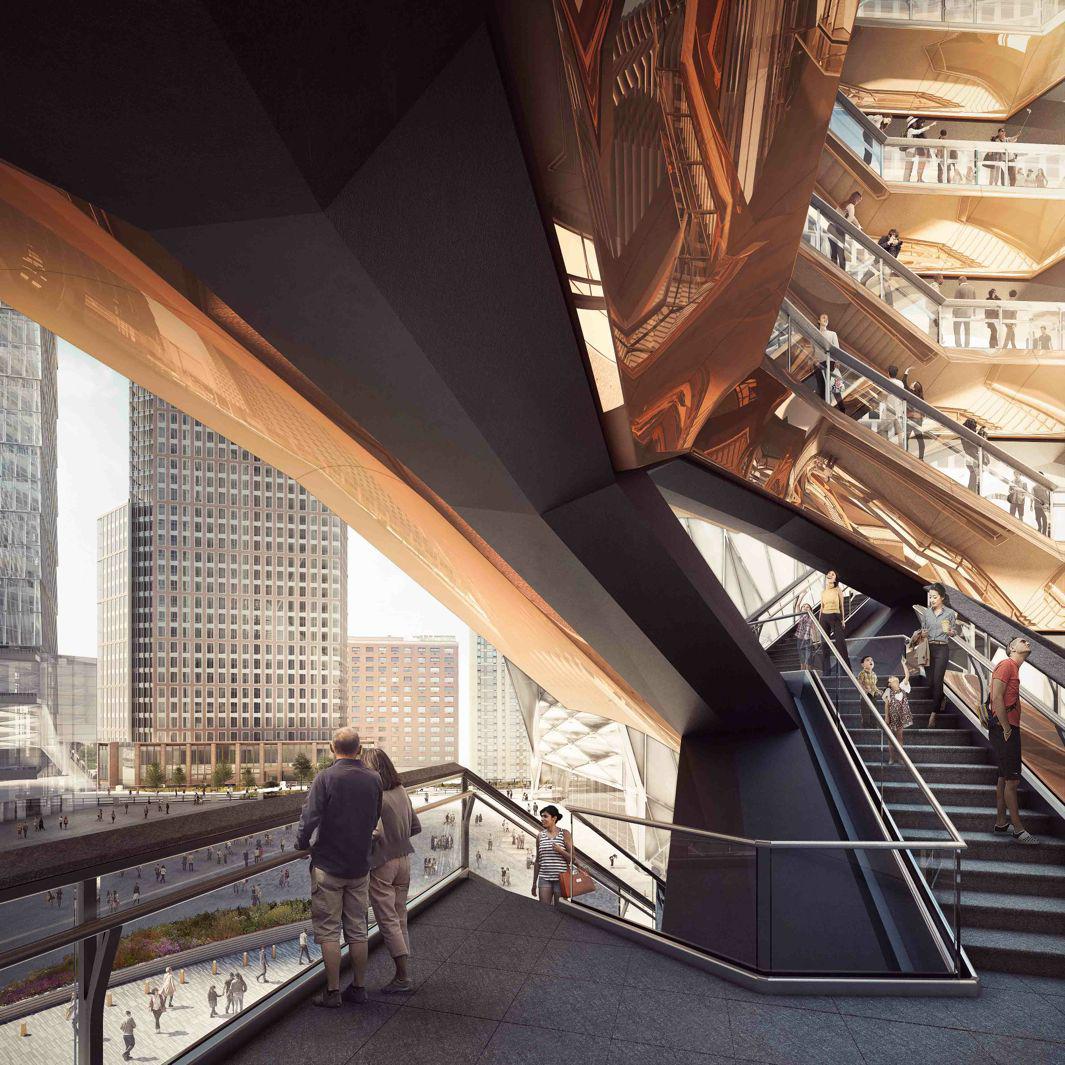 Heatherwick said that he and his team were influenced by Indian stepwells, which inspired the idea to use flights of stairs as structural elements (it will also include an elevator to accommodate people with restricted mobility).
"The act of rhythmically moving up and down multiple flights of stairs seemed to have the potential to become an extraordinary human experience," he said. "The goal became to lift people up to be more visible and to enjoy new views and perspectives of each other. The idea is that it will act as a new free stage set for the city and form a new public gathering place for New Yorkers and visitors. The finished project represents a passionate effort to leave a meaningful public legacy for New York."
Listen to Heatherwick explain the project in the video below: