In an era when even even the most unlikely of companies are attempting to design their office spaces in the image of a hip tech startup, it's refreshing to see an architect create a glamorous, grown-up, modern working space that does not spare a thought for beanbag chairs, pool tables, and neo-industrial flourishes.
Designed by architect Henri Cleinge, the Crew Collective headquarters, located in the former Royal Bank on St-Jacques Street in Old Montreal, includes office space for a tech startup and a co-working space and café open to the public. By embracing the opulence and old-world elegance of the historic bank, Cleinge has integrated office space, conference rooms, work stations, and other necessities while preserving the original character of the 1926 building.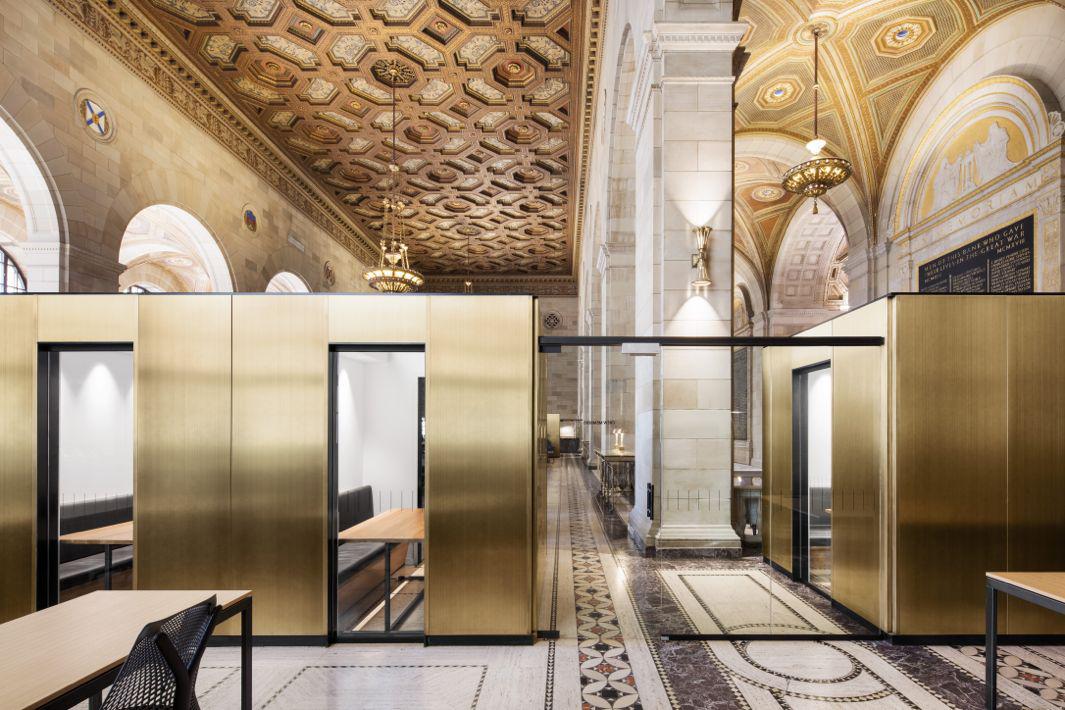 "The new design remains a kind of secondary feature, allowing the original building to be the primary feature," the architects said in a project description. "It is only by being in the space for a certain amount of time that one can appreciate the new intervention."
The building's existing attributes included an inlay marble floor, an ornate painted plaster ceiling, and custom suspended brass light fixtures and teller stands.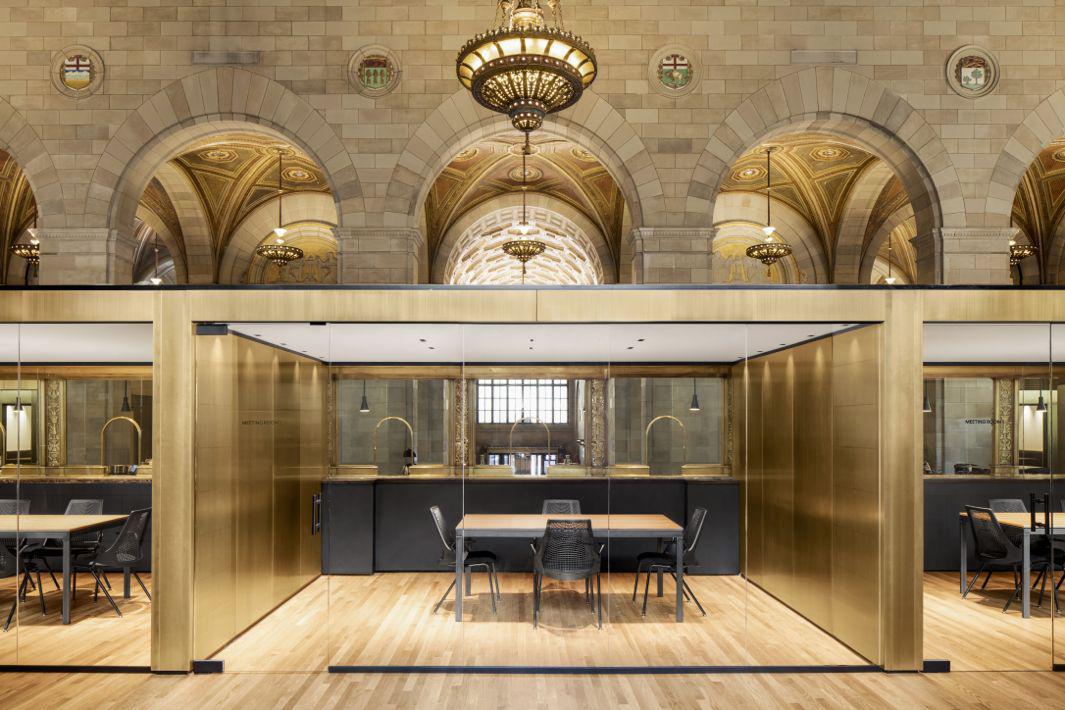 "Confronted with this heritage ambiance, the design had to be carefully balanced to express, recycle, and respect the existing, as well as simultaneously allowing a contemporary discreet intervention reflecting the contemporary identity of the firm to exist," the architects said. To achieve that harmony, they used brass plated steel throughout, fixed to "boxy minimal enclosures" that "dialogue and contrast to the existing ornate brass elements," they said.
The architects sought to create fluidity between areas designated for permanent Crew employees, co-working stations rented by the week or month, temporary workers, and the café-frequenting public.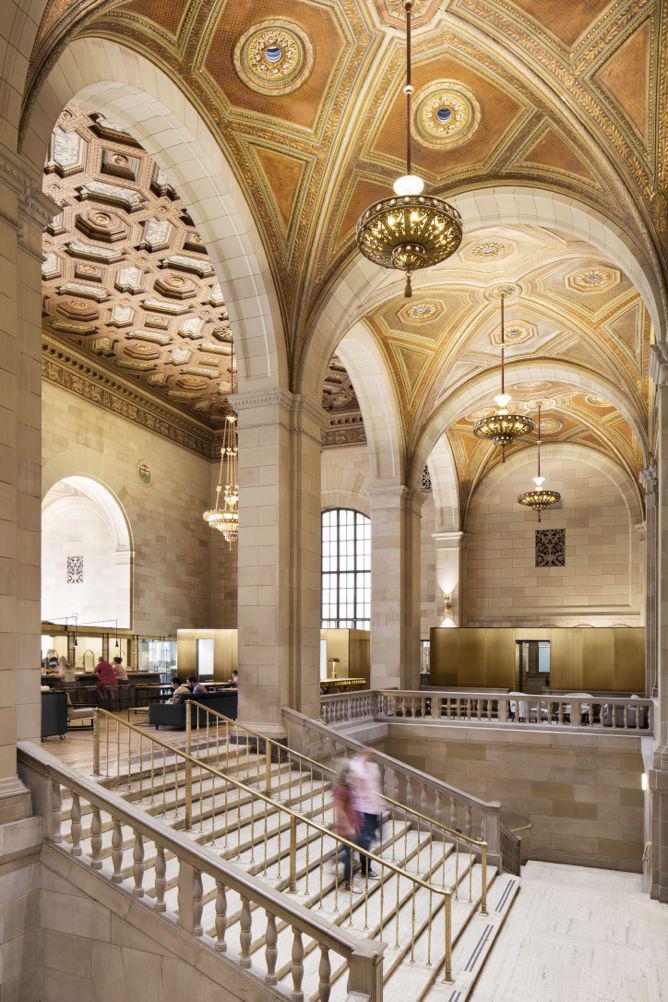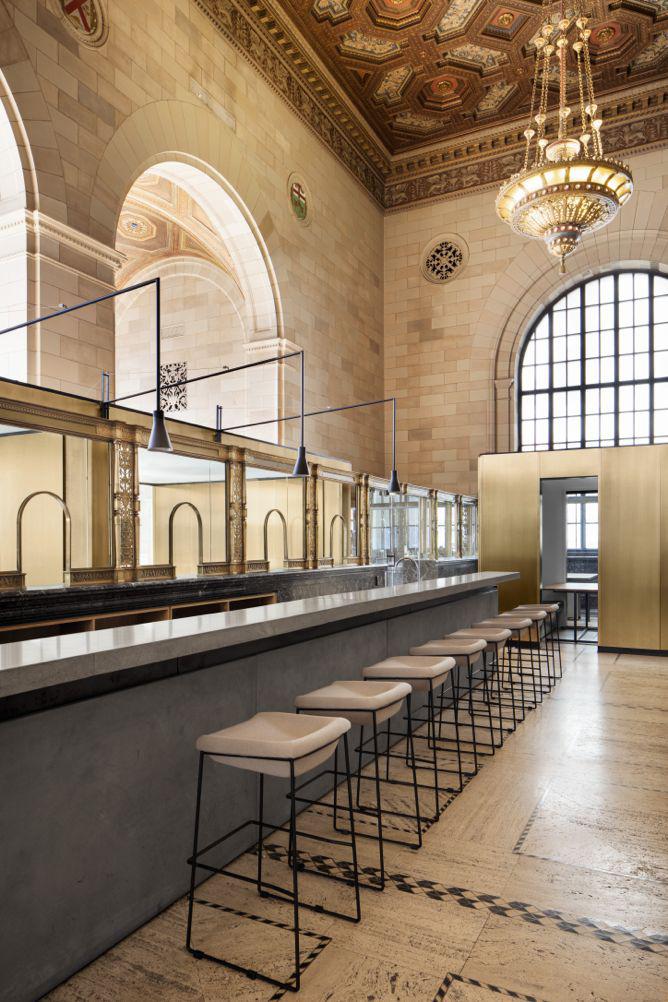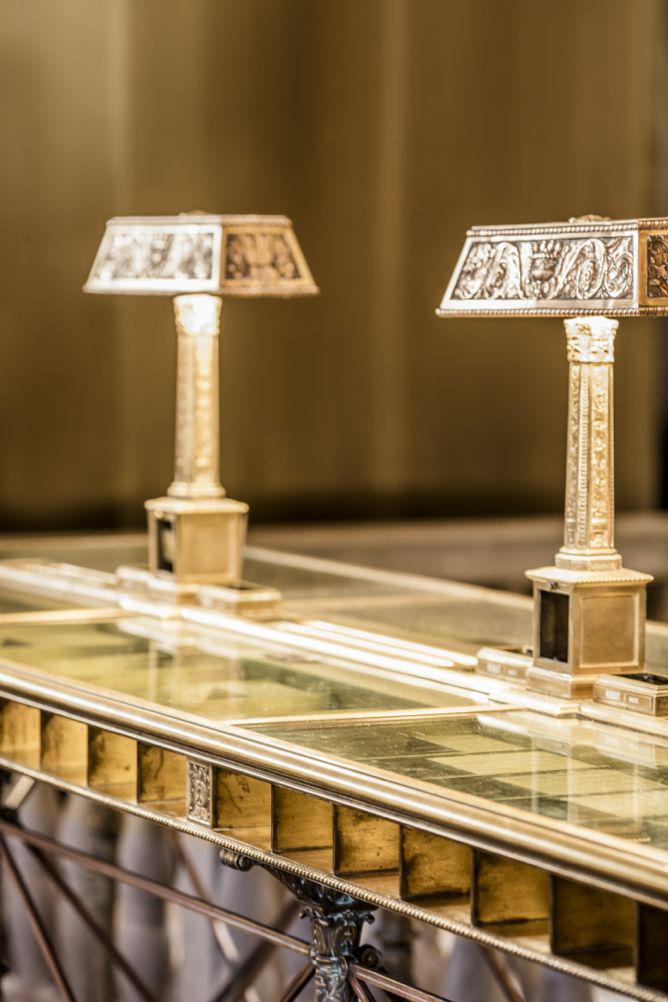 "This environment was meant to create a flow and possible interactions between permanent and temporary workers, nurturing co-working in the tech community," the architects said. They installed a series of glass walls to create transparent and translucent borders between various office spaces. The original teller stands created a border between the café and conference rooms, which then created a separation between the more public spaces and office space for permanent workers.
"The teller stands as well as the existing building shell offered a great design opportunity, as a rich and textured background," the architects said, "a testimony to another era, which could thrive with a new function redefining its purpose."