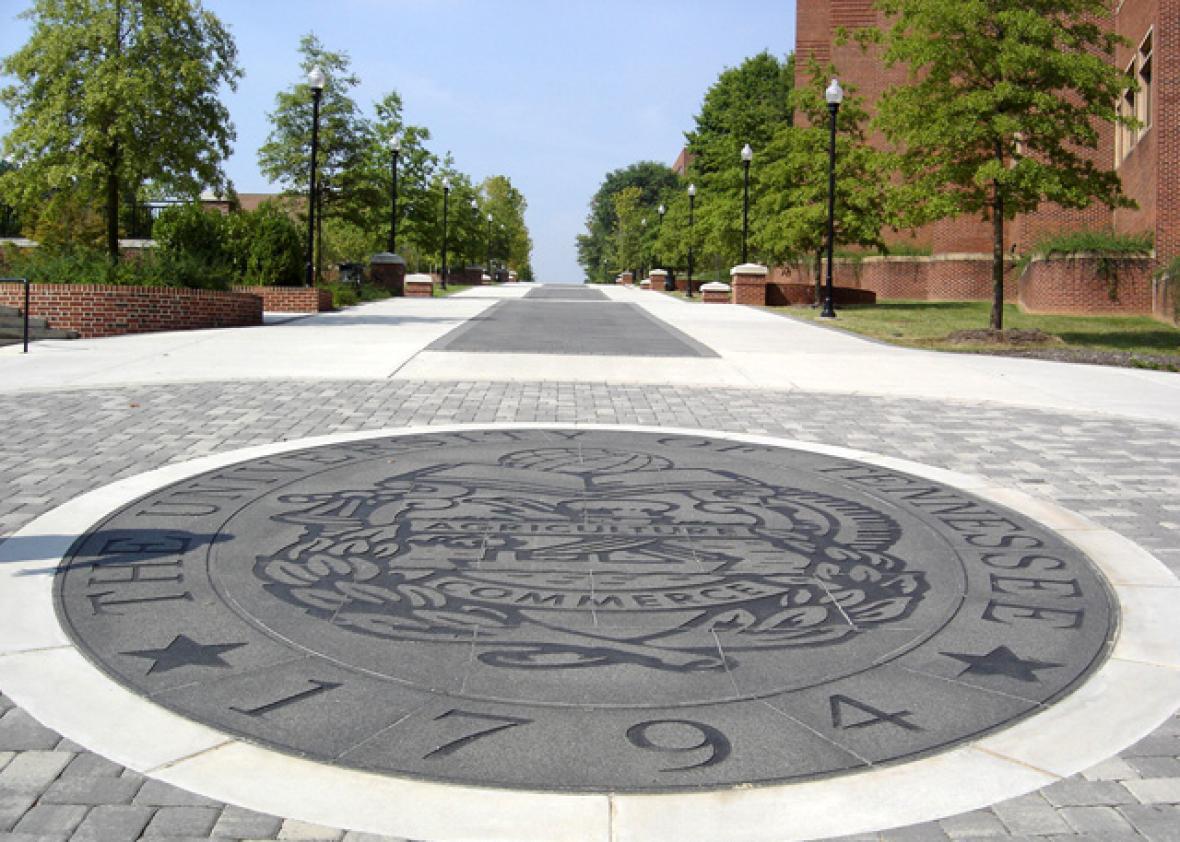 I get it. I really do. Student activists sometimes make me uncomfortable, too. They can seem naïve, out of touch, or just plain silly. They make demands that overreach. They have ideas that seem outlandish. More than two genders. Bespoke pronouns. Intersectionality. And these kids are so earnest it makes sober, serious grownups who have given up our youthful illusions feel uncomfortable, if not downright inadequate. Trigger warnings. "Safe spaces." What will they think of next?
Making fun of the political fumblings of teens and twentysomethings has replaced baseball as the national pastime. Unfortunately, all that fun can also have real consequences for students in the less fashionable parts of our country far from the Ivy League's ivory towers. Places like Knoxville, Tennessee, where a Fox News crusade against gender-neutral pronouns led to the defunding of the University of Tennessee's Pride Center. At UTK, a handful of students are now valiantly trying to keep LGBTQ outreach and education going in a climate of increasing tension and escalating acts of vandalism and hate speech.
The day after Labor Day, George Habieb, a Pride Center staffer, discovered that the large rainbow flag that had hung in front of the center since the Pulse nightclub shootings had been sliced up and a huge chunk cut out of it.* Inside the center, a note dropped through a small window used for ventilation read, "Fags get AIDS more often #ImWithHer." This was only the latest of several incidents of vandalism directed towards the center or the campus LGBTQ community. Students also reported a broken window in January 2015; a rock painted for Pride twice defaced with black paint and slurs; and various small thefts, defacements, and acts of destruction aimed at Pride Center signage.
"I think it really shows the need for the space," said Chesnea Skeen, a Pride Center ambassador in her senior year at the university. "Many students say that we're the only place on campus where they feel safe." (Pride Center ambassadors are students who conduct outreach and educational efforts and staff the center.)
Whenever I've spoken with a queer UTK student, they've always stressed that teachers, administrators, and the student body are largely supportive of the queer students in their midst. They're keenly aware of the stereotypes of Tennessee as hateful and backward, and they go out of their way to highlight the positive. Still, the campus is large and impersonal, and the school's culture revolves around football, Greek life, and binge drinking. For queer students, places where they can feel truly safe being themselves are few and far between.
We've been conditioned by opinion pieces to picture safe spaces as stuffy greenhouses for the most fragile of academia's hothouse blooms. However, in a country where nearly 70 percent of students who complete high school enroll in college, and where a degree is all-but-essential for most entry-level jobs, the reality is that students in our universities come from every background imaginable. The overwhelming majority of them are not enrolled in elite schools.
At UTK, 87 percent of undergraduates come from Tennessee, including every queer student I've spoken with. Many of these LGBTQ youths attend church services regularly, and almost all of them come from a strongly Christian background. Like other student activists, they are very earnest, they take their issues very seriously, and some of what they believe in may be new and unfamiliar to outsiders. They also work extremely hard. When the Pride Center was defunded, Chesnea Skeen described to me the way that student volunteers met week after week, together and with representatives of the administration, to work out how to stay open in spite of the setback a loss of funding and official status represented. Working around summer jobs and summer classes, they figured out what could be done by student volunteers and what would have to be abandoned. This fall, the Pride Center defiantly remains open and at the center of queer life at the university.
Why was this effort required of the students? Because Fox News, and in particular opinion columnist Todd Starnes, has been merciless in mocking UTK's diversity efforts and insinuating a creeping liberal takeover of the university. Fox News has also led the right-wing charge against safe spaces wherever they are found, and it has been largely successful in undermining the idea that a student might want or need to find a place of safety.
The drumbeat of intolerance and willful misrepresentation of the issues eventually resulted in the University of Tennessee's diversity efforts being substantially defunded by a legislature looking to score points with conservative voters. Although other programs were affected, only one university office lost its official status, and only one staff member was permanently reassigned away from diversity-related duties. The office was the Pride Center, and the staff member was the center's former director, librarian Donna Braquet. In the wake of the legislature's actions, student volunteers have been left to try to carry on the education and outreach the center previously engaged in as best they can, without official sanction or a dedicated staff member.
The University of Tennessee's Pride Center ought to be what we think of when we think of safe spaces on campus—small, embattled, facing indifference and hostility with bravery, hard work, and optimism. Instead, we too often allow ourselves to buy into a stereotype of coddled students shrilly demanding greater and greater concessions. Students who manage, in our imaginations, to be at once hypereffective organizers who will stop at nothing to bend campus culture to their will and wimpy weaklings unprepared to deal with the real world. We project our embarrassment at having once been young and our fears about aging onto them, without realizing that the condescending assumption that the youth of today have no legitimate basis for their activism can balloon out of control, ultimately hurting real kids whose problems are anything but imaginary. I get it—sometimes student activists seem silly or entitled. But sometimes they're more like heroes.
Update, Sept. 11, 2016: Since this story was written, the University of Tennessee's official reaction to the vandalism has been confusing and contradictory. Chancellor Jimmy Cheek released a statement condemning the vandalism as abhorrent and contrary to the values of the university. However, student volunteers report that they have been asked to remove all Pride flags from public spaces by the administration.
* Correction, Sept. 9, 2016: This post originally said that George Habieb was a Pride Center ambassador.
---