Brooklyn-based collage artist Mark Wagner's artistic currency is the $1 bill, which he meticulously carves up into pieces and glues back together to make intricate dollar-themed portraits of politicians past and present and scenic commentaries on the role of money and power on democracy and the global economy. His work is held in collections such as the Museum of Modern Art, the National Portrait Gallery, the Library of Congress, and the Metropolitan Museum of Art. The traveling circus of the 2016 presidential election has inspired a new body of work that Wagner will display in "I am Mark Wagner and I Approve This Message," an exhibition opening Thursday that is Wagner's second election-themed art show.
"'I am committed to always doing something about the presidential elections," Wagner told me in an email, "because it is sooo American and always sooo about the money."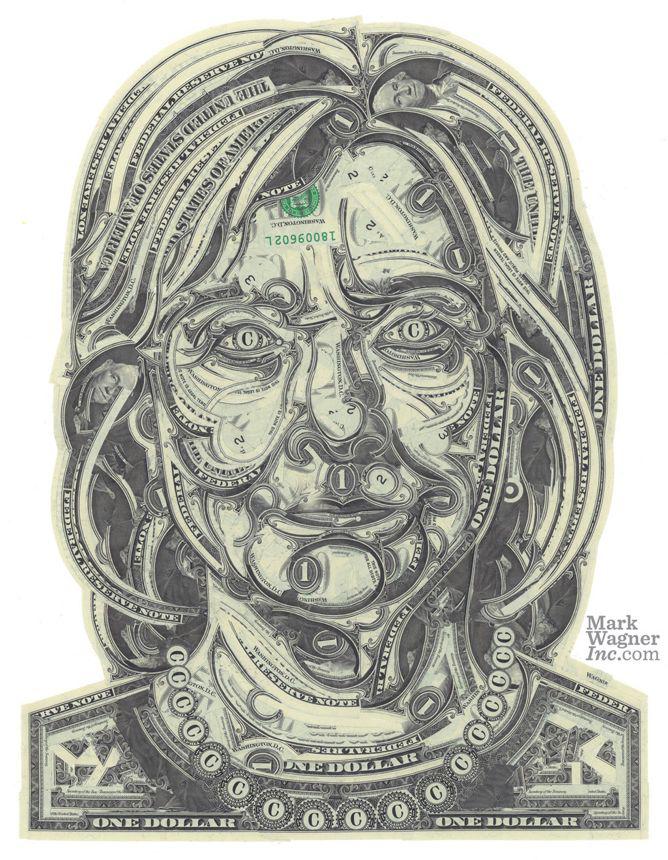 Wagner said that he sacrificed about $2,500 worth of cut-up dollar bills to make some two-dozen new collages that include a life-size portrait of George Washington asleep beneath a patchwork quilt, a flagship 8-by-6-foot theater scene involving a monster and a panicked crowd, and a "voting booth" featuring portraits of the candidates hanging together.
While Wagner has previously rendered dollar-bill portraits of Abraham Lincoln, the Mona Lisa, Mitt Romney, Barack Obama, and more, his monetary source material took on a deeper resonance when rendering Donald Trump's face—and hair—to sickening effect. "For Trump, money seems not so much a tool but an attempt at identity in itself," Wagner said in a statement. "In this regard the money portraits make new sense here … for what we have is a thin veneer of money with nothing underneath."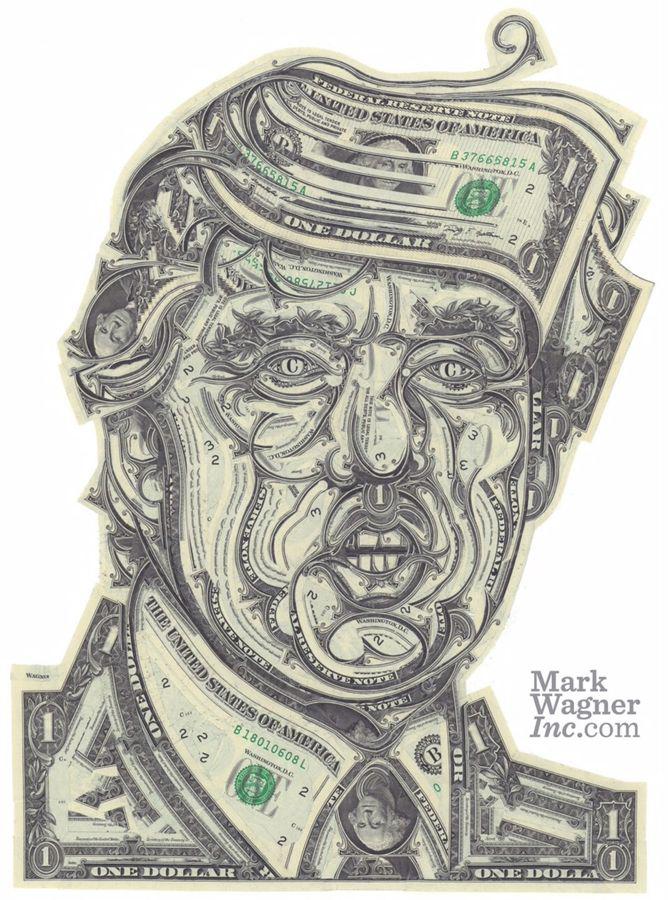 "The Trump portrait will be burned," Wagner told me, "either at or after the show."
"My Name is Mark Wagner, and I Approve of This Message" runs from Thursday to Oct. 15 at New York City's Pavel Zoubok Gallery. See more of Wagner's election-themed art or order prints of his money-themed artwork on his website.
Related: How Collage Artist Mark Wagner Makes Portraits From Dollar Bills