Fifteen years ago, police across the tri-state area dropped their breakfasts, left their kids, abandoned whatever it was they were doing, and raced to lower Manhattan. For some of them, it would be the last day of their lives. The last harried goodbyes to family, the last kiss, the last sip of reheated coffee, the last time they'd button the uniform. For others, it was just the beginning of a long and challenging recovery mission.
After Sept. 11, we called them heroes—the men and women in uniform who rushed into the towers when others were rushing out. Now, our officers face nationwide protest for an end to police violence and systemic racism. In my blue-collar hometown of Staten Island, many find this transformation hard to reconcile; they tie blue ribbons around the trees lining their streets in support of the police. In 1997, when a local cop assaulted and sodomized Abner Louima with a broomstick in a Brooklyn precinct bathroom, our town was outraged and called for the cop's imprisonment. Seventeen years later, Eric Garner died after a Staten Island cop put him in a chokehold; this time, residents mostly appeared to be in solidarity with the police. I think Sept. 11 is the reason why.
Staten Island makes up less than 6 percent of New York City's overall population, but more than 17 percent of police officers who reside in New York City live in the borough; that figure doesn't account for many families of retired police, such as mine. A total of 91,000 responders and volunteers—roughly a third of them police—sifted through rubble and remains. When our family members and neighbors came back to the island with the signature "World Trade Center cough," our town rallied behind the police department.
My father—a former sergeant in the Emergency Service Unit, the most elite branch of the NYPD—was never comfortable with the word hero. He certainly didn't feel heroic when he scanned for flesh, or a uniform, or any indication of human life as a crane shook through debris for hours on end. He didn't feel heroic when he arrived home to his kids, enraged and exhausted after a grueling day. He didn't feel heroic when all he could hand over to a cop's grieving family was a desk photo, a wedding band, or a revolver. And he wasn't treated like a hero on the 10th anniversary of Sept. 11, when then-Mayor Michael Bloomberg failed to invite responders to the memorial ceremony because of "space constraints."
In 2014, when Sen. Mitch McConnell praised 9/11 first responders and said they "did not ask to be heroes," he nonetheless voted to block reauthorization of the Zadroga Act, a bill designed to cover medical expenses linked to the recovery effort. Sen. Ted Cruz called the responders "heroes" in his victory speech following this year's Iowa caucuses,  but he also opposed the reauthorization of the Zadroga Act. When it came down to supporting those men and women who came to our rescue on Sept. 11 and the months and years afterward, the word hero was little more than political jargon.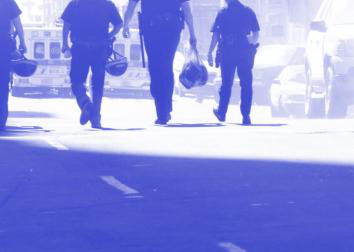 My father is one of approximately 70,000 people currently enrolled in the World Trade Center Health Program, which provides monitoring and treatment for those responders and survivors whose mental or physical health has suffered since 9/11. They may be seeking treatment for conditions ranging from chronic obstructive pulmonary disease to post-traumatic stress disorder to cancer that may have developed from their exposure to the conditions at ground zero. Responders were only addressed in one, final paragraph of the two-page release put out by the Environmental Protection Agency on Sept. 18, 2001, in which the agency noted its assistance in providing masks to rescue personnel but did not mention the hazardous materials contained within the dust. The government did not appear to be too concerned about the health of their heroes.
* * *
After two full weeks of searching for survivors at ground zero, the responders' mission changed from rescue to the recovery of bodies. In order to find them, cops strapped on Hurst hydraulic rescue tools, hacksaws, axes, pry bars, sledgehammers, and hundreds of feet of rope. Pole cameras were used to illuminate narrow and dark openings. The bodies of firefighters and others in uniform tended to be preserved the best because they were shrouded in heavy equipment and durable clothing; the lighter late-summer clothing of office workers provided little protection against decay. Once a body was found, a GPS team would be called in to place a "toe tag," with the longitude and latitude of its location for the coroner.
Few bodies were found intact. Under the steel, they found legs, all wearing different shoes. Police tried to match body parts in order to recover as much as they could for a family to bury. They searched in lobbies, elevator shafts, stairwells—any voids where bodies could be found. There were 198 elevators total in both towers; each elevator held up to 55 people, and police were aware that the cars held passengers when the towers collapsed. Grappler machines used clawlike buckets to remove heavy debris, sifting through until remains would shake loose and fall. Workers on the ground combed over it all one last time before it was cleared for Staten Island's Fresh Kills Landfill, where it was placed on a conveyor belt and closely examined one final time.
By midwinter, I expected my father's work at ground zero to be over with and our lives to resume with routine. I was 14. I didn't understand why he was still needed at the site. When I asked what the police were still searching for, he said, "Thumbs."
In February 2002, we received a donated trip to Disney World for families of police working at ground zero. It was the first of many holidays where my father was short-tempered, unnerved, and infuriated by the smallest of things, like my brother needing to be told to stand still more than once while waiting in line for a ride. Disney advertises itself as "the happiest place on Earth." My father had just left what was surely the saddest, and he'd be going back soon.
* * *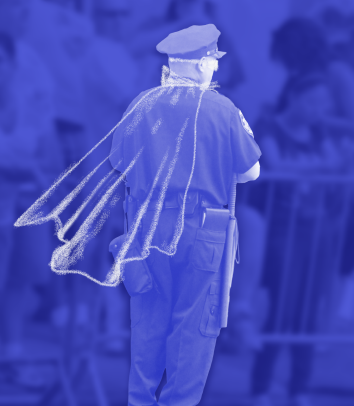 PASS devices are special beepers that echo when a firefighter lies motionless. In the days after 9/11, you could hear the faint sound of them on the pile at ground zero, like crickets chirping at a lake. Many would describe being haunted by this noise in their sleep, after the site closed, even years later. Others compared the surreal nature of ground zero to a horror film set. My father was suspended in a bucket against bright lights, searching for something as small as a pinky. He worked there for more than eight months, until the closing ceremony in late May of 2002. It was the longest, most difficult job of his rescue career, and there were no lives to save.
"It was a nightmare," he told me. "I want my experiences there to die with me."
Perhaps we should re-evaluate what it means to call someone a hero. I've never understood the improbable weight that word puts on the shoulders of men like my father. Is there space within the hero to also be a man, a father, and a husband—one who suffers just like anyone else would when confronted with so much death and destruction? Our law enforcement can be heroic sometimes and, as we've seen of late, sometimes not.
After the July 7 shooting in downtown Dallas that took five of his officers' lives, Police Chief David Brown asked protesters to "become part of the solution" and "put an application in." In a department that was suffering from understaffing and low retention rates, applications for a time went from just 11 a day up to 40. Chief Brown agrees that cops are asked to do too much, to always have solutions for complex situations—in other words, to be heroes. "Every societal failure, we put it off on the cops to solve," Chief Brown told reporters four days after his officers were killed. "Policing was never meant to solve all those problems."
As a little girl, I worshipped my father. As his adult daughter, I learned how to allow him to be who he always was: a man who at times acted heroically and who at other times was human, damaged, and flawed. This Sept. 11, I'll be thinking of him as he turns off the television and radio and ignores the newspapers. He will not visit the memorial or the museum. The pile, the pit, the plot he knew so well is ingrained into his memory. It still wakes him with nightmares. He worked to clear the site for its final transformation but wants no part in celebrating its repurpose. Instead, alone, he will take the dog for a hike in the woods, he will go to Mass to feel closer to the men and women who never made it home that day, and he will feel grateful that his kids are safe, well taken care of, and provided for, even if he isn't.
On the 15th anniversary of Sept. 11, let's honor our responders for their bravery, altruism, and valor by acknowledging their continued struggles. Simply calling them heroes gets them—and us—nowhere.