Every fall of an election year, like clockwork, the candidate-themed food and drinks start appearing. In 2000, 7-Eleven introduced its unscientific 7-Election poll, allowing customers to choose between Bush- and Gore-labeled cups for their coffee. In 2004, D.C. residents chose between a Kerry burrito (featuring baked beans and Heinz 57) and a Bush burrito (with potatoes and hickory) at California Tortilla. In 2008, you could order an Obama- or McCain-themed burger, wash it down with an Obama- or McCain-themed cocktail, and then have one of Baskin-Robbins' Obama- or McCain-themed ice creams for dessert. There were too many establishments offering up Obama- and Romney-themed dishes in 2012 to count. All of these limited-time offers were transparent ploys for publicity, attempts to gin up sales by appealing to consumers' inner political animals.
This year is not a normal election year. A competent career politician is facing off against a megalomaniacal fascist demagogue with a long history of defrauding people. To reduce the campaign to the usual two cutesy food options would be to trivialize one of the most terrifying elections in American history. So food-service entrepreneurs have three options this time: They can reduce the elections to two cutesy food options anyway, they can sit this year out, or they can somehow try to introduce candidate-themed stunt foods that convey the magnitude of the 2016 choice.
So far, it seems like a lot of business are going with option B. 7-Eleven has whiffed this year's 7-Election by refusing to put the two major candidates' names on its coffee cups—instead they just read "Republican" and "Democrat"—and by introducing a third, smug-yet-morally-vacuous cup labeled "The Speak Up Cup." But a popular New York City ice cream chain has accomplished the near-impossible: It's introduced a Hillary-themed ice cream, and a Trump-themed ice cream, in a way that does not at all minimize what America is up against.
Ample Hills is a critically acclaimed Brooklyn-based ice cream minichain that often attracts lines to its flagship Prospect Heights store that wrap around the block. In 2012, it did the usual two-party election flavors: the honeycomb-flavored "4 More Years" for Obama, and a rum raisin called "Rom Raisin" for Romney. There was a little political commentary embedded in the flavors—the tagline for "Rom Raisin" was "Taste the 1%!"—but it was nothing compared to this year's flavors. This week, Ample Hills announced two new election-themed offerings: "Madam President" and "Make America Orange Again." A press release explains:
Democratic Presidential Candidate Hillary Clinton's two favorite foods are chocolate and hot peppers. Madam President, therefore, contains chili pepper-infused chocolate with chunks of chocolate chip cookies from her own recipe; in sum: a powerful yet comforting combination of sugar and spice and women's rights.
While Ample Hills Creamery generally shuns the use of artificial colors, Republican Presidential Candidate Donald Trump inspires them. To wit, Make America Orange Again is a shamelessly orange marshmallow creamsicle flavor with chocolate brownie bricks (to build a wall). Best of all, it's far more palatable than his political positions.
In case you didn't pick up on the subtext of Trump's flavor, the illustration on the Make America Orange Again label portrays Trump looking like a doofus with an orange in his mouth and reads, "Warning: May contain bluster, hot air, and bricks."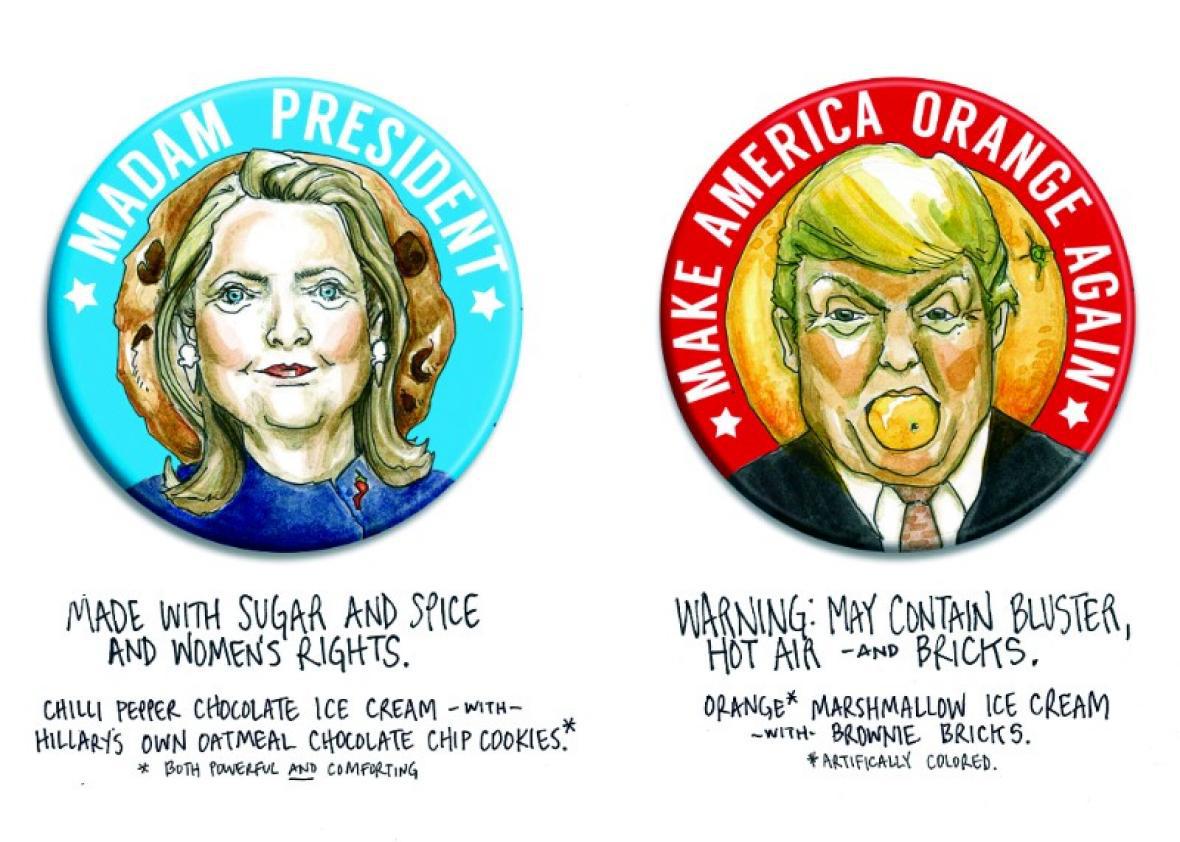 In short, Make America Orange Again has been carefully crafted to undercut Trump's self-presentation, demeanor, and signature policy proposal—not bad for a solitary dessert. In a nice touch, a portion of the proceeds from the two flavors will go to Michelle Obama's international education initiative for girls, Let Girls Learn.
Ample Hills co-owner Brian Smith said in a statement that compared with the 2012 election, "The differences between the two candidates in this election are even starker and we wanted to highlight this contrast and the importance of voting in general with these two flavors. Years from now we want people to say: 'The best thing about Trump's candidacy was the Ample Hills ice cream flavor he inspired.' " Considering how much damage Trump has done to the country already, that might not be an unrealistic goal (although that depends on how much you like the flavor of creamsicles). To be clear, Ample Hills' two new flavors are definitely an attempt to boost sales by appealing to consumers' inner political animals—but as transparent ploys for publicity go, this one is pretty sharp.