The red carpet at the 2016 MTV Video Music Awards was different from those of all the other awards shows in the land. First of all, it was white, making all the stars look like they were strutting into the living room of their grandma's condo in Naples. It was also trodden upon by an unprecedented number of women in pants.
Men have long worn pants to awards shows, but few female red carpet–walkers have been able to capture each of their respective celebrity legs into individual sheaths. However, thanks to the ever-grinding gears of feminism and the slightly looser dress code of the VMAs—a veritable who's Who? Weekly of pretty people you've never heard of if you're not a 14-year-old gossip-site addict—this year's show saw more than a dozen pairs of women's fancypants.
The monochromatic get-ups of Tinashe, Holland Roden, and Nicole Johnson were baby steps into the pants realm—their roomy cuts and luxe fabrics are just a few snips and seams away from being evening gowns.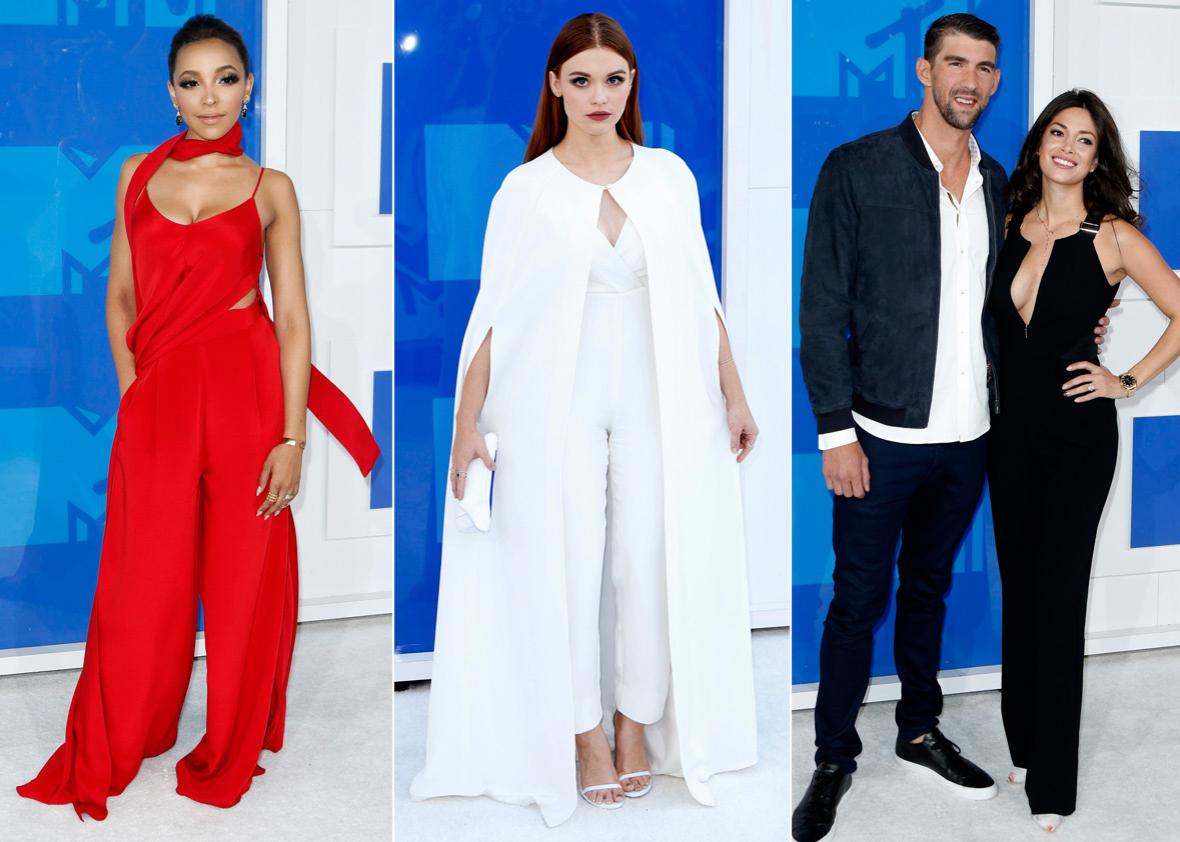 Amber Rose and Cassie donned traditional suits like men might wear, but without shirts to cover their breasts. That way, no one sees the suit jacket and gets confused about whether or not they are women.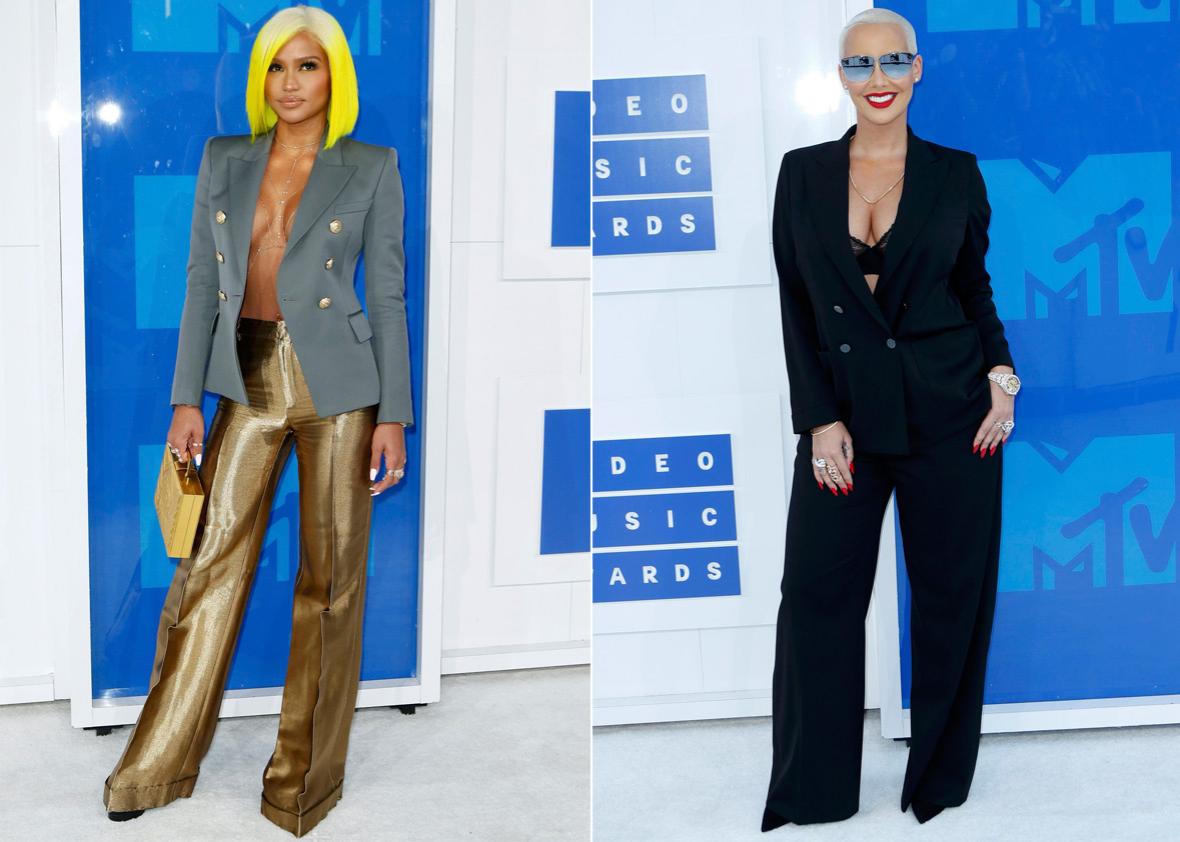 In the category of crop tops and black pants so wide they could smuggle Blue Ivy into an afterparty, we have model Joan Smalls and the newly banged Ariana Grande.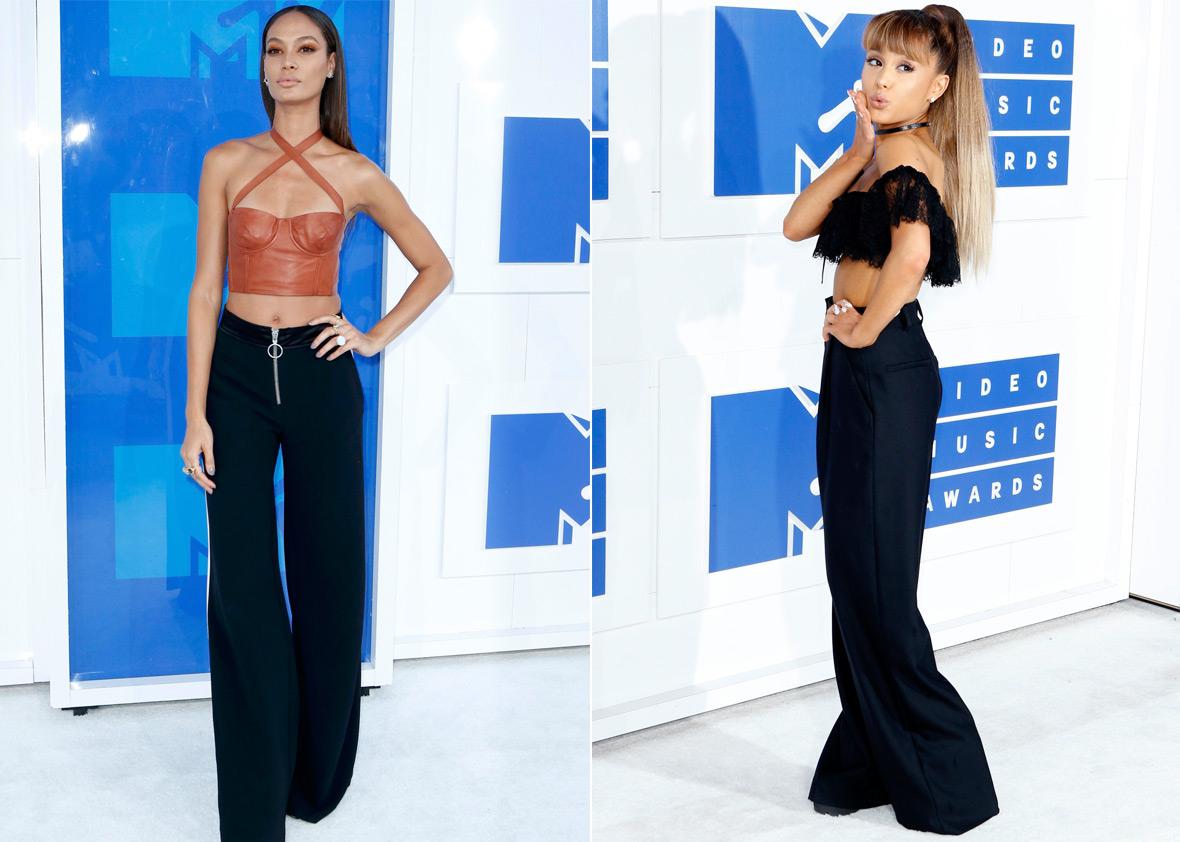 Sheer jumpsuits, like the VMA ensembles of Halsey and Hailey Baldwin, are nice options for legs that can't quite get used to the idea of being totally covered in fabric.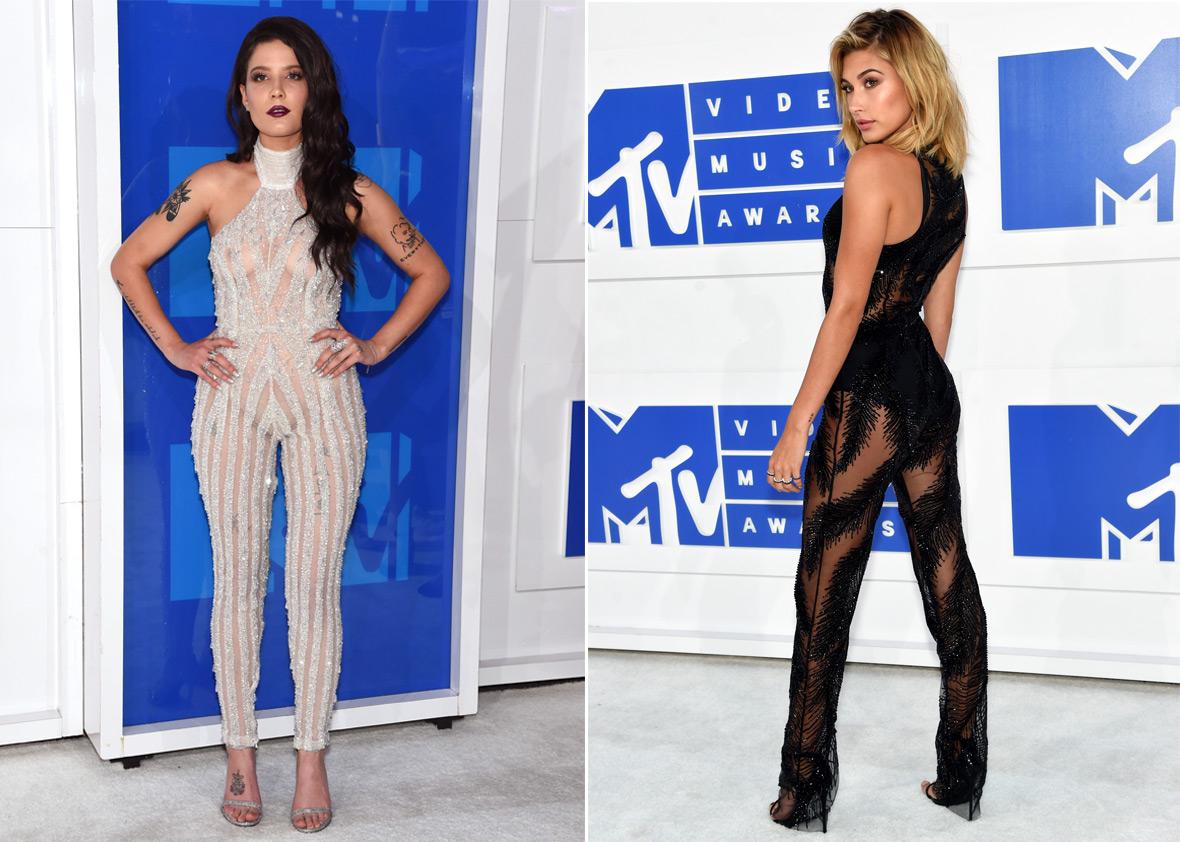 The VMAs are so down-home casual, Dascha Polanco and Alessia Cara opted to show up in pants crafted from denim, the durable fabric pioneered by then-lovers Britney Spears and Justin Timberlake at the 2001 American Music Awards.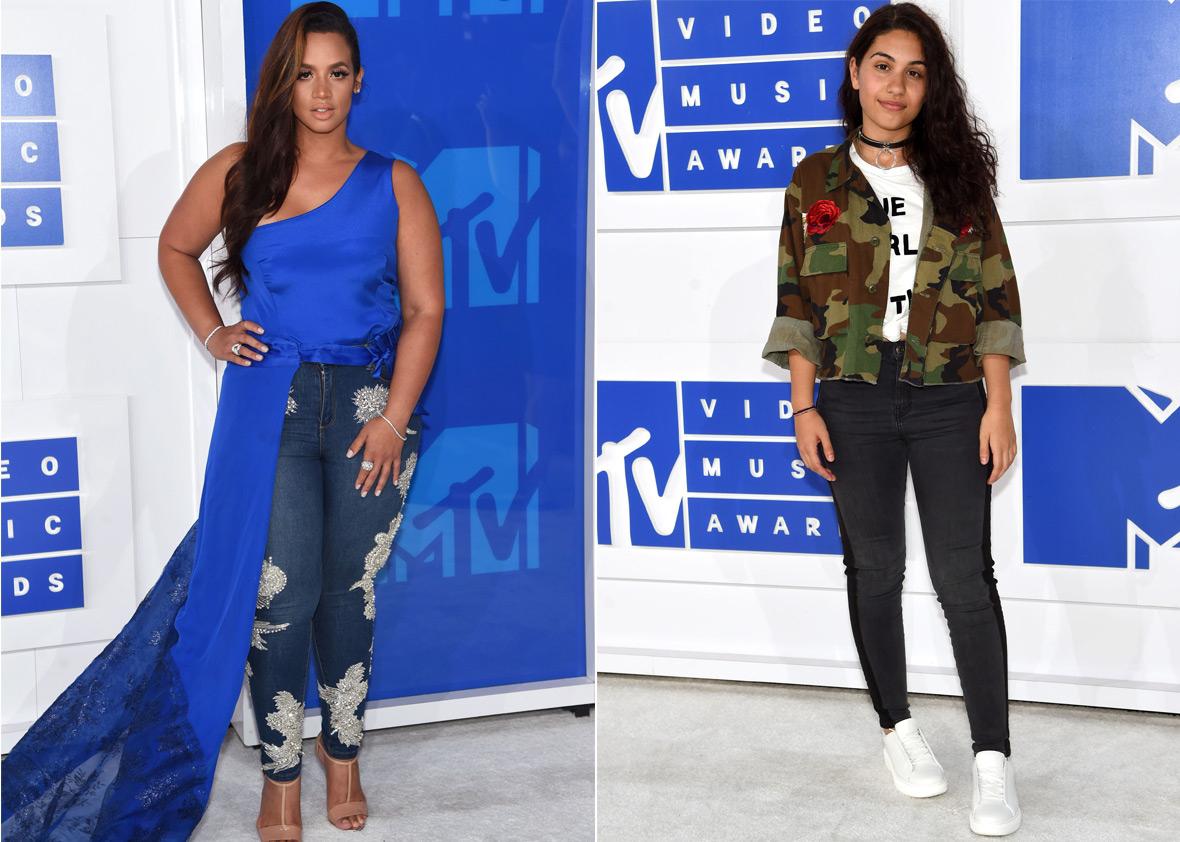 On the dressed-up end of the spectrum, Jojo and Lilliana Vazquez wore wide-legged patterned trousers that could be suitable for a biz casual workplace.
Halle Bailey of Chloe x Halle and Stella Maxwell did pants in adventurous fringed and mirrored textiles.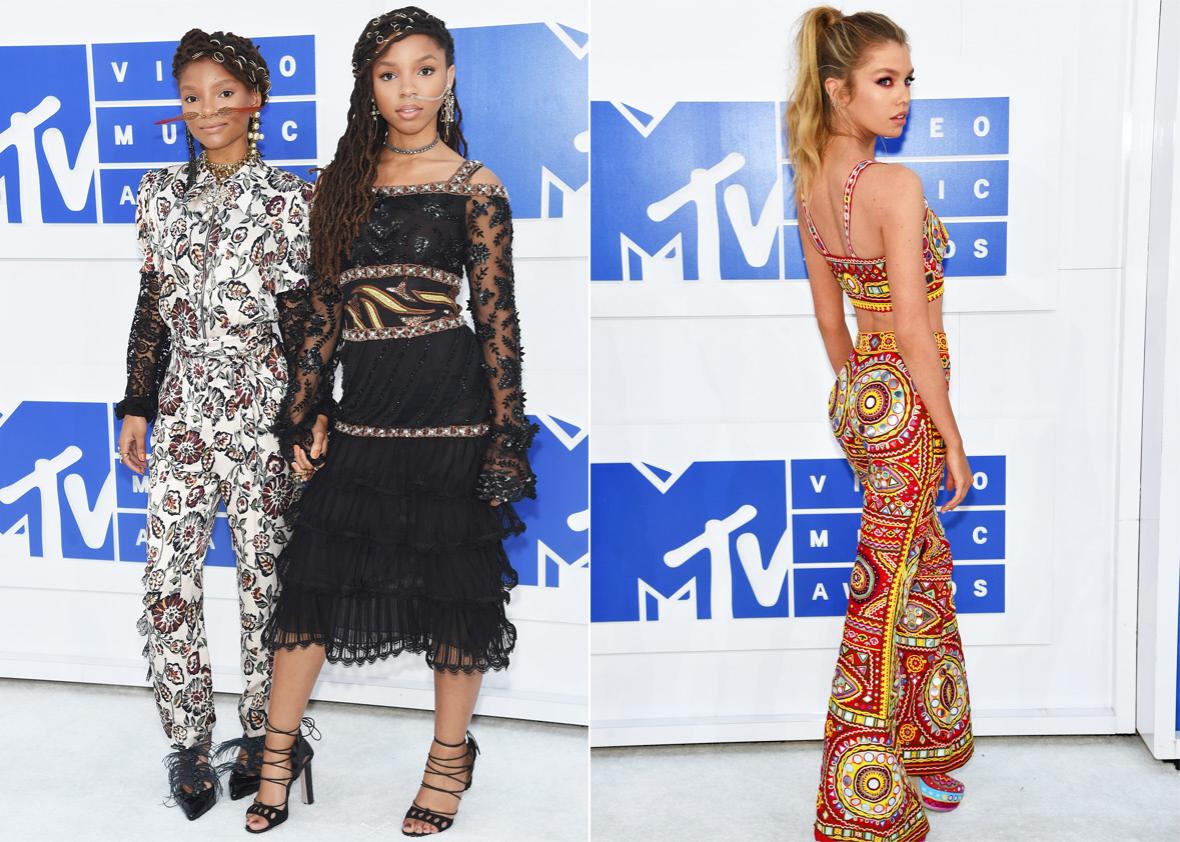 But the best pair of VMA pants came from Laura Perlongo, who attended the awards with fiancé and Catfish host Nev Schulman. The pregnant Perlongo wore an open jacket with nothing underneath, letting her cleavage and bare stomach hang over a pair of pants that no one noticed because a pregnant woman was showing her entire pregnant stomach on the red carpet. Pregnancy belly buttons are an even rarer sight than woman-pants at awards shows, and Perlongo's breezy jacket looks far more comfortable than most designer maternity gowns. It also fits nicely into the current zeitgeist of viral motherhood activism. Watch out for a breastmilk-pumping bra at next year's Oscars.