Last week, an Indianapolis Star investigation revealed USA Gymnastics officials ignored allegations that coaches were sexually abusing their underage athletes. In at least four cases, executives neglected to report accusations to authorities, allowing the coaches to continue victimizing girls for years before their eventual arrests.
For these women and other survivors of sexual abuse, 26-year-old judoka Kayla Harrison provides a glimmer of hope. The Olympic gold medalist won two national judo championships by age 15, all while training in Ohio under Daniel Doyle, a coach who sexually abused her from the time she was 13.
Harrison first spoke out in a USA Today story published in November 2011, less than a year before she became America's first-ever gold medalist in judo at age 22 at the 2012 London Olympics. On Thursday afternoon, in a match-up with France's Audrey Tcheumeo, Harrison won her second consecutive Olympic gold.
As a young teen, Harrison battled depression and suicidal ideation as Doyle abused her for more than three years. "Daniel was one of my mom's friends, he babysat me and my brother and sister, he came over for family barbecues," Harrison told the Telegraph in 2012. "It was devastating. When I was young, he would say, 'We have to keep this between us or we will get into trouble' and, honestly, as I got older, I was pretty brainwashed."
Her breaking point came when she was 16 and discovered Doyle had gone on a cruise with another woman. "I had wanted it to end for a long time … but I also thought that I loved him and that was betraying him—me wanting it to end," she said. "So when that happened, I saw it as my escape." She told fellow judoka Aaron Handy* what Doyle had been doing. Handy told Harrison's mother, a former judo athlete, and she told the police.
Doyle pleaded guilty in 2007 to the federal crime of engaging in illicit sexual conduct in a foreign country (he abused Harrison while they were traveling for judo championships) and was sentenced to the maximum 10 years in prison. Harrison moved from her Ohio home to Massachusetts to train with former Olympian Jimmy Pedro, who coached her to victory in the 2010 judo world championship, the 2012 Olympics, and again in Rio.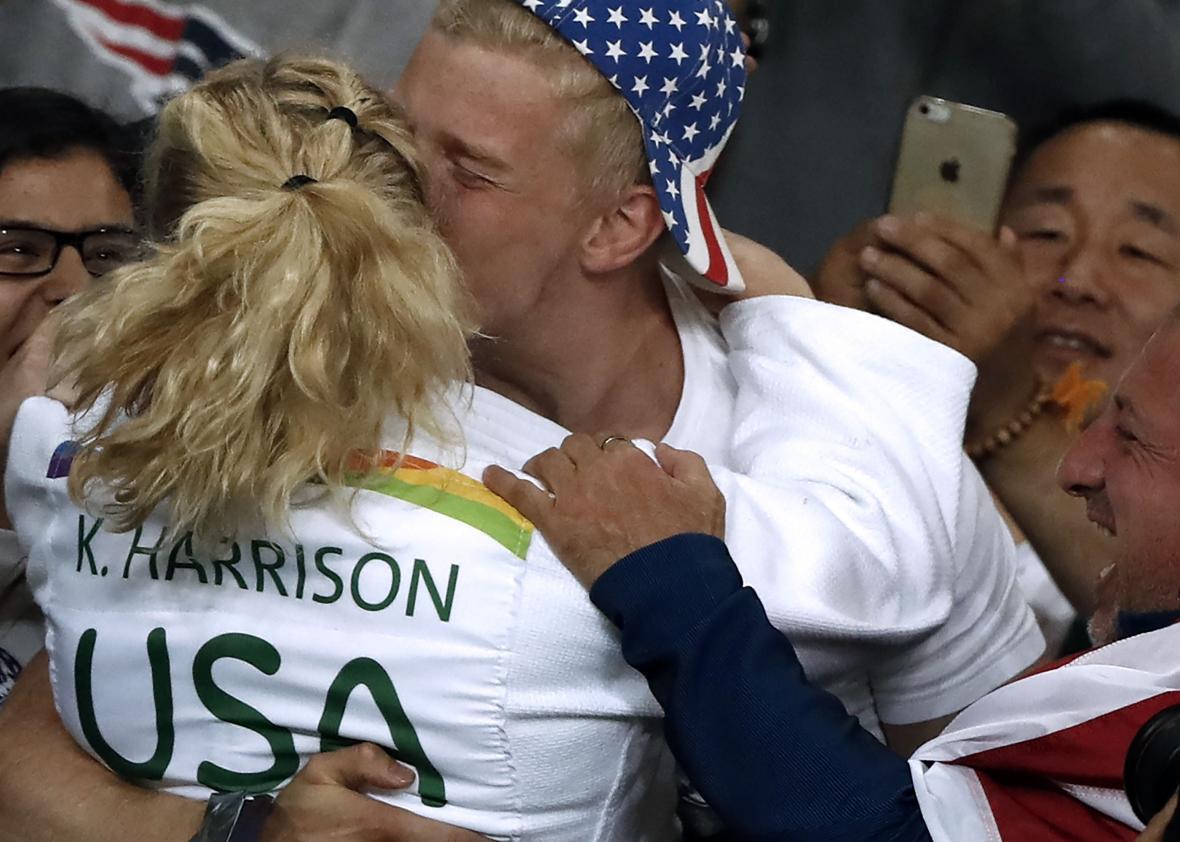 Harrison is now a motivational speaker with a line of workout clothes branded with the word "fearless." Her Fearless Foundation is designing a program to help sexual-abuse survivors find healing and strength through judo practice. Because she went public with the story of her abuse and pushed forward with her judo training, Harrison told the Telegraph, she's been able to move on:
For years, there's been a kind of taboo about being a victim. I remember [after I came forward] reading online judo forums and people insinuating 'well, we don't know if she's telling the truth,' and that devastated me. Because of this taboo our society places on being the victim, I couldn't look in the mirror and had no self-esteem. Now I can't imagine not speaking up against that. It's so wrong and I don't want others to have to suffer what I did. … For me, having [the 2012 Olympics] to strive for allowed me to say, 'You did it, you got through it, despite everything.' I was able to look back and reflect that nothing can stop me.
This second gold medal might be Harrison's last. She's said she may retire after the Rio Games and follow her former roommate and training partner Ronda Rousey to the world of mixed martial arts. "Once the Olympics are over, and everything sorts of settles down, I can decide whether or not I like to punch people in the face," she told SB Nation last week.
Whatever she decides—this new fan hopes she sides with the face-punching—Harrison, in her public perseverance and professional domination, has already provided an indelible example of the kind of strength and courage abusers seek to extinguish in their victims. Many young athletes who are victims of sexual abuse end up quitting their sports to try and escape their abusers. Harrison's moment of glory on Thursday, singing "and the home of the brave" as she beamed from the medal podium, was a victory for all those who never made it to the Olympics. It might be the most meaningful gold medal of the Rio Games.
See more of Slate's Olympics coverage.
*Correction, Aug. 11, 2016: This post originally misstated that Harrison and Handy are married. They were once engaged but never married.