Dutch designer Maarten Baas has installed the latest edition of his Real Time series: a 10-foot-high performance art clock in the newly renovated Lounge 2 at Amsterdam's Schiphol Airport, which asked him "to cooperate in replacing the Dutch icons of tulips, clogs and windmills with one of his internationally acclaimed works" for the millions of people who pass through the transit hub every year.
First launched at the Milan Furniture Fair in 2009, the Real Time series includes the "Sweepers," in which two handymen sweep trash into a living time clock for 12 hours; "Analog Digital," in which a man paints the digits on a standard digital clock; and "Grandfather Clocks," which features video of a man drawing the hands of a clock from the inside of the clock face. Since then, Baas has expanded the Real Time concept to include an app and the new "Schiphol Clock" that features video of a man in a work uniform behind the translucent clock face painstakingly painting the time minute by minute for as long as you can stand to watch.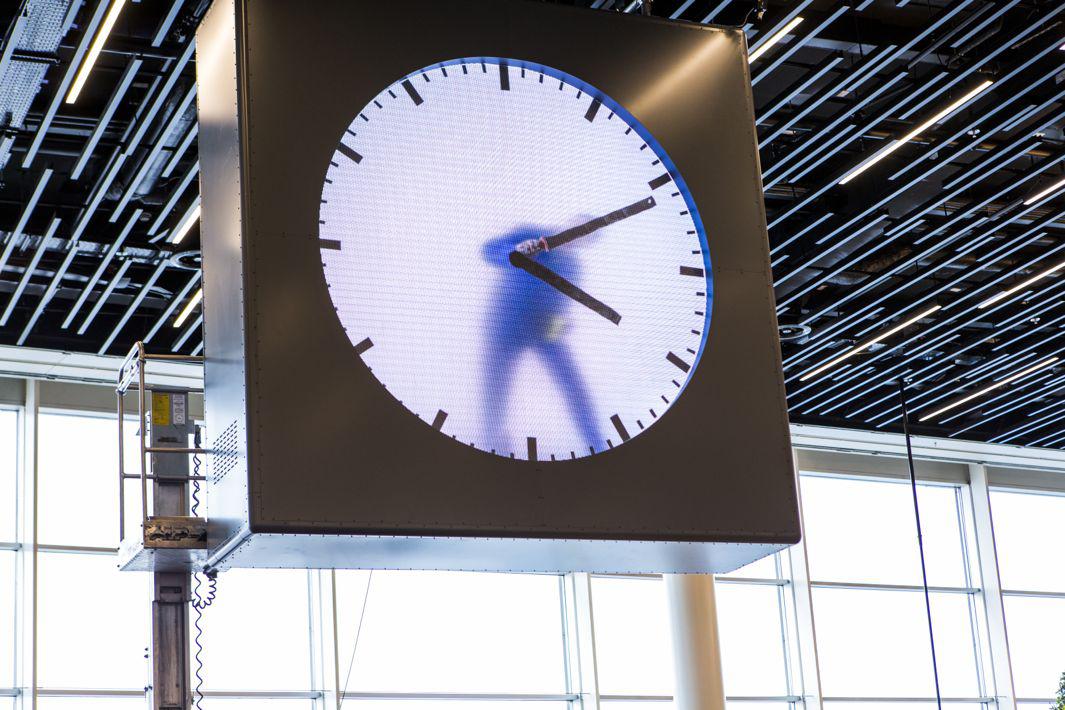 "Real time is a term that is used in the film industry," Baas said in a press release. "It means that the duration of a scene portrays exactly the same time as it took to film it. I play with that concept in my Real Time clocks by showing videos where the hands of time are literally moved in real time." The real-time videos take 12 hours to film and 12 hours to watch from start to finish, a literal depiction of the agony of watching the clock.
A project description said that Baas was inspired by "the many faceless men who sweep, clean and work at an airport in their blue overalls." (Are there no female janitors at the Amsterdam airport?) Baas described the "Schiphol Clock" as "basically a big box hanging from the ceiling in Lounge 2," adding that he decided to use "the most archetypical form of a clock."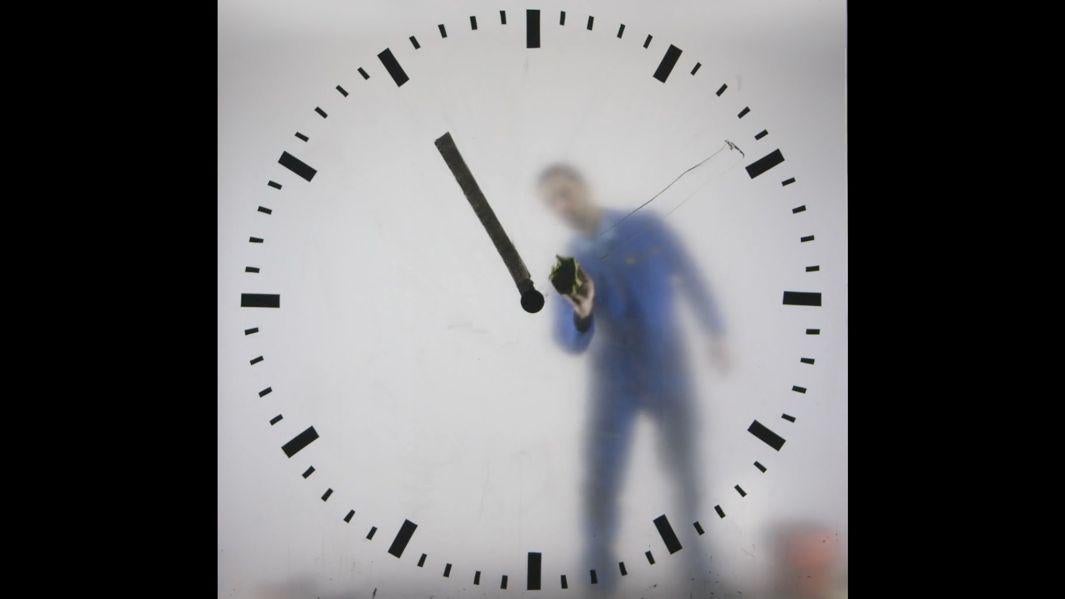 But he added a ladder and a door to create an imaginary path that his video janitor might have used to access the clock, just to heighten the surrealism. "He has a red bucket and a yellow cleaning cloth and he is cleaning up after the hands of time, after which he creates a new minute, every time again," Baas said, adding that the red, yellow, and blue are an homage to "two of the most definable Dutch artists of the previous century, painter Piet Mondrian and architect/designer Gerrit Rietveld.
Check out this one-minute excerpt of the Real Time "Schiphol Clock" below: