New York City–based ESI Design, which has a penchant for using clever lighting design as a noninvasive strategy for re-animating existing architecture, recently transformed the lobby of an office building in downtown Washington by adding 1,700 square feet of motion-activated media displays on the walls that bring the historic building into 21st-century relief.
"The different media create distinct rhythms to give Terrell Place a unique identity and strong street presence," Michael Schneider, senior creative technology designer at ESI Design, said in a press release. "Each of the media scenes reflects the time of day and the movement of people through the lobby, acting almost as a large abstract data-visualization of the ebb and flow of Terrell Place."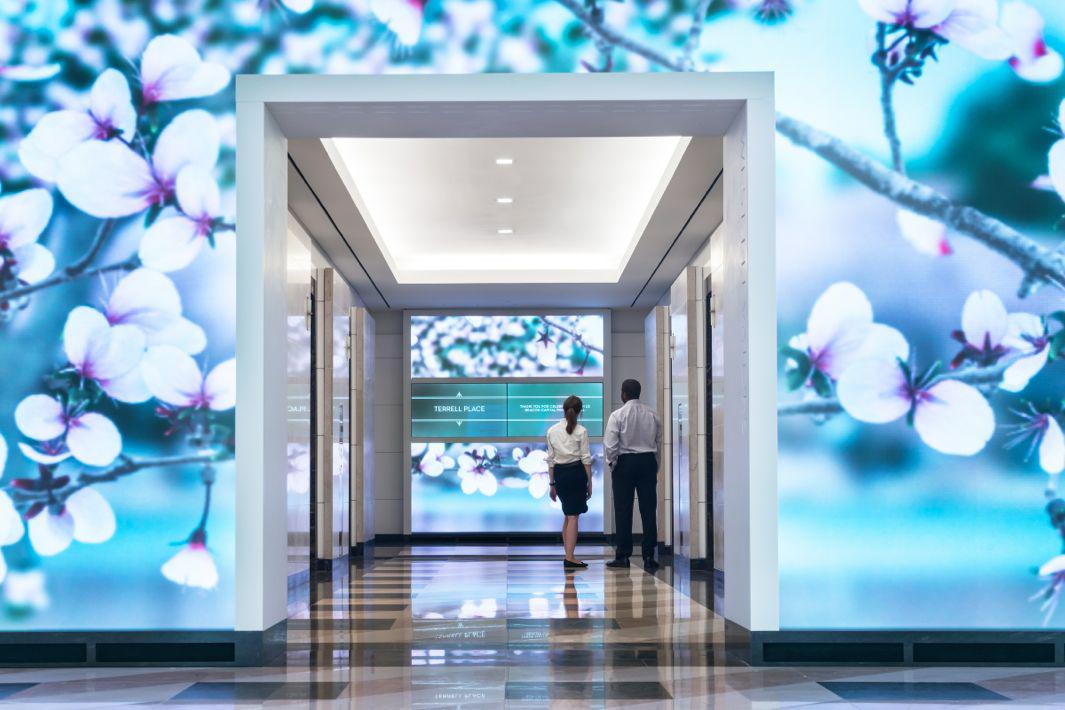 Passersby can glimpse the building's largest "media wall"—at 80 feet wide and 13 feet high—from the street, through what once were the display windows of Hecht's department store. The site of civil rights protests in the 1950s, the department store turned office building was renamed Terrell Place in 2004 after civil rights activist and founding NAACP member Mary Church Terrell, who lobbied successfully for the the department store to abolish segregation at its basement lunch counter.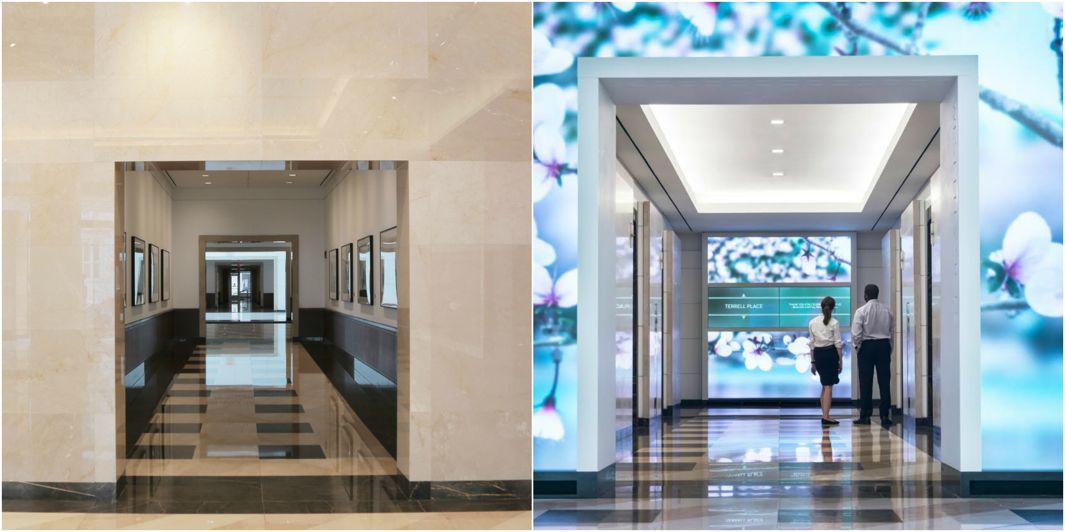 "The renovation recreates Terrell Place as a vibrant, modern space while respecting its elegant architecture and historic significance," ESI said in a press release. "Technology and media are seamlessly integrated into architectural surfaces, creating an ever-evolving artwork that captures the pulse of the building."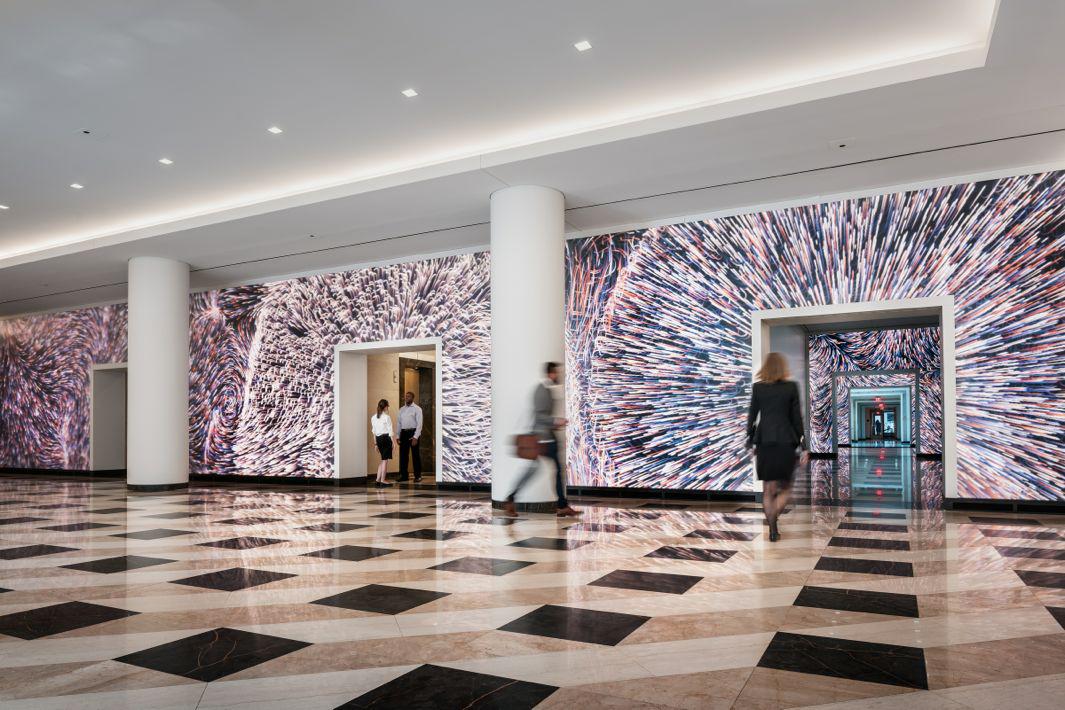 Diffused LED wall displays are activated by an infrared camera that picks up movement as people come and go. The visuals include iconic D.C. cherry blossoms that bloom until their petals fall off; fluttering butterflies; algorithmically generated multicolor threads that weave a virtual tapestry; and an homage to the city featuring key architecture and landmarks. Ambient audio in the main corridor includes nature and city sounds and music such as "Elijah" by Felix Mendelssohn and "Deep River—24 Negro Melodies" by Samuel Coleridge Taylor, favorites of Terrell. The displays include three programmable thematic modes to ensure that tenants "never see the same scene even if they arrive and leave at the same time every day," the designers said.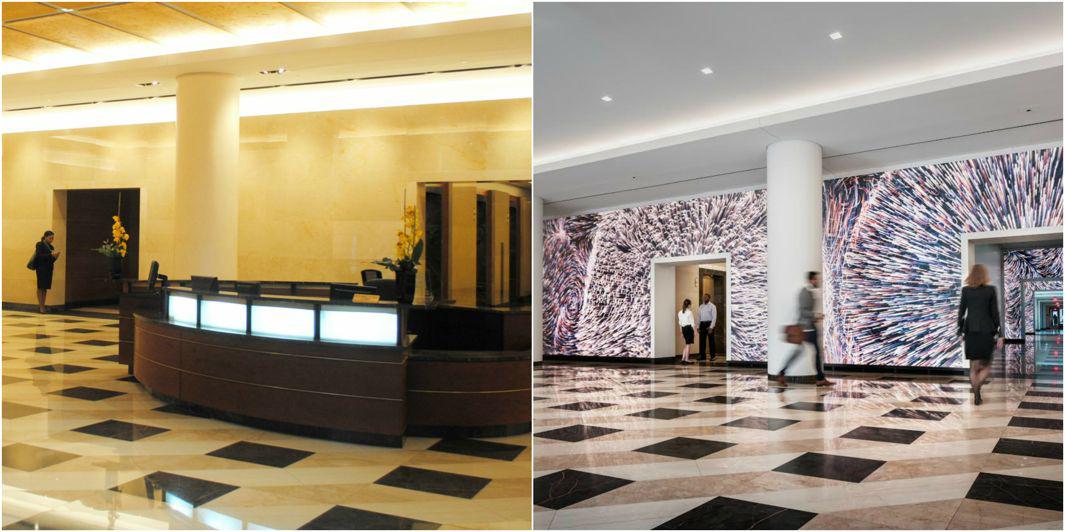 Watch the video below for a glimpse of how the lighting design interacts with passersby.