Warning: This post contains spoilers.
In a recent episode of the terrific Hulu original series Difficult People, stars Julie Klausner and Billy Eichner blithely push through a crowd of protesters. Caught up in conversation, their characters pay little attention to the crowd, dismissing the placard-waving assemblage as a group of tourists. Only when they've made it across the street do they learn that they've unknowingly escorted young woman to an abortion clinic.
It's a refreshingly casual moment, at once acknowledging the ugly vehemence of anti-choicers and suggesting that television might be able to confront abortion without stumbling into Very Special Episode territory. It's also a tone that would be difficult to recreate on another series, not least of all because the joke is on Klausner and Eichner's self-involved protagonists. The newly released third season of Netflix's BoJack Horseman takes a broader, and potentially more revelatory, approach, laughing at abortion itself, and doing so in the name of choice.
Near the close of the season's fifth episode, social media manager to the stars (and erstwhile ghostwriter) Diane (Alison Brie) finds herself in the hospital after breaking her arm while on psychotropic drugs. Examining her bloodwork, a doctor casually informs her that she's pregnant. "Motherf—" Diane begins, only to be cut off when the show cuts to its credits. In a nod to the relentless continuity of modern binge watching, she concludes the phrase as the sixth episode begins.
Diane's anger aside, her next steps are surprisingly uncomplicated. We soon cut to Diane in a car with her boyfriend, the relentlessly earnest anthropomorphic labrador Mr. Peanutbutter (Paul F. Tompkins), awkwardly discussing "options." There's little debate, though, as both quickly acknowledge that they would rather not raise children—and that they would both prefer Diane have an abortion. Easily as that decisions arrives, it still weighs on Diane, and later—while crankily explaining the situation to BoJack—she inadvertently tweets "I'm going to get an abortion" from the account of teen popstar Sextina Aquafina (Aisha Tyler).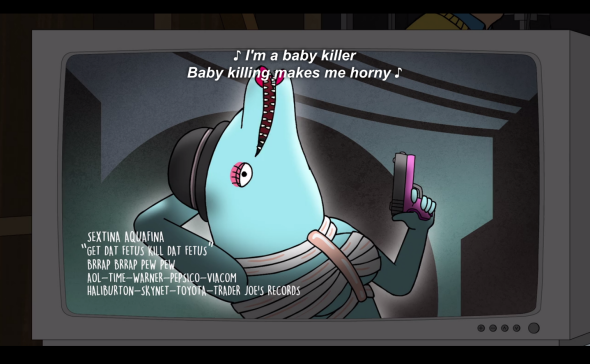 Though Diane initially offers to throw herself on her sword for the mistake, it quickly turns into a PR coup for Sextina after Taylor Swift tweets that she's "brave" and BuzzFeed assembles a listicle celebrating her ostensible honesty. Leaning into the controversy, Sextina anoints herself the "new voice of choice" and, to Diane's horror, releases "Get Dat Fetus, Kill Dat Fetus," a deeply bonkers single (with an accompanying video), in which she chants, "I'm a baby killer, / baby killing makes me horny. / Alien's inside me / Gonna smash it like Sigourney."
In what follows, the episode focuses primarily on Diane as she struggles to come to terms with Sextina's glib response. Despite the ease of her initial choice, she still perceives abortion as a fundamentally serious topic—one that demands levity and calm. At one point, she tells Sextina that she's worried the star is "actually giving the pro-life movement something to latch onto," prompting the celebrity to dismissively respond, "Can I abort talking to you?"
Sextina has a point: Without realizing it, Diane may have let abortion opponents set the terms of the debate. BoJack implies that her own insistent severity overlaps with the attitudes of those who attempt to make abortion as burdensome as possible, whether they do so by imposing waiting periods, forcing them to listen to the fetuses heartbeat, or, as it goes here, obliging them to "watch 20 hours of cute puppy videos as Sarah McLachlan's 'I Will Remember You' plays softly." Though Diane rightly ridicules these legal obligations, she's nevertheless internalized the proposition that having an abortion is a profoundly consequential act.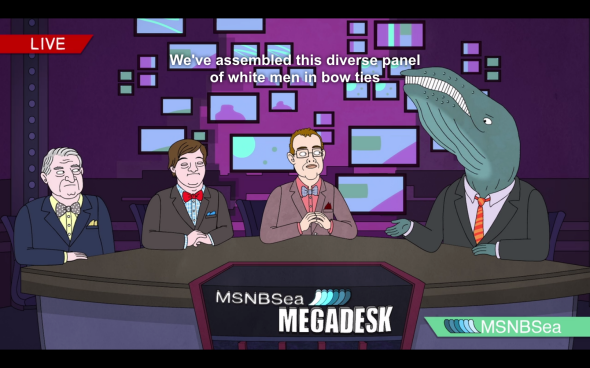 To be sure, Diane isn't the only one to embrace this approach in the episode, any more than she takes who takes it most seriously. (To the contrary, she's evidently open to a certain degree of silliness, if Mr. Peanutbutter's "It's a boy" balloon—on which "boy" has been crossed out and replaced with "borted"—is any indication.) That honor instead goes to a "diverse panel of white men in bow ties" on MSNBSea, a news network hosted by an anthropomorphic whale who earlier wonders aloud whether "the concept of women having choices has gone too far."
One of the panelists claims that he'd carry a child to term if he could get pregnant, even as another (described on the chyron as an "actual doctor") suggests that abortions may not be necessary, since "if a woman really has an unwanted pregnancy, the body has a way to break the fetus down into gas particles and then she can just fart it out." The extremity of these stances is parodic, of course, but it's not that far removed from the real claims of abortion opponents. More realistic, though, is their tone, a stone-faced earnestness that suggests their every remark is deeply meaningful.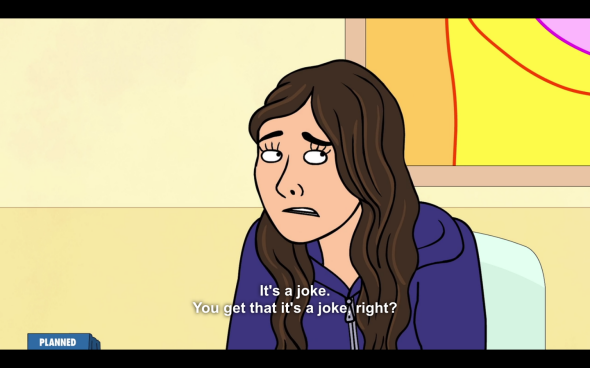 A collective commitment to seriousness, BoJack suggests, ultimately serves those who are saying the silliest things, since they can go right with their silliness so long as you keep yourself from laughing at them. Near the end of the episode, in the waiting room of a "Planned Parrothood" clinic, Diane meets a young woman who claims that Sextina is an inspiration. "Getting an abortion is scary with all the protesters out front and how you have to listen to the heartbeat and all that," she tells Diane. Tellingly, it's not abortion itself that weighs her down, but everything we pile on top of it. Though Sextina's attitude is ludicrous, Diane seems to at last realize, it at least offers an alternative to that culture of fear.
In an interview with the Daily Beast, showrunner Raphael Bob-Waksberg explains that the series' writing staff wanted tell a different sort of abortion story, building it around "a woman who knows what she wants to do and she does it and it gives her some feelings, but she never has doubt about it." Fittingly, then, we don't follow Diane's journey toward a decision, but toward a slow acceptance of laughter.