In the past year, CNN has aired nearly three times as many appearances from anti-choice guests as pro-choice ones, according to a new study from Media Matters. Seventy percent of those who discussed abortion on Fox News were anti-choice, compared to six percent on MSNBC. On all three networks, men outnumbered women in conversations about abortion.
Study authors Rachel Larris and Sharon Kann studied all evening and prime-time segments related to abortion or reproductive rights–related organizations on Fox News, MSNBC, and CNN from the beginning of 2015 to March 6, 2016. They noted whether each host, guest, and correspondent in each segment had publicly identified as pro-choice or anti-choice and listened for four bits of common misinformation parroted by anti-choice commentators: that Planned Parenthood illegally uses taxpayer dollars from Medicaid to fund abortions; that birth control triggers abortions; that Planned Parenthood "harvests," "sells," or makes "profits" from fetal tissue; and that the Center for Medical Progress' videos fall under the scope of fair journalism. In its study, Media Matters considered these anti-choice statements; statements that contradicted the misinformation were coded as pro-choice statements.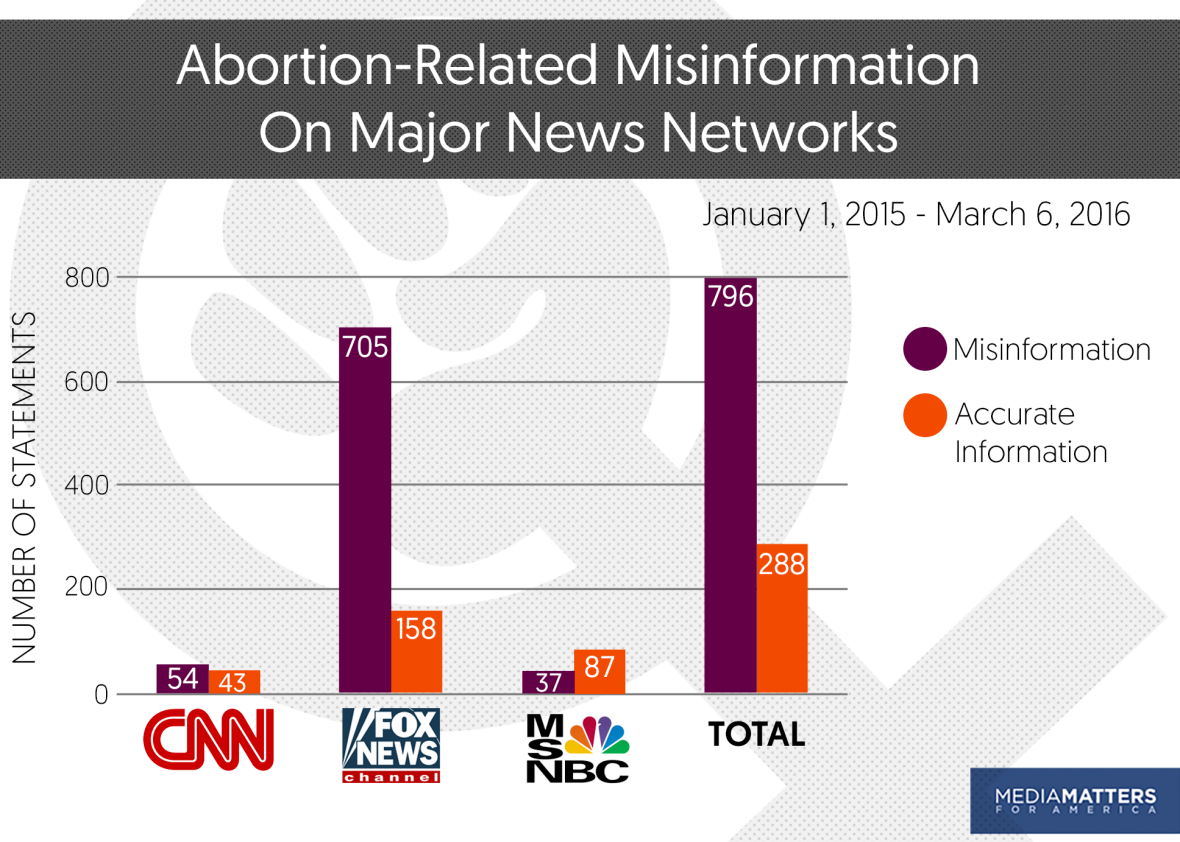 Media Matters found 1,554 appearances in 688 segments featuring 432 individual people that qualified for the study. Predictably, Fox skewed anti-choice while MSNBC skewed pro-. Even CNN, a more-or-less centrist network, prioritized anti-choice voices over pro-choice ones. In total, on the three networks, 40 percent of hosts, guests, and correspondents either identified as anti-choice or consistently made anti-choice statements, while just 17 percent identified as pro-choice or made pro-choice statements.
In the 14 months of the study, Fox News aired 705 inaccurate statements related to the four selected abortion topics during evening and prime-time programs—82 percent of all statements it aired on those topics. That figure includes 336 statements that Planned Parenthood "harvests," "sells," or "profits" from fetal tissue. CNN, too, aired more false statements on these topics than true ones, mostly on Erin Burnett Outfront. Every MSNBC evening and prime-time show aired more true statements about Planned Parenthood and abortion than false ones.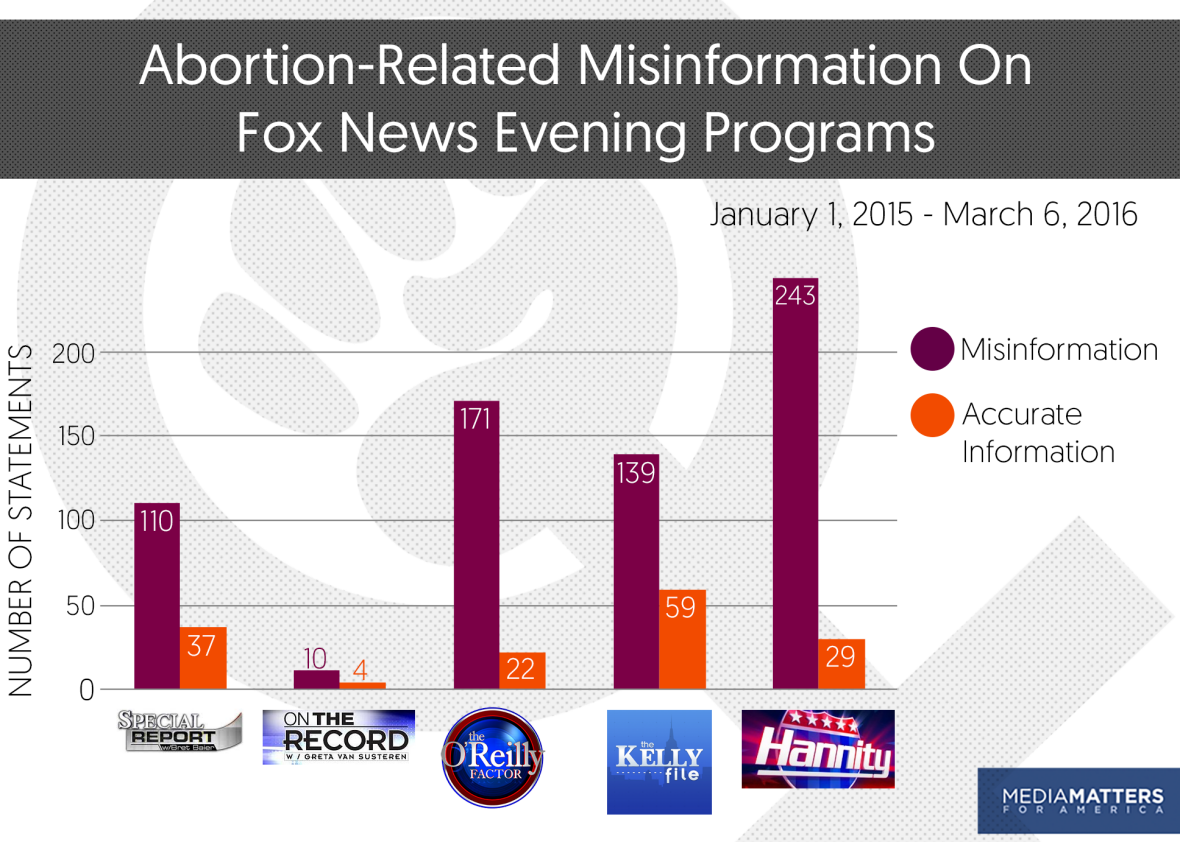 The population of people talking about abortion on TV during this time period, according to the study, was 62 percent male. Some of that can be explained by gender imbalances in on-air hosts and correspondents, but even when the study isolated guest appearances, men outnumbered women on every network. In over a year, on all three networks, only one reproductive-rights organization focused on women of color made a prime-time or evening appearance: Jessica González-Rojas of the National Latina Institute for Reproductive Health spoke on a November 2015 panel on MSNBC's All In With Chris Hayes. Only eight segments of 688 made any mention of economic barriers to obtaining abortions, all on MSNBC. In most of the eight, the issue came up in just one sentence.