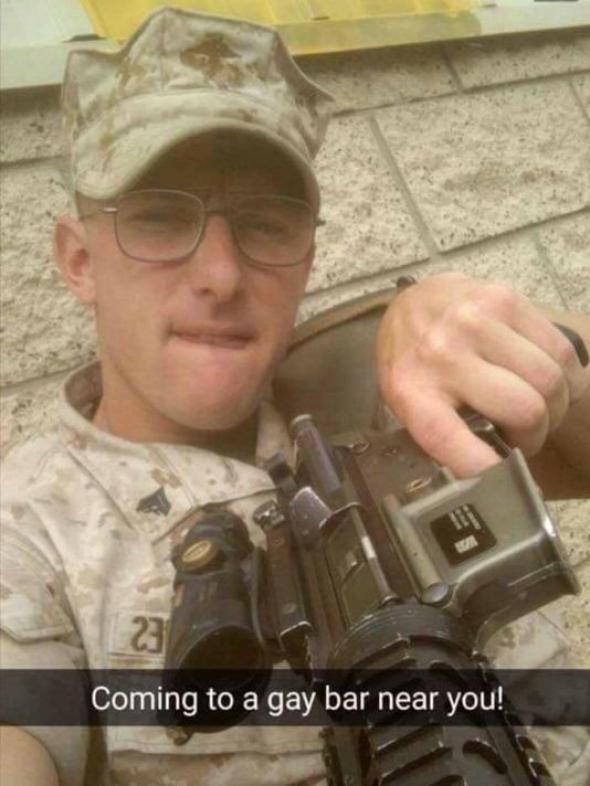 The Marine Corps is investigating two active-duty service members involved in a Facebook post that threatened violence against gay people. "Coming to a gay bar near you!" read the photo, depicting a corporal in uniform with his finger on the trigger of an assault rifle; the man who posted the photo also wrote, "Too soon?"
A Marine posted the photo in a closed, men-only Facebook group, CampMENdletonResale, which has more than 25,000 members and bills itself as a safe space for men affiliated with the military—because the military doesn't offer near enough opportunities and spaces for unchecked masculinity to fester. "We use this group to support each other, ask questions, have a laugh, let out some steam, and occasionally sell things to each other," the group description states. "Because of the unique membership of this group, it allows people to be open and honest with each other and gather the support from people that they trust."

So what purpose did this photo serve? Was it to have a laugh at the expense of queer people in mourning and fear, or maybe to let off some anti-gay steam? Someone reported the post to the group's moderator, who deleted it and banned the post's author from the group. Kudos to both, as well as to whoever sent the post to Marine authorities—there is no excuse for laughing off the threat of a potential hate crime. The Marines have identified both the man in the photo and the one who posted it. The I Marine Expeditionary Force of California, where the men are based, has promised to take "appropriate action" against them, according to a statement made to the Marine Corps Times.
In the days since Sunday's massacre at an Orlando gay nightclub's Latin dance party, there have been several instances of anti-LGBTQ threats of violence. The FBI is investigating a post on the San Diego Craigslist men-for-men page that read "Orlando was long overdue … San Diego, you are next." Camp Pendleton, the origin of the Camp MENdleton Facebook group, is located in San Diego County, but law enforcement agents have not identified a connection between the two posts. In Brooklyn, New York, on Monday, police arrested a gun-owning man who assaulted a bar's bouncer, called him gay slurs, and threatened to "come back Orlando-style" to "shoot this place up and get my 50 just like Orlando, Florida."
But dangers to a community don't always assert themselves in specific violent threats. Orlando gunman Omar Mateen was the product of a society that tolerates homophobia and transphobia in its pop culture, schools, and laws. We shouldn't be surprised when those phobias turn to violence. We shouldn't downplay the danger of a spray-painted message of "down with the gay agenda" appearing on a sidewalk in a historic gayborhood, as it did in Washington, D.C., soon after the news of Orlando hit. While Mateen was committing 49 murders and wounding 53 others early Sunday morning, someone else was burning a rainbow flag outside a D.C. bar. The forthcoming Mila Kunis comedy Bad Moms is turning Boys Don't Cry, a movie about the real-life rape and murder of trans man Brandon Teena, into a punchline about ugly bras. Just days after feigning support for LGBTQ people after the deadliest mass shooting in America's history, Republicans in Congress blocked a bill that would have enforced a 2014 executive order barring federal government contractors from discriminating against employees for their sexual orientations or gender identities.
Good on the Marines for investigating the men who made a direct threat to the lives of LGBTQ people on Facebook. But if we want to stop those threats from popping up, we need to take a hard stance against the everyday acts of homophobia and transphobia that nurture them.
---