The cliff house as architectural fantasy usually manifests itself as a variation on a James Bond-ian bachelor pad, like this jaw-dropping Greek concept house overlooking the Mediterranean, or this slick five-story modular concept house perched on the edge of the Australian coast. But Spanish firm GilBartolome Architects had a different inspiration for the House on the Cliff, a Antoni Gaudí–inspired home in Granada, Spain, that looks like a cliff house version of a scarecrow to fend off evil spirits, drones, or something that Gaudí might have seen in his dreams.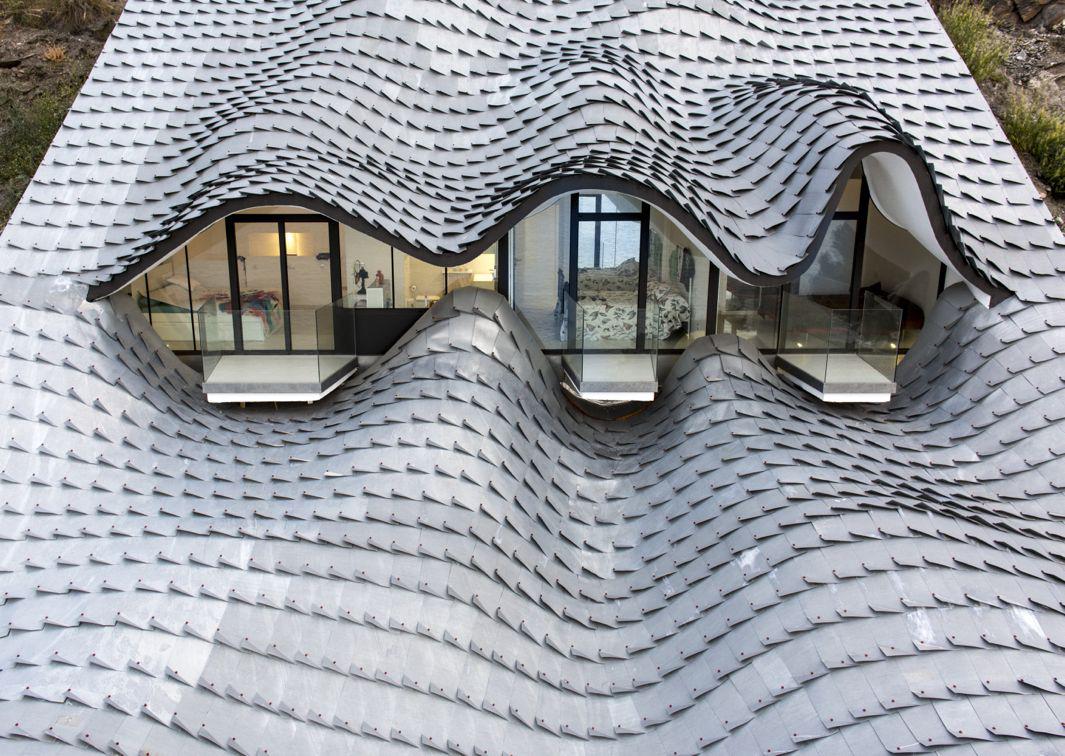 Architects Pablo Gil and Jaime Bartolomé said in a project description that the house, which was completed in 2015, was a private commission for a young couple who owned a challenging plot of land on a hill with a 42-degree inclination overlooking the Mediterranean and had an "extremely tight budget" for the build.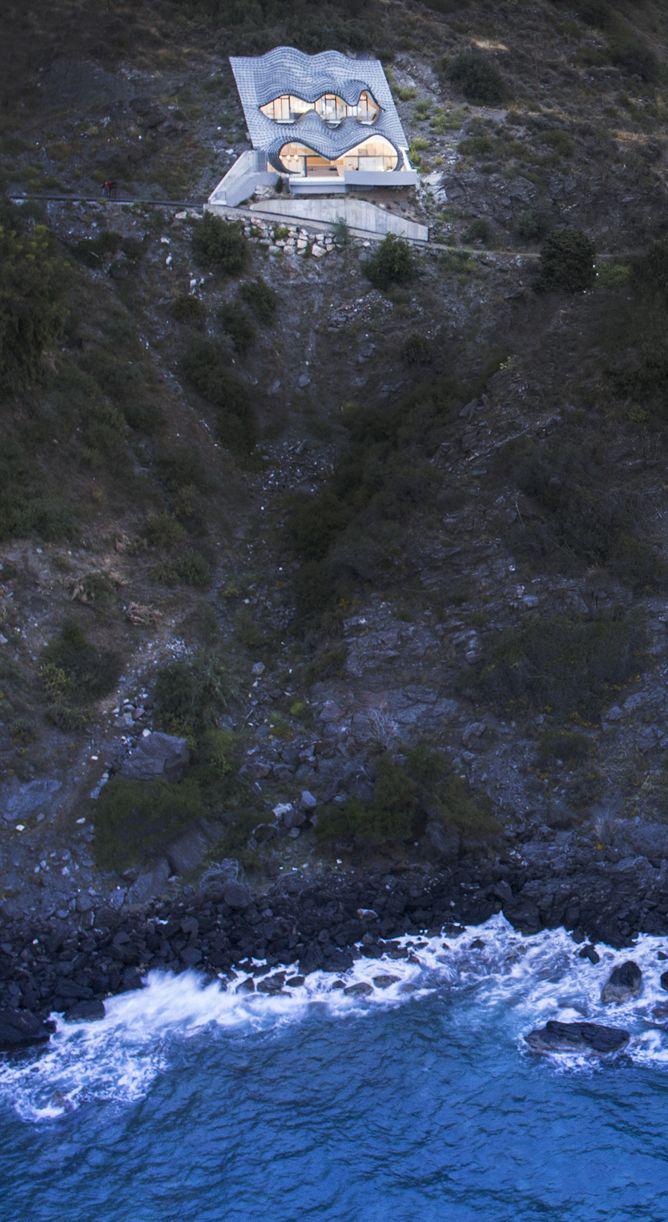 Calling it a "Gaudiesque contemporary cave," they pointed out that they were able to build the house at "an affordable cost" by eschewing prefabricated industrial materials, utilizing local labor and craftsmen to build the house at the height of Spain's financial crisis. Elements such as the reinforced concrete roof and zinc scale-like roof tiles, gypsum plaster ceilings, and bespoke fiberglass and polyester resin furniture were designed using digital software but manufactured by hand on site.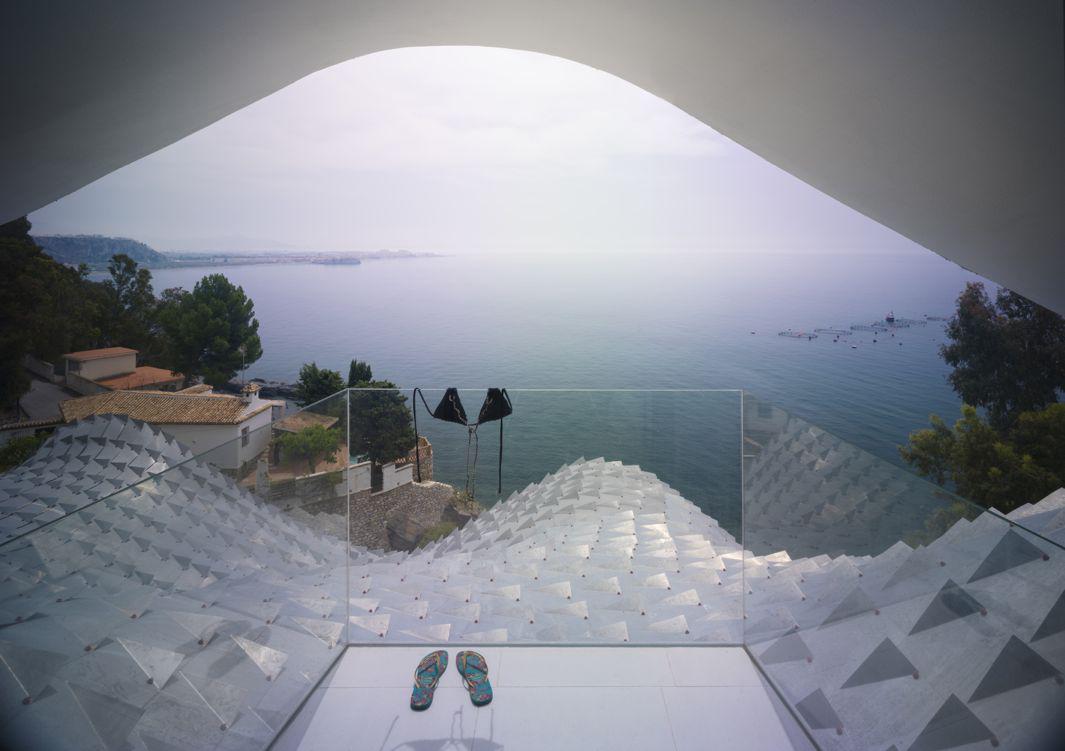 "The industry of construction and the large developers who have been producing buildings of poor quality and little added value over the last two decades in Spain have created a culture of low demand and denial, installing in society the idea that bad architecture that surrounds us is a necessary consequence of our era," the architects said. "This house shows that another construction is possible."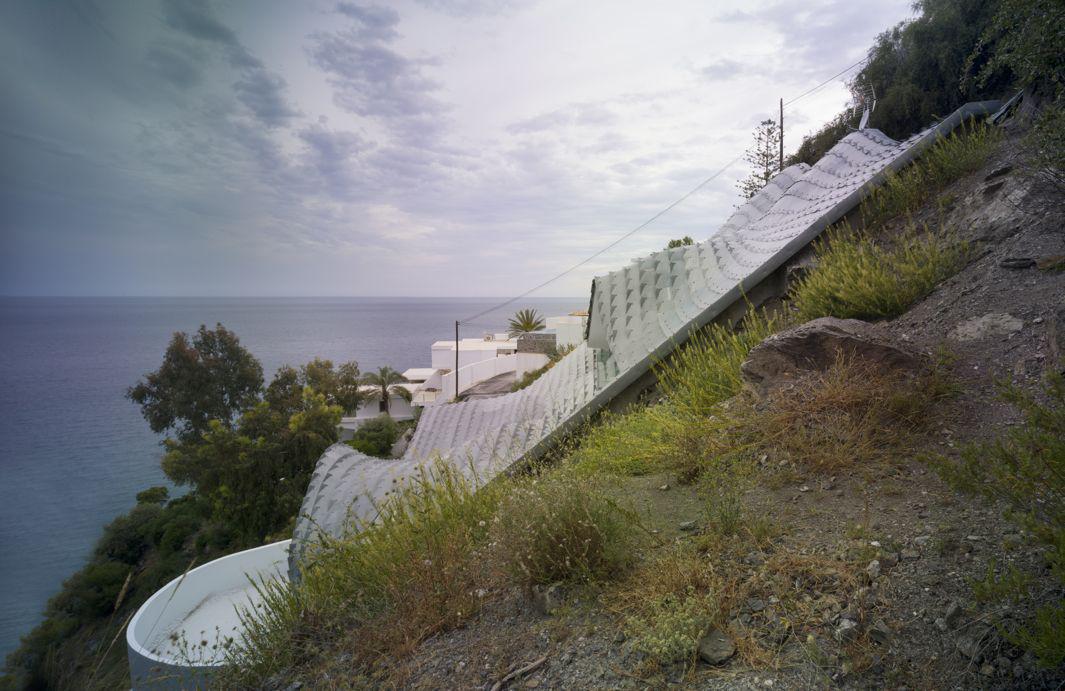 The two-story house includes a terraced living area that follows the slope of the mountain and is connected to a cantilevered terrace with a swimming pool. Much of the house is buried into the mountain, which helps it to naturally maintain a pleasant temperature of around 67 degrees without additional heating or cooling.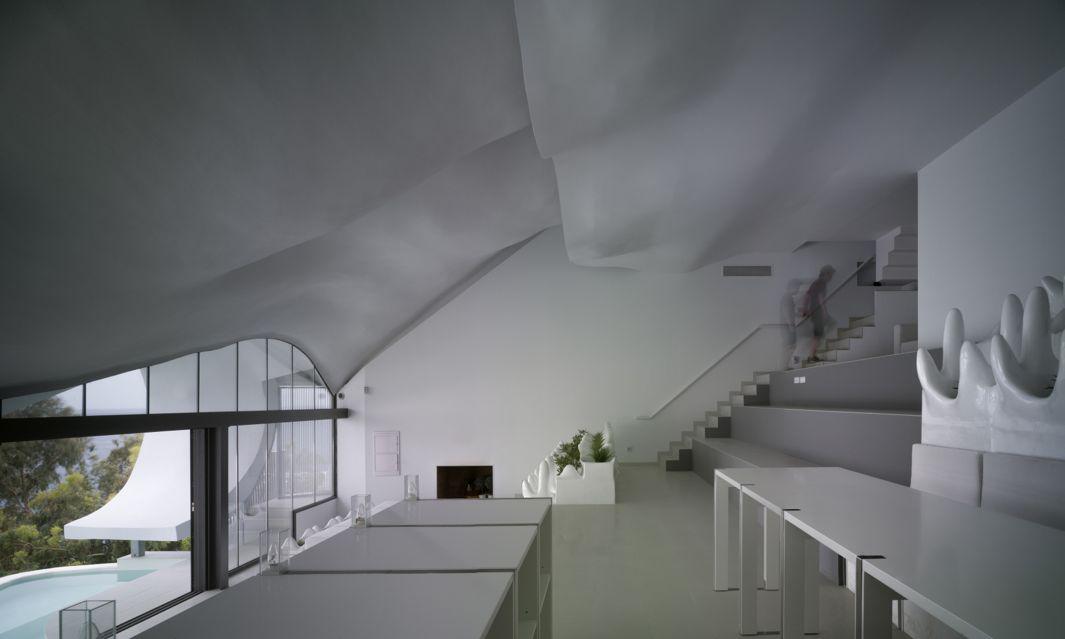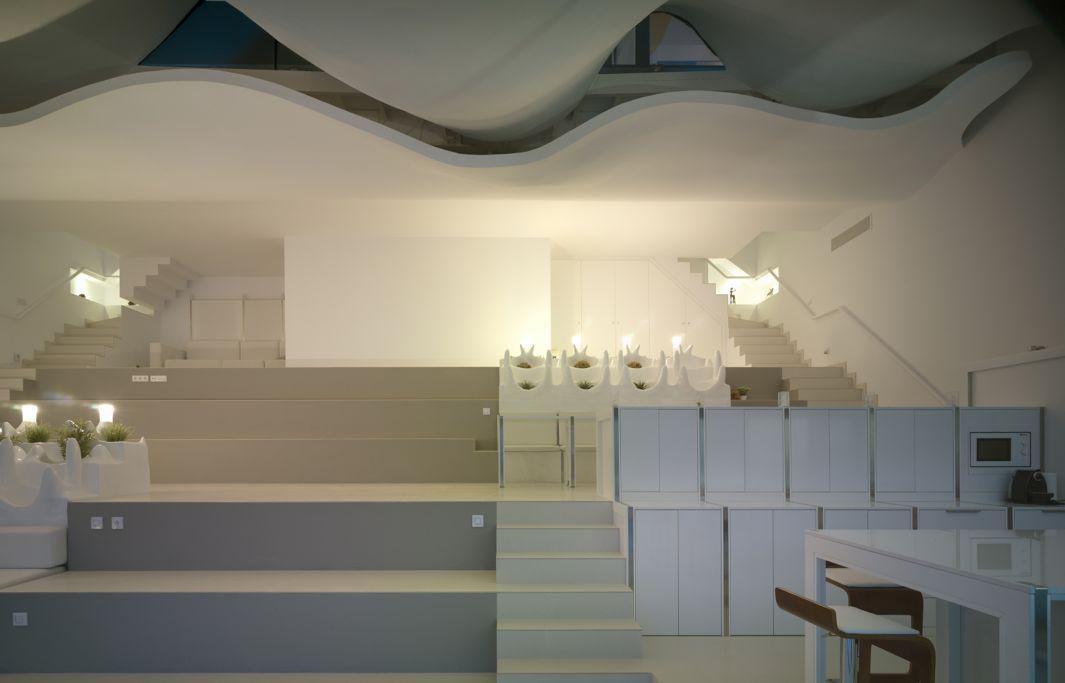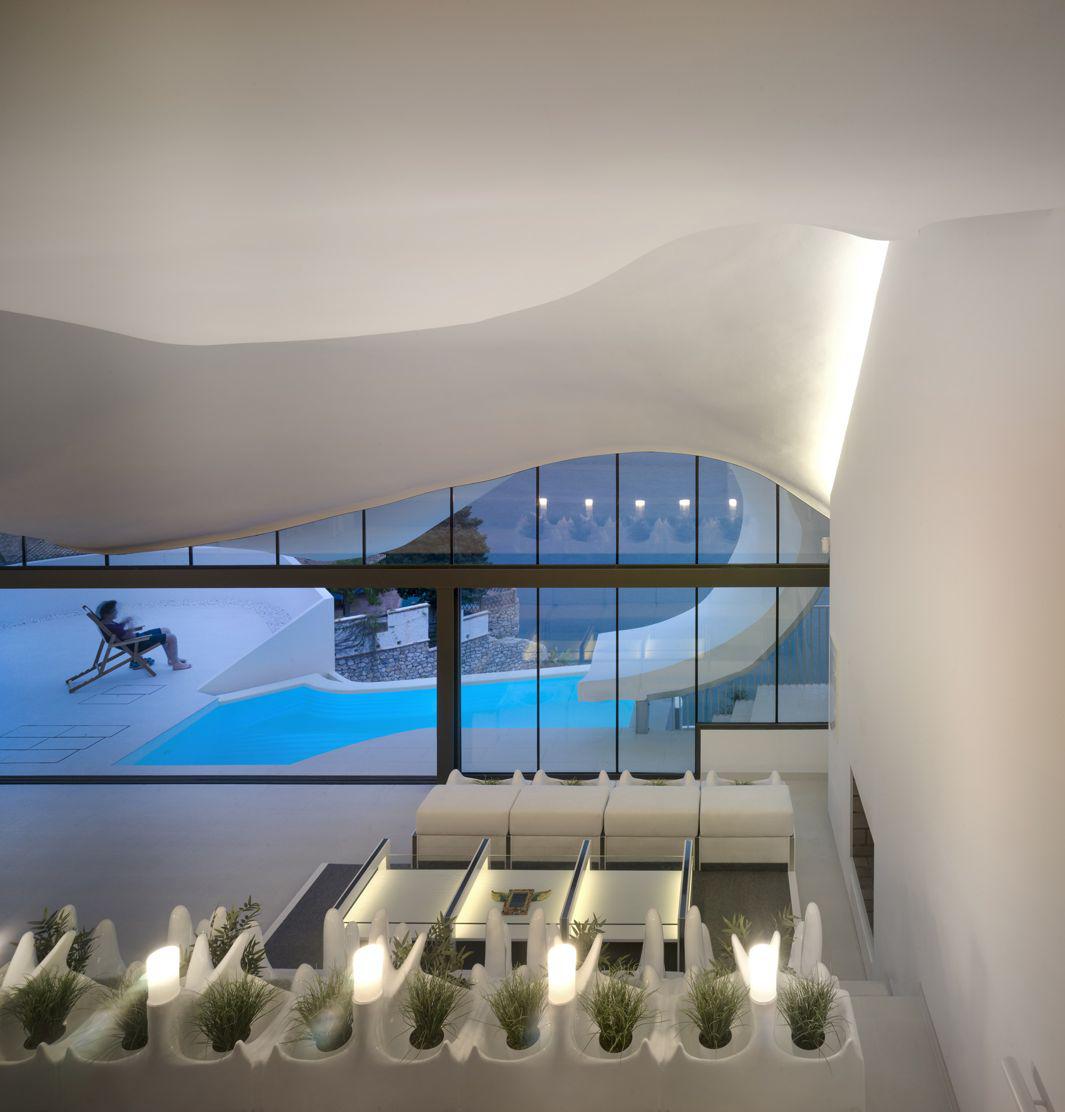 The architects said that their goal was "to integrate the house within the magnificent landscape that surrounds it and to direct the livable spaces towards the sea," adding that the form of the house and its metallic roof "produces a calculated aesthetic ambiguity between the natural and the artificial, between the skin of a dragon set in the ground, when seen from below, and the waves of the sea, when seen from above."