Despite its reputation for being the kind of place you can buy the latest in pineapple-themed home décor, custom handmade wedding cake toppers, and other hipster bric-à-brac, Etsy, the online marketplace, also does brisk business in rabidly anti–Hillary Clinton merchandise. In fact, Time reported on Monday that, judging by sales of Hillary-hostile buttons and T-shirts, the Democrats are losing this election.
St. Louis nurse Ann Doughty plans to support Clinton in the election in the fall, according to the magazine, but her crafting hands are politically neutral. She sells buttons on eBay and Etsy for $3 a pop picturing Monica Lewinsky and saying things like, "I Got the 'Job' Done When Hillary Couldn't" and "Good Luck Hillary—Don't Blow It." Doughty called the buttons "completely sexist," but that, apparently, is what sells. Elsewhere online, you can find merchandise featuring charming slogans like "Trump That Bitch" and "Bern the Witch."
This isn't the first time Hillary-averse ire has spawned a gag-gift cottage industry. Throughout Clinton's career, T-shirts, buttons, bumper stickers, and more have criticized her using sexist language and images of a sort that male politicians don't have to contend with. While both male and female politicians have to expect that rubber masks will be made of their likenesses eventually, it seems to be only Hillary who gets caricatured as a "bitch," "witch," and a "hoe."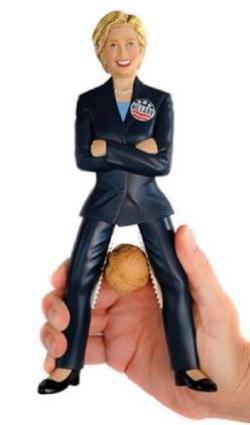 Time asserts that "[w]hen Clinton ran in 2008, poised to become the first female president in U.S. history, she faced a more subtle brand of sexism." The magazine must have forgotten the Hillary Clinton nutcrackers and "Bros Before Hoes" T-shirts that marked that primary season. The nutcracker—which the free-speech advocates at Urban Outfitters were criticized for selling as recently as 2014—played on the hilarious stereotype that Hillary crushes men's balls. The "Bros Before Hoes" shirt took the favorite saying of many frat boys and applied it to the Obama-vs.-Hillary contest. One blogger even found an anti–Hillary Clinton greeting card in 2009, the perfect way to say "happy birthday" and remind your loved one that you fear female power.
But dumb Clinton-hating T-shirts go back further than the 2008 election; they may have first proliferated in the 1990s, when Hillary Clinton served as first lady. Some of these "vintage" items still pop up on eBay: shirts with slogans like, "I don't trust President Clinton or her husband," because the idea of a female president was itself a joke at the time; as well as T-shirts, dolls, and posters disparaging Clinton's health care reform plan. The nerve of that woman, wanting to accomplish something like that! A set of nesting dolls from that era doesn't make a whole lot of sense as a metaphor but manages to get the point across—Bill Clinton was involved with many women, and haha, that's embarrassing for Hillary.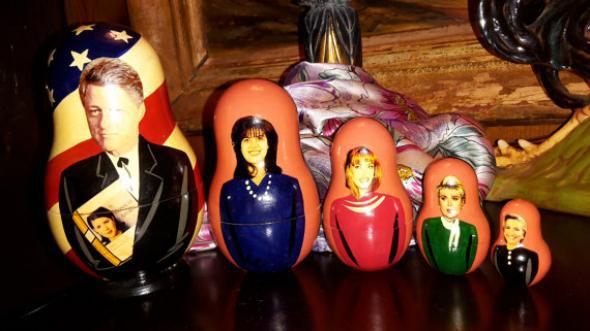 The Clintonus Dragonus T-shirt neatly summarizes the anti-Hillary sentiment of the early '90s: It pictured a cartoon dinosaur that was defined as "a two-headed reptilian creature dominated by the female-superior head on the left." Some of these jokes and lines originated from the early days of the internet, "when computer users were just beginning to discover what an efficient grapevine an online network can be," Russell Frank wrote in Newslore: Contemporary Folklore on the Internet. They were early memes, basically. "The jokes suggest that a man cannot cede any power to his wife without emasculating himself." It's an impression many Hillary haters formed early and still refer back to today.
As depressing as it is to hear about the success of deplorably sexist apparel and knickknacks, at least it has a counterweight in all the prayer candles, needlepoints, and nail decals that are strikingly pro-Hillary and also available on Etsy. Then there's the official merch Clinton sells on her own site, from doodle-happy prints to Yaaas, Hillary! tees. Instead of being a victim of memes, this time around Clinton is trying to create them—and fund her campaign with the proceeds.