Europe may yet dissolve beneath the xenophobic ramblings of an off-brand Donald Trump bootleg, but here in North America, our political leaders are showing off the sex appeal of progressive politics.
In what some are calling the Three Amigos Summit, Barack Obama is meeting with Canadian prime minister/feminist dad Justin Trudeau and Mexican president/total dreamboat Enrique Peña Nieto in Ottawa this week, setting hearts aflame across borders and prompting a million fantasies of a Black Mirror-like scenario in which some enterprising terrorist would blackmail the three into a passionate livestreamed makeout session. (A million fantasies, right guys? Right?)
R. Eric Thomas gets today's award for the best tribute to this dapper, toothy triad. "Whoever took this photo deserves a GD Pulitzer Prize," he wrote on Thursday in a semi-viral Facebook post. "We may be two minutes from doomsday but thank the Lordt we still live in a universe where three world leaders can strut into a room like they're the new interracial male cast of Sex and the City." He went on:
Like I have ALREADY prepurchased tickets to this film. Out here in these streets looking like Career Day Ken. Looking like Destiny's DILF. Looking like the Alternate Universe version of our Current Political Universe. Looking like Tom Ford presents The Avengers. How you going to be one of the leaders of the "free" world and still stalk the runway, killing all our faves? The only thing that would make it better is if they were pounding through a pool of water like Bey-sus on the BET Awards. Why do any of us walk on land anymore, tbh? YES YOU BETTA SALUTE YOU MOUNTIES! Pledge allegiance to this day drag! Based solely on this photo all three of them were just declared the first non-drag winners of RuPaul's Drag Race.
The Destiny's Child analogy—three attractive, similarly dressed wannabaes strutting toward the camera in a blinding aura of charm—rang true for many fans:
As the world's reigning Upworthy post of a human being, Trudeau has added the occasion to his well-known portfolio of made-for-social-media moments. Both he and the White House have embraced the characterization of Trudeau and Obama's friendship as a "bromance," though in an address to the Canadian Parliament, Trudeau tried to make the alterative portmanteau "dudeplomacy" stick.
Unfortunately, the Canadian looker threw cold water on the steamy throuple fanfic that was writing itself in our brains when he orchestrated a clumsy three-way handshake between the world leaders, the most awkward failed attempt at public intimacy since Ted Cruz elbowed his wife in the face.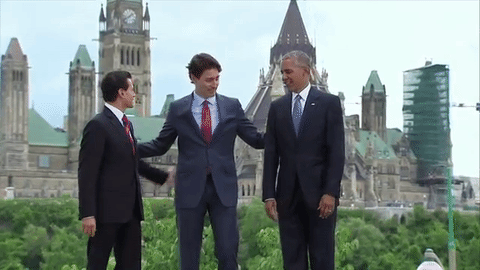 But the people can overlook the limits of the trio's physical chemistry if they just keep posing for pics together. "Europe: falling apart / North America: Buddy cop movie with heads of state," wrote one Facebook commenter on Thomas' post. "Why can't they just power together and run one country. I'd move to that country," lamented another. Even the Canadian Parliament can't help itself: Members started chanting "four more years!" when Obama made his appearance on the floor.
In other news, the three leaders agreed on ambitious goals for their nations to combat climate change, and Trudeau and Peña Nieto went on a run in short shorts.