When a famous couple is happy, every website and tabloid carries the same no-drama paparazzi photos of farmers' market jaunts and late-night club exits. But when love sours, it's time to take sides.
So it has gone since Amber Heard, 30, filed for divorce from Johnny Depp, 52, on May 23. The initial split itself was not the stuff of magazine covers: The couple had been married just 15 months, he's 22 years older than she is, and their last big appearance together was a mesmerizingly stilted video in which they apologized under duress for illegally bringing their dogs to Australia. Brad and Jen they were not.
Four days after filing for divorce, however, Heard was granted a temporary restraining order against Depp; in court papers, she accused the actor of physically and verbally abusing her throughout their relationship. "Johnny has a long-held and widely-acknowledged public and private history of drug and alcohol abuse," she stated in her filing. "He has a short fuse. He is often paranoid and his temper is extremely scary for me as it has proven many times to be physically dangerous and/or life-threatening to me." She was photographed leaving the courthouse wearing a high-cut black dress, looking tired and with a visible bruise on her face.
With that, media coverage took on a Rashomon-like quality. Us Weekly boasted of their exclusive on Depp's "chatty" and "tame" evening with fans in Denmark on June 1. The Daily Mail covered the same night out by reporting that Depp drunkenly tussled with his own bodyguard and "stayed out swigging champagne with a mystery blonde until 4am." "Friends" of the couple—as flexible as that term can be when money and fame are involved—leaped into the fray. The Wrap published an op-ed by comedian Doug Stanhope in which he accused Heard of blackmailing Depp; she's now suing Stanhope for defamation over the column. Meanwhile, Page Six published an interview with an anonymous pal of Heard's in which a drunk Depp was accused of trying to suffocate his wife with a pillow.
It's not surprising that various media outlets are approaching a big story from different angles. But some of the new bedfellows in this particular story are intriguing. Take TMZ, which has been breaking incremental tidbits of news about the Depp/Heard split all along, sometimes multiple times a day. If the evidence were there to take Depp down, you'd expect TMZ to be on it. These are the people who broke the story about Mel Gibson's drunken anti-Semitic tirade, and published the brutal photo of Rihanna's face after Chris Brown attacked her.
Instead, TMZ has been openly hostile to Heard—just Tuesday morning, the site led with the discovery that Heard was arrested for misdemeanor domestic violence in 2009 after an airport altercation with her then-girlfriend. Much of TMZ's actual reporting is quite thin, however. Depp's first wife (1983–1985) says he was kind to animals! "Ear witnesses" to a fight say he didn't come close to her! One story relies on secondhand accounts from two concierges who saw a seemingly bruise-free Heard in her building's lobby, "appearing to wear no makeup." TMZ is a brash outlet that doesn't traffic in traditional PR puffery—and whose reporting is often proven right in the end—so its implicit defense of Depp is unsettling for those inclined to believe her.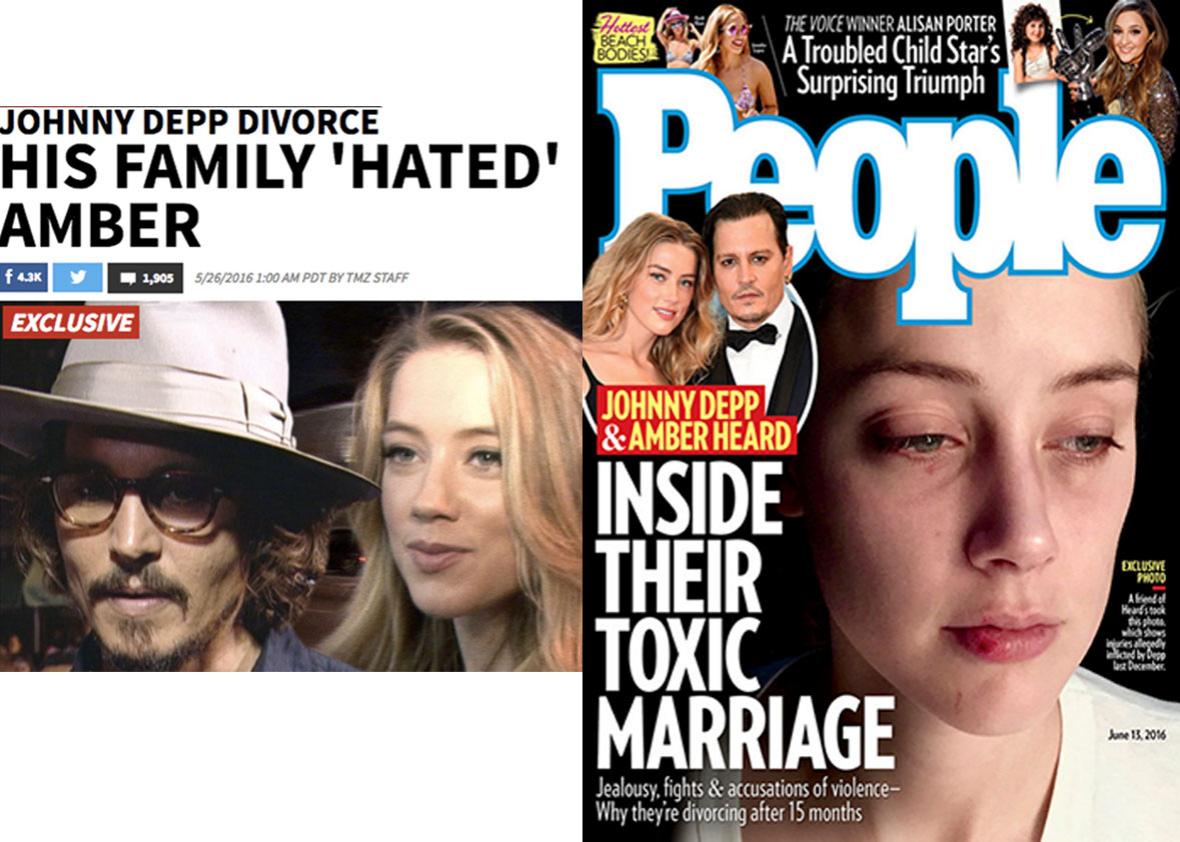 By contrast, take People magazine, which might be expected to ally itself with Depp. He's by far a bigger star than Heard, and has a powerful publicist who represents a Rolodex full of A-listers the magazine probably wants to keep on its good side. People named Depp its Sexiest Man Alive in 2003 and 2009, indicating he's beloved by readers. But this week's cover features a bruised and somber Heard, photographed by a friend in 2015 after an alleged attack by Depp. Her eyes are downcast, and she looks beautiful and young and soft, like a Botticelli.
The magazine tries to hedge its bets, to be sure. The cover line and headline are blame-neutral: "Inside Their Toxic Marriage," "Their Marriage Explodes." And the six-page spread inside gives room to spin to several unnamed sources close to Depp. They explain that "Johnny tends to get moody," and Heard "was really too young and experimental to settle down." One of them delivers this low blow: "Johnny has responsibilities, and Amber has none." (She was in four movies last year! She had a marriage to a "moody" international movie star to maintain!) But none of the even-handedness inside can overcome the pathos of that cover photo.
Compare this week's cover story to one from almost 30 years ago. In 1987, People treated Sean Penn's repeated violence during his marriage to Madonna as a foible, just one of the quirks that kept those two crazy kids from making it work. "Diary of a Mad Marriage," the cover line read. The story inside walks an awkward line, cheekily referring to the actor as Sean "KO" Penn but also detailing his habit of attacking extras, photographers, and men he was romantically jealous of. But the article also tries to draw equivalencies between Penn and Madonna; by story's end, the reader may see Penn as a "little lost boy," as Depp's assistant is purported to have described him:
"Sean has a lot of insecurities," says another source. But he isn't alone in that respect. "I have my insecure moments," Madonna admitted at one point during the relationship, "and that puts a lot of strain on people. You take things out on the person you love, and that causes fights, alienation, grief, shrink sessions and a lot of ca-ca." Penn's camp agrees. "The divorce is not all his fault," says one of his associates. "If that's the story you're getting, you're getting it wrong."
Some outlets are "getting it wrong" in 2016, too. Time will tell which ones. Or perhaps time won't, and the public will be forced to settle for the kind of unresolved ending that Hollywood abhors. But the fact that Heard's account of her marriage has been so widely reported—and taken so seriously—is progress of a kind.